Salt Lake fans of Bravo's Top Chef should be sure to DVR the 12th season of the popular reality TV competition. This season's battle of "cheftestants" from around the country includes SLC local, Katie Weinner. Katie will be going up against 15 other cheftestants in a battle for a $125,000 prize, a feature in Food & Wine magazine, and a showcase at the Annual Food & Wine Classic in Aspen.
You might know Katie from the downtown Salt Lake City popup restaurant SLC POP—an ad hoc dining experience with more than a few nods to the molecular gastronomy temples of the world such as Noma and Alinea. If you haven't had the opportunity to sample Katie's unique approach, you should note that Even Stevens and SLC POP are hosting a one-off charity dinner on November 9 as well—in Katie's own words she's always up for "throwing epic pop-ups wherever there is a kitchen sink and a roof!" To get ready for Top Chef, we had the opportunity to talk with Katie briefly:
1) How did you get hooked on the culinary arts—its such a demanding career what with long hours, hot kitchens and picky customers?
I never really thought of all the negative aspects with becoming a chef. I just saw the positive aspects of free food, days off so I could snowboard and a chance to work with all my buddies in a crazy-fun environment. Funny how back then I thought it was the best job in the world (and I still do)!
2) For our readers who haven't sampled your cuisine, tell us about your cooking and approach to food.
I'm a big fan of discovering new and foreign ingredients and then putting them into a dish where they normally don't 'belong.' I especially love the idea of root vegetables and grains in desserts. Beet and parsnip cereal with kafir lime milk is still one of my favorite dishes to make, every time I taste it and say, 'damn, that's good!' I also love re-creating classic international dishes like curry, carpaccio and risotto into a whole new beast. There are so many creative ways you can approach food and I make sure I'm creating a dish that my clients will love and hopefully never experienced. Plus, food and dining should be fun. We don't dine out to eat something we could just as easily make at home, you should feel inspired and excited after you dine with me.
3) Without going into the events of the show, how was it to work with the famous faces of the TC team, folks such as Tom Colicchio and Gail Simmons?
Being in front of the judges is surreal. Even when I bumped into Gail at the airport I think, 'wow, that's Gail Simmons.' Honestly, I was so caught up in making it another day I didn't get too caught up in all the exposure to the many chefs/celebrities we met. Looking back I wish I had been a little more smoozy with them! I did make sure I was polite and gracious under criticism, I always felt that this was an opportunity to be grateful for.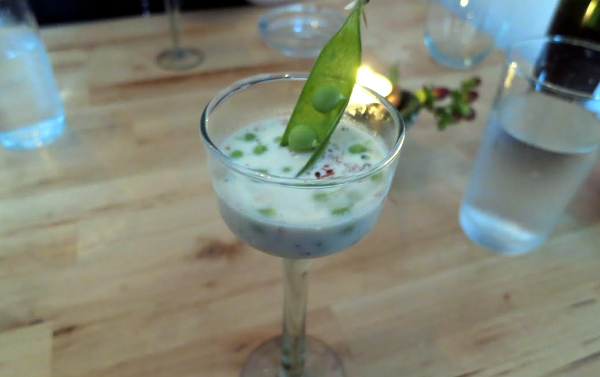 4) Top Chef is now in its 12th season, so I assume most foodies are aware of at least some element of the show by now. Were you prepared for the fast-paced nature of the contest, did it differ from your expectations going in?
I was floored by the pace! The pace is one thing, but then add the cameras, time constraints, massive stress and 15 other strong chef personalities and then times it by 100! It was tougher then any 14 hour day I've put in doing a pop-up or just cooking. I'm still having nightmares about quick-fires!
5) I know you can't tell us how you fared on the show, but let's say hypothetically you did win—do you have any culinary ambitions you'd love to realize that a big bag of cash would assist with?

If I was ever lucky enough to get that big bag of cash I would eat my way around the globe. I am so intrigued by food around the world I would love to start hitting up restaurants like Noma, Astrance and Mugaritz. I truly love food and every chance I get I make sure to discover foodie destinations.
Top Chef season 12 begins tonight (October 15) at 8 p.m. (mountain) on Bravo.