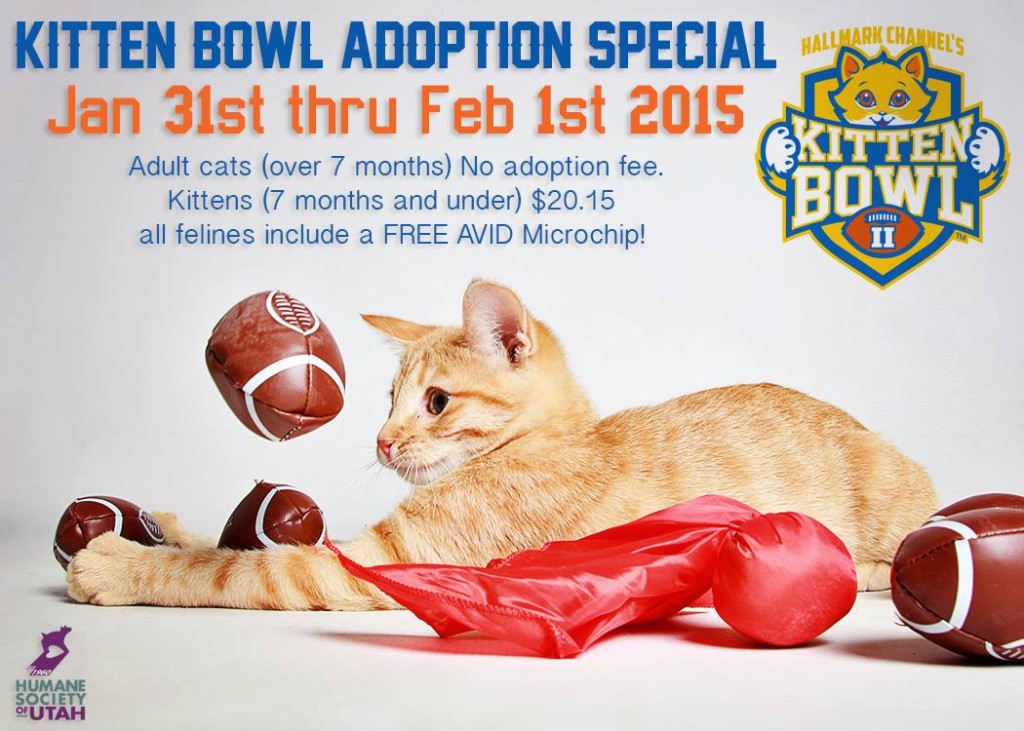 If the Super Bowl isn't your thing, and the Puppy Bowl on the Animal Planet doesn't have enough cats, look no further than the Kitten Bowl.  The Humane Society of Utah is one of the 20 shelters across the country that will be taking part in this year's Hallmark Channel USA's KITTEN BOWL hosted by North Shore Animal League America! Last year the Kitten Bowl was enjoyed by 3.2 million viewers and raised awareness of the many awesome shelter cats waiting for a forever home. The shelter with the most adoptions will win a $5,000 grant.
Adoption specials for kittens and cats will be the highlight of the Humane Society of Utah's Kitten Bowl weekend festivities. Cats over  7 months old are FREE to adopt and kittens are $20.15 to approved homes. All cats will receive a free microchip to bring them back if they get lost and of course all of the cats will be spayed or neutered.
On Sunday, there will be a viewing party for Hallmark Channel's Second Annual Kitten Bowl with HSU's own in-house Astroturf kitten games (!!!!!), football snacks and superstar adoptable pets. With the help of participating North Shore Animal League America's shelter partners across the country hosting their own Kitten Bowl Parties, the Humane Society of Utah hopes to surpass last year's record of 200 successful kitty adoptions.
If you've been waiting to add a cat to your home, the Kitten Bowl Adoption Special is the purrfect time. If it's not time to add another furry family member, come down to the Humane Society to enjoy the kitty antics and visit with the residents of Kitty City. The Humane Society of Utah is located at 4242 South 300 West. For more information about the Kitten Bowl, visit their website.