Listen live at KUER-FM's RadioWest, and click on the 'listen live' icon in the upper right hand corner.
The show will be rebroadcast today (Dec. 13) at 7 p.m. and will be available in the RadioWest archives.
For a preview of Radio Hour Episode 13: Troll, written by Matthew Ivan Bennett and produced by Plan-B Theatre and KUER-FM's RadioWest, read the preview at The Utah Review.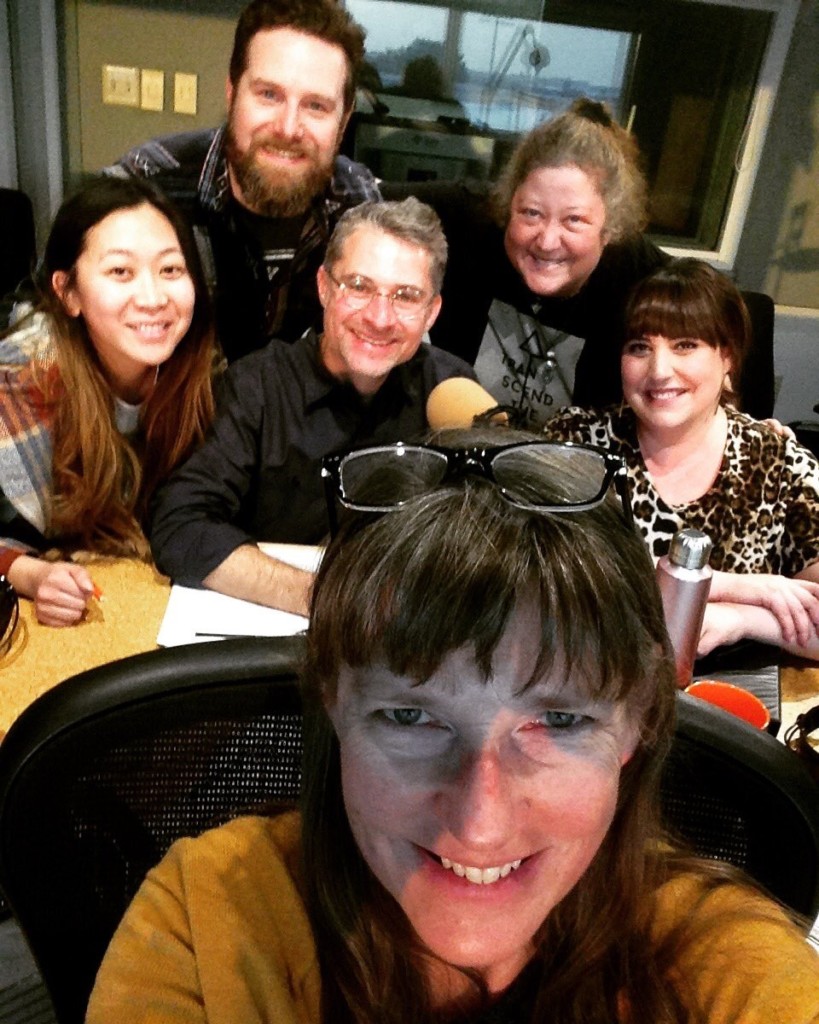 8:55 a.m.
This is playwright Matthew Ivan Bennett's 10th turn in creating the 48-minute play for the Radio Hour Series, a partnership with Plan-B Theatre and RadioWest at KUER-FM. Among the 13 episodes, including today's premiere, five have received only one live performance in KUER-FM's studios without an audience.
While the series originally started as a Halloween season staple, Radio Hour will now have four holiday season episodes with Troll's premiere today. The first Christmas season episode came in 2012 with Bennett's adaptation of the only holiday-themed mystery Sir Arthur Conan Doyle wrote in his Sherlock Holmes series: Sherlock Holmes and The Blue Carbuncle. In 2013, Christmas was the setting for Eric Samuelsen's Fairyana, which was about the dysfunctional writers for a saccharine children's television show. In 2016, Bennett selected three stories for Yuletide. Two were faithful adaptations of classics: The Little Match Girl (1845) by Hans Christian Andersen and O. Henry's The Gift of The Magi (1907). For the third Yuletide story, Bennett adapted one of the most infamous 'anti-Santa' characters of French and German folklore – Hans Trapp – and offered up Jacob Grimm, one of the twin authors of German folklore, as one of the characters.
As noted in The Utah Review preview of Troll, Bennett starts loosely with one of the most famous and most widely interpreted tales by the Grimm Brothers – The Frog Prince – as the premise to launch a unique holiday tale with a generous dose of dark comedy not seen since Samuelsen's Fairyana. This also is one of the most cinematic inspired episodes of the series, as Bennett invokes tones reminding listeners of Tim Burton's work but even more wicked in humor. Likewise, with the original music by Dave Evanoff, the production also has the vibe of Danny Elfman, whose film composing career followed his roots in Oingo Boingo.
But, Bennett, always the astute, alert observer of contemporary culture and politics, brings to bear the multifaceted expressions and dimensions of the troll, especially in our digital media. The two main characters, Moxie and Chet, connect via a mobile dating app. In contrast to the darkly dystopic and foreboding Stand, the 12th episode that premiered last spring, Troll is heavy on humor. In a Plan-B blog post, Bennett wrote, "the news has been so heavy lately that I made myself deal in humor, which I feel is critically needed right now to give us the emotional space to change. Laughing at yourself is, I believe, a first step in becoming a bigger person."
He explains wisely why we should not rush to take trolls too seriously. "Not that we should ever laugh at trolls," he writes, "On the contrary, it's important to first see them as fellow humans. But humor is connective. By itself it's a sort of common ground. If two people can find something to laugh about – especially if that thing is something they both share – then there's room for friendship."
9 a.m.
Troll features three characters: the omniscient Voice, Moxie and Chet (the troll). Actors include Jay Perry, who has performed in every Radio Hour episode, and newcomers to the series, Olivia Custodio and Lily Hye Soo Dixon. Cheryl Ann Cluff directs the production and, as customary, handles the sound design. Listen for the raccoons! Jennifer Freed handles eFoley duties and Dave Evanoff has composed original music.
9:07 a.m.
The Voice sets the story when Moxie and Chet met on Thanksgiving at a bridge: "The air was crisp and full of nutmeg. She wore her favorite V-neck blouse, the color of champagne. He wore the pelt of a squirrel. She was humming a 1960s protest song — such a good sign. The troll clacked his fangs."
9:09 a.m.
Likely as awkward as any two strangers who are meeting face-to-face for the first time after communicating on a dating app. Chet and Moxie met on Cuddlebug.com. Moxie thought they would meet on the bridge, not under it. Instant regret.
9:12 a.m.
Everyone lies on Cuddlebug.com.
Moxie: "No, people post pictures from the '90s, but you copy and pasted a guy from Hurly Burly, I'm guessing, and then surprised me with this filth."
Many listeners likely have seen MTV's Catfish. Incidentally, Berify is a popular resource for verifying dating profiles. One of the services includes reverse image verification. It has a bank of more than 800 million images.
9:14 a.m.
Chet like anyone else is obsessed with his notifications. His phone is embedded in his forearm, which fascinates and perplexes Moxie. He finally admits he is a troll – literally. Moxie, we learn, is divorced.
Chet: I cooked this traditional human meal for you. I figured you wouldn't be with family today, since you were online at 5 a.m. lookin' for Thanksgivin' nookie.
Moxie's profile had been set to 'short-term spooning.'
For an article about tips on how to succeed on a dating app, yes, this piece from Popular Science written in January offers some suggestions:
People know Tinder, Grindr, Scruff, OKCupid but there also are Bumble, where women are encouraged to make the first move; Huggle, which matches people according to places where they commonly hang out at, such as a gym, bar or coffee shop; Coffee meets Bagel that tries to narrow selections as much as possible.
9:16 a.m.
This script has everything: veganism and whether eating eggs is okay, birth control and feminism. Bennett is in fine form with the script. Gotta love a phrase, such as this about Chet: "Moves like a caffeinated pony."
9:17 a.m.
Police Magnum Pepper Spray is a real product – a small nonlethal gadget which means that a victim must have good aim against her assailant.
Moxie's Brazilian jiu-jitsu is effective. She broke Chet's T-9 vertebra. Self-defense experts believe Moxie's art is one of the best for women whether they are thrown to the ground, grabbed or choked. Also, it is one of the most effective in an instructional settings because precise moves can be taught without injuring someone during class.
9:19 a.m.
"Fifty raccoons with hell-black eyes glinting under Pilgrim hats that Chet must have made for them." Many people remember Meeko as the adorable raccoon sidekick in the Disney version of the story of Pocahontas. Not these raccoons in Troll.
9:22 a.m.
Chet sings Christmas carols: His T-9 vertebra had magically regenerated.
Christmas present for Moxie: rainbow quinoa. Native to South America, it's been cultivated for at least 5,000 years.
Moxie says she is on a hunger strike but Chet says a little bird said she was foraging for berries.
She lost her left eye to the raccoons. Love this line: "You said, 'Don't mess up her mug,' but being raccoons, they might've misinterpreted the English they can hardly or never understand!"
9:25 a.m.
Moxie lives up to her name. As a storm gathers, she tells Chet, "Nothing like a sea squall to get your ingénue in the mood. Wanna climb the mast with me? See a little typhoon? A little ba-boom? Some crack and flash?"
The banter intimidates Chet somewhat but, nevertheless, he is drawn to Moxie's oomph.
And, she delivers this gem: "I have no oomph; you have de-oomped me; I am forever oomphless."
9:29 a.m.
Nice foreshadowing here about the Voice.
Chet says, "The voice! There's a voice sometimes — or music — and it said "moments" and "grim" and "fate" and so far it's been right."
And, then the Voice says:
"Moxie turned to the land and sky. She thought of her former wife. Yes, it was a woman she'd referenced on Cuddlebug. If you assumed a man, you have implicit biases. In any case…"
In the storm's greatest intensity, Chet attempts to profess his love for Moxie but a lightning strike hits him – "the blue searing voltage rent into him, exploding his toenails and claws and melting his brain. Moxie was fine. He was a "patch of black smoking clover."
9:30 a.m.
Chet is in his cabin, apparently rescued by the raccoons, but he is looking "like corned beef. His eyelids were burnt gristle, impossible to move."
Moxie has returned because she broke her femur. She was tempted to push him into the fire but then assumed he might smell even worse.
9:36 a.m.
Chet once again tries to impress Moxie with his cred in fighting other trolls, whether it's about women, politics or entertainment news. A hallmark of Bennett's Radio Hour scripts is his use of inventive terms. Like bro-hards. Chet says, "They liked the way you smelled — and I think they had different ideas than me when it comes to cohabitation."
Chet's lines also offer up some political references about some of the other trolls: "One of 'em was wearing a 'String Her Up' T-shirt. I didn't support You-Know-Who. I was rooting for the Constitutionarian."
Trolls take many forms. From a piece in the Columbia Journalism Review: "For too long we have treated celebrities on the internet as though social media is their heartfelt diary, and people on the internet as if they are a man-in-the-street vox pop. They're not. The internet, and especially social media, are full of savvy operators who are using it – and us – to spread messages with their own agendas. And journalists fall into their trap, time and time again; something about online messaging turns off our reporting instincts."
9:39 a.m.
Chet tries to explain to Moxie about the Voice and her omniscient power. Moxie erroneously thinks Chet is the "Voice." She tells him, "Call the voice. Quietly. Capital 'Q.' A raccoon is seen, I stab your screen."
Contact is made but Chet is surprised to hear the Voice say, still in her narrator's role, "There was a red-line limit to the questions an accursed could ask and hear direct answers to. One."
The Voice explains, "What he had to know was this: the number of questions an accursed could ask was one. The wretch's question could only be posed on behalf of potential liberators." This surprises Chet who tells Moxie, she is his freedom. The Voice in her narrator voice clarifies, "That was not exactly what had been said as the yellow sun peeked—…"
Moxie now threatens to liberate Chet's arm. But, Chet tells her the Voice is never wrong. "Your time here has been uncomfortable till now, but my narrator says have you potential and I've always thought so and… It's here. My Christmas miracle." Indeed, in a Plan-B Theatre Radio Hour episode, clichés are liberated from their predictable conventions. It's the twist we've been awaiting.
9:42 a.m.
Chet summons the Voice, ready to ask his single allocated question: "Can I heal Moxie and if so how?"
This is an unusual moment in the play because the Voice breaks narration to speak directly to Chet, congratulating him on asking such a good question.
The Voice continues, acknowledging that she knew it wasn't his question. "I did know, being omniscient, but it's still good that you asked it. Now: I've frozen time to address you directly, but the curse allows me only moments."
Chet attempts to ask two more questions but the Voice bends a little, explaining that she is a god – "not the, but yes, I am a minor deity working with witches and warlocks for the most part. I'm in night school for Belief System Management." Another classic Bennett gem.
9:44 a.m.
Moxie is surprised that Chet is willing to help her. Chet says, "I think it's what a woke person would do. I want to be woke. So yeah."
It works! The Voice recounts, "In a blink, her bones reknit themselves. Her missing eye regrew. A tide of energy plashed through her veins and left her as jumpy as iced coffee."
9:45 a.m.
Chet's battery is nearly drained, reading just one percent. Moxie, restored fully, steps out into the air – her Christmas miracle realized. But, Moxie is not ready to return the gesture. She tells him, "I'll come. I'll come with friends. I'll come with rakes, torches. I'll come with Christmas. Not the kind from a store, but a little bit more. Bells will ring, we'll roast some Chet nuts. Open fire. Till then."
9:47 a.m.
It's now New Year's Eve. His phone is dim but Chet is scrolling through Pintrigue.com, lamenting that if only he was a rich troll. Wounded and partially dismembered, he blows into a party horn. It was likely that Chet would shrivel up completely by the dawn of the New Year. He contemplated what his final social media message should be – hardly a nobly articulated sentiment. He goes to Moxie's profile which shows her last post from Thanksgiving when they met.
Chet reminisces about his life before he was "trollified." He recalls playing Romeo in a grade school production of the Shakespearean classic.
9:51 a.m.
Surprise! Moxie returns but without the parade of people she promised to witness the death of a pitiful troll. She tells Chet that she played Juliet in sixth grade. No one believed her story. She had second thoughts, ditching the Tiki torch she carried because she looked like a Neo-Nazi. The mention here references the white nationalist march that took place in Charlottesville last year on the University of Virginia campus, with participants carrying Tiki torches and chanting racist and anti-Semitic slogans.
Moxie splashes gasoline around his decaying form. "Yep, this is happening. Any last words? Would you like to get a selfie as the fames roar onto your — whoa, what happened to your face?!" Chet tells her how a 300-pound cougar gnawed off half his face.
9:53 a.m.
Chet is ready for his fiery end but Moxie wants the full effect – a troll on his knees pleading desperately in his final moments. Chet tells her that he can't bear to see anymore posts from friends celebrating the holidays. "I had it all, Moxie — couple years ago I thought that, but it turns out I suck, and blow, on a basic level; I can't compete. I cannot physically take another status update of happy kids on a cruise ship."
Moxie apparently lied about her status on her Cuddlebug profile. She did not divorce her wife. The woman died of pancreatic cancer. Meanwhile, Chet, reduced to a squeaky cry, makes a groaner of a pun.
9:55 a.m.
As Chet approaches the final moments of his short circuiting, Moxie wants to help but he tells her to go. "If there's an afterlife, I don't deserve it. Just go. I had this story in my head that we were meant for each other because you're smart and cute and I'm hideous and vain — like, opposites attract, you know? — but you're not responsible for me. You don't exist to serve me. You're not some character in my story!"
9:58 a.m.
Chet believes he has earned his stripes as a feminist, a point Moxie challenges vigorously. And we learn how Chet was cursed: "I told a woman protesting a Garvey Vinestein movie that she should smile more. A coven of Wiccans overheard me." Moxie says, "You got off easy."
And, it's now two minutes before midnight. Now in human form, Chet hopes Moxie will show a little affection. Moxie sets the terms: "one-armed hugs after long absences." Chet says, "like at brunch twice a year." Moxie replies, "If other people are present."
Chet welcomes the raccoons and pink champagne. The Voice says her work is done as providing "the helpful voice in his head."
Moxie says, "Don't thank me. Just stop being whiny and spoiled and apish … and don't kidnap people." No mansplaining and, finally, exfoliate.
Moxie makes one final request: "Yeah… Try to…stop asking damsels to get you out of your distress. We have enough of our own." The comment leaves Chet wondering if "damsel" is politically correct.
10 a.m.
And, with the countdown to the New Year, we get the closing line that is perfect for this strange, consequential year of 2018 and this genius bit of holiday comedy: "And they lived as intersectional feminist allies ever after." Happy Holidays and Happy New Year!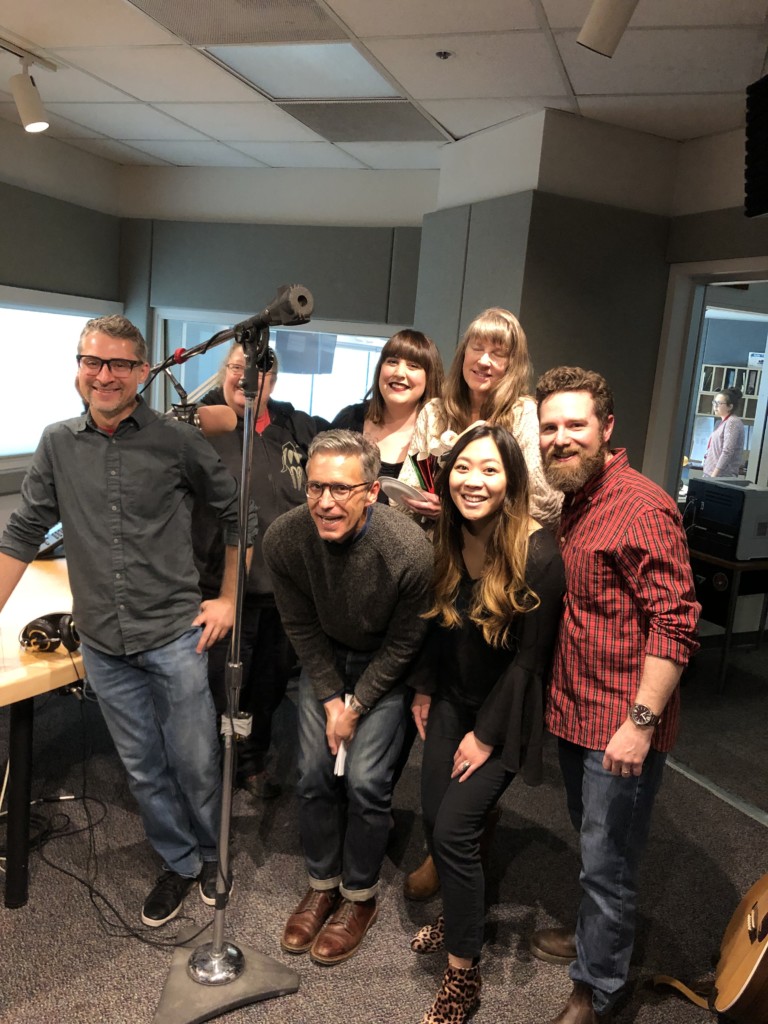 POSTSCRIPT: REVIEW
For Plan-B Theatre and KUER-FM's RadioWest, the Radio Hour Series continues to raise the bar on excellence with each episode. Troll, the 13th episode, proves that while the series was founded and cultivated its reputation primarily on themes that happen to coincide with the Halloween season, it has reached a unique status with recent episodes that coincide with the December holidays.
All three actors (Perry as Chet, Custodio as Moxie and Dixon as the Voice) obviously were elated with the material presented to them. In the studio, they responded as much in their physical movement that translated to the sizzling (literally) energy heard in the broadcast. As director, Cluff also showed her own delight in producing the sound design featuring the raccoons of the story as well as the sizzle of flesh and crunch of a broken femur. Evanoff's music adds the shadows without overwhelming the spirit of the season.
Troll is wickedly funny in all aspects. At his 10th turn as a Radio Hour playwright, Bennett masterfully has synthesized his intense intellectual curiosities with a sharp propensity to cast them in humor that has a well-defined satiric purpose and technique. As dark and serious as Stand, the 12th Radio Hour episode was, Troll propels an equally serious sociopolitical commentary through a rich theatrical landscape of comedic lines that signal impressive character depth in a fantasy with frankly practical expectations and results.
Humor effuses every portion of the radio play. For example, Bennett includes many references intended to be literal. Early in the play, Chet tells Moxie: "Yes, I'm well acquainted with the vermin in the area. Literally." Moxie contemplates her vegan dilemma: "Would I still be vegan if I drank the blood but left the flesh for coyotes?" In another moment, Moxie tells Chet, "Yes, it takes a lot for me to get into guys: hygiene's a big one; honesty, up there; and it helps to not be taken hostage to male issues."
Bennett cleverly inserts intellectual nuggets without letting them interfere with the essential quick pace of the play. But, they also serve a purpose of adding relevant layers to the theme. For example, Chet tells Moxie: "Can't vote, I'm a troll. Who declines to feed our political Manichaeism. Especially in the form of shreeching establishment candidates who—…" In a Bloomberg op-ed, Cass Sunstein wrote, "Political Manichaeism, as I am understanding it here, can be found whenever disagreements about political issues are seen not as reasonable disputes among fellow citizens, but instead as pitting decent people with decent character against horrible people with horrible character." It suits the setting of Troll perfectly.
Even Chet, cursed in his abhorrent troll form before he is transformed back into an ordinary looking middle-age man, imagines being the character of a pulp fiction romance story. Chet tells Moxies, "I'm the slave-boy who escapes and becomes a pirate with a heart of gold and you're my ingénue. Together we're like…the cover of a romance novel." If only every rom-com, especially during the holiday season, had the razor wit or deliciously nasty bits of Troll.