Last spring, the Red Desert ensemble, the duo project of clarinetist Katie Porter and composer/percussionist Devin Maxwell, were planning to leave Utah. To mark the occasion, they organized an outstanding public jam session of deep listening music at the Utah Museum of Fine Arts featuring works by Maxwell, Morton Feldman, Pauline Oliveros and a fabulous all-star conglomeration performing Terry Riley's In C masterpiece.
Shortly after that concert, Red Desert decided to stay in Utah when Westminster College offered Porter and Maxwell a year-long artistic residency, which has been productive in music making along with educational and professional networking. They had planned to end their residency with an April 13 concert of large experimental works with alumni, faculty, students, area musicians and members of the Southland Ensemble from Los Angeles.
With social distancing and stay-at-home orders in place during the COVID-19 pandemic, Red Desert now has revamped its April 13 concert as a live stream show from their living room, beginning at 7:30 p.m. Every Red Desert performance achieves the right atmosphere for the place and moment of music making. And, this latest concert should set the ideal mood and vibe for absorbing a truly intimate, deep listening experience, as Porter and Maxwell share works from composers who have been integral to their musical lives. The concert will include one world premiere and several Utah premieres. The concert will stream live at this YouTube link.  
The world premiere will be Maxwell's Bonneville Park 4 (2020), scored for clarinets, flute, violin and percussion (vibraphone), along with electronics. Originally, Red Desert had intended to have violinist Eric Kenneth Malcolm Cark and flutist Christine Tavolacci join live in the virtual performance from Los Angeles. Instead, their parts have been pre-recorded, to avoid any potential internet transmission glitches.
Maxwell, who often composes music as a series exploring a particular theme or concept, says this latest group of works is based on convergence. For example, as he explains, "the first Bonneville Park piece was for electronics and involved many pairs of sine tones converging onto specific partials of a C# fundamental." Maxwell used baseball statistics from games played in Bonneville Park to set the musical material. The first Bonneville Park piece is available for listening at this SoundCloud link.
Setting the stage for this concert will be Yoko Ono's Grapefruit (1964), a curious, versatile, multidisciplinary compendium of conceptual art instructions. Maria Popova has described it as "part irreverent activity book for grown-ups, part subversive philosophy for life." There are instructions for music, painting, event, poetry and object in the original edition. Porter says three bits from the book will be realized: Imagine a thousand sunsets… , make a tunafish sandwich and listen to a heart beat.
Maknongan (1976) comes from one of the most mysterious and fascinating 20th century composers from Europe: Giacinto Scelsi (1905-1988), an Italian count who followed his own muse while eschewing the conventional musical bureaucracy in his country. His formative works were inspired by elements found in the music of Hungarian composer Béla Bartók but this particular piece, which is scored for any bass instrument, is a prominent example of the graduated harmonic modulations which are critical to a genuine deep listening experience. Porter says the work is intended to be played as if the sound is tearing down the walls of Jericho.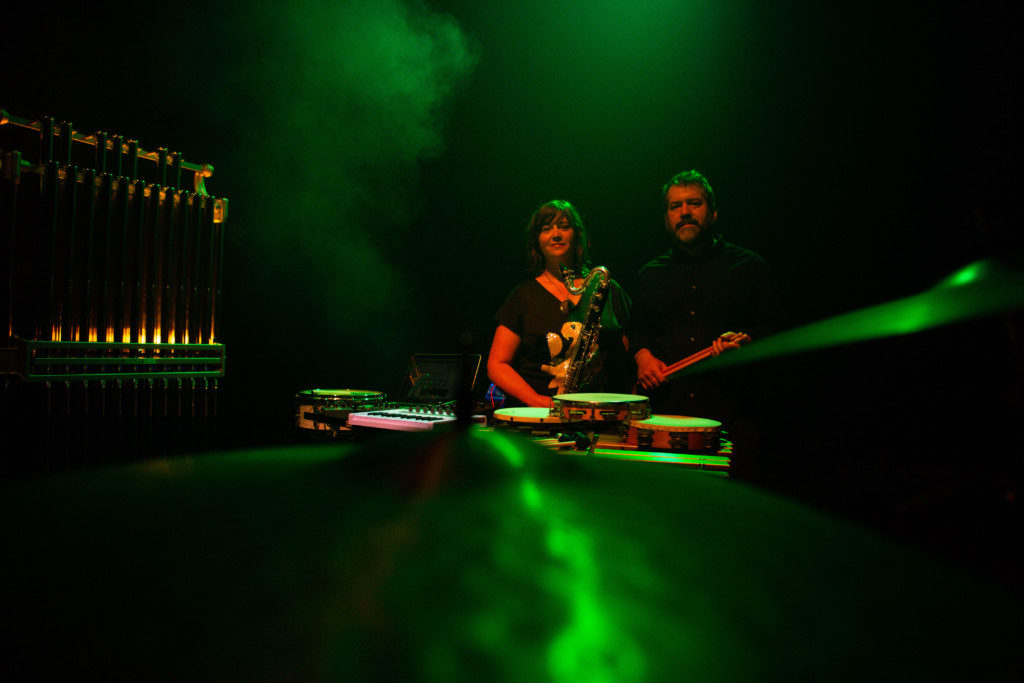 Maxwell will perform Music for Snare Drum, Pure Wave Oscillator, and One or More Reflective Surfaces (1990) by Alvin Lucier. As described in program notes from a 2019 performance by the International Contemporary Ensemble, "Sound travels through space in precise directions. It bounces, overlaps, reinforces, and destroys itself. In the piece, sound is aimed at a smooth reflective surface. Like aiming a light beam at a mirror, the sound echoes from the surface toward a snare drum which vibrates sympathetically.  Like much of Lucier's music, the piece exhibits a physical behavior while also yielding a satisfying musical phenomenon."
Michael Pisaro's Averer Local (2002) carries significant meaning for Porter and Maxwell. Composed in five movements for clarinet and percussion, the 43-minute work was a wedding gift for Porter and Maxwell, which included a bottle of scotch. This will only be the second public performance of this work, nearly 11 years after it was performed in Listen/Space Brooklyn.
Other works include Michelle Lou's Telegrams (2017). The work instructs Porter to tap out Morse code with her foot on a rattling tin can in the bell of the bass clarinet, along with über-soft multiphonics. Lou, who also is a bassist, has composed in many diverse styles, including salsa, Latin jazz and free improvisation. She received one of the most prestigious contemporary composer honors: the 2018-2019 Rome Prize at the American Academy in Rome. Meanwhile, Oliveros will be represented with Single Stroke Roll Meditation (1974), an excellent sample from her body of work, which is one of the most compelling for its exploration of the musical potential of the deep listening experience.
Red Desert recently completed recording its first album, which is slated to be released in June on the New York label Infrequent Seams. Their fourth VU Symposium on Experimental, Electronic and Improvised Music, which originally was slated to take place in June at the Park City Library, has been postponed until the summer of 2021.