Four more local performing arts organizations have now launched their seasons with live performances, vividly reminding audiences just how impressive Salt Lake City's cultural scene is as it returns to its pre-pandemic pace.
Beginning its 56th season, the Repertory Dance Theatre (RDT) offered North Star, celebrating the work of choreographer Lar Lubovitch, including two selections from the 1970s that the company performed for the first time in its history: Marimba (1976) and North Star (1978). In the last seven seasons, even with ongoing personnel changes, RDT's dance artists continuously have demonstrated the greatest performance potential of a repertory ensemble, which switches gears frequently to adapt and respond to an encyclopedia of movement languages and vocabularies covering more than a century of modern and contemporary dance. Their season opener produced many stellar moments, and with the presence of Lubovitch, 78, and with Katarzyna Skarpetowska fulfilling the role as repetiteur during rehearsals, the dancers paid fine tribute to the timelessness of Lubovitch's works.
Reiterating a point from The Utah Review preview of the concert, Lubovitch is uniquely sensitized to the integrity of the music he selects as the canvas for choreographing the movement to accompany it. Minimalism especially attracted him in its most active period during the 1970s, with Lubovitch leading the way for choreographers to incorporate music of the short-lived minimalism movement during the apex of its popularity. Philip Glass wrote the music for North Star in 1977, which became his first film score for a documentary, directed by Barbara Rose and François de Menil, about American sculptor Mark di Suvero. The composer's score complements various aspects of the sculptor's aesthetics, including his passion for large assemblages of unconventional materials and found objects as well as his use of diagonals to achieve counterpoint and angular effects. Lubovitch follows a similar general path in translating the Glass score to movement, which, in this case symbolizes celestial bodies — specifically Polaris (North Star), which readily can be located by the prominent group of stars known as the Big Dipper. For night sky observers, Polaris appears near the north celestial pole, the point around which the entire northern sky turns. It is a magnificent little astronomy lesson that has been beautifully interpreted on stage.
Likewise, Lubovitch builds on East and West communal dance traditions with Marimba, using a 1975 score by Steve Reich, also a prominent minimalist composer. The dancers handled the work very nicely, channeling the mesmerizing trance and hypnotic character of Reich's music. As for Something about Night, a 2018 composition that Lubovitch created to mark his dance company's 50th anniversary, RDT reprised its stupendous performance from 2019, achieving a similarly outstanding effect. Featuring five dancers including a duet and solo as part of the four sections, Something About Night is set to four songs about the nighttime by Franz Schubert, as arranged for male chorus (in a recording conducted by the late Robert Shaw and sung by the Wiener Vokalisten).
Several of the dance artists who performed the work previously returned to the stage this time, remarkably adding just the right finishing touches on each of the four tableaux of sculptures. It is worth nothing that Daniel Do took the solo in the third tableau, which was performed in 2019 by Tyler Orcutt, an RDT artist who is now in a master's degree program at Sam Houston State University and is a member of the NobleMotion Dance company in Houston. Do's solo, accompanied by Die Nachthelle, D. 892, was just as brilliant as Orcutt's performance but there also were enough subtleties to suggest a difference in this rendering. In this instance, with the segue leading to the five dancers returning for the final tableau, Do's movement and emotional presence on stage hinted at a return to nocturnal serenity after a bittersweet even somewhat tumultuous period of the night, paralleling the experiences which had shut down live performances for a year and a half because of the pandemic.
The North Star concert is available for purchase for streaming on video. RDT's next concert will be Compass (Nov. 18-20), featuring Martha Graham's Steps in the Street (1936), Bebe Miller's Event (an RDT commission that premiered in 2019) and a world premiere by Ihsan Rustem. For more information, see the RDT website.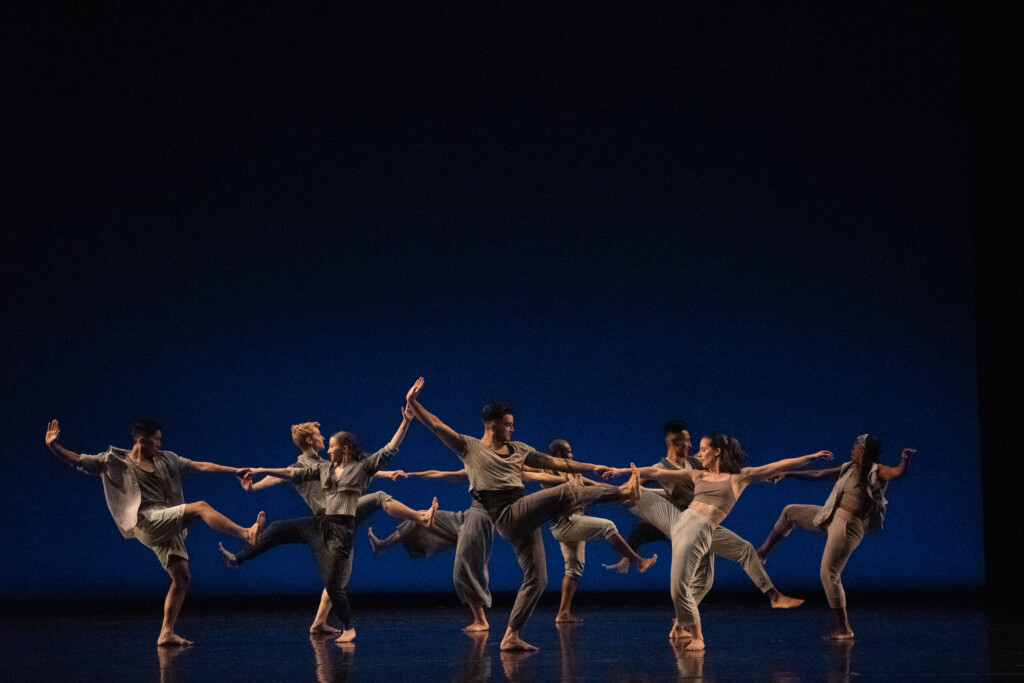 One of the most satisfying discoveries about Salt Lake City is the access to superb musicianship. Among the season premieres were concerts by the  Gina Bachauer International Piano Foundation and NOVA Chamber Music Series. These offerings would be paramount in big-city markets.
After a pandemic hiatus of nearly 20 months, the Bachauer concert series opened with an impressive audience showing, filling more than four-fifths of the Jeanné Wagner Theatre of the Rose Wagner Center for Performing Arts in downtown Salt Lake City. One reason was the world premiere of Texu Kim's Flow and Composition for solo piano. it coincided with the awarding of The Barlow Prize, one of Utah's signature composer commission programs. Chosen from among 574 submissions coming from 41 countries, Kim, a San Diego State University music faculty member who also is among the most recently prodigious recipients of commissions, received the $12,000 prize from The Barlow Endowment for Music Composition at Brigham Young University.
The concert was a tour de force opener, with the husband-and-wife piano duo of Ran Dank and Soyeon Kate Lee, who blended music from Debussy and Chopin with selections by American composer William Bolcom as well as Kim's new composition. They finished off the program with a pair of four-hand pieces including Stravinsky's The Rite of String and Marc-Andre Hamelin's Tango.
A bonus for audiences was the opportunity to see the musicians' hands on the keyboard via video projection, as the concert was being filmed to be made available to ticket holders who preferred to stream the concert for later viewing at home. This feature proved integral to maximizing the enjoyment of every piece performed.
Lee produced a memorable premiere of Kim's newest work, born out of a deep love for both artists' Korean culture. In particular, Kim musically interprets the motions and technique of Korean calligraphy, also known as Seoye and which involves both Hanja and Hangul. This is the instinctive love of a tradition that stands out for more than its elegant technique. There are multiple dimensions of how this particular form of calligraphy has evolved in modern Korea, retaining its classic artistic structures but weaving in appropriately the new lines of influence. Watching Lee's hands take on such amazing expressive fidelity to Kim's musical intentions was wondrous.
Each pianist conveyed their respective musical passions with authentic emotional respect. Lee gave the three Debussy Preludes the characteristic crystalline, gossamer effect gently shaded with hints of a bittersweet nostalgia for those ephemeral moments of an unspoiled afternoon, for example. Dank gave a fine musical exhibition of his own passions. The child of Polish parents, Dank, an Israeli native, became acquainted at an early age with the works of that country's greatest musical icon — Chopin. Thus, Dank's readings of several Mazurkas and one of the composer's most famous works, the Polonaise in A-flat Major, Opus 53, produced a stirring and clear message that despite Poland's complicated and controversial history, the national sense of pride, dignity and lyricism embedded in Chopin's music will never be extinguished.
Likewise, Dank evinced a potent affinity for three selections from William Bolcom's Twelve New Etudes for Piano, Book II, which received the Pulitzer Prize in Music in 1988. These pieces were the subject of Dank's 2017 dissertation for the City University of New York. Bolcom was a concert pianist and the pieces demonstrate the adept use of hand positions for the music's most compelling bits of passagework, which audience members were fortunate enough to follow along on the projected video images of Dank's performance on the keyboard.
Similarly, Hamelin's Tango for four hands, which was only the second live performance to date for this work, allowed audience members to appreciate the playful exchanges on the keyboard, especially as each musician in this dance coupling frequently invaded each other's ivory territory, so to speak. Lee and Dank had just as much fun teasing out all of the pyrotechnics, percussive textures and dissonances of the Stravinsky four-hand version of one of his most famous works, allowing audience members to forget momentarily that there even was a full orchestral arrangement of this score.
The Bachauer series continues Oct. 29 with a special performance at Carnegie Hall in New York City, featuring Changyong Shin, the 2018 Bachauer competition gold medalist. He will play selections from three composers whose music constitute some of the greatest warhorses of international piano competitions: Chopin, Schumann, and Rachmaninoff. For more information, see the Bachauer website.
The pure, transparent chords by the Fry Street Quartet, starting with the upward major sixth in the first violin, which make up the first three minutes in Beethoven's Heiliger Dankgesang (Holy Song of Thanksgiving, Opus. 132), set the ideal opening of NOVA Chamber Music Series' new season and return to Libby Gardner Hall at The University of Utah after the long pandemic hiatus. There is only one Beethoven work that the quartet, which serves as co-directors for the series, has slated for this season but the members could not have chosen better from among the composer's chamber music repertoire. This hymn, which runs more than 15 minutes as the third movement of the 1825 masterpiece, is so exquisite that it dissipates tensions so effectively. It stands out at the top in terms of Beethoven's finest writing.
The performance anchored the spot-on mood for the remainder of an extraordinary season opener. Another hymn of sorts — this one from the 21st century — sustained its unique and genuine expression of gratitude. Equal in its performance impact to the Beethoven piece, Brittany J. Green's …to experience life, scored for trumpet, piano, percussion, and live electronics, has a palpable cinematic feel that is gratifying in evoking its own array of intimate meditative images. Claudia Assad's Metamorfose, a work for viola and piano, was sensitively attuned to the difficult yet healthful reconciliation about a son's grief over the loss of his mother. The performance unquestionably represented the imagery of the critical stage of metamorphosis in which a butterfly eventually emerges from the chrysalis.
The performance of Brahms' String Sextet No. 2 in G major, Opus 36, elucidated all of the contrapuntal magic of this particular work, which often receives less attention and love than the composer's First String Sextet. Alas, the Second String Sextet reminds in part the stunted romantic affairs of its composer but the music also leaps with its independent brand of passion. It bears stating that there may be no better extra partner in the affairs of the heart than the boundless energy of music that animates this Brahmsian gem.
NOVA's series will continue with Songs of Life, a Libby Gardner Hall concert on Nov. 14 at 3 p.m., featuring works by Hector Villa-Lobos, Gabriela Lena Frank, Neil Thornock, Devin Maxwell, Alfred Schnittke and Maurice Ravel. For more information and tickets, see the NOVA website.
Also ending its long pandemic hiatus for live performances, Pygmalion Theatre Company launched its season with Tragedy Averted, a 2013 play by Alexandra Petri and directed by Teresa Sanderson. A worthy and pleasant production, Tragedy Averted highlights actors who succeed at capturing the demeanor and witty dynamics of some of Shakespeare's most famous heroines of tragedy transformed into summer camp participants who are finding their epiphanies of inner strength as ways of avoiding the inevitable conclusion by which their respective lot has been cast in a Shakespearean script.
The formative roots for the play were in Fringe festival performances, a venue genre that has brought numerous novelty and contemporary interpretations of Shakespearean drama and characters. Petri's play is ideally suited for audiences with lots of inside Shakespearean knowledge. It also is a palatable way of introducing younger audiences to some of the most culturally versatile icons of his work including Cordelia, Desdemona, Juliet and Ophelia. The camp director, of course, is Lady Macbeth, helpful but also retaining a good bit of her idiosyncratic moments of derangement, There is a good lesson in Tragedy Averted for aspiring actors and playwrights about steering clear of tropes and stereotypes. It offers up the instructive critique about patriarchy without sounding pedantic in its didactic purposes. This play could be the foundation for a sitcom with the ideal contemporary twist on the Elizabethan conventions and impulses that led to the original cast of heroines but now give them opportunity to reclaim literary territory on their refined merits.
Allen Smith's set design of a summer camp anchors the mood nicely for the cast featuring Natalie Keezer, Allison Billmeyer, Ryeleigh McCready, Brianna McKeile and Brandy Pehrson. The mail call ritual of summer camp may be the best and most ingenious scene in the play.
But, while the cast handles the lines in the script with decent results, there also are opportunities to make the delivery of those lines crackle a bit more, especially from an updated dramaturgical angle. For example, historian Clare McManus has probed deeper into the Shakespearean period and the role of women in the theater. While young male actors performed female roles even well into the British period of the Restoration, there were notable changes. In 1660, actor Anne Marshall was the first woman recorded to portray Desdemona in Othello, McManus notes. But, there also is evidence that women may have been involved more extensively in Shakespearean theater than what had been previously accepted. Such an acknowledgment then adds yet a subtle but more compelling wrinkle to extend the intriguing context Petri lays forth in her treatment of classic Shakespearean heroines.
Performances continue through Oct. 23 in the Black Box Theatre of the Rose Wagner Performing Arts Center, with shows on Thursdays, Fridays and Saturdays at 7:30 p.m. and Sundays at 2 p.m. There also will be a matinee on the closing day (Oct. 23) at 2 p.m.
More information is available at the Pygmalion website and tickets can be purchased through the Artsaltlake.org website. Petri will be available after the Oct. 15 performance to participate in a talkback.