Whatever their differences in family, religion, school interests, or even musical tastes, three Utah teens have come together in an extraordinarily rewarding and productive way in Spy Hop Productions' musicology program.
The only students who have completed one of Spy Hop's rigorous year-long programs in music and media arts, the three teens who comprise the band Arcane – Rylee Hopkins, 15; Eoghan Knibble, 15, and Sam Clower, 17 – already have performed some of their songs which will be formally released in an EP album at July's Heatwave Festival.
"From the start, it has been fascinating to see these three students who come from totally different backgrounds and from different places in music work together," says Jeremy Chatelain, Spy Hop's musicology mentor. "I've learned so much from watching them grow as young musicians."
The class is a 10-month long process, which begins in October. It starts with an audition for the eight slots and the students work through the entire creative process of making an album, in which Chatelain introduces them also to the promotional and business aspects of making music. Students compose music and write lyrics, create their album including the cover art, and, by spring, start performing in local venues. Already, students have performed at local venues including Kilby Court and at Spy Hop's annual benefit. Arcane also will perform on the first day of the Utah Arts Festival next month (June 25). Hopkins, Knibble and Clower are the three who completed the program, which is as professionally demanding as any program can be for young musicians who aspire to perform their original works for audiences as well as studio recording.
In fact, the three first met during the audition, when they were assigned to the same group to write the lyrics and compose simple music for a song within 45 minutes. Individually, they were studies of strong contrast. Hopkins, who is Mormon and attends American Fork Junior High, is technically solid, having taken lessons in piano, violin, guitar and voice. She says that her father, who is a professor at Brigham Young University, cautions her against considering music as a possible full-time career or college major. Among her favorite musicians is Lindsey Stirling, the violinist whose covers of everything from classical to hip-hop and pop are well known to millions of YouTube viewers.
Knibble, a freshman at the Academy for Math Engineering and Science, does not have the same extent of formal training but plays guitar, bass, vocals and some keyboard. Cerebral and hardly retiring, he immerses himself heavily in science, mixing in Buddhism, metaphysical thought, and enjoys a broad range of music from Elliott Smith and Connor Oberst (especially in the lyrics for the indie band Bright Eyes) to Modest Mouse and David Bowie. The quiet, shy member of the trio, Clower, a junior at Judge Memorial High School, plays drums, guitar and handles vocals, enjoys Goo Goo Dolls for the lyrics, Blink 182 for drumming and percussion and the overall musical effects of Panic! at The Disco.
For the audition, students were given some keywords to generate a song. For Hopkins, Knibble and Clower, they worked with 'awkwardness.' "We split up, each wrote a verse, and then came back together to collaborate," Hopkins recalls. Eoghan says, "We wanted to write something super simple so we were inspired by Johnny B. Goode [Chuck Berry] and 'Sweet Home Alabama [Lynyrd Skynyrd].'"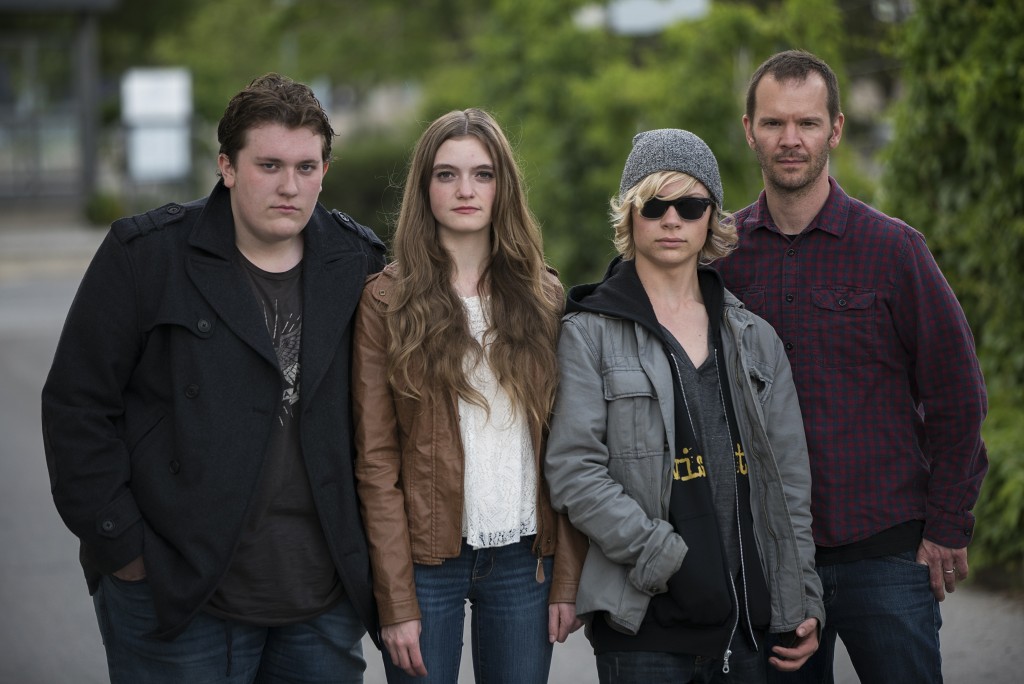 Their collective efforts were a success, a clear harbinger of the year ahead for the future members of Arcane. However, the path also included many complex hurdles that are familiar to new and veteran musicians alike. "We were willing to work together but sometimes the tension left all of us frustrated, Hopkins says. "The first song we tried to write was really awful and no one was agreeing on anything."
They did quickly decide on one path to help themselves work out the difficult tasks of writing and matching lyrics to melody and harmony. "We decided that we would not try to define ourselves by genre," Clower explains. And, even as they approach the end of their 10-month venture, "we still haven't decided how to best explain our style in our songs," Knibble adds.
That said, Arcane seems to be the most appropriate name for this trio who learned, quite remarkably for such young musicians, to trust their instincts for collaborating on a series of new songs that ultimately would be recorded for posterity and performed live.
The new songs written (see below for sample Soundcloud tracks) by the trio do reflect a healthy sense of musical egalitarianism and the lyrics often positively affirm the youthful desire to find independence in identity and philosophy. It also constitutes a pretty solid statement about culturally wise young artists who care very little about commercialism, especially if it means compromising a genuine artistic voice.
There are some strong up-tempo pop elements in some of Hopkins songs such as "Your Story," and "Tale of Strength" and there is a good inflection of alternative rock elements in the piano-based "You Think You've Got It." Hopkins addresses her Mormon identity in "Salvation's Army," a song with an indie rock feel just moderated with the right influence of pop. The song reflects upon the experience of some in the Mormon community who live in a bubble, consciously shielding themselves from others and influences who have a different view of the world.
Knibble's songs, which could generally be described as alt-rock ballads, are cerebral in their philosophical tone. "Oscillations" is his take on the classic life-as-a-merry-go-round metaphor. "It's about trusting yourself so that you don't become the cliché," he explains. "Into the Fray" is filled with multi-layered lyrics about one's search for identity in the larger cosmos. "Unknown Lilac" is dedicated to an old family friend of his mother who died when Knibble was just three. The title refers to the color of the tag attached to the body. Apparently, the friend died of a drug overdose, believed to be diet pills.
One of Clower's two songs is "Kin," a social statement that emphasizes how strong kinship can be within a community even though the freedom and strength of individualism are stressed in education. "Tally Marks" references the pain and struggles of peers who cut themselves.
In their interview with The Utah Review, Arcane's band members are clearly comfortable with each other, finding the right chemistry not just in their music-making but as newfound friends. In a warm, optimistic expression of our Utah Enlightenment, three teen musicians demonstrate once again one of Spy Hop's most enduring values – the capacity to respect, affirm, and collaborate with every individual, regardless of differences, in an increasingly diverse state.