NOTE: This is the first of a two-part series about Plan-B Theatre. The first looks back at the company's 24th season.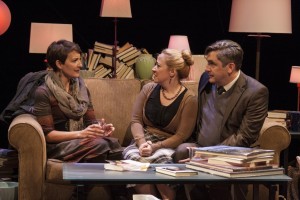 In every production for its recently completed 24th season, Plan-B Theatre brought many thrilling moments of intimacy to audiences. The visceral, emotional punches between a young Mormon couple trying awkwardly to process the grief over a dead child in the brilliant standout of Matthew Ivan Bennett's 'A/Version of Events' were palpable in the small Studio Theatre of the Rose Wagner Center for Performing Arts. Audience members were transported directly into the living room drama of Melissa Leilani Larson's 'Pilot Program,' as a couple decided reluctantly to participate in an experiment restoring polygamy. Even in the staged reading of Elaine Jarvik's 'Marry Christmas,' an ensemble piece celebrating the first anniversary of marriage equality coming to Utah, the 14 actors elevated a good-enough script to the occasion's rightful tone with a surprising burst of emotional energy.
Salt Lake City's theater scene does cater effectively to the more conventional tastes of audience members who feel more comfortable selecting a tried-and-true drama or musical over an original work by a local playwright that ventures more than occasionally into socially provocative territory. However, Plan-B definitely outperforms its size (on an annual budget of barely $200,000) in terms of artistic impact and visibility.
Many of its performances played to sold-out houses and the company's work received consistently good feedback both from audiences and critics. It has managed to win competitive grants from the National Endowment for the Arts' Art Works program in each of the last several years. Next month at the Utah Arts Festival, it will receive a Mayor's Award for its artistic contributions to Salt Lake City. Plan-B also earned state recognition with the Governor's Organization Leadership in the Arts Award.
As the company prepares to celebrate its 25th anniversary next season with a lineup of plays that pushes the innovative bar yet further, its most recent season crystalized a worthy artistic image that serves as the standard for hundreds of other small theater companies around the country that tackle their own renditions of socially conscious themes and stories.
In general, theater is a luxury discretionary expense but it also can be quite affordable for most middle-class consumers. In an age where the mass media and digital media have transformed how we listen to music or view television or films, theater in the elegantly crafted minimalistic form which Plan-B has excelled consistently at, remains one of the most intimate, locally created performing art forms we have today in the community.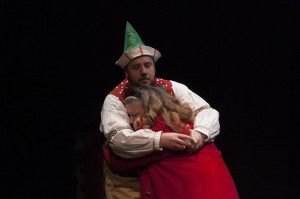 Plan-B's success also arises from directors, actors, production crew members and, of course, playwrights who stay true to their natural instincts. This is first evident in the company's programming philosophy each season. The same heightened sensitivity to those natural instincts also drives the work of directors and actors who skillfully interpret and render new scripts, which could otherwise end up quite differently with disappointing results in the hands of other directors or actors.
As director, Cheryl Ann Cluff ensured that Julie Jensen's 'Christmas With Misfits' did not lapse into the sitcom genre in any of the four stories set as dark comedy amid an overflowing garish display of kitschy Yuletide décor. Christy Summerhays was outstanding in preparing two talented yet young actors (Carleton Bluford and Latoya Rhodes) to be as convincing as possible in the socially explosive roles of the grieving couple in Bennett's 'A/Version of Events,' the strongest production in a thoroughly solid season. In her performances, Dee-Dee Darby-Duffin deepened the roots of some of the strongest character portrayals in Bluford's 'Mama,' his first play and the first premiere in Utah by an African-American playwright.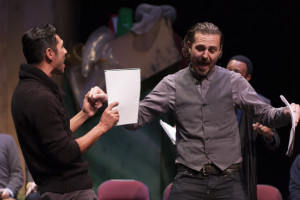 Jerry Rapier, the company's producing director, says deciding which plays should be staged in a particular season revolves most critically around whether the work is ready and ripe for production. Often the thematic connections linking a season's work occur serendipitously but, as he explains, "we don't overthink them. Sometimes, at the end of the season, we look back and are pleasantly surprised how these connections emerged." A major platform for developing, refining and polishing Plan-B's new plays is The Lab, which has a current group of nine playwrights, who are responding artistically and instinctively to social, cultural and political themes and discourses that are prominent at a particular time. This season's work, for example, explored family values with a fairly strong emphasis on motherhood in both positive and negative contexts.
The season opened with early perfect notes in the company's ninth Radio Hour episode, which featured three Grimm Brothers stories, all with various takes on motherhood, rendered in a smashingly good interpretation by Bennett's script, the performances of five actors, and Cluff's direction. However, the most impressive portion came in the middle installment featuring the 2,000-year-old tale 'The Juniper Tree,' which involves cannibalism as the mother tries to hide the killing of her son. It was a chilling retelling done in a rapid, clipped form (lasting just seven minutes), with original music, composed by David Evanoff, to complete the creepy effect.
Jensen's 'Christmas with Misfits' zipped through a lifetime of holiday experiences, characterized by the direct or lingering effects of disappointment but then redeemed in the end by a bit of unexpected magic. Jensen, the Utah playwright who has seen more work than any other produced outside of the state, freed the typical holiday aesthetic from its crass, commercial manipulation, using just the right weird, and melancholic touches to say it's okay to break tradition and find a way out of the misery and loneliness that really restrains people during the season.
Meanwhile, Jarvik's tribute celebrating Utah's arrival into the union of marriage equality worked because of how it expanded upon defining traditional marriage at the most tradition-bound time of the year. Working with material collected from interviews of some of the state's first couples to take advantage of their new rights, Jarvik served up lines that percolated with natural sentiment and sincerity: "You know, I have to tell you, my parents adored each other. And they taught each of their children the importance of love and companionship. They wanted for us what they had with each other: someone who cared for them and made them laugh. . . . That was their tradition of marriage."
Bluford's 'Mama' was the season's thematic anchor in a rendition that mixed experimental and traditional forms in weaving a tapestry about motherhood. It was also the first work presented as the winner of a juried competition for Utah-based playwrights 35 and younger, sponsored by the David Ross Fetzer Foundation for Emerging Artists (The Davey Foundation).
The work certainly bears the mark of a promising writer who still has some rough edges to hone. However, Bluford gave motherhood a portrait, even with the occasional stories of blemishes, wounds, and disappointment, that was a wonderfully honest, mature, even fierce at times and thoughtful reminder of the unconditional love possible in any family.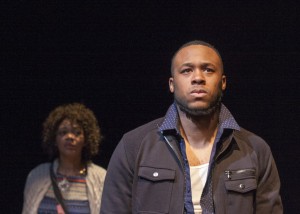 However, it was the season's two final works that testified dramatically to the best moments of theater's emotional invitation to reclaim spiritual power and to reinvigorate the human conscience. Bennett's 'A/Version of Events' was magnificent in every aspect from Summerhays' direction to Cluff's music and sound design and to the performances by Bluford and Rhodes that captured Bennett's complex characters. Unlike the other productions this season, Bennett's play did not draw full houses, especially as word of mouth among theatergoers suggested that his thematic treatment of coping with grief would be too close for comfort. Indeed, the play vigorously challenged cultural conventions about how we deal with grief, particularly at a time when we think that we can handle the emotional demands of public mourning in our social media environments. Rather than soothing ourselves with popularized notions about grief and its neatly compartmentalized stages, Bennett's characters lead us into a far different territory that permits us to accept grief's messiness and find new ways to cope honestly with the chaos and reclaim the relationships with loved ones who share the emotional pain.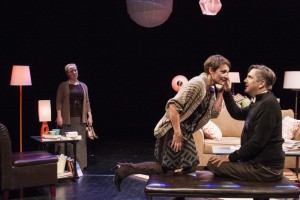 On the other hand, Larson's 'Pilot Program' sold out its run, even as it ventured onto equally uncomfortable, provocative territory: a truly groundbreaking treatment of an LDS experiment of polygamy that communicates silence and awkwardness bravely in a most subtly subversive way. This was the first Plan-B production for Larson, a Utah writer who already has cultivated a long portfolio of work which includes plays and a screenplay for 'Freetown,' the recently released film featuring the story of six Liberian (Mormon) missionaries who flee Monrovia amidst the civil war and hope to find safe harbor in Freetown, Sierra Leone. Larson shows impressive intellectual depth in her work, as Pilot Program's humor, loneliness and quiet, yet hugely important, questions of faith render the space and place of Utah's quasi-theocratic legacy in a most formidable way.
The works of Bennett and Larson cemented Plan-B's long-running role in fostering the Utah Enlightenment. Indeed, it prepares audiences for crossing the bridge to a silver anniversary season where the company says good-bye to one of its most popular series and welcomes music's extensive role in two world premiere productions. (More in Part Two)