After operating for many years on Main Street in Park City, owners Shane and Jen Barber have built and opened a beautiful new Bandits' American Grill in the Old Mill area of Cottonwood Heights. This is Bandits' fourth location, with two in California and two in Utah. Is it a steakhouse or is it a BBQ place? That's tough to answer, as the substantial menu offers items such as slow-roasted prime rib, ribeye steak, and New York steak along with baby back ribs, roasted chicken and pulled pork. I would hesitate to call it either a steakhouse or a BBQ joint as it is missing steakhouse staples such as the Porterhouse or Filet Mignon, and the BBQ side is missing any mention of brisket. But the menu seems to dabble in both areas, and the food we tried, regardless of classification, was delicious and is sure to please hungry skiers coming down from the nearby ski resorts.
The Barbers have done a fantastic job with the design of the restaurant, featuring a large bar area that showcases the centerpiece: a chandelier made out of a huge chunk of reclaimed wood. The bar area was designed to open to the outside patio in the summer, while the interior features TVs playing various sporting events throughout the bar area. The dining room is separated from the bar area, and while it features plenty of wood, it definitely falls on the tasteful side of the all too played out log cabin ski lodge designs featured prominently throughout Park City. Shane mentioned they wanted their place to be family friendly and welcoming, and I think that their design has accomplished this.
We were invited by Bandits' to try out many of the items on the menu, and the following photos show some of what we were able to try.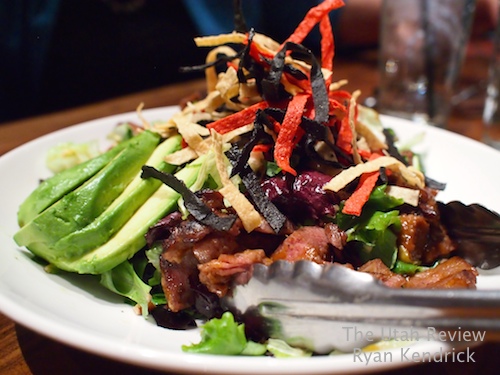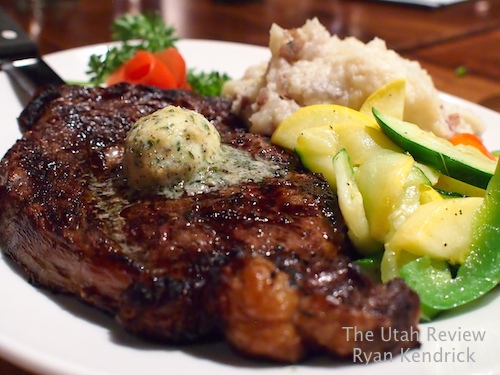 Bandits' is located at 3176 East 6200 South (just north of the Hyatt in the same parking lot). Call for hours: (801) 944-0505.
Disclaimer: we were invited guests of Bandits' American Grill. All opinions are our own.