In past shows, the Myriad Dance Company has achieved excellent sensory experiences in site-specific works that fit beautifully in the Dreamscapes museum but Notion, their newest production, is an outstanding hybrid that feels like a black box theater show but still functions in their usual proscenium-free staging. Notion follows true to the form that has distinguished Myriad Dance's shows, by creating a delightful meta sensation where the dancers lure the audience members into traversing the dimensions of the emotions of judging each other and being judged.
Set in the Utah Arts Alliance's Urban Arts Gallery at The Gateway, Notion is a rich entertaining collaborative exploration of broad themes associated with the emotional dynamics of how humans observe and judge each other. Myriad Dance once again manages to frame the thematic anchors of their work in a distinctly serenely contemplative manner. Each piece in the show highlights movement set on dancers by company artists and guest choreographers. They include Kendall Fischer, Fiona Gitlin, Madazon Can-Can, Emily Haygeman, Temria Airmet and Tawna Waters.
The show's additional elements include live instrumentals featuring cello, guitar, piano and percussion, with original compositions by the musicians (King Cyborg, Monty Dillon, Betsy Nelson, Daniel Pack and Indigo Cook), as well as well-known selections from Radiohead and Bach. There also are sketches of dancers, created by Eleora Draws, which are projected in time-lapse fashion prior to the beginning of the show as well as in the two 10-minute breaks during it. The results of all of the production elements are immensely satisfying and gratifying, which has been a consistent hallmark of the wonderful dance company.
The dancers convey the underlying emotional themes of each set piece with appropriate facial expressions, tremendous eye contact and theatrical gestures. For example, Madazon Can-Can's choreographic contributions in Admiration (Allysen Olsen, Emma Scannell and Hannah Huang) and Passion (Andi Yost Giardina, Emma Scannell and Severin Sargent-Catterton) evoke precisely the heartening dynamics associated with Salt Lake City's foremost burlesque, drag, clown, theatrical artist.
Notion's opening and closing sections, featuring all 19 dancers, are vivifying bookends in this narrative of human nature. Aperçu and the Coda are choreographed by Fischer and Gitlin. Aperçu features a solo by Katelynn Killian, along with an inner circle of seven dancers (Amelia Martinez, Arielle Miller, Andi Yost Giardina, Emma Scannell, Leslie Babalis, Mei Chian Lim).
With the marvelous, calm original scoring on percussion by Indigo Cook, Contentment is fully manifested by Fiona Gitlin, Maggie Olvera, and Tori Meyer. Anger and frustration come through effectively in Justice, with Edison Corvera, Katelynn Killian and Lexi Hauck performing in this set piece. Likewise, Indulgence, Ambition and Confidence come through just as clearly in translating their respective human nature dynamics.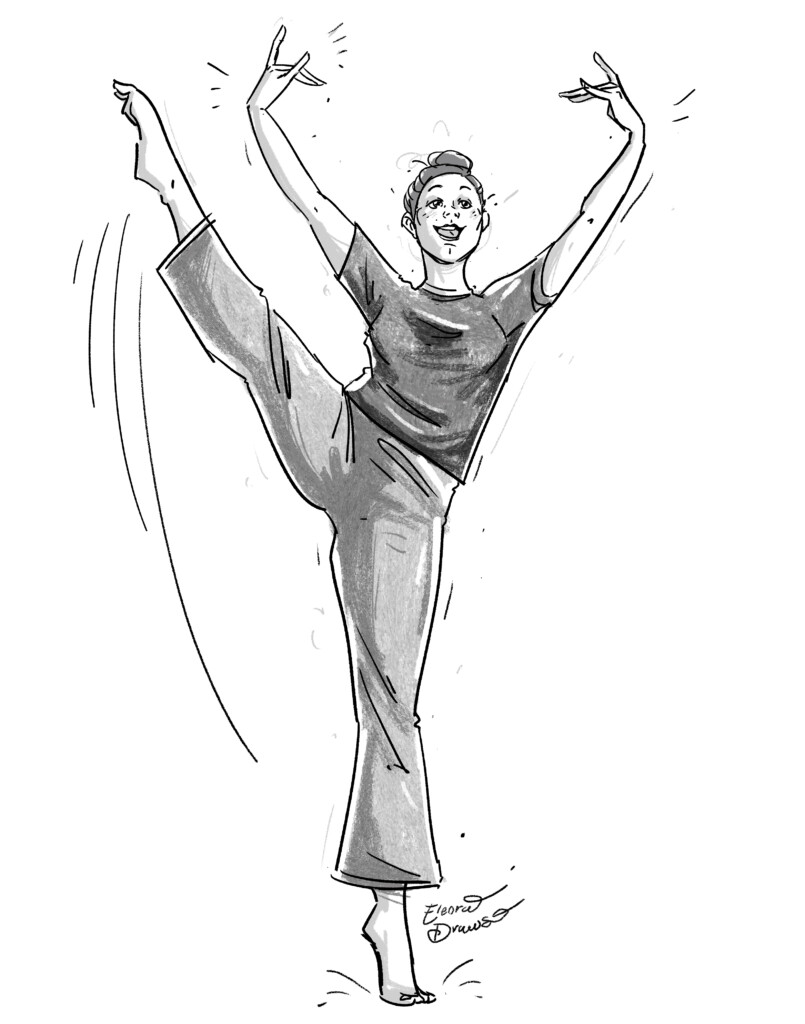 This is Myriad's only formal production for 2023 and Notion is definitely recommended. The company always excels at accessible, personable, generous expressions of the positive aspects and healthy potential of human nature.
Tickets are available for the production's three performances: March 11 at 7 p.m. and 9 p.m. and March 12 at 7 p.m. Doors open one-half hour before the start of the performance. Wine and snacks will be available for purchase. This event is for ages 21+. The program runs approximately one and a half hours, including two 10-minute pauses.