There were so many moments in the two concerts capping the fourth annual New Century Dance Project (NCDP) of Francisco Gella, with the Repertory Dance Theatre (RDT) as the co-sponsor, which brimmed with thrills of new choreography and performances.
In the Student Choreography Showcase, the 12 young choreographers dazzled judges and audiences with creative ideas that were mature, sophisticated and, in many instances, simply gorgeous.
Taking the grand prize was a solo piece, 005-Cerebrum, choreographed and performed by Leila Williams of Los Angeles. It was an exceptional contemplation in movement that supersedes the burdening effects of seemingly mundane routines and the melancholic frustrations a young dance artist typically confronts in her creative process. Her solo truly imbued the broad expectations that Gella's NCDP has in nurturing young dancers to defy conventional expectations and to find their genuine voice and niche in a relentlessly competitive performing art form.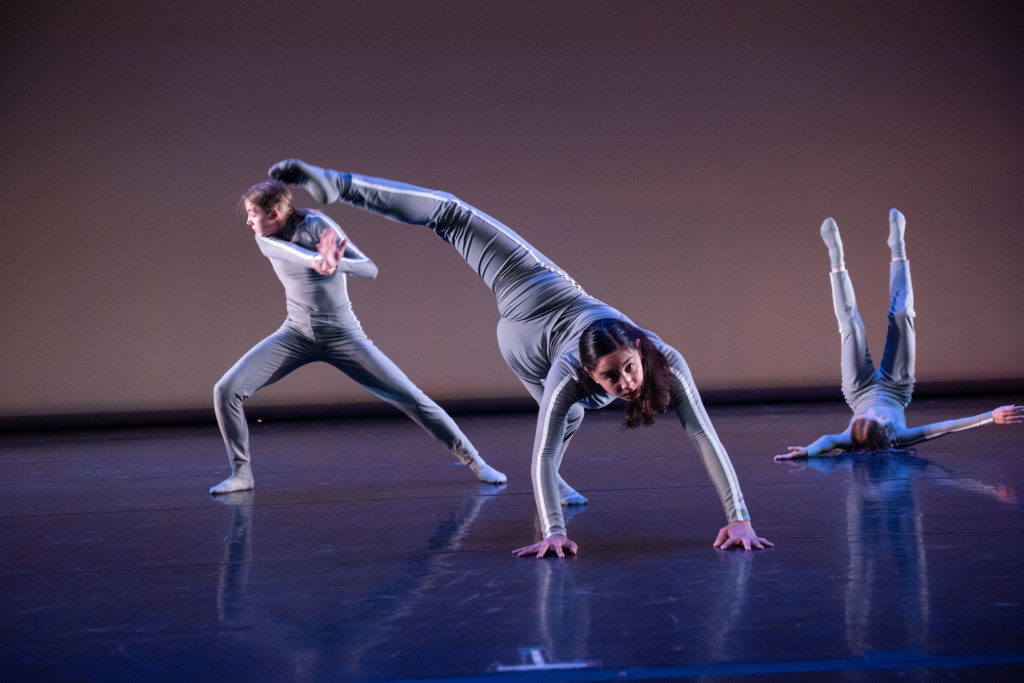 Like her colleagues who performed that evening, Williams' musical choice reflected deep substantial effect and impact for her creative statement. The dancers not only strive for significance in their movement language but also bring to their expression a highly cultivated ear for music that has a true 21st century sensibility.
She selected Infra 1 by Max Richter, a highly regard post-minimalist composer. The track comes from a 2010 album with music that the composer originally wrote for a collaboration with a choreographer and video projection artist. Williams properly augmented the emotionally charged character of the music, which opens with radio static noise. It evolves into the same sort of haunting ambience that one finds in listening to Sigur Rós from Iceland.
Williams' grand prize award includes $1,000 and a commission to set a piece for the 2020 NCDP.
Second prize honors, including a $500 cash prize, went to Bianca Calderon from Escazu, Costa Rica for Beget the Wolf, a duet she danced with Brianna Calderon. A fascinating work featuring an excerpt of Jerry Lane's music from the film by which the work is partially inspired, Beget the Wolf translates the thematic gist of Theeb, a 2014 film in Arabic about Bedouin men involved in the war that led to the collapse of the former Ottoman Empire.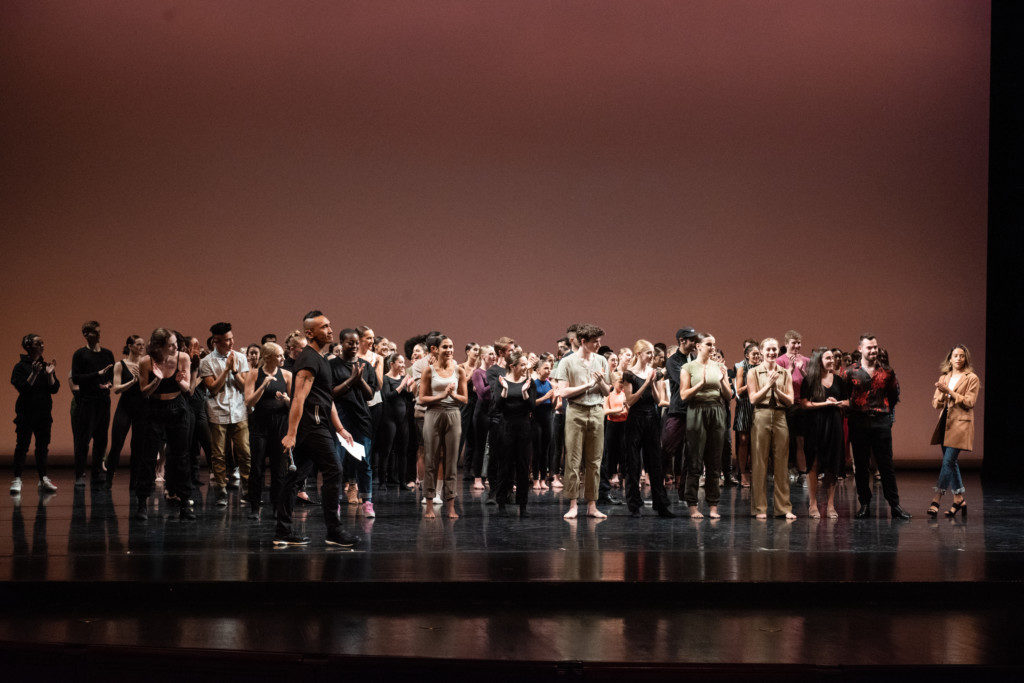 Theeb, the name of the young protagonist in the film, is translated to Wolf. In the 21st century form as danced by two women, Calderon elicits the universal elements as expressed in movement: protecting and helping each other survive in an unforgiving environment and honoring a culture that thrives as much on cooperation and collaboration as it does on competition. Wolves are to be respected, even when they are feared by those who feel intimated by them. Indeed, the work sets up a compelling metaphor for dance.
Taking third prize, with a $300 cash award, was Brian Golden of Huntington Beach, California with Life Is Just A Bowl of Cherries, another intriguing composition juxtaposing classic pop culture elements with postmodern tones. The work was set for seven dancers: Jenna Ashley, Hannah Fozkos, Brooke Lutz, Tayler McGuire, Samantha Rogers, Sabrina Rincon, and Jordyn Waldo.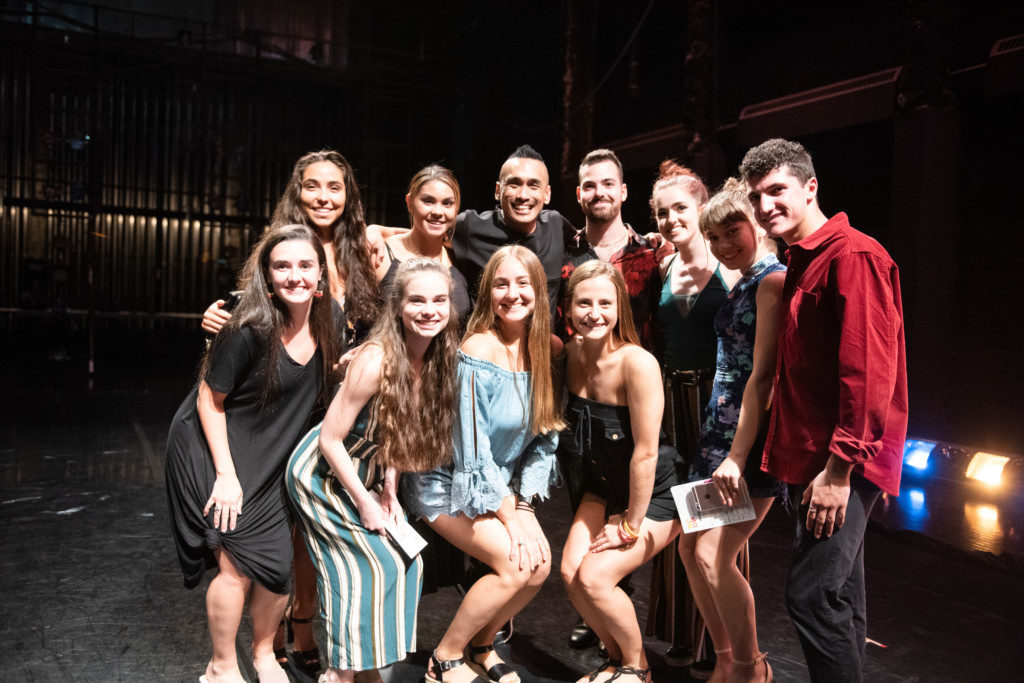 Golden's musical choices, arranged by Mary Grace McNally, introduced a peculiar mix of ideas clearly represented in movement. One anchor is the familiar Great Depression Era tune of Life Is Just a Bowl of Cherries, one of the most versions as sung by Judy Garland. The other selections came from composer Nicholas Britell, whose scores for Moonlight and If Beale Street Could Talk were nominated for Academy Award, and William Basinski, who is best known for constructing his soundscapes from decaying tapes of music he previously composed and recorded. Things in life always will separate and disintegrate but we can survive if we just remember that "life is just a bowl of cherries."
In the closing Festival Gala Concert, among the 19 works featured were new dance compositions by 10 young professional and emerging choreographers that were being judged for awards.
Taking the grand prize was Salt Lake City's Rebecca Aneloski with Buddy, a duet featuring Micah Burkhardt and Natalie Jones. This became a story told entirely in movement, incorporating a cleverly crafted musical score of Aneloski's choosing that included Willie Nelson, local composer Michael Wall and a 19th century aria — M'appari by Frederich Von Flotow, which he wrote for the opera Martha. Is love sufficient by itself? Is friendship a satisfactory substitute? Can love and friendship thrive together? Or, is the departure and breakup an inevitable conclusion? So many smart creative choices abounded in this work, surely the strongest performance among those being judged for the awards.
Aneloski received a $2,500 award along with a commission to set a work for RDT.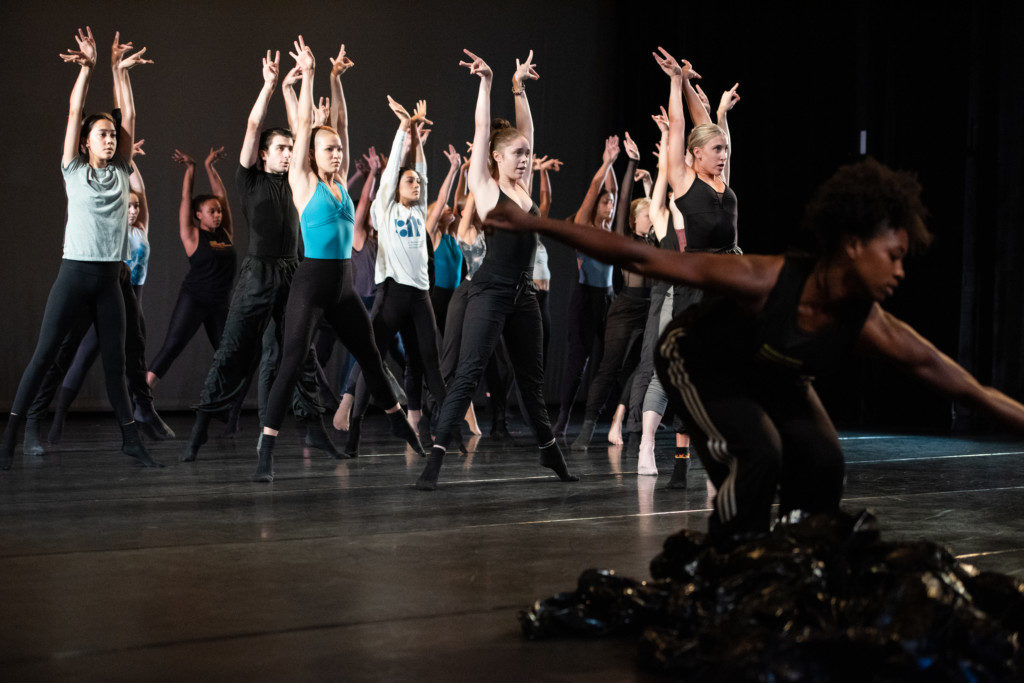 Second prize, with a $1,000 cash award, went to Matt Luck of Los Angeles for Navigating, a trio set for Nyah Arne, Rachel Steward and Lucy Johnson. In a program note, Luck mentions "this piece explores a tactile approach of traveling within an angular space. The dancers are influenced by textures and structure in sight and sound, using them as templates for pathways and qualities of movement."
Indeed, this was a convincing description of the work that emerged, featuring as music Bluetime by Taylor Deupree and Frank Bretschneider and Stunt Pt. 1 by Giuseppe Lelasi.
There is a distinct scientific and digital feel to how the work emerges. The movement reminds of the concept of amplitude as it applies to the astronomical concept of how celestial objects are visualized at angles when the rise in the sky or set in the horizon. And, in other instances, the work seems like the dance corollary of a DJ working the turntables in a performance.
At the concert, Gella announced the quality of the work presented was so strong that judges added an honorable mention prize, which would include an invitation to submit a piece for next year's NCDP.
Honorable mention went to Jenn Freeman of New York City for In Caverna, a trio set for Nyah Arne, Rebecca Winkel and Brooklyn Barton. The music for the piece was To the Hands No. 4 by The Crossing. In Caverna originally references a song by the 17th century composer and organist Dieterich Buxtehude and later adapted by Caroline Shaw. The work echoes a pervasive sentiment among the scores of young artists who convened in Salt Lake City for the NCDP – the elegant symbolism of old and new friends holding hands, reassuring each other that it will be fine, so do not fear taking the risk.
The remainder of the Festival Gala Concert featured thrilling performances including two solos set by Francisco Gella (Cold Wind danced by Sarah Bratby and Movement One danced by Aimee Brotten). Both of these works epitomize the expansive breadth and scope of Gella's multilingual dance fluencies stretching from the classics to breaking-barrier movement vocabularies.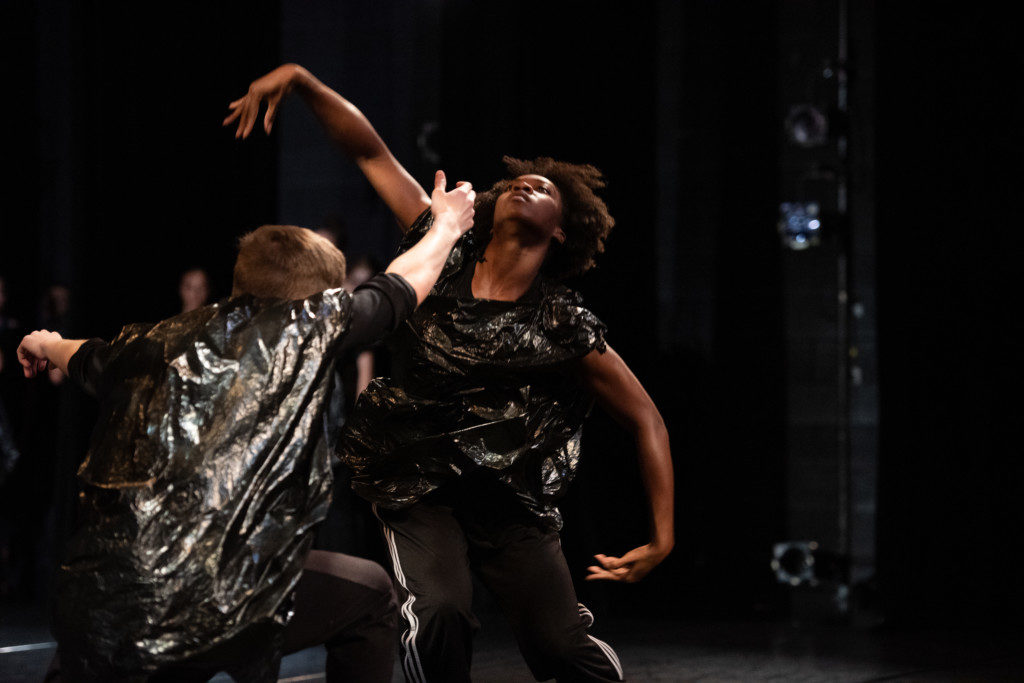 The deep and chill trap sounds of Troyboi's Do You electrified the crowd as Sam Picart, one of the NCDP faculty artists who comes from Seattle, put on a tour de force hip-hop master class in his performance.
RDT's offerings were just as impactful. Following Picart's thrilling solo, the company reprised from last season Taeko's Pavane: Homage to Michio Itō, a 1997 work cast to the music of Gabriel Fauré's Pavane in F-sharp minor, Opus 50. The contrast, indeed, is as spine-tingling an emotional inducer can be, compared to Picart's electrifying expression. A century before Do You emerged, Itō was blazing his trail as an early dance master, using hands and movements that precisely moved in tandem with the music's rises and falls in harmony.
MASC, a work by RDT dance artist Dan Higgins that premiered at the company's Emerge concert last January, was reprised. Burkhardt, who also had danced in the premiere but in a different role, assumed the part Higgins originally performed. Rounding out the trio was Morgan Phillips and Brendan Rupp. The second performance was even more impressive than the premiere, as, to reiterate a point raised in The Utah Review last winter, Higgins sets to interpret the weariness of sexual objectification and the ever-insistent tribalism of the conventions of masculinity, followed by an opening that the best way to resolve the tension is to dissolve the boundaries completely. The music parallels the dance sequence perfectly with the relentless pulse of Perera Elsewhere's Weary, followed by the gritty, dark punk-like industrial sound of Entropy Worship's Port Holes, and then the anthem-like Luke Howard's Hymn.
Ursula Perry and Trung 'Daniel' Do, RDT dance artists, choreographed the pitch-perfect, thoroughly endearing celebration of Voices for NCDP participants, accompanied by music from Rachel Porter, Mina and Lorenzo_BITW. This segued in War Song (An Excerpt), also for NCDP participants, choreographed by Yusha-Marie Sorzano of Los Angeles, also one of the festival's faculty artists. The closing highlighting NCDP participants, which Gella choreographed, was Stampede…OHM, featuring, appropriately enough, Stampede, music by Mikael Karlsson.
The final trio of works emphasized the phenomenal progress of what these young dancers accomplished in five days in Salt Lake City. Young artists bring a kinetic sense of bravura to the stage, when they feel completely at home with their peers. It was the ideal rousing finale.