Why, a canvas I have covered is worth more than a blank canvas.
That – believe me my pretensions go no further – that is my right to paint, my reason for painting, and by the Lord, I have one!
Source: Vincent van Gogh. Letter to Theo van Gogh. Written c. 22 July 1888 in Arles. Translated by Johanna van Gogh-Bonger, edited by Robert Harrison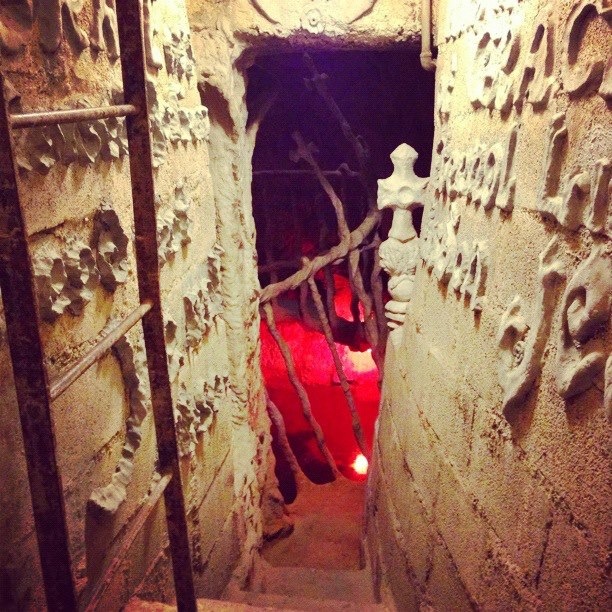 Time is growing short for Ralphael Plescia. He sings perhaps the most famous form of the Lord's Prayer (by Albert Hay Malotte) and his voice of devotion is clear, strong and sincere. But it also is the voice of an old man whose reserves of endurance and stamina will inevitably be tested with steadily increasing limits. One wonders in watching the outstanding short documentary The Gospel According to Ralphael just how much longer he can sustain the morally intense pace of his unconditional devotion to creating and completing a church school, as he calls this most unusual museum.
Just moments later in the film, the viewer sees the signs of redevelopment, economic revitalization and gentrification that have engulfed downtown Salt Lake City. Those developments have begun encroaching southward in the direction of the three-story State Street warehouse which Plescia has turned into a cathedral-like installation of devotional art for nearly five decades. In the film, he plainly says, "[there is a] 98 percent chance that none of this will be here" after he dies. And, his wife (Rae) says that the warehouse will revert to "the Shriner's Hospital" after his death.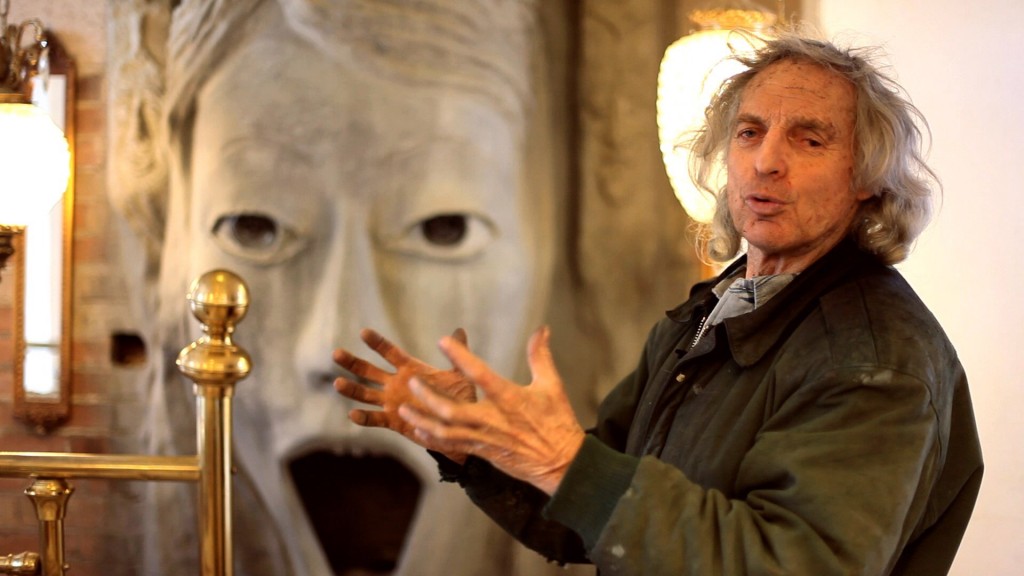 Simply, The Gospel According to Ralphael is an extraordinary documentary that offers many revelations in less than 15 minutes. Directed and created by the award-winning OHO Media team of Torben Bernhard, Travis Low and Marissa Lila, it was produced in association with KUER-FM's VideoWest initiative and Artists of Utah's 15 Bytes.
The film was released on Sept. 7 online and it already is gaining new viewers by the hundreds each day. In 2014, the OHO Media team produced Transmormon for VideoWest, a short documentary about Eri Hayward, a Utah woman and devout Mormon in her twenties, just days before she traveled to Thailand for her sexual reassignment surgery. The film, which won the Utah Short Film of the Year award at the Utah Arts Festival's Fear No Film program, has been viewed globally by numbers approaching four million. It likely will pass that mark in a recent online share by National Geographic magazine.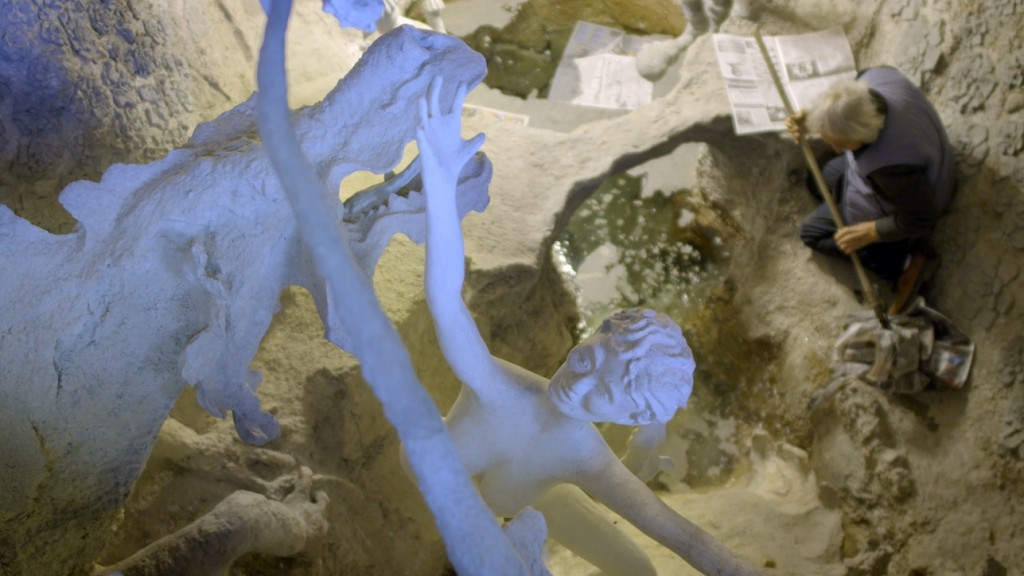 It would not be surprising if The Gospel According to Ralphael attracts a similar response. The latest film portrays an unconventional artist whose theological understanding of religion serves as his central guiding principle in expressing the aesthetics of his work. Plescia engages intelligently his own interpretation of the Scriptures as he has transformed the warehouse at 1324 State Street into a massive work of art that values clarity over irony.
Bernhard, Low and Lila supersede the obvious curiosity, novelty and unconventionality of Plescia and his work that is at significant risk of being lost forever after he dies. Ralphael's Gospel interpretation reveals a profound and utterly moving beauty. Viewers see the creative manifestations of Plescia's emotions. These reverberate for him personally in discovering the darkness and uncertainty of longing for the inevitable reunion with all (especially his loved ones who died suddenly or so tragically young) and in God's grace. Rae, his wife, recalls that her husband lost his grandmother on the last day of April 1970 and then in September of that year, he lost his sister, father and their youngest daughter. "And then our other daughter died [of a ruptured brain stem aneurysm]," Rae says. "That was even worse… so much more difficult. He couldn't accept that she was gone."
There is the ubiquitous presence of melancholy that inspires the heart of profound, morally intense art. The documentary becomes an extended moment of religious insight in a space and in a community where the predominant religion is struggling to keep its authority over a diverse, multicultural, multiethnic populace that seeks comfort and acceptance in a humane faith, regardless of confessional denomination. There are many glimpses of the art and work that he created and embedded in the edifice over the decades but the film also invites visitors to explore Plescia's 'church school' during open hours every Friday afternoon. His commitment to detail is astounding. For example, he used five-gallon buckets to dig out the bottom so the exposed groundwater would create a pond in his all-encompassing vision of heaven, earth and hell.
"I am not trying to sell anything other than knowledge," Plescia says. "In art I am trying to show how I think it was. [I am] defending the Bible as written." Asked about where he derives his authority, he explains that everyone, regardless of church or individual, has the authority of free agency to "write and see and look and observe and do anything [they] want. And we all have that right and authority."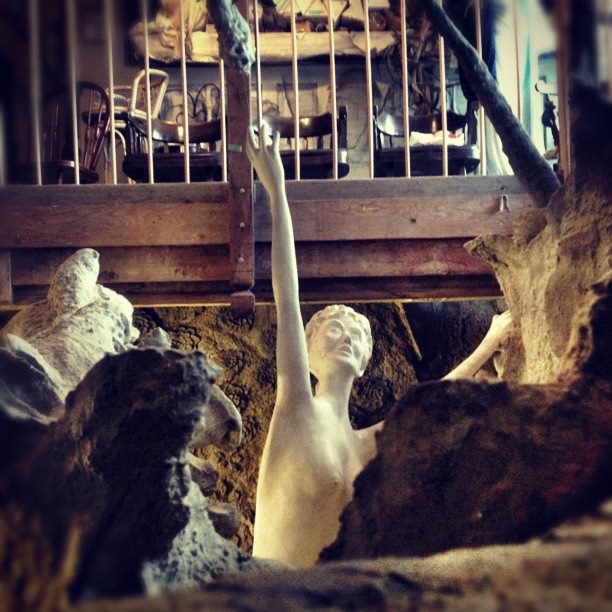 In the film, Plescia guides a Friday afternoon visitor to his interpretation of Revelation 12 in The New Testament – an enormously important part of this richly textured short documentary. While the entire book of Revelations is often described as the New Testament's most symbolic, this particular Revelation has been cited by theologians representing virtually every Christian faith as the most critical for understanding Revelations as a whole. For many centuries even from the earliest times of the Christian church, many of the greatest theologians, commentators and thinkers had accepted the tenet of supersessionism – that is, the covenant represented in the Old Testament had been fulfilled and replaced by the new covenant in Christ. Many had come to interpret The Bible in the theological context of the church replacing Israel. For example, Catholic teachings, as they had shifted away from Judaism, had long accepted the ideal of seeing the woman in Revelation 12 from a dual perspective of representing God's people and the Mother of our Lord.
However, in recent decades, as more theologians not just from Catholicism but other Christian faiths have applied literal hermeneutics to emphasize the literal realities of the Scriptures, many have begun to see the primary representation of the woman of Revelation 12 as Mary; the Dragon as Satan, St. Michael as the Archangel and the Male Child as Christ. Pope Saint John Paul II did likewise in his 1987 encyclical Redemptoris Mater, further strengthened in the encyclicals of Benedict XVI and Pope Francis:
Thanks to this special bond linking the Mother of Christ with the Church, there is further clarified the mystery of that "woman" who, from the first chapters of the Book of Genesis until the Book of Revelation, accompanies the revelation of God's salvific plan for humanity. For Mary, present in the Church as the Mother of the Redeemer, takes part, as a mother, in that monumental struggle; against the powers of darkness" which continues throughout human history. And by her ecclesial identification as the "woman clothed with the sun" (Rev. 12:1), it can be said that "in the Most Holy Virgin the Church has already reached that perfection whereby she exists without spot or wrinkle."
Plescia tells a Friday afternoon visitor to his 'school,' "Growing up I never heard that story," and the visitor responds, "Neither did I." Plescia adds, "It discovered me." His simple declaration is clarifying and revealing, given what we have learned about him up until this point of the film. When the infant Jesus was brought to the temple, the prophet Simeon told Mary, "This child is destined for the falling and the rising of many in Israel, and to be a sign that will be opposed so that the inner thoughts of many may be revealed – and a sword will pierce your own soul, too." (Luke 2:34-35).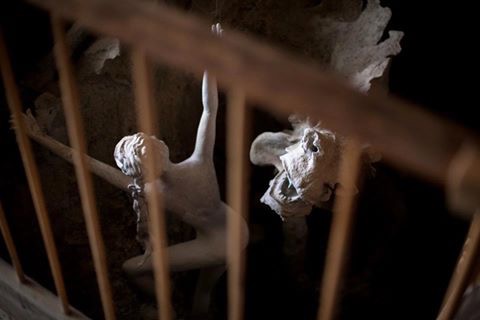 Suffering is not necessarily physical but borne as spiritual or emotional suffering. Plescia's theological aesthetics that transform an ordinary warehouse space into an extraordinary place of veneration are driven by exploring the deeper meanings of symbols to find a spiritual interpretation that points to his accepting the literal realities of The Bible as it was written.
Is Plescia's church school worth saving – even as he admits that inevitably it will be razed once he dies? Late in the film, the Utah Heritage Foundation's Kirk Huffaker says, "whether Ralph's place is worth saving is really the question here." As Huffaker continues, the issue turns on community values and, here "no one really knows about it." This film will change that.
The impermanence of art is as important a theme as any explored in the film. It's one that sometimes is lost even on those who are passionate about any form of creative expression. The music of J.S. Bach was destined for obscurity upon his death in 1750, only to become visible again in the 19th century courtesy of composer Felix Mendelssohn. Franz Kafka, who died at 40 of tuberculosis, had worked in insurance and was a factory operator at an asbestos plant and he had directed a friend to burn his literary output. While El Greco (Domenikos Theotokopoulos) did modestly well, critics, royal patrons and other artists ridiculed his work. It only was resurrected nearly 275 years after his death when Expressionist and Cubist artists in Spain championed his work and the public followed accordingly. John Kennedy Toole killed himself in 1969, severely depressed that publishers found his manuscript for A Confederacy of Dunces unfit for publishing. The book was published in 1980 after his mother shared the manuscript with author Walker Percy. The book earned the Pulitzer Prize in fiction. Vermeer and Gauguin were forgotten after their deaths until others brought their art to the public's attention. There were no certainties about Van Gogh's legacy enduring after his death.
The terms of theological aesthetics upon which Plescia has created this unique installation underscore the critical value of his work. The film was originally conceived as one of five short cinematic pieces for OHO Media's Lost and Found Series. The Gospel According to Ralphael is the fourth completed film (Thailand Cowboy is the fifth). This latest film synthesizes and expands upon the thematic elements of the three earlier films along with the experiences of making the most powerful storytelling choices.
Tarkio Balloon is a five-minute poetic film about the fragility of memories, as Bernhard goes back to a cemetery in a small Missouri town where his brother, Dane, is buried. In 1985, when Bernhard was two, his two-month-old brother died of Sudden Infant Death Syndrome. Shot on 8-MM film and incorporating excerpts from an audio interview recorded years earlier with his mother (Janae), Tarkio Balloon gives visibility to all parents who lost a child. In Boomtown, which also won the Utah Short Film of the Year award at the Utah Arts Festival's Fear No Film program, Bernhard, Low and Lila reconstruct Frisco, Utah, once a community which prospered from silver mining, for a contemporary audience through excerpts from rare recordings of oral histories taken from individuals who had lived in a town that disappeared from the map by the end of the 1920s. The tapes were a serendipitous find for the trio of filmmakers. Looking for descendants of former Frisco residents, they found Dick Davis who had tapes apparently recorded nearly 50 years ago not long before the last generation of Frisco citizens had died. Bernhard's Scavenger, about a man living off the grid in a northeast Thailand slum who collects recyclable materials to earn money for his family of seven, would have been a completely different film had he not lost the work for a year due to a major computer failure. After the footage — encompassing 1.6 terabytes — was recovered a year later, thanks to the assistance of his wife's father and a family friend who found technicians in Thailand capable of doing the work, Bernhard saw the opportunity for transformation — not just in the project but also in his foundation as a creative producer. "The decisions that I see as integral to what the film has become are mostly the product of making the wrong choices first. We made enough mistakes throughout editing that the final choices grew from past failed attempts," he said in a 2013 interview with The Selective Echo.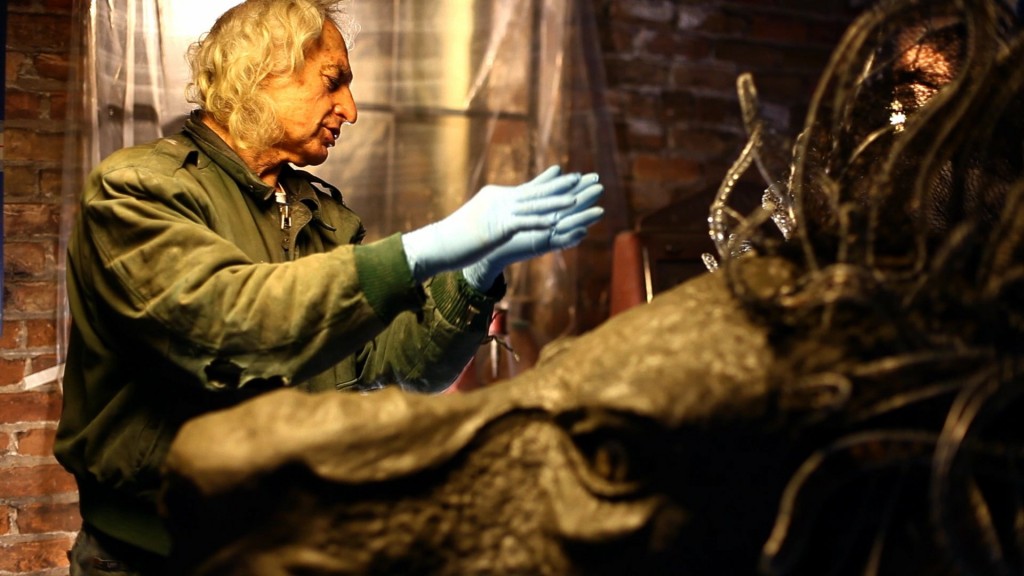 Does it get easier with each new project? There were many times when the team was flummoxed about how to tell Plescia's story in a short-form documentary with the respect and justice it deserves. With The Gospel According to Ralphael, the OHO Media team is setting a rigorous standard of telling a complete story in the most concise form possible.
Every element in the film defines and rises to this standard. The music, for example, conveys the idea that what we hear does not conform to a single ideological language but speaks to multiple languages. And, we are hearing music that conveys deeper, multidimensional perspectives just as Plescia probes the symbols from the Scriptures to clarify their meaning in his art. The musical credits include percussion by Jarom Bischoff, which was recorded and mixed by Mike Sasich at Man v. Music. Cloudscape by Yugen (from the 2010 album Iridule) and No. 2 by Iceburn (from the 1998 album Power of the Lion) also are featured. And like Plescia's art, it is music that deserves attention.
The current Utah Enlightenment is bringing an impressive canon of new work that demonstrates how art can stimulate social and cultural awareness and change by action. The Gospel According to Ralphael is a magnificent addition to that canon. More importantly, the film highlights the work of a previously unknown artist who already had embraced the best impulses of that enlightenment 50 years ago in finding his own free will and spiritual agency.
To view the film, visit VideoWest.