Capping a season of many adventurous thrills, NOVA Chamber Music Series upcoming final concert of 2018-2019, The Head and The Heart, is apt in many ways. For her final concert as music director this season, Madeline Adkins, also Utah Symphony's concertmaster, has selected four works spanning 250 years, assembled the usual legitimate all-star slate of musicians and has recruited Thierry Fischer, Utah Symphony's music director and conductor to lead György Ligeti's (1923-2006) Chamber Concerto, a 1970 work for 13 players.
The programming concept for this concert typifies the superlative branding that NOVA has cultivated for quite a few years now – starting with Adkins' predecessor, Jason Hardink – juxtaposing works from different composers, eras and styles on the same program. Incidentally, Hardink will be one of the featured performers on this concert.
Among the works to be featured are Fantaisie mécanique by Unsuk Chin (1961-), who was born in South Korea but lives and works in Berlin now. This 1994 work explores, as Chin explains in a program note, "a union of two contradictory concepts: improvisation and predetermined structure. Whilst giving the illusion of free expression, the work actually adheres to the strictest virtuosity and ensemble playing of the performers." Chin builds the music from a "current" of four low-pitched sounds to polyphonic structures and then to polyrhythmic forms in the final improvisation. The work is scored for trumpet, trombone, percussion (two players) and keyboard.
Among the highlights of her impressive portfolio are a 2018 award from the New York Philharmonic – the Marie-Josée Kravis Prize for New Music, including $200,000 and a commission to write a new piece for the orchestra. She also is among the only three women composers who have won one of the field's most distinguished honors, the Grawemeyer Award. Another is Joan Tower (1938-), whose work Night Fields was featured on a NOVA concert earlier this year.
Ligeti's Chamber Concerto, which comprises four movements in a 21-minute piece, initially appears to be cast in traditional form. The work is scored for flute, oboe, two clarinets, trumpet, trombone, harpsichord, piano, two violins, viola, cello and bass. Ligeti, who always demanded virtuosity in his instrumental parts, clarified his objective in the notes for a 1976 Decca Labels vinyl recording:
The title 'Concerto' indicates that all thirteen instrumental parts are written for virtuosi of equal ability, and there is therefore no division into 'soli' and 'tutti' as in the traditional concerto. Instead, different groups of soloists alternate, though the polyphonic texture is always very clear.
The appearance of music by Chin and Ligeti on the same program represents an important connection. In her mid-20s in Seoul, Chin was so moved by the performance of a Ligeti work that she wrote to him and moved to Hamburg so that she could study with him. It was a difficult beginning, as Ligeti believed that her previous compositions lacked her distinct voice. Ironically, this occurred at the same time when Chin won the Gaudeamus Award. Ligeti's pedagogy though proved fruitful and by her early 30s, she had achieved international recognition, developing a music language that incorporates subconsciously many elements of the East and West.
While Bach's Chaconne for solo violin is among one of the most famous pieces from the Western music canon, NOVA's presentation of this work will feature a unique arrangement by Laszlo Varga (1924-2014), a Hungarian cellist who was imprisoned in a Nazi concentration camp during World War II and later, after he emigrated to the U.S., became principal cellist of the New York Philharmonic. He also was among the legendary string faculty members at Indiana University. In the 1950s, he formed a cello quartet, arranging all sorts of music from Hungarian folk songs to Bach's works, including the Chaconne.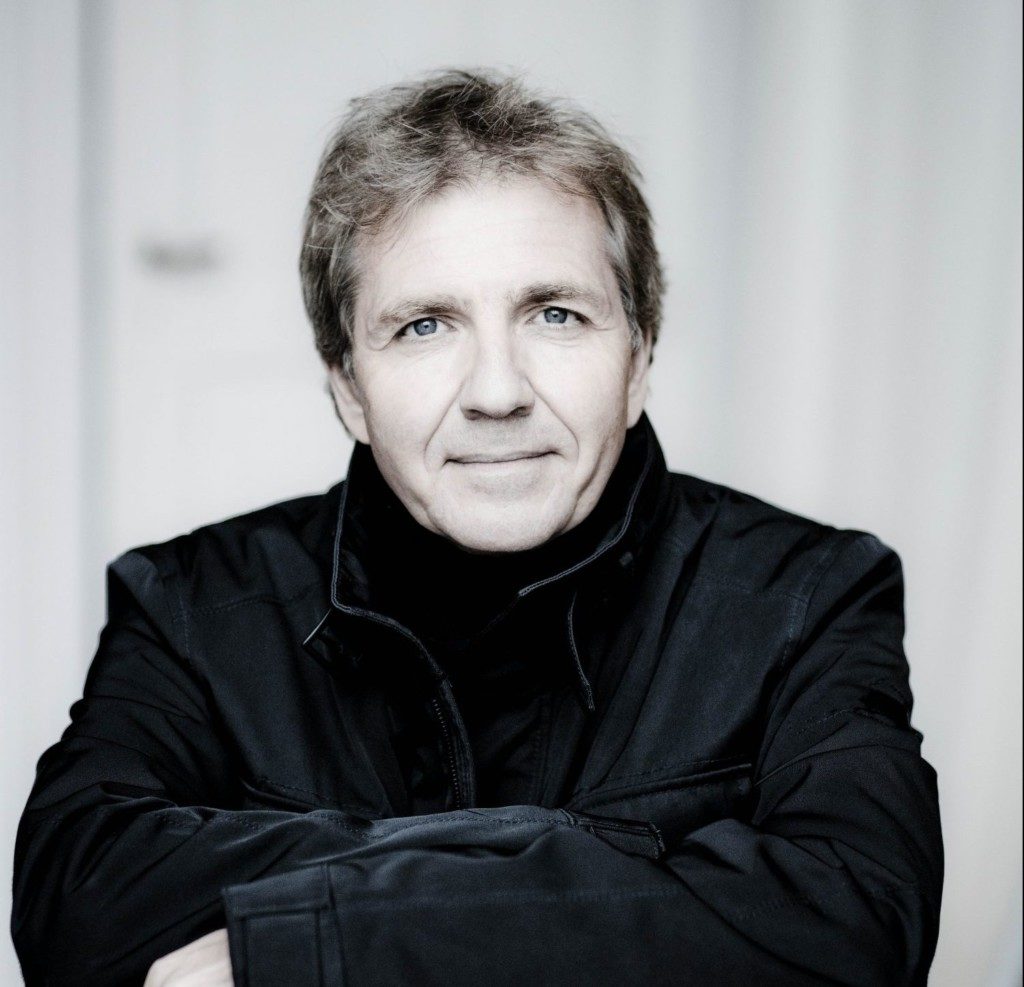 The program and the season will close with one of the most exquisite string chamber ensemble pieces ever, which also was written by a composer that Adkins cherishes deeply: Felix Mendelssohn's (1809-1847) Octet, op. 20. Adkins loves performing works from Mendelssohn's jewel-filled oeuvre, including the famous violin concerto as well as sonatas and other string chamber works. She has recorded some works with Luis Magalhães, the pianist from South Africa who performed last month with Adkins on the Western Hemisphere premiere of Nikolai Kapustin's Double Concerto for Violin, Piano and Orchestra, Opus 105.
The Octet is the epitome of youthful athleticism for musicians. Although the work was not premiered until Mendelssohn was 27, he wrote it at the age of 16 for his violin teacher, Eduard Rietz, who was just seven years older than the young composer. Of course, a year later, Mendelssohn wrote the famous overture for A Midsummer Night's Dream.
Sometimes, it is easy to forget just how Mendelssohn's true brilliance as a composer came relatively earlier than Mozart, who arrived earnestly at his reputation as a composer during the late 1770s when he was his early 20s. The Octet is perfection and its performance promises to be a wonderful reward at the close of an exceptional season.
Tickets for the concert and more information are available at the NOVA Chamber Series web site.
2018-2019 season highlights with Madeline Adkins
For the last several years, NOVA has been on a tear, essentially redefining the chamber music programming brand in form, content and audience engagement. When Adkins took the relay baton from Hardink last year, it was an unprecedented transition of sorts. One of the city's most visible musicians simultaneously took on the role as music director (while Hardink assumed emeritus status and has continued to blaze his own path as a pianist) and embraced what became a dream job, which many instrumentalists would be lucky to have.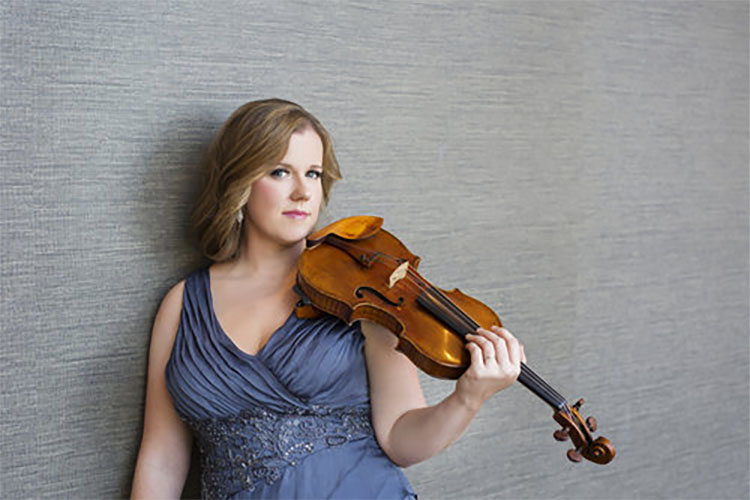 Adkins occasionally followed Hardink's programming philosophy but ventured on her own, developing themes that subconsciously turned out to genius strokes of integral connections, recruiting world-class musicians from Utah as well as elsewhere and incorporating music by composers, both dead and living, that invigorated the audience's attention.
As for developing the season's programming, Adkins says, "it definitely was a risky concept and one could not realize just how it was going to come off." Several programs required complex logistics, given the unusual arrangements of instruments and combinations. For an Andrew Norman work, Adkins recalls that even in the dress rehearsal the day before a concert, they were still deciding where to position the musicians off stage for the first two movements.
For a violinist, Adkins also mastered the art of diversity and inclusion on virtually every measure. Every instrumental family in the orchestra received major billing in at least one NOVA concert this season. "I am so grateful and humbled that so many musicians I asked to participate in a concert did so without hesitation," she explains. Percussionists, most notably, have shined in many works. To wit: there was even a chain-link fence at one concert. For the forthcoming season closer, one of the percussion instruments is being built from scratch.
There was the music of two African-American composers: William Grant Still (1895-1978), Florence Price (1887-1953). Price was the first African-American woman composer to see her works performed by a major symphonic orchestra in the U.S., while Still was the first African-American composer to lead a major U.S. orchestra.
When it came to contemporary composers, Adkins selected not just one but three works from individual composers to be featured on a program. Mine Mime Meme (2016), Frank's House (2016) and Light Screens (2002) by Andrew Norman were performed in an unforgettable February concert. A Gallery Series concert featured three works by the Israeli-born Shulamit Ran (1949-): Lyre of Orpheus (2008), East Wind (1988) and Bach Shards (2008).
The spine-tingling Gallery Series concerts rightly raised goosebumps in their intimate setting at the 15th Street Gallery in Salt Lake City. The first (R/Evolution: A Millennium of Musical Mavericks) was a 75-minute ride through a millennium of musical mavericks – starting with St. Hildegard of Bingen (1098-1197) and ending with Blueprint, a work by Caroline Shaw, 36, based on a Beethoven string quartet movement presented earlier in the program. Featuring mostly single movements or short pieces, the concert could be a marvelous introduction in music as a traveling program for Utah schools. Adkins recalls that this was the last of the programs in coming together, trying to make 75 minutes as cohesive as possible.
Odyssey, the second Gallery Series concert, which featured the three Ran works, also included an emotionally intense performance of Steve Reich's (1937-) Different Trains, a masterpiece composed in 1988. Of that concert, The Utah Review noted, "Different Trains is one of those rare artistic expressions that captures comprehensively the history of the 20th century. The Utah Enlightenment is about remaking the spaces where art and creative expression occur and this Odyssey program was as brilliant a case study as seen recently in the local arts scene."
Few chamber music series would dare programming so many works that require such extensive preparation by eminently skilled musicians. The roster of performers delivered consistently. There was Luis Magalhães, who not only performed on the Kapustin but accompanied Adkins on the Prokofiev violin sonata. William Hagen, based in Utah but with a skyrocketing international career, performed the Debussy Violin Sonata – a work for which he has been hailed as providing the definitive interpretation. He returned later on the same concert to lead a string quintet by Antonin Dvořák in a performance that changed the perceptions about what typically has been a conventional work.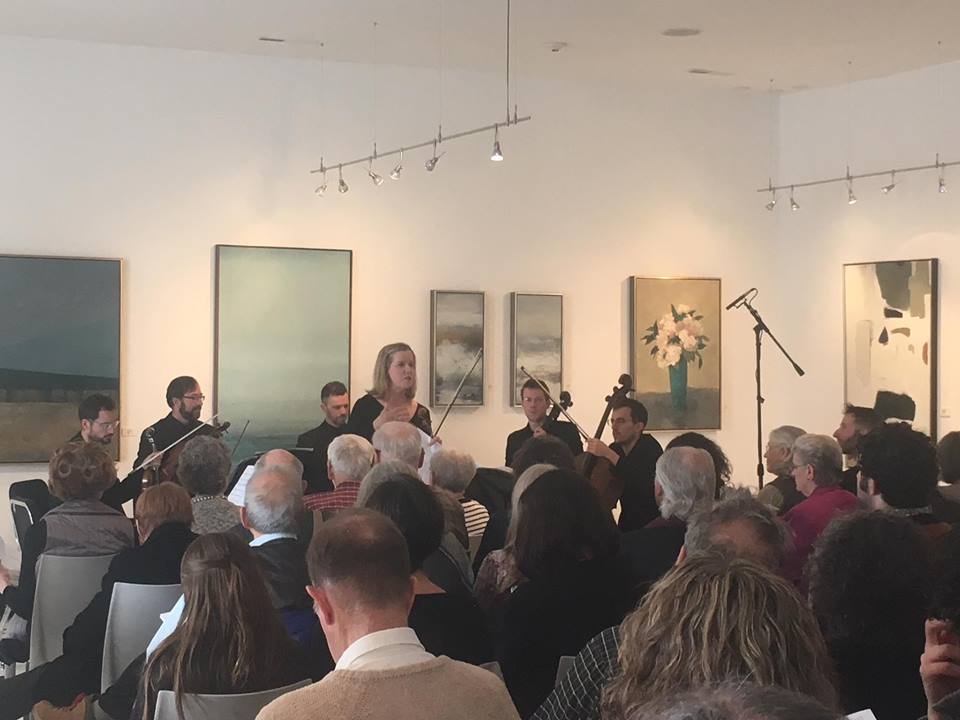 One of the top highlights for Adkins ("I was moved to tears," she adds) was NOVA's first performance of dance specifically choreographed to a composition. Choreographer Natalie Desch set movement for a duet of dancers to Gity Razaz's Chance Has Spoken, the young Iranian-American composer's music for string quartet and vibraphone. Olivia Custodio, actor, singer and playwright, shined in a performance, conducted by Conner Gray Covington, in Façade, a collaboration of composer William Walton and poet Edith Sitwell created in 1922.
Recalling the season's first concert, the closing selection was Verklärte Nacht by Arnold Schönberg (1874-1951). As mentioned in a review in The Utah Review, "Adkins' decision to conclude the first program of her season as NOVA's music director was perfect as a point of artistic mission. Verklärte Nacht remains an ethereal and ephemeral bridge to a volatile period where the best composers were inspired to break the rules and reconfigure them to suit new landscapes in making music. Indeed, having traveled the Road to Night, we are ready for the next creative adventure."
Adkins' adventure is now nearly complete, having achieved a grand slam in every concert this season. It has positioned NOVA as one of the country's most innovative chamber music series – a smart acknowledgment that in the 21st century such music programming can be as relevant and significant as any other form of entertainment, especially when one knows how to break the rules.
Following on Hardink's tremendous legacy, Adkins has carved the path even further, opening the way for NOVA's next step in innovation – the Fry Street Quartet – a major Utah performing arts institution – as the Series' new music directors.