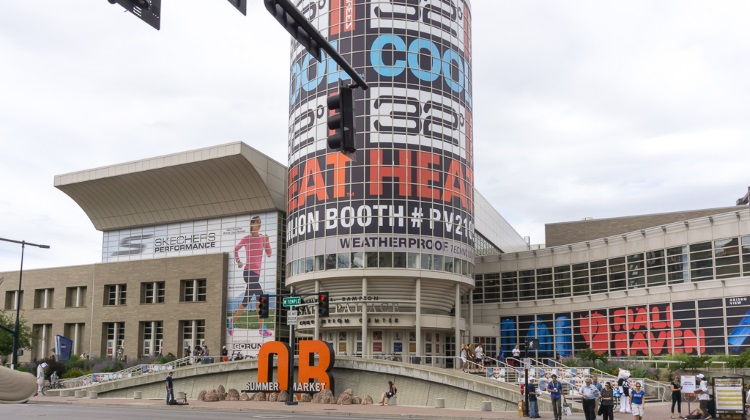 Such is the scale, intensity and exhaustive nature of Outdoor Retailer we've only just about recovered from the show floor this summer. Now that we have, we've got some great gear from this year's event to give away to one lucky reader.
Check out the following products that caught our eyes at this year's show, then enter our contest to receive one of each of these fabulous items; more than a $400 value, perfect to delight that special outdoorsy someone in your life this holiday season, or let's be honest, keep all to yourself!
Keen Uneek Sandals – A polyester braided cord sandal with metatomical footbed, microfiber footbed cover, microfiber heel back and non-marking rubber outsole. $100.00.
What we loved: A product that truly lives up to it's name. These sandals come in an eye popping array of colors with a design that will cause strangers to stop you on a daily basis. The unique look also belies their superb functional utility, stable and rugged across various terrain. It also doesn't hurt that these are insanely comfy kicks too, made in the USA by a company with an ethical sensibility that makes you feel more than happy handing over the dollars. (Stuart Melling)
Seal Skinz Thick Mid-length Sock – The UK-based brand is not the first to invent waterproof, breathable socks. But, they are one of the best. Most fabrics claiming to be waterproof and breathable are certainly that, just not at the same time. Enter Seal Skinz, who have re-thought how to create a better sock. The Merino wool lining offers moisture control and comfort, as does the elasticated ankle and insteps. $50.00.
What we loved: On a recent bike trip deep into the Boulder White Cloud Wilderness, morning rides started out with temps in the 30s, with the first of about a dozen stream crossings in 40 degree water temps. Not ideal. Seal Skinz waterproof socks literally saved the day keeping my feet warm and dry. Gluing the membrane to the sock liner eliminates the need for sewn holes to allow freezing river water to leak through. Waterproof. And breathable. Sold! Dry feet are happy feet. (Nick Como)
Allett Wallet: Traditional in appearance, these ultra thin nylon wallets are sleek and compact. First rate construction from long-lasting materials means they'll withstand the constant wear your wallet endures on a daily basis. 19.95.
What we loved: A product this simple and effective always gives me that facepalm moment: "why didn't I think of this". Despite its deceptively slim profile the wallet has almost Tardis-like capabilities — easily swallowing the contents of my previous monster wallet in less than half the space. The minimal design not only keeps cards and cash secure but means taking your fully loaded wallet on bike rides or hikes no longer has to feel like carrying around an anchor. (Stuart Melling)
Moji Foot – The Moji Foot Massager features six plastic spheres you can roll your foot over while sitting or standing to relieve foot pain. The spheres can also help break up scar tissue, and at half-a-pound is lightweight. $29.00.
What we loved: After two decades of shoving my size 13 feet into three and four size smaller ski boots and climbing shoes I'm finally realizing the error of my ways. In the name of improved control of my skis or precision control on thin flakes of granite I've earned myself a good deal of foot problems, from aches and pains to a bout of Plantas Fasciitis. The Moji has helped "roll away" most of the symptoms. Forget "Netflix and Chill," and "Netflix and Moji" instead. Massage away those foot aches. (Nick Como)
Fifty Fifty Wine Growler – Available in a variety of fun color options, made of lightweight 18/8 stainless steel that is recyclable, non-leaching and will not retain taste or odor. The double-wall technology prevents condensation on the outside of the growler. $24.99.
What we loved: What's not to love? These 750ml wine growlers make ideal companions for just about any event; backyard BBQs, casual day hikes, picnics, concerts or camping trips — you name it. The double walled growler will keep your wine at optimal temperature all day. (Stuart Melling)
Brunton Heat Sync Vital – A lightweight 8.6 ounce, weatherproof vest with (USB 4000mAh 2.1A) battery powered carbon fiber heating elements. $74.99.
What we loved: While intended to keep you at the perfect temperature on the slopes or on the trails, there's nothing stopping you wearing this while doing the weekly grocery run in Utah's fabulous sub-zero winters. On its highest setting the Heat Sync Vital provides nearly three hours of core heating at 130f. The unit also offers a medium and low setting that can stretch to as much as seven hours of radiating heat at a respectable 100f. (Stuart Melling)
Secur Solar Media Player – The SP-5000 features a 2000mah battery capable of charging via solar or direct outlet power. The device houses 3 watt stereo speakers in IPX64 housing that's rainproof, dustproof and shock proof. $49.99.
What we loved: Use the included carabiner to charge your devices while hiking or camping or just keep the Secur Solar device on standby for emergencies. There's bags of flexibility here and the rugged design and low cost means you'll feel comfortable deploying the Secur Solar just as happily around the home as around the campfire. (Stuart Melling)
Seal Skinz AllWeather Cycle XP Gloves – This all-weather, cycle-specific glove is waterproof, breathable and windproof and features silicone padding for increased grip and comfort. The gel padding helps soften impact, and my favorite feature is the thumb and index finger allows use of touchscreen devices. $60.00.
What we loved: If you've ever gone on an extended bike ride sans gloves you'll know they are near as important as padded shorts. Furthermore, gloves, like socks, also need to wick a lot of sweat away from your body, but also keep you warm. Gloves have a thankless job, really. But, the All Weather Cycle XP Gloves are up for the challenge. Even on extended climbs my hands were protected form the wind and cold air, and never got clammy. A rousing 3,000′ descent on rocky Central-Idaho single track is usually enough to bruise my palms through most cycle gloves, but I finished an epic ride with nary a soft spot in my mitts. While these gloves are waterproof and can operate a device's touchscreen, they do not make your phone waterproof. (Nick Como)
To enter for these fantastic items, all you have to do is leave a comment below this post. When you leave your comment, let us know, "what helps get you the most out of your Utah?". For a second bonus entry, make sure you're also signed up to our email newsletter (top right of site).
Good luck! The lucky winner will be selected randomly on Tuesday, December 1, 2015.
* Please leave only one 'comment entry', further comments will be deleted. A 'comment entry' is required to be eligible for a second 'mailing list entry'.
* Prizes have been donated by individual vendors and may be a combination of on-hand items and size/color/gender specific products which will be ordered and shipped directly from the awarding vendor(s).
* Winner/s must be able to collect prize package in person (Salt Lake County), most prizes cannot be mailed.
* The Utah Review will not be held responsible for items shipping directly from awarding companies.
* Winners are responsible for all tax implications related to this prize giveaway.
* Some items subject to change or removal from prize packages entirely, dependent on vendor.