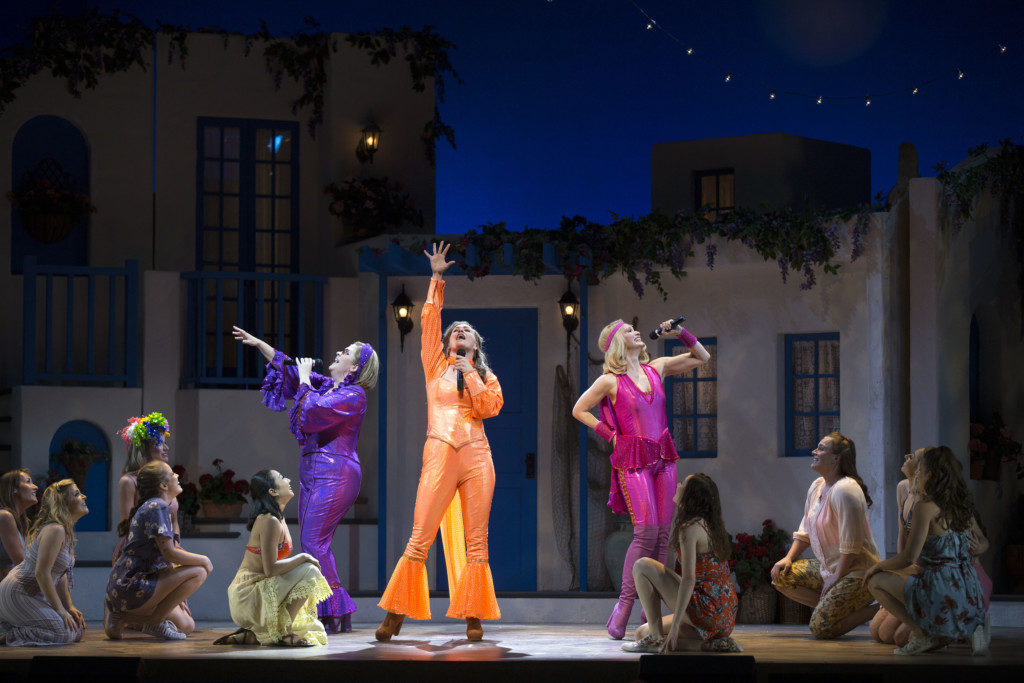 Opening on Mother's Day weekend, Pioneer Theatre Company's production of Mamma Mia! is a true celebration of strong female relationships in dual dimensions—part disco musical and part women's anthem.
Featuring music and lyrics by ABBA's Björn Ulvaeus and Benny Andersson, Mamma Mia! the musical has been seen (and heard) by more than 60 million people since it hit the stage in 1999.
Under the direction of Guest Director and Choreographer Patricia Wilcox, Pioneer Theatre Company (PTC) delivers a cheerful yet nostalgic show about, "women who are funny, feisty and independent, and who are portrayed as real-life people making real life choices—and not ones based in a fairy tale."
Enter Sophie (Kathryn Brunner), a young woman who, on the eve of her wedding is hoping to find her father to walk her down the aisle. What ensues is an uplifting tale of love, laughter and friendship when Sophie's mom, Donna (played by Equity actor Coleen Sexton), is faced with the reality of all three of Sophie's possible fathers returning to the beautiful Greek island the women have called home for the past 20 years.
But along with Sophie's potential dads Harry Bright (Paul Castree), Bill Austin (Dan Sharkey) and Sam Carmichael (Brian Sutherland) also arrive Donna's lifelong best friends Tanya (Amy Bodnar) and Rosie (Mary Fanning Driggs).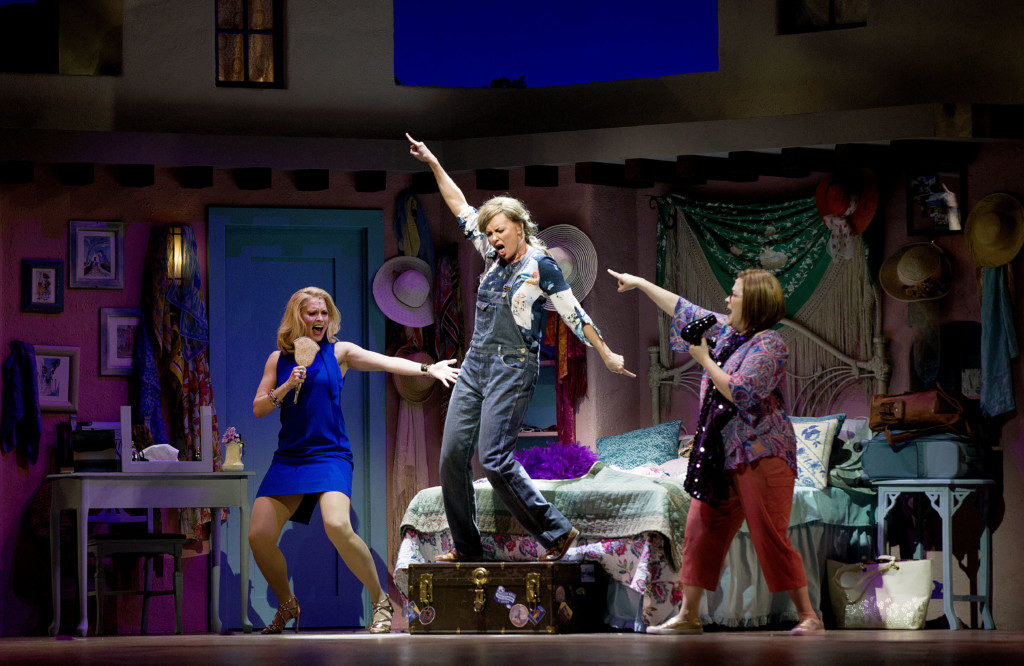 The female trio, formerly known as Donna and the Dynamos, are absolutely the highlights of the show, delivering hit after hit of ABBA's music superbly—notably "Chiquitita" and "Dancing Queen."
Sexton aptly plays the role of single mom and breadwinner with her heartfelt rendition of "Slipping Through My Fingers" while her long-lost love ballads like "One of Us" and "The Winner Takes It All" display character and grit.
Driggs had the crowd roaring with laughter as she crooned, "Take a Chance on Me" and becomes a tiger lady stalking her prey (Sharkey).
And Brunner particularly found her voice in "The Name of the Game."
Unlike most musicals, Mamma Mia! is a vehicle for the songs with a storyline loosely holding the plot together, but with such a wide array of memorable hits, there's no reason not to let go and simply enjoy the music.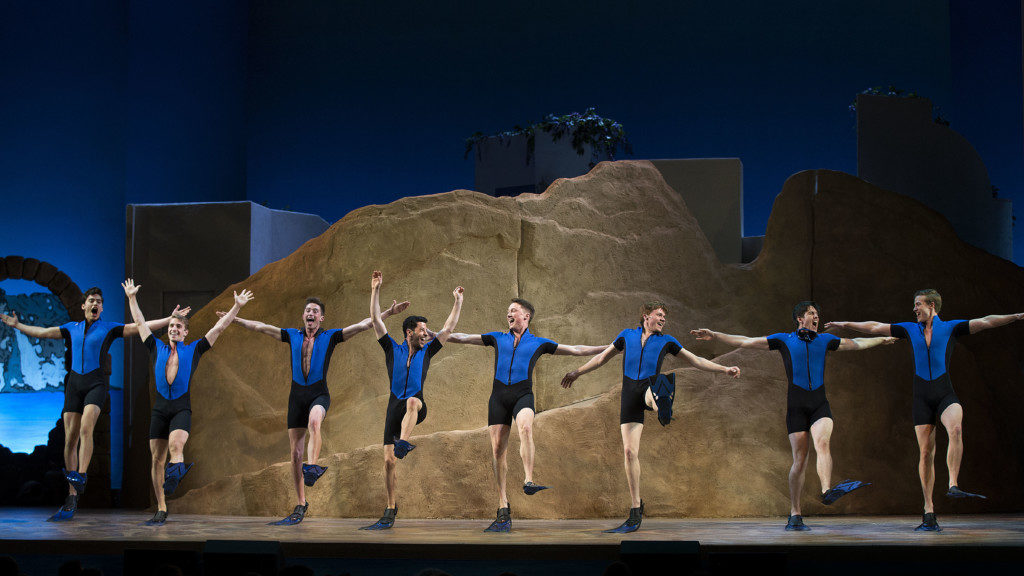 Interspersed with touching solos and duets, Wilcox kept the audience on the edge of their seats with numbers like the platform-shoe toe-tapper "Super Trouper" and "Lay All Your Love on Me" which features the male ensemble high-stepping through the song in wetsuits and flippers.
"Mamma Mia! can be seen as a tapestry of many of our lives," Wilcox concludes. "Music by nature can emotionally connect us to a certain point in our lives, immersing us in nostalgia and delighting the senses."
And Pioneer Theatre Company's Mamma Mia! is a delightful time. So, if you're looking for a reason to stand up and dance, or at least sing along to your favorite ABBA tunes, Mamma Mia! continues through May 26. Tickets can be purchased here.