Although he calls it an "odd quirk" in his writing process, listening to certain kinds of music has been quite helpful for Eric Samuelsen in shaping the rhythmic and thematic flows of his plays. For example, in a play-in-progress about 11th century papal politics, he finds listening to rock 'n' roll from the late 1950s and early Beatles to be useful.
For '3,' his newest work which comprises three short plays about Mormon women in various church ward settings, the music of Bob Dylan, Death Cab for Cutie, and Canadian chanteuse Leslie Feist served to be effective muses. However, most wisely, when the play starts its premiere run on the Plan-B Theatre stage this week, audiences will not hear those songs but instead at various points the music of Utah native Mindy Gledhill and 'Do What Is Right' performed by MishMash on the soundtrack for the Mormon comedy 'Singles Ward.'
While the extent of music's use is minimalistic to match the overall tone and feel of the staging, Cheryl Cluff, who directs the latest production in a season dedicated to Samuelsen's work, says the selections she makes are intended to underscore the quiet yet deeply incisive and critical themes which expose the utter incoherencies within a culture that frequently overemphasizes the value of keeping up perfect appearances.
The play opens its run Thursday, March 27, in the Studio Theatre of the downtown Rose Wagner Center for Performing Arts and will conclude Sunday, April 6.
Indeed, Samuelsen's lyrical muses serve a worthy dramaturgical perspective in several instances. Bob Dylan's 1975 song 'Isis' is connected to the first short play 'Bar and Kell,' which is about two ward women who take on the project of getting Brandie, an unwed mother, married to her boyfriend who counts among his habits spitting chewing tobacco into a Coke bottle. Echoing 'Isis,' amidst the most enthusiastic optimistic efforts of two Mormon women to help make Brandie's life right and proper, Samuelsen makes clear in an often humorous, occasionally bittersweet, script the nearly impossible challenge of any couple living happily forever and fully comprehending one another. In 'Community Standard,' the oldest of the three short plays which harks back to the 1998 incident when an American Fork video store made national news by cutting and splicing out the single nude scene from VHS copies of 'Titanic,' there are echoes of the theme behind Death Cab Cuties' "I Will Possess Your Heart." There are the hints of inevitable disappointment and how consistently our life experiences rarely, if ever, approach the idealized versions we carry in our minds. With 'Duets,' the third play revolving around a woman who is coping with the fact that her husband is gay, there are reminiscences of some lyrics from Leslie Feist's song "My Moon, My Man" – "My moon and me/Not as good as we've been/It's the dirtiest clean I know."
'3' is coming to the stage after a long genesis, representing 15 years of many changes. "I am certainly a different person and a different Mormon now," Samuelsen explains, adding, "and the Church [LDS] is in a different place too, changing in many unexpected ways."
While, the three plays works work beautifully on their own, there is no doubt all three must be taken in total to appreciate and to contemplate the larger themes, which do extend into shared experiences by Mormons and non-Mormons alike. Samuelsen lays out a large palette of emotions where even the most humorous bits can be subtly and quietly subverted by a darker moment revealing a flash of ugliness that represents extraordinarily realistic tensions. As much as one would like to hold onto the nostalgia for an order that once served well the benefits and functioning of a ward community, a realization emerges and grows through each of the short plays that women should not hesitate to take the power for improving their futures.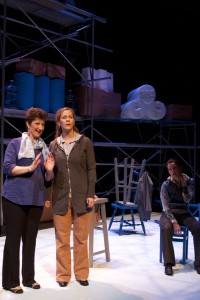 The first installment of '3', 'Bar and Kell' started out as a short story before Samuelsen decided to turn it into a short play. He based it on his observations of and connections to similar instances in his West Provo, Utah neighborhood, including one involving his oldest daughter. "Naturally, it did not turn out well," he adds. The play, as Samuelsen describes, points out the interesting contrasts of purpose: Is one being friendly for the sake of fulfilling an agenda or is it for the sake of pure friendship?
Bar is the mover, with Kell (whom we later learn also was an early 'project') to assist. As Kell explains, "By six that night, thirteen people were in Brandie's home. Propelled there, against their will, by the cattle prod that was Bar Bartlett's voice on the phone." Bar's efforts predictably extend to Kenny, Brandie's boyfriend, who chews tobacco and tells off-color jokes at a neighborhood dinner party and card game. Bar says, "He was harder to get through to, kinda hoody looking guy, used to tool around the neighborhood in his pickup playing Aaron Tippin or Alan Jackson turned up high."
Providing the most abundant comic relief in '3,' 'Community Standard,' which focuses on a woman serving on a jury for an indecency trial, required the most revision and updating from its original form. Samuelsen takes note that video stores have gone out of existence and the Internet emerged to provide sounding boards to vent and to debate the moral, legal, and social implications surrounding obscenity, artistic expression, and censorship.
The play Samuelsen's social commentary is sharpened here as Chris and Janeal recall the incident and how Bertine dutifully handled the cut-and-splice: "So my boss asks me could I do this and I said 'sure, no problem' even though I never done it before, and it turned out it wasn't hard at all, just snip snip glue glue, and there go Kate Winslet's boobies on to the cutting room floor."
However, amid the glib, funny commentary is the growing creepy specter of objectification and the gradually emerging acknowledgment of sentiments that take many forms, including the idea that men who are good missionaries will be rewarded with attractive wives. Perhaps with the Death Cab by Cutie song in the background, which is about a man stalking a woman he realistically cannot have, Samuelsen turns the conventional understanding of 'community standard' on its head to confront the typical promise of whether one truly can have it all in family, prosperity, and love and what is potentially lost if the current standard prevails.
No doubt Samuelsen strikes a deep chord that is as pervasive as it was when he penned the first draft of 'Community Standards' in 1998. As Cluff explains, these issues have long been on the minds of Mormon women and others. She cites a 1979 documentary about depression and Mormon women aired on KSL-TV and the subsequent transcript which was published in the May 1985 issue of Sunstone magazine. One of the participants, Dr. R. Jan Stout, a Salt Lake psychiatrist and Mormon who died in 1993, explained that many of the tensions and pressures come from the women themselves. Some of them feel they have to reach this kind of idealized, crystallized, beautiful Mormon woman, which I term Mother-of-Zion syndrome. This is a woman who is really a myth, a mystique," Stout explained at the time. "Now, in fact, this woman exists only in the minds of other women. They may try to approximate it. But I've seen too many cases of these super-Mormon women who themselves are depressed or who have private faces, private lives that are quite different from what their ward members see out on the street."
This theme gains currency as Samuelsen traverses the landscapes in each of the three stories. The final installment 'Duets' confronts the delusional challenge and sad predicament of those who believe sexual orientations can be changed. In 'Duets,' Samuelsen pulls the trio of plays toward its overarching emotional apex dealing with acceptance and reconciliation and how some cannot overcome the fatalistic misperceptions that have become entrenched even in the closest circles of community and familiarity.
'Duets' stands out for a unique treatment of a topic that has become fertile, familiar ground for many writers. The audience never sees the gay man [Mark] on stage but instead it will witness the emotional pain and the struggle of Sondra, his wife, and the reactions of her ward friends, Candance and Sherilynn. And, music is the silent yet formidable character in "Duets." Sondra and Mark join and heir arrival boosts the choir's performing quality. Sherilynn recalls:
'And Mark and Sondra, their voices were perfect, like Jesus is perfect. But beneath the sweetness, there was also tremendous sadness. Maybe because they couldn't have kids. Maybe because of something else. I don't know—it's not my business to know. But when I hugged her, after our performance, I could see a tear starting in the corner of her eye. And I knew I was close to crying too.'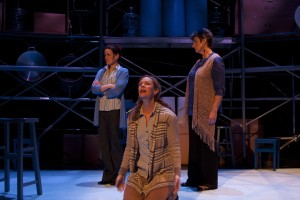 In this closing installment, Samuelsen orchestrates the rhythm with abrupt shifts from a whimsical, sometimes sweet feel to a heartbreaking moment that seems at first muted but hits nevertheless with devastating impact. In the most intimate frame of contemplation, the epiphanies are striking because of the quiet almost quotidian tone in which they're embedded. The language resonates in authentic tones that also will translate and carry over to women in other religious faiths and practices.
The format for '3' is intriguing, as the same cast of three actors takes on responsibility for the three actors in each of the plays, as well as brief appearances of other characters. There are occasional bits of direct audience address and instances where two characters might be speaking as underscoring while the third speaks.
The three actors are Stephanie Howell, Teresa Sanderson and Christy Summerhays, all veterans of Plan-B's productions. Cluff keeps the staging compact with a food storage locker in the background (empty packages and bottles) and minimal set. While most prop actions are mimed, Cluff decided to include one prop – the pop bottle for the first play in which an actor recalls how Brandie's boyfriends uses it to spit chew.
Performances of '3' will take place on Thursdays, Fridays, and Saturdays at 8 p.m.; Saturdays at 4 p.m., and Sundays at 2 p.m. Tickets are $20 for general and $10 for public. They can be purchased by calling (801) 355-ARTS or by visiting www.planbtheatre.org.