Emilie, the vivacious host of Dead People Live!, the fictional television show at the center of An Evening with Two Awful Men, the latest premiere of Plan-B Theatre Company, adapts immediately to the constant curveballs tossed about in Elaine Jarvik's boffo script. There never is just one motto (always pithy and wry) for Dead People Live!, as James Buchanan, the fifteenth president of the U.S., and Lincoln's assassin John Wilkes Booth audition with the hopes of advancing to the finals where they can argue to remake their historical legacy. But the sharpest, most appropriate and formal signaling motto is saved when Harriet Tubman arrives on stage. Emilie interrupts the protests of Buchanan and Booth:  "Our motto is: The hegemony of historical subjectivity must be countered through the inclusion of intersectional perspectives."
That abrupt bit of scholarly phrasing foreshadows the play's biggest dramatic wallop of the evening. This is a brilliant production. Jarvik's script is superlative and the cast interprets it in blockbuster fashion. Great pacing engrosses the audience's attention and the counterpoint of humor and drama builds an intense pitch. Plan-B always succeeds mightily at work that awakens the social conscience but An Evening with Two Awful Men is piercing in its intelligence.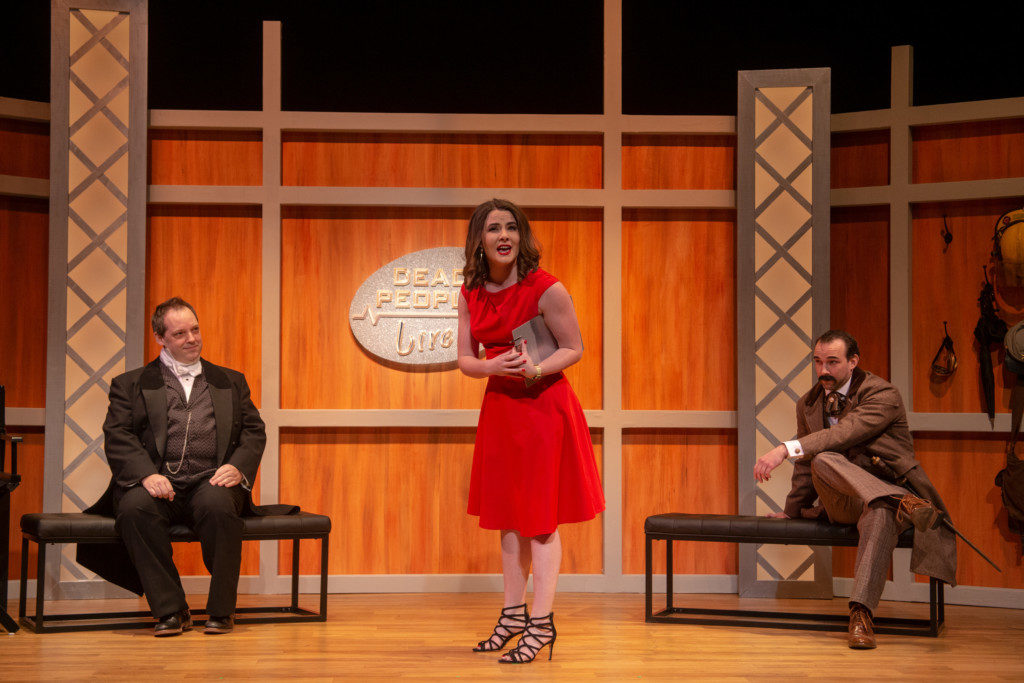 It rattles the comforting assertion for many who believe that only awful men can be racist. If the events of the last month (think reactions and responses to Jussie Smollett, Virginia Governor Ralph Northam, The Green Book, Nick Sandmann, the ongoing awkward intentions of allies, virtue signaling on numerous issues) have taught us anything, we need to give pause to the typical reflexive defense of saying 'I'm not a racist' or that 'I would [or could] never be a racist.' We need to plumb our history much deeper than with what we have satisfied ourselves. It's a theme that grows from sparks to a worthy blaze in the play.
The genesis of An Evening with Two Awful Men reflects just how well The Lab, Plan-B's workshopping community for playwrights, has flourished since it was established in 2008. As Jarvik explained in a previous email interview with The Utah Review, it began with a simple question from Jerry Rapier, Plan-B's artistic director: "How would you like to write a play about our only gay president?" Realizing that the material might be too thin, she widened the lens to encompass the challenge of someone famous defending himself against the label as the nation's worst president. As noted in an earlier feature at The Utah Review, Jarvik heeded the suggestions of two colleagues (Alexandra Harbold and Robert Scott Smith of the Flying Bobcat Theatrical Laboratory) to develop the concept of Dead People Live! From there Booth and Tubman joined the trio of historical figures for the play along with the TV host character of Emilie.
In other hands from both a writing and production standpoint, the play's surrealism might have overwhelmed the epiphany of An Evening with Two Awful Men that hits with the freshest relevance in today's sociopolitical environment. And, the staging, directed by Cheryl Ann Cluff, is so convincing that the audience might believe that, indeed, it is witnessing a production set audition.
Jarvik's script sparks the best discussion questions post-performance for audiences to digest, as they absorb the play. As she explained in an earlier interview, "How much of what we once thought was 'pure' history really is? How much has been condensed and white-washed to make it easy and pleasant to digest? Are we more astute now? More eager to find fault with our 'heroes'?" An Evening with Two Awful Men invigorates the mind in many penetrating ways.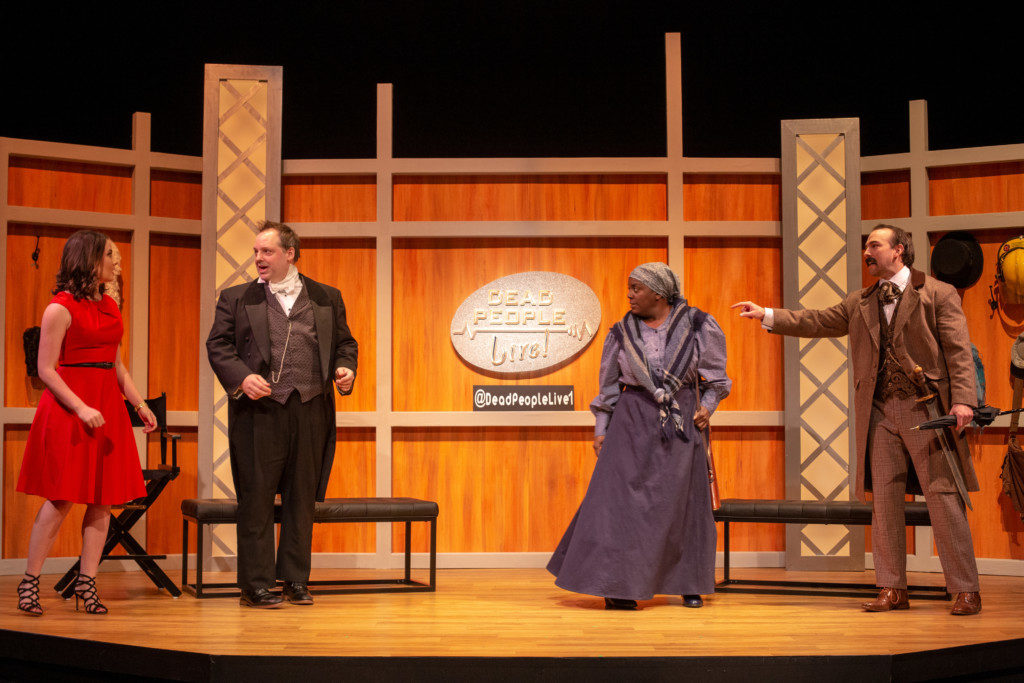 The cast is spot-on in every role. Jason Bowcutt is the quintessential fussbudget who somehow still manages to keep a dignified air despite the bewildering circumstances of this television audition. Aaron Adams is the humble-free thespian who epitomizes the cult of the 'Lost Cause' in the aftermath of the South's complete defeat in the Civil War. Dee-Dee Darby-Duffin takes full command of the stage, upon her entrance as Harriet Tubman. Emilie Starr in the role of her namesake has exquisite timing, thanks in her real-life role as a television program host in Utah.
The litany of memorable moments is extensive in this 70-minute production. Emilie, who is hoping to land a major musical theatrical gig, jumps and dances off-stage to music from Oingo Boingo's Dead Man's Party, a perfect choice. What's intriguing is how the actual production set of Dead People Live! is situated behind the show's backstage area that sits downstage and the overall effect works, even if one has to just engage the slightest suspension of disbelief. Audience members receive a ballot. The opening of the show, in fact, runs through the standard instructions announced before the beginning of any performance – again, a slyly executed bit of blurring reality and fiction.
The rules of the show are simple, as Emilie summarizes quickly: "lenient about the F-word. But total sticklers about anything racist." Buchanan's erudite opening defense is admirable: "There have also been similar lists created on 'The Internet' itself in which I am, again, the Number 1 'worst.' Now, I understand that recent events may push me down to No. 2 on these lists — but the point is, I have been vilified and misunderstood." While Buchanan huffs when Booth appears, Booth tries to charm the show's host, who agrees to read lines from his sister's biography. Emilie obliges accordingly after Booth says, "That's a lovely accent, Emilie — music to my ears — but we Booths are actually from Maryland. Perhaps something more . . . border state?"
However, both historical figures are taken aback when Emilie announces "the Elephant in the Room portion of our show," referring to slavery. Booth scorns Buchanan's peroration and brings up the rumors of the president being gay. But, slavery is only the tip of that contentious portion, as audience members learn soon enough with Tubman's arrival on stage, which occurs after the mid-point of the play.
Tubman's appearance is the play's inflection point. Explaining that she is the show's "token diversity," Tubman is making her fifth appearance on Dead People Live!, again as a "special guest and never as a contestant." She explains, "Any time you want a dead black woman in a show, only one you can think of is good old Harriet. Last one of these shows I did I was the sassy black sidekick of Marie Antoinette. I never did figure out what I was doing there."
The subplot emerges quickly in the final third of the play, a commanding bit of concise, cohesive theater that brings home the main themes incisively. We are becoming more oblivious to the root cause of our burgeoning problem with accepting embellished versions of partially true accounts in our rough drafts of history (journalism) and the polished versions of literal biography and historiography. Jarvik, a former journalist, brings home a perfect irony about historical fiction, where it is not always plain or decisive about when it actually is historical and when it is fictional.
In 2008, after Barack Obama's election to the presidency, many journalists, scholars and think-tank members proclaimed that the country had achieved a post-racial society. Probing the question, American University historian Ibram Kendi wrote Stamped from the Beginning: The Definitive History of Racist Ideas in America, a 2016 book that received the National Book Awards honor for best nonfiction. In a separate piece, he wrote the following:
Time and again, racist ideas have not been born and bred in the cradle of ignorant, hateful or unpatriotic minds. Time and again, powerful and brilliant men and women have produced racist ideas in order to justify the racist policies of their era, in order to redirect the blame for their era's racial disparities away from those policies and onto black people.
The common conception that ignorance and hate lead to racist ideas, and that racist ideas initiate racist policies, is largely ahistorical. It has actually been the inverse relationship – racial discrimination has led to racist ideas which has led to ignorance and hate.
An Evening with Two Awful Men riffs adeptly on Kendi's theme in an entertaining, accessible way while fortifying the core substance of social conscience that animates every Plan-B production.
The production design team includes K.L. Alberts (costumes), Thomas George (set), David Rees (lighting), Arika Schockmel (props) and Ana Mulcock (stage manager).
Performances are sold out but there is a waiting list for any last-minute openings for seats. The production runs through March 3 with performances on Thursday, Friday and Saturday at 8 p.m., Saturday at 4 p.m. and Sunday at 2 p.m. in the Studio Theatre at the Rose Wagner Performing Arts Center.
For tickets and other details, see the Plan-B Theatre website.