Plan-B Theatre's productions normally are masterpieces of minimalism in staging and subtle lighting but for its latest premiere of Julie Jensen's 'Christmas with Misfits,' director Cheryl Ann Cluff wisely decided to celebrate the occasion of the play's theme with an overflowing bounty of holiday décor props.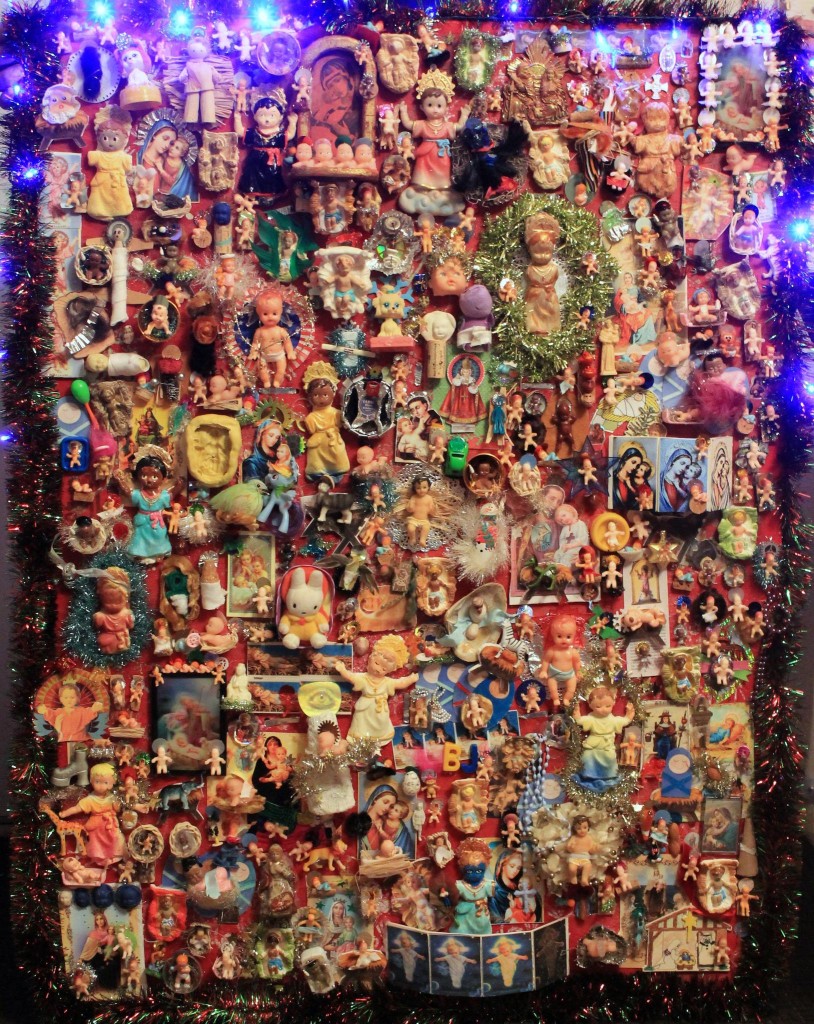 In the opening, when actor Jeanette Puhich bursts forth from a large box spilling out oversized candy canes, ornaments, a stuffed bear, and other crass objects of the season, one gets the sense Plan-B's stage crew cleared racks and shelves of cheap adornments from at least a few stores. The box resembles a department store holiday display at the end of the day after shoppers anxiously searching for bargains have mauled it.
There are strokes of production genius, a couple of them made courtesy of local 'steampunk' artist Arika Schockmel. She made the pair of beaver key chains that light up, as featured in the second act of 'Misfits,' in which two socially awkward gay teens give each other these trinkets as gifts after the first present they exchanged: sex to experience what it might be like to lose one's virginity.
Schockmel's real prize, though, is the display board featuring the more than 1,000 items in 'The Baby Jesus Collection,' the play's hilarious third act in which a man named Heber Creeper proudly shows off his collection at a church bazaar, that also included the props of pin cushions in the image of Aunt Jemina (created for a character oblivious to the offensive implications of her craft work) and the odd sort of hand-knitted booties one would see at a church sale or 'jumble,' as referred to by the British.
The display board, complete with a Christmas-light border activated by Bateman, features many of the script references to the Holy Infant creations, including pine cones, flat rocks, a pug from a Nativity set with all of the characters represented as dogs, and one from a Nazi set with the baby Jesus sporting a tiny mustache. Indeed, Schockmel's first-rate creation echoes Creeper's line perfectly: "In this business there's no end to what you might find. And you can't just cut some people, like the Nazi people, off at the pass because you don't participate in their beliefs."
Of course, the man's obsession, which he believes will be rewarded with an entry in the Guinness Book of World Records, irks one woman at the bazaar (played by Puhich) to the extent that she takes unchristian action with a toy BB rifle.
Despite the bit of tentative performance that slowed the play's first act, all three actors – Bateman, Puhich and Colleen Baum – handled all of the roles in Jensen's play nicely, capturing the fast-changing complex range of emotions, quirks, sarcasm, and sincerity which the playwright sets forth. Jensen always is such an astute social and cultural commentator with her work and her venture into dark comedy – an anthology to unmask the season's artificial, even soul-crushing truths – works as handsomely on the stage as it does on the page.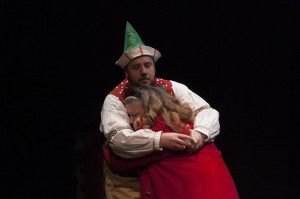 Baum and Bateman quickly make the audience forget their characters' actual age and physical traits in the first act, 'The Girl and The Elf,' about a seven-year-old girl, whose parents are away at a Christmas party, and her invited guest, a cynical 49-year-old man who plays one of the elves in the nearly Macy's department store holiday display. Baum inhabits in tone quite credibly the lonely child who desperately wants to keep believing that this little elf guest, indeed, represents what she has been taught to be true up to this point in her life. Meanwhile, the tall, large Bateman is convincing as he shrinks his stature as a human character. Sensing the creepiness of being with a girl who is alone in her home, the disenchanted, resigned elf is blunt, indifferent and more than ready to leave the scene, even as the girl peppers him continuously with questions about what it's like to work for Santa. When the elf tells the girl that she is the only person who ever cared about him, Baum says, "Then you should not'a messed that up." And, the exchange darkens, as the elf says "No. Except at some point you gotta tell the truth." It continues:
Girl: I might hate that.
Elf: Hate the truth?
Girl: Yes I could. Or else I could hate you.
Elf: Not my fault.
One can be relieved that it is Baum and Bateman who are playing the roles because the scene's real truth would come out with even more piercing impact if the roles actually were taken by actors who match the characters' descriptions. The two actors convey the pivot of profound sadness. Just how many children, with parents who are disengaged or abusive and who constantly chide sons and daughters for not fitting an idealized image, truly feel like misfits in a season heavily promoted to play up childlike wonder and magic.
Moving quickly in a play that takes barely an hour, the actors zip effectively through the lifetime of misfit experiences represented in Jensen's play. Bateman switches gears immediately, moving from a grumpy 49-year-old elf to a geeky, gay teen in 'Him and Her,' as does Puhich. The second act takes play in the back seat of a car with the soundtrack from some nondescript nerdy adventure movie playing continuously through the action.
Their portrayals capture accurately teenage tonal inflections. They make the best of a situation that brings only limited satisfaction to them, as they imagine what their same-sex crushes are doing at the moment. About the key chain, the girl says, "This is a good present. To mark the occasion," and the boy responds, "Yeah. To mark the day you lost your virginity?" It continues:
Her: I didn't lose it. It was a present.
Him: Right.
Her: What do they say about guys? What do they lose?
Him: Guys score.
Her: Guys score and girls lose. That sounds like life.
Him: Girls are supposed to be forever altered. So are you forever altered?
Her: I don't think so. Are you?
Him: Guys aren't altered. They stay the same.
Her: Except I don't think it counts unless you really like the person.
Him: So we're still virgins?
Her: Yeah, I think so.
Disappointment is a near-constant theme in 'Misfits,' except perhaps for the man proud of his baby Jesus collection who is a caricature about those who are blinded to grounded reality as they pursue their obsession to achieve the perfect holiday. But, then in the play's final act, 'Christmas in Meadows Manor,' the two wheelchair bound nursing home patients, who reminisce about a lifetime of holiday disappointments, get a small yet unexpected reward for their venerable suffering.
They've decided not to go to dinner with family or relatives and to remain at the nursing home, located in a desert where the temperature on Christmas Day is approaching 70 degrees. After calling his son to tell him that he will stay at the nursing home to keep an old friend company for the holiday, he says, "He was relieved. Didn't want to drive all the way out here and back." The woman, who is gay and had earlier explained how she never had been allowed to spend the holiday time on her own terms, responds, "I don't blame him." With music from the Beatles' 'Abbey Road' album playing, the two start taking shots of tequila from a pint bottle as a bit of holiday magic finally occurs.
'Misfits' is an apt flipside for the holiday season. Far too much of Christmas entertainment follows an often crude, excessively saccharine, manipulative aesthetic barely disguised as a subconscious call to reckless commercialism. No excuses are needed if one does not want to adopt a defeatist attitude and gloomily go along with the usual trappings of the season. Perhaps the best magic and emotional resonance occur when one decides independently how best it is to celebrate the holiday, even if to others it might seem weird or melancholic. Only then do we find the right passion to find our own way out of the misery and loneliness that does actually inhabit the season for a lot of people.
Performances continue to Dec. 21 with shows Thursdays, Fridays, and Saturdays at 8 p.m., Saturdays at 4 p.m., and Sundays at 2 p.m. in the Studio Theatre at Rose Wagner Center for Performing Arts in downtown Salt Lake City. Tickets are going fast with seats still available for Dec. 19 and 20 performances. For more information, see here.