Why does it have to get dark?
Why can't the day always stay?
Let's say goodbye to the night time, Goodbye.
Let's send the dark time away.
Fred Rogers, Mister Rogers Neighborhood, Some Things I Don't Understand, 1968
In a 1970 episode of his legendary public television series Mister Rogers Neighborhood, Fred Rogers reflected on the sad feelings he experienced when his dog died and how difficult it was to say good-bye to his beloved pet. In his unforgettable gentle demeanor, he talked warmly about the memories of his childhood companion and showed his young viewers a photo of her.
Rogers, who never saw any topic or issue as off-limits in thinking about children and how they express their feelings, explained that play is one of the most "appropriate" and necessary" ways that children grieve. "Some parents are uncomfortable when their children 'play' about death right after a family member has died. Those parents may feel that it shows that the child is insensitive," he wrote. "But just the opposite is true. Children who play about death are usually feeling so sensitive about it that they're using the best means they have to try to come to terms with what it means and how they feel about it."
In Elaine Jarvik's newest play, River. Swamp. Cave. Mountain., two young siblings – an eight-year-old girl (Izzy) and her five-year-old brother (JJ) – go on a journey that leads them to understand their grandmother's death. The play is part of Plan-B Theatre's Free Elementary School Tour (FEST), which takes the road this fall with performances that will reach more than 15,000 elementary students in K-3 at 40 schools in an area stretching from Weber County in the northern part of the state to Garfield County in the south. The play was developed with the counsel of the locally based The Sharing Place, an organization that helps children, their parents and their families with the grieving process. The play also is supported by an Art Works grant from the National Endowment for the Arts.
For the public, the premiere performance will take place Saturday, Oct. 14, at 11 a.m. as part of the Repertory Dance Theatre's Ring Around the Rose series for kids. Ticket information for the 35-minute play is at the Plan-B Theatre website. This is the fifth FEST production for Plan-B, which includes the school tour running from Oct. 13 through Nov. 17. There also will be a series of free public performances at branches of the Salt Lake City Public Library System as well as three performances, presented by the Davis Arts Council, at library branches in Centerville, Layton and Roy.
There is no question that the subject of grief is the most difficult topic Plan-B's FEST program has addressed in its five-year history. Grief is as awkward and mysterious for adults as it is for children. While Jarvik already had settled on grief as the play topic, she assumed that her audiences would be in grades 4-6, not K-3. "There is a broad range of difference between the age groups when it comes to understanding and coping with grief," she says in an interview with The Utah Review. "My granddaughter who was five didn't complete understand what happens when someone dies."
Jarvik turned to one of Utah's most successful playwrights, Julie Jensen, for advice, "because I didn't know where to begin." She also talked to a child therapist (Nancy Reiser who is one of the co-founders of The Sharing Place) as well as Jenifer Nii, the playwright who wrote one of the FEST plays geared toward a K-3 audience. Ruff! was about two dogs in a shelter, Axel and Buddy, who become friends, sharing experiences that offer plenty of lessons about bullying, identity, self-esteem and confidence, and the challenge of stepping forward without fear. "She said to make it an adventure," Jarvik adds.
From that point, Jarvik settled on a classic yet appropriately accessible metaphor for her young audience, a journey to explore, cast with enough gentle humor to help guide audiences through the serious matter at hand. Plan-B's FEST productions enjoy a merited track record of satisfying children's audiences without sounding didactic or preachy in tone. And, as with the other FEST productions – focusing on topics of body image, bullying, identity, self-esteem and confidence, and the challenge of stepping forward without fear – Plan-B Theatre offers a study guide to help teachers contextualize the play for additional classroom discussion and instruction.
At the age of 8, Izzy chats freely about what she thinks she knows, while her brother JJ, at 5, is always curious and never hesitates to ask questions. At the beginning of the play, Izzy tells the audience that her mother explained that people go on a journey when they die. She says a journey is "momentous" – "which is a fancy word for big and important. That's because when you come back home from a journey you're different from when you left." The two children are searching for a treasure they believe their late grandmother left them. JJ wonders about where their journey is leading them. He tells his sister, "I'm going back to when Grandma wasn't dead."
Jarvik handles the task eminently well in casting lines that would seem realistic for two smart, curious children to utter. The physical destinations function effectively in her chronicle of this adventure the two children have undertaken. Regarding the river, JJ remarks that the water comes from the tears of people whose grandmothers have died. Izzy says, "That would be a lot of tears. Lots of grandmothers have died." The swamp represents the most intense feelings that could be experienced, where the two thrash and twist in the mud while they fight angrily against each other with cardboard swords. The mountain appropriately represents the epiphany about understanding what grief means and how the healing process actually strengthens the human capacity to bond with each other with love and resiliency.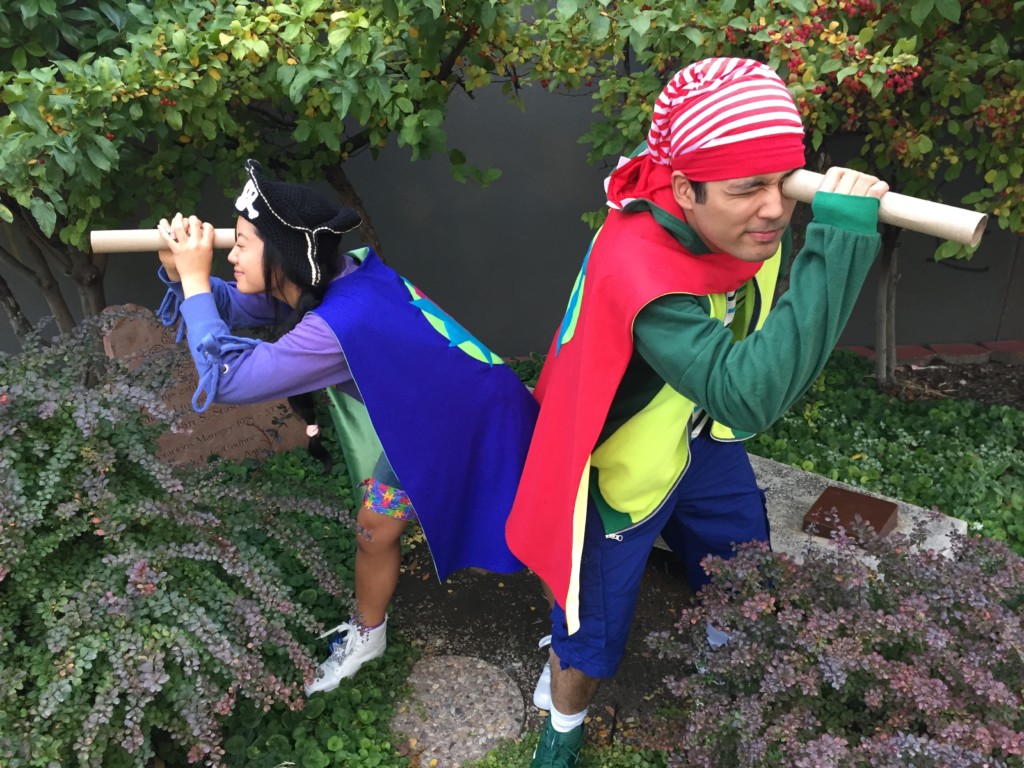 As for The Sharing Place of Salt Lake City, which played a role in helping to develop the play and the supplementary educational materials, the organization relies on reflexive listening as the starting point for talking about grief. The point of reflexive listening is that the child is assured of being heard and that it is okay to talk about the person who has died.
In 2015, the organization was featured on an episode titled Birds and Bees for This American Life, the popular public radio series. As Jonathan Goldstein explained, the organization conducts its activities in a refurbished house that is like what a family finds when visiting a grandparent. The groups are organized according to age, to which Goldstein adds, "There are rooms where kids meet and talk and rooms where their parents do the same. But most of the rooms are dedicated to play. There's a costume room where kids can dress up like police, ballerinas, cowboys." There also is a volcano room: "It's full of cushions and large rubber yoga balls. It's even got an adult-sized dummy to wrestle and punch. The kids can scream, yell, pound the walls, and throw things around. They love it."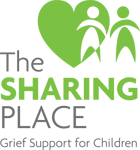 After talking to therapists and children who have participated in activities at The Sharing Place, Goldstein says, "And given all of this, the thought behind The Sharing Place and other centers like it is that kids can help one another in a way that adults perhaps can't help them. That's why they're brought together in these groups. In short, kids speak the same language."
In Jarvik's play, the same objective is achieved.
The play features Ashley Marian Ramos as Izzy and Benjamin Young as JJ. Directed by Cheryl Cluff, the production includes props and costumes designed by Aaron Swenson. Performances include a brief post-show discussion.
For ticket information and performance schedule, see here.