One of many richly textured epiphanies in Matthew Ivan Bennett's Art & Class, the audio-only production receiving its Plan-B Theatre world premiere, occurs shortly after Lucía confronts Mindy, the parent of a student in her art class, at a Christmas tree lot in Hyrum. Mindy is pushing for Lucía to be fired from the school for showing students images of nudes in classical paintings. Making matters worse is that Lucía, who is originally from Costa Rica, was harassed by a customer who demanded proof that she is in the U.S. legally.
As Riley, Lucía's husband, tries to mollify her, he grows nostalgic about one of their earliest dates, when they rode up the canyon. He says, "And I know you don't like landscapes—anymore—even if you could make a killing in Jackson but they are a bolt of lightning and that is fact." Before Lucía can get in a word, he adds, "You became what you set out to. You know what art is. You have your own business cards. Do they?"
A few moments later, Riley looks at a sketch that Lucía has been working on — a copy of Modigliani's The Iris Tree, one of the nude paintings that was part of the school library collection she shared with her students. Riley mentions that the style reminds him of her father's art, a point she acknowledges. "My first memory I'm sitting with him on a boat in Limón as he draws a campesino," Lucía recalls. "The wrinkles! I stare at the wrinkles on the page: three dimensions from two. An old man kneels beside his dog, a shepherd mix who had been bitten in the eye by a kingsnake—by the Devil—and lay dying. The old man pats him. … I began to cry and my dad goes, 'Art is not about what we want to see.'"

It is the play's rare moment when it seems that their marriage will not only survive the irrational explosion of the school incident but also could be strengthened. However, to achieve the potential, both have their respective challenges. Hoping for the compromise that could secure their economic livelihood for the near future, Riley struggles to see beyond the reality that few artists ever will be lucky enough to enjoy simultaneous commercial and critical success honoring their passion. For Lucía, the purpose of art is not just for her mind but also for her very existence in an environment where there are many disturbing forces. While Lucía takes to heart what her father said, she also struggles for the way to overcome her sense of isolation in a rural community where its residents are more willing to sneer at and rebuff an outsider than consider the opportunity of experiencing and appreciating a different worldview.
In a long string of original productions written by Utah playwrights, Plan-B Theatre has scored many grand slams. Bennett's plays are part of that impressive record. But, in Art & Class, extraordinary for many reasons, Plan-B sets a new height of excellence. Bennett's newest work stands with Eric Samuelsen's Borderlands (2011), one of the company's most successful productions and one of the greatest works of the Utah Enlightenment.
Directed by Jerry Rapier, Art & Class becomes a maximizing display of the power of the audio-only format, thanks to the sound design of Cheryl Ann Cluff and sound engineering of David Evanoff. Indeed, it will surprise listeners that, at no time, were the actors ever in the same location during recording. The play's internal rhythms occur naturally in the deftly scripted dialogue. The cast is outstanding in fleshing out their respective character's emotions and their juxtapositions: Flo Bravo (Lucía), Bijan Hosseini (Riley), Roger Dunbar (Leland Hess) and Stephanie Howell (Mindy Van Tassel). As explained in an earlier feature published in The Utah Review, the play springs from a 2017 incident at Lincoln Elementary School in Utah's Cache County, which led to the teacher Mateo Rueda losing his job.
The actors respond to Bennett's intentions for complex characters who do not fit into categories of protagonist or antagonist. While Lucía has the courage to invigorate and stimulate the wonders of art and its appreciation, she also struggles with a triple dose of vulnerabilities, which immigrants, artists and teachers contend with in a sociocultural environment where civility, passive acquiescence and adherence to a quasi-state faith matter. Lucía presses Riley to leave his comfort zone, overcome his own vulnerabilities and move to Salt Lake City while Riley hopes that his wife will be captivated enough by the beauty of the nearby canyons and mountains to stay in Hyrum. Riley might seem adventurous enough but he also is intimidated by Lucía's cosmopolitan quest for creative adventure. Those listeners who are Utah locals will recognize that in many parts of the state, the chain of social connection in communities such as Hyrum is far narrower than the familiar six degrees of separation.
Likewise, the other main characters involved in the play's central drama — the school principal Leland Hess and parent Mindy Van Tassel — are just as vulnerable, where they are challenged to portray themselves as best as they can in a community governed by aspirations of perfection, as defined by their faith. Leland, who sees himself as an enlightened, liberal Mormon, admires Lucía, despite his social awkwardness and obliviousness to unintentional racism. However, as pressure mounts for Lucía to be punished for showing classical images of nudes to her sixth grade students, Leland's resolve to support her weakens. This occurs even as Lucía reminds him that the set of nude images came from the school library and questions why the librarian (a male teacher on the verge of retirement) is not being subjected to similar scrutiny. Leland's vulnerabilities extend well beyond the school controversy to his life as a married father with five children who also has struggled with his own sexual identity.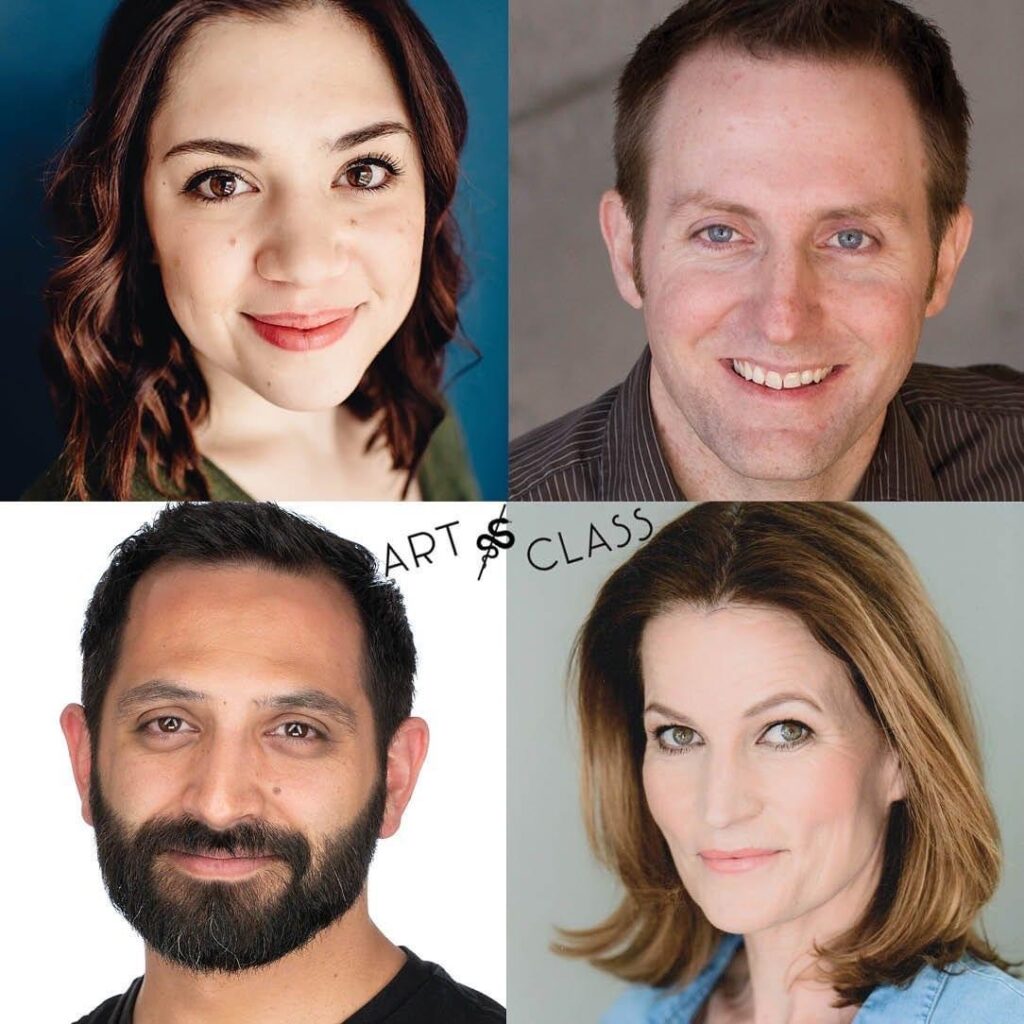 It would be easy to cast Mindy as the play's conventional antagonist but that it is not the case here. A conservative Mormon who comes from a family with clout in the community, she takes the lead as the parent who is infuriated by Lucía's decision to show classical nudes to the students. The classroom experience traumatized her daughter, who already has been mercilessly teased by her fellow classmates. This experience occurs shortly after Mindy's brother committed suicide, which Mindy ties to his shame over his addiction to pornography. However, Mindy's anger is so visceral that its intensity pushes the school incident in the community irrationally out of its manageable proportions. Unfortunately, Lucía becomes the target in Mindy's attempt to soothe her own inconsolable pain.
In Borderlands, a play in which grief is manifested in various ways, Samuelsen crafted a profound, poignant ending that brought characters with different experiences of inadequacy and betrayal of faith to a hopeful, common point. Six years ago, Bennett wrote A/Version of Events, a brilliant, searing drama about a Mormon couple on a long road trip to Hershey's Chocolate World in Pennsylvania, shortly after their son, who was born was severe disabilities, drowned. A review in The Utah Review included the following, as the story in that play moved toward its stunning climax, "At this point, the emotional battle is pitched at rapidly ascending intensity – a stark, realistic display of why many marriages are vulnerable to collapse after the death of a child. Pulses of contempt punctuate the dialogue more frequently. Cooper's fixations make him miss his wife's earnest emotions and intentions. Instead, they amplify his imagined perceptions of negative behaviors and patterns that appear to be conspiratorial without legitimacy or justification. Meanwhile, Hannah turns icy at times, minimizing her husband's feelings and dismissing them too quickly."
In Art & Class, the emotional battles ultimately intersect and become intertwined between and among all four main characters, notably as issues of immigration, academic freedom, unintentional racism, self esteem, grief, social status, faith, suicide and addiction join art censorship and aesthetics in the play's holistic canvas. Bennett wisely leaves the ending open, inviting listeners to discuss and suggest where the story goes after the 110-minute audio production has ended. Even passing references early in the play gird the organic epiphanies that emerge in the climax. In Utah, the quality of air and its impact on public health are issues that have been debated for years. At one point in the play, Riley argues with Lucía, who would like to move out of Cache Valley, that the air is better in Hyrum than in Salt Lake City, where the smog would force them to wear gas masks. Unfortunately, Riley fails to recognize that his wife and others like her are, to quote the artist Marina Abramović, "the oxygen of society," where their function "in a disturbed society is to give awareness of the universe, to ask the right questions, to open consciousness and elevate the mind." Meanwhile, Lucía hopes that it is a goal which she does not have to work for on her own.
The production, which requires digital tickets, will be available through April 25 for streaming as a podcast on the Plan-B website as well as on its free app. Listeners will be able to access the production within the specified run dates. Tickets for individual productions are available on a pay-what-you-can basis: As a guide, the regular ticket price would be $22 and there are no additional fees. Plan-B will send donation letters to individuals who pay an amount larger than $22 per ticket. For more information, see the Plan-B website.