NOTE: This is the first of a two-part series about Plan-B Theatre, which just completed its 25th anniversary. Part 2 will preview the company's 2016-2017 season.
In 25 years, Plan-B Theatre has grown into one of the most ambitious performing arts companies in Utah, regardless of size or genre. The small theatre company – with Jerry Rapier as producing director and Cheryl Ann Cluff as co-founder – thrives in risk, leveraging an impressive artistic value that often far outweighs its productions which are the exemplars of minimalism.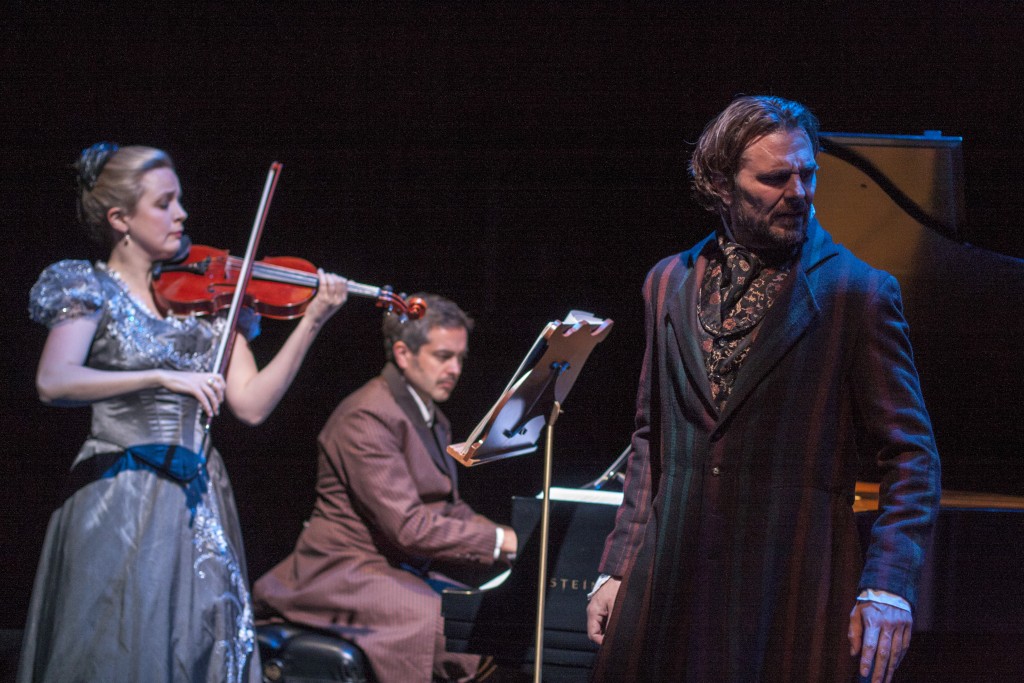 When Rapier and Cluff announced the productions for its silver anniversary season in the spring of 2015, two plays – the gutsy and incredible Otherwhere for the 10th episode of its Radio Hour series and Kingdom of Heaven, the company's first original musical – were still in their gestational stages.
"We were doing things that we haven't done before and it was the season to focus on the creative theatricality of each piece," Rapier says. "It was a little bit terrifying yet invigorating. We didn't have a single song for Kingdom of Heaven [when we announced the season] and we just had a few sketches and scenes. It was a lot of work but it turned out to be a joyful season."
The season opener was, to quote from The Utah Review's preview last fall, "an audaciously experimental, unquestionably unique treatment – a script of less than 3,500 words — that synthesizes the spirit of Tolstoy's story and the relentlessly visceral energy of Beethoven's music in The Kreutzer Sonata that only a few producing directors might consider feasible enough to pull off convincingly." There also were other examples of untested creative territory: Plan-B's first thoroughly science fiction play – Based On A True Story by Elaine Jarvik and Rob Tennant's Booksmart, his first professionally produced work.
With the season concluded, the verdict was better than what anyone had anticipated. Ticket sales were so brisk that productions sold out well before or near their respective opening. And, the audacious experiments further consolidate Plan-B's reputation for bringing scintillating artistic energy to the most intimate staging space of the Studio Theatre in the Rose Wagner Center for Performing Arts.
The first two productions came from two members of Plan-B's Murderers' Row team of Utah playwrights: Eric Samuelsen and Matthew Ivan Bennett, both writers who bridge intellectualism and thrilling emotional sensations in the most concise formats possible. For The Kreutzer Sonata, Samuelsen transformed Tolstoy's novella of nearly 32,000 words about a man, caught up in a jealousy-fueled rage, who murders his wife, after returning from a business trip and discovering her in the dining room (fully dressed, incidentally) with a strikingly handsome violinist.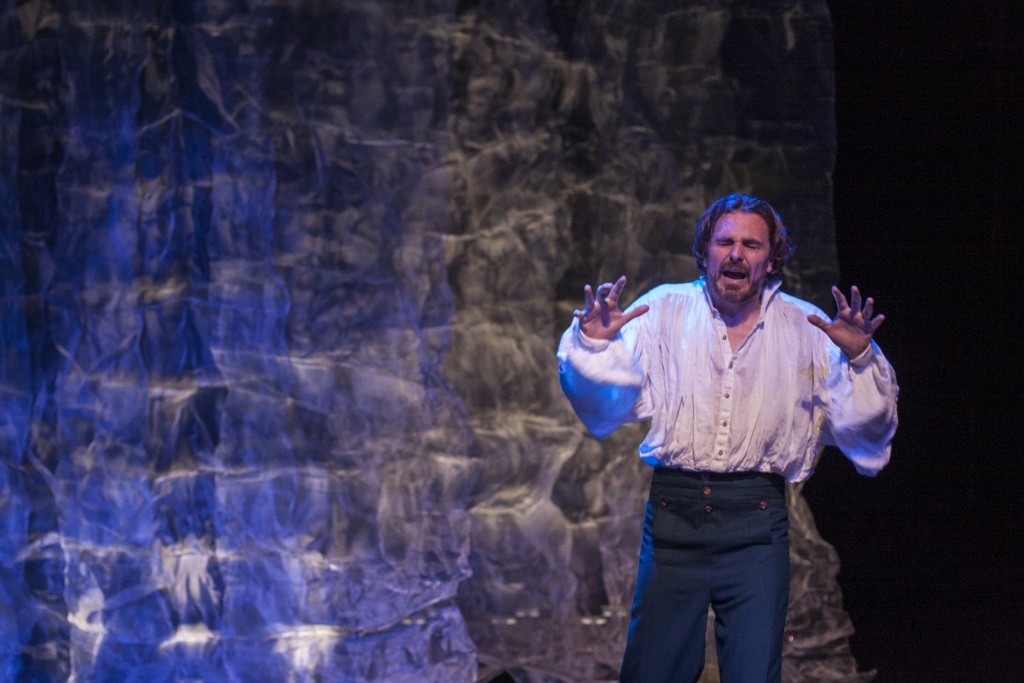 He lets Pozdnyshev (the murderer) explain the most candid depths of his madness, while pulling the audience inward to "watch, learn and listen" in the way this tormented man might have heard the music of Beethoven's famous chamber work of the same name, performed live by the violinist and pianist – Kathryn Eberle and Jason Hardink, respectively, from NOVA Chamber Music Series, who rose in perfect form to their unorthodox roles as musician-actors, given that the music was segmented and reordered in ways far different from the original score. And, there was Robert Scott Smith's performance as Pozdnyshev, dark and formidable – unquestionably one of the season's top three acting roles.
In recent seasons, Plan-B has become as adept at producing works arising from historical sources and treatments of earlier periods as it has in producing socially conscious work that often address an urgent sociopolitical or sociocultural issue. Samuelsen succeeded with smashing impact in making Tolstoy's 1889 story and Beethoven's music composed in 1803 just as incisively timeless in 2015, offering another clear set of lenses about attitudes and double standards in marriage and sexual relations.
During the season, Plan-B also went smartly against the tempting grain of conventional wisdom, wisely protecting the artistic brand value of some of its signature events – such as the Radio Hour series, which has been produced in tandem with KUER-FM's RadioWest program. Normally, a new episode would be a live stage performance simulcast on radio and some episodes were part of a regular 10-show production run. However, for Otherwhere (the 10th episode), Plan-B and RadioWest returned to the original format of the show aired live on radio and rebroadcast later that day at 7 p.m. Indeed, it would have been nearly impossible to replicate the brilliant phenomenon of that single performance.
Premiered on the day before Halloween last fall, Bennett, who wrote six of the 10 Radio Hour episodes, took on the challenge of writing an episode that pays homage to the famous 1938 radio broadcast of Orson Welles' production of The War of The Worlds, which was based on the 1898 novel by H.G. Wells. For Otherwhere, Bennett scripted with the sharpest conviction the appearance of an actual episode to persuade listeners – almost up until the climactic moments of the story – that RadioWest host Doug Fabrizio's interview with paranormal expert Dr. Arlen Childs was real.
When the season was announced, Bennett, Fabrizio, Rapier, Jay Perry (the actor who would play Childs) and Cluff, who directed the production did not know if anyone would believe that Fabrizio's interview with Childs was just another normal broadcast day for the show. Unlike The War of The Worlds broadcast, Otherwhere did not include a disclaimer at the beginning. And, the premise of Dr. Childs' appearance on RadioWest was set up as a last-minute fill-in for a scholar who studies gender and had to cancel suddenly. In fact, the only disclaimer Fabrizio mentioned was, "we're flying by the seat of our pants here." Bennett listened extensively to many episodes and workshopped his ideas with the radio show's production crew in order to capture the interview style and tones Fabrizio would likely use with a controversial guest where contentious debate enters the picture.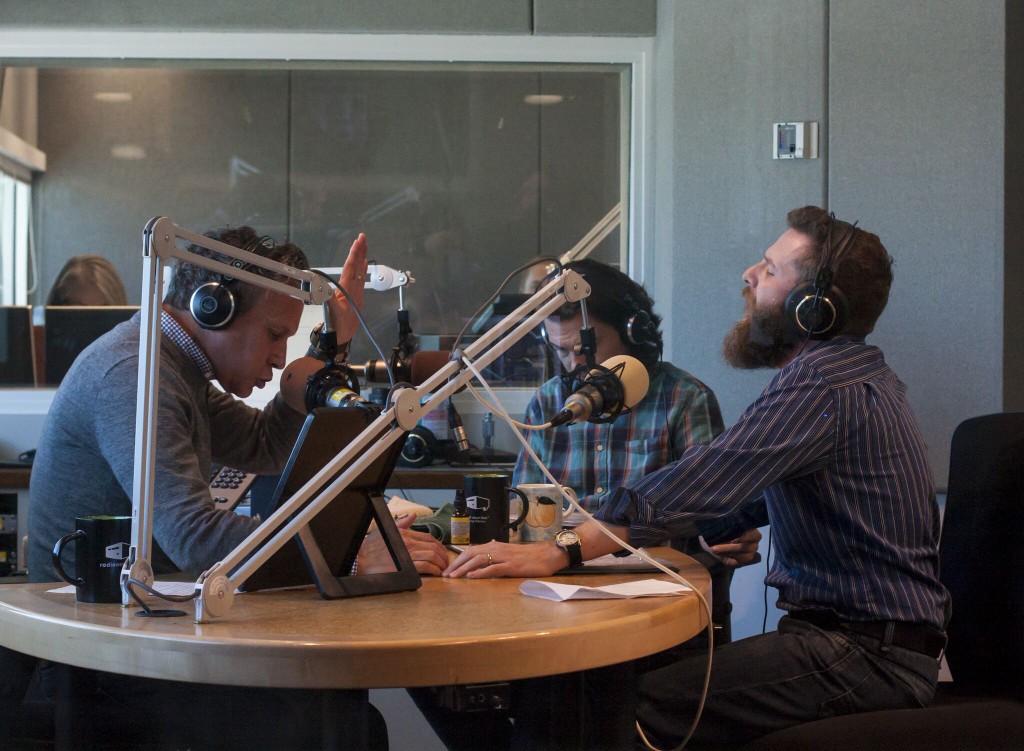 The result was a credible script that tests the fidelity of a listener's careful ear and while there were scripted call-ins during the interview, prior to the broadcast, the cast and crew decided to take an actual caller live during the broadcast – a risk few would dare in a live theatrical studio production – but it proved successful in the eeriest way possible. The response afterward suggested more than a few people believed the show as a true event – which triggered for some an emotional response similar to what happened when Welles did his program more than 75 years ago.
Offering one of the season's top three memorable portrayals, Perry, who has performed in every Radio Hour episode, magnificently downplayed the theatricality of the role as the strange doctor, while David Evanoff (who played the role of Albin Lorde, Child's colleague) composed the music that Childs called for throughout the episode. Otherwhere represented a milestone in a series that will endure as one of Utah's best known literary and performing arts collaborations.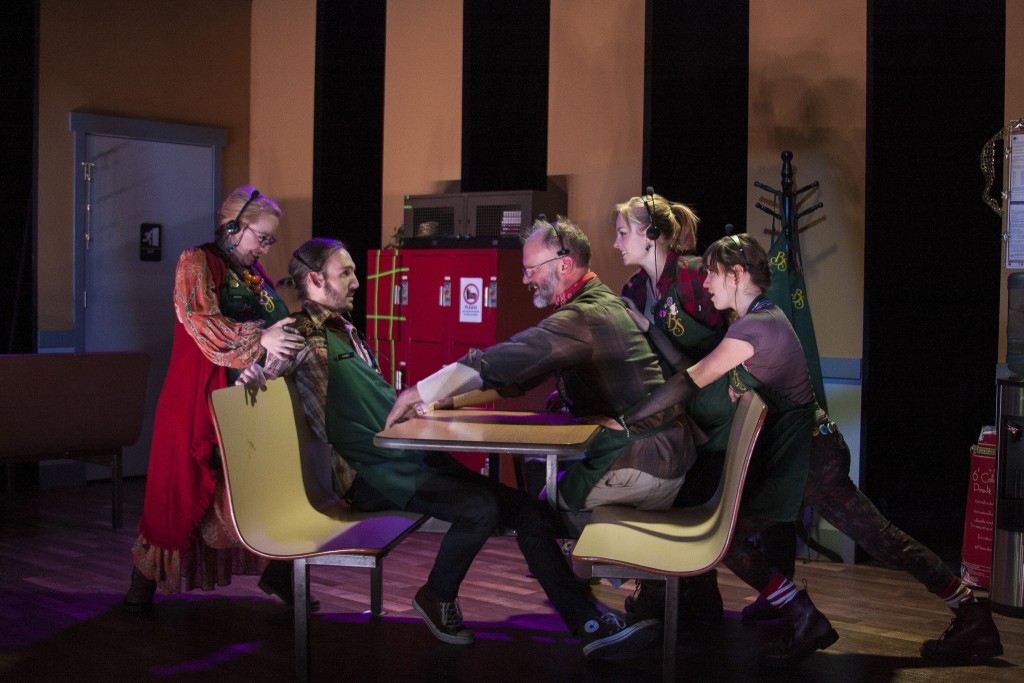 Tennant's Booksmart, one of the first two winning submissions from Utah-based playwrights 35 and younger for the David Ross Fetzer Foundation for Emerging Artists (The Davey Foundation), was a smart comedic take on the War On Christmas from the harried retail employee's perspective. Only in the last four years has Plan-B presented a holiday season production.
Booksmart was an ideal complement to the set, more than gently reminding people to think about the expense of taking bit-by-bit pieces of our humanity and soul when it comes to the mad dash of commercialism in pursuit of holiday perfection. One of the lasting impacts was Cluff's near-frightening discovery of just how many renditions of Rudolph the Red-Nosed Reindeer exist – the music which perfectly accompanied the ersatz feel of working holiday retail.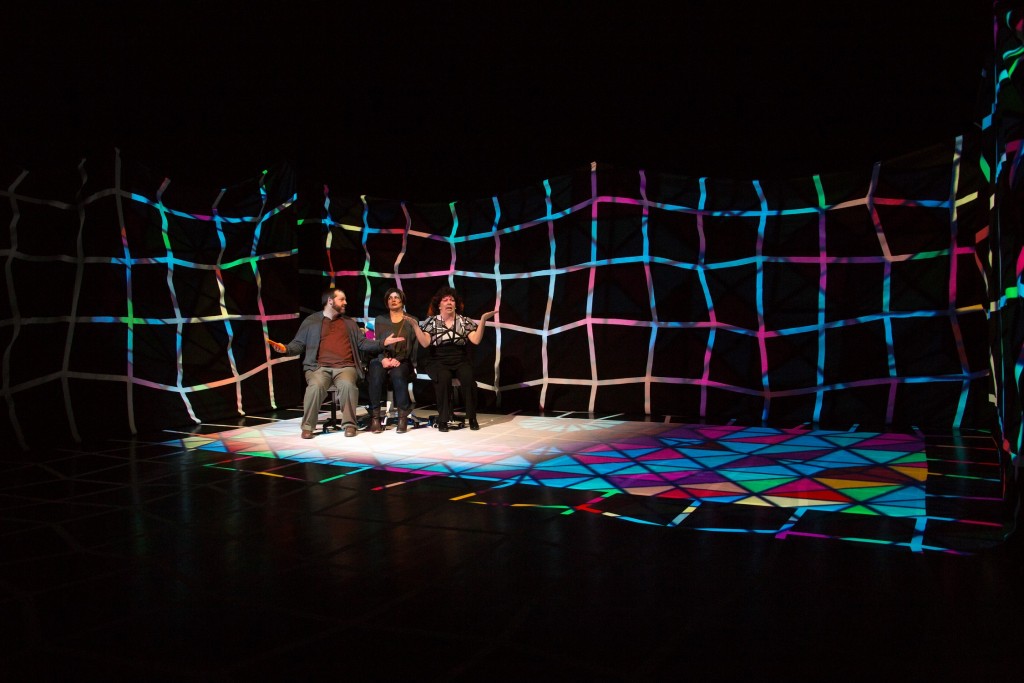 In three of the four major plays presented during the season, the beginning of the main character's significant journey is revealed at the end of the play. For example, Casey's campaign to bring economic justice and respect to his fellow workers only becomes apparent in Booksmart's closing lines. Mary Jane's (MJ) new path for expressing her identity, likewise, is clarified at the end of Jenifer Nii's Kingdom of Heaven. And, Megan's new journey of destiny begins in the final lines of Elaine Jarvik's Based On A True Story, a time travel story that would have garnered justifiable pride in the genre of Twilight Zone's own take on the topic. It also was the first Plan-B show to sell out its run even before the first rehearsal.
Jarvik, a former journalist who only within the last decade turned her creative focus to writing plays, produced a strong script. Late in the play, Megan and Chuck, a fellow time travel refugee of enormous historical consequence, are talking about the merits of the Bible: parables can still speak truth to power even if the facts are contrived or inaccurate. Megan says, "Here's a parable: 'Grief is like time travel. You end up in a place you couldn't have imagined.'" As Chuck gently corrects her, he pivots elegantly to the epiphany of Megan's destiny. Plan-B consistently traverses the interplay and tensions of secularism and religiosity in ways that respect mutually audiences while challenging them to think even more critically about their own identities of faith.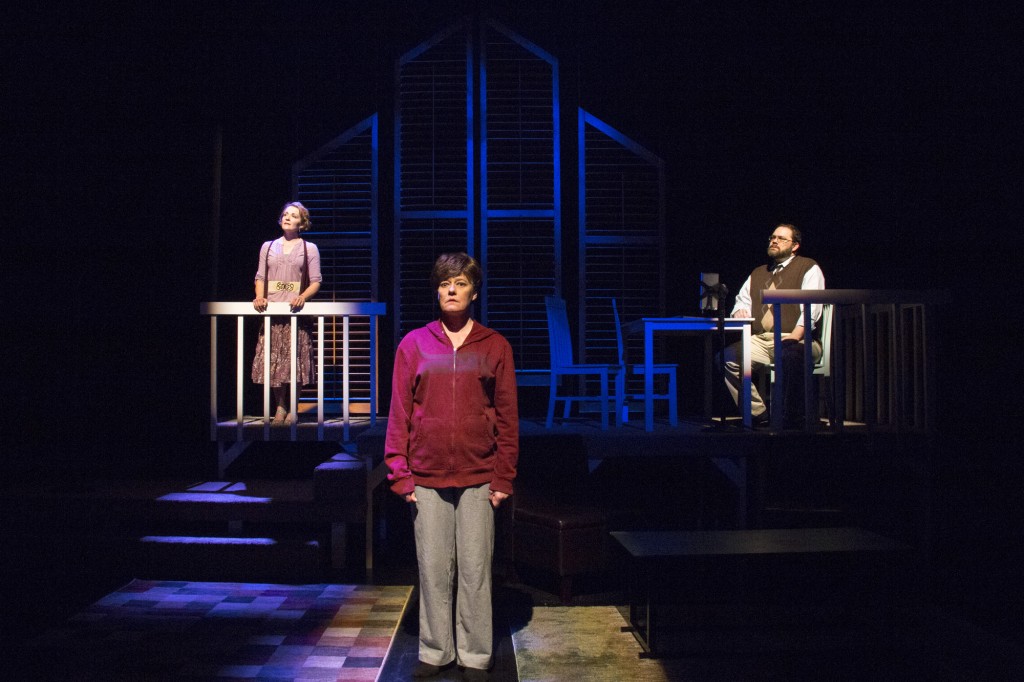 Picking up the baton in perfect form after Based On A True Story, the new musical Kingdom of Heaven, served to close Plan-B's silver anniversary season on many exuberant notes. It featured Nii's story about a dutiful, faithful Mormon housewife who comes to terms with a newly emerged part of her identity as a drag king performer. Nii's story situates Mary Jane's midlife crisis as a spiritually-rooted urge to liberate herself from the pretense of comfort and happiness that feels inauthentic and imperfect. Still trying to remain faithful to the properly conventional Mormon household appearance, the 40-something MJ (her nickname) says near the beginning of the play, "People at church are bound by a spirit of compassionate long-suffering forgiveness. It's part of the gig to persevere and cheerfully endure." There are earnest truths that galvanize the musical throughout, especially in the lyrics of the eight original songs that comprise the show.
Along with Evanoff's musical contributions to the lyrics and his score, Kingdom of Heaven was smooth at every turn and Jeanette Puhich's performance as Mary Jane (MJ) was among the season's top three portrayals.
No question: Plan-B's season was a most artistically satisfying way to celebrate its presence as one of the Utah Enlightenment's most important contributors.