In Salt Lake City, there are many venues for finding Robin Banks' fresh, bright and playful pop art and culture illustrations that have a timeless imprint upon retro and classic interpretations of cartoon and comic figures. In just six years, Banks (who prefers the singular generic pronoun "they") has compiled a diverse professional portfolio including flyers for many musicians and bands, three-color screen printing, journal comics, illustrations for local publications including the most recent cover of Slug Magazine, and a prized gig with Struck Advertising rendering illustrations of classic Looney Tunes cartoon characters that Warner Bros. will use on upmarket and general retail clothing, caps and other merchandise accessories in its forthcoming The Acme Factory product line.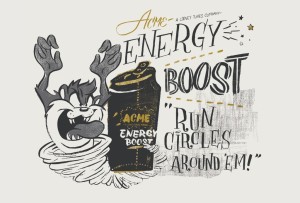 "I've been drawing since I can remember," Banks, who is 27, recalls. "Only in the past six years did I really decide to take my art seriously. I made flyers for bands that came through and drew journal comics. One day on my flyering route, Leia Bell (of the locally-based Signed And Numbered) said I should start screen printing. I didn't really know how, so I always had to ask her for pointers. I had only screen printed in middle school once."
Although Banks is a self-taught artist, there is evidence of inheriting natural family talent. Shari Acevedo, Banks' mother, is a sculptor who also works in oils, aqua-media and pastel. A descendant of Mormon pioneers who came from Norway, she has participated in many art shows and has earned awards and honors at exhibitions across the country.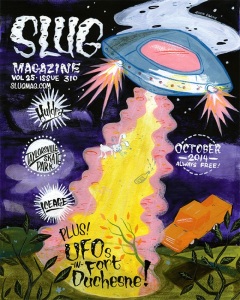 One of Banks' most formative artistic influences is Pablo Picasso's 'Guernica,' the 1937 work which stands out, for many art critics, as an iconic creative anti-war statement about the devastation and tragedy that defines armed conflict. But, as with all great art, one interpretation should not be considered definitive. Ron English, a widely known artist who has rendered more than 50 pop culture interpretations of' Guernica,' has argued that Picasso's great work effectively communicates the horrors of war because it "transforms incomprehensible tragedy into a cartoon narrative, something we can more easily absorb. This is part of the human process, to distance ourselves from the immediacy of undiluted, overwhelming emotions by overlaying a narrative that simplifies, and in effect, takes us down from three to two dimensions."
Likewise, some of Banks' work tempers the whimsy with approachable messages and themes that challenge prevailing perceptions about so-called traditional gender roles, contemporary issues about identity and privacy, and Utah's sociocultural influences deriving from Mormonism. Much of Banks' work, however, captures the consistently effervescent appeal of pop culture, as it weaves camp and kitsch with pop, comic and vernacular tones along with wisely selected inflections of retro, mod and classic and even juxtaposed instances of creepiness and cuteness.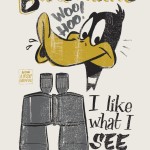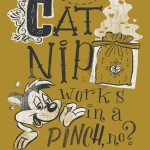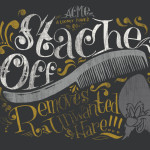 Serendipity played into Banks landing the opportunity to render the legendary Warner Bros. cartoon characters, which were launched in the 1930s and have become one of the most venerable elements of American pop culture. "I enrolled and paid $5 for a sign painting course at Struck and someone at the agency was intrigued to see what I had done so he Googled my name and contacted me," Banks says. Struck Agency, which has offices in Salt Lake City as well as in Portland, Oregon and Los Angeles, serves many media and entertainment clients which represent some of the best-known trademarks and cartoon identities in pop culture. And, with a strong revival of content and interest in the Looney Tunes characters, Warner Bros. has been rebranding the classic images for products bearing the name of the fictitious Acme Corporation, first made famous in cartoons featuring the Road Runner and Wile E. Coyote characters.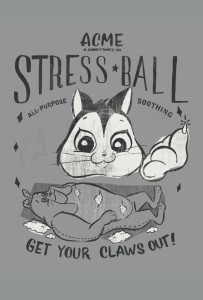 Banks decided to stretch the boundaries of the original instructions for the project, which celebrates the vernacular style of advertising line art. Normally they work in a large palette of colors and pastels, but the project required putting the cartoon images in gold, black and silver. A true fan of Looney Tunes, Banks viewed the cartoons many times, redrew the characters and placed them in various poses, finessing the lines with a clean interpretation that emphasizes the timelessness of each character's appeal. Struck and Warner Bros. representatives liked what they saw and handed over all of the disks with the poses and visages of 18 characters including some which only appeared in a handful of Looney Tunes cartoons such as Pussyfoot, the outrageously adorable, blue-eyed black-and-white kitten that charmed Marc Antony, the muscular bulldog.
Banks prefers to sketch on loose-leaf paper rather than in sketchbooks. They might draw a character such as a turtle, for example, numerous times, set it aside, and then return to it a couple of days or a week later. Banks might end up drawing many versions of the turtle, subtly changing lines that underscore his precise approach to making a polished final illustration. Banks will start with pencil making different layers that will comprise the final piece, then move to black ink, and will use a light table or a sunlit window to highlight the areas where color will be added for each layer. They make transparencies of the images and then screen print each layer until the piece is completed. "I made a very primitive screen printing setup in my room and printed in my house up until January of 2013," Banks explains. "Near the end of printing in my room, I was regularly doing runs of 350, at three colors a print. Thankfully, Copper Palate Press liked what I do and took me in."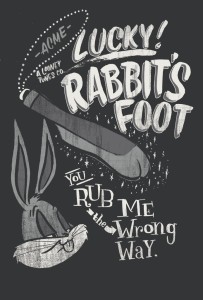 Banks says he especially loves the comic book styles of Archie in which different styles of fashion and pop culture have appeared in the comics and then disappeared but only to reappear again at some later point. And, just as in many of the classic Archie comics in which a simple gag drives the quick little story and often relies on groan-worthy puns, Banks has been working on a comic series entitled 'The Wart Sisters,' about three witches named Ekki, Jeza and Hagness. They gave a preview of the work at last summer's Alt Press Fest at the City Library and will have issues available soon for purchase at the artist's website or at Craft Lake City: Utah's DIY Organization. Banks makes the artwork available in high-quality prints, original illustrations, t-shirts and show posters.