Two award-winning films with LGBTQ themes — a 2018 Kenyan narrative feature and a 1984 documentary about five decades of gay activism leading up to the Stonewall riots of 1969 — will be screened in separate free, public programs, courtesy of the Utah Film Center and the Utah Pride Center.
Both films, part of the film center's year-round Damn These Heels programming, are perfect warm-ups for the major Pride celebrations and parade on June 1-2 in downtown Salt Lake City and the 16th annual Damn These Heels International Film Festival, the signature queer cinema event of the Intermountain West, which will be held July 12-14.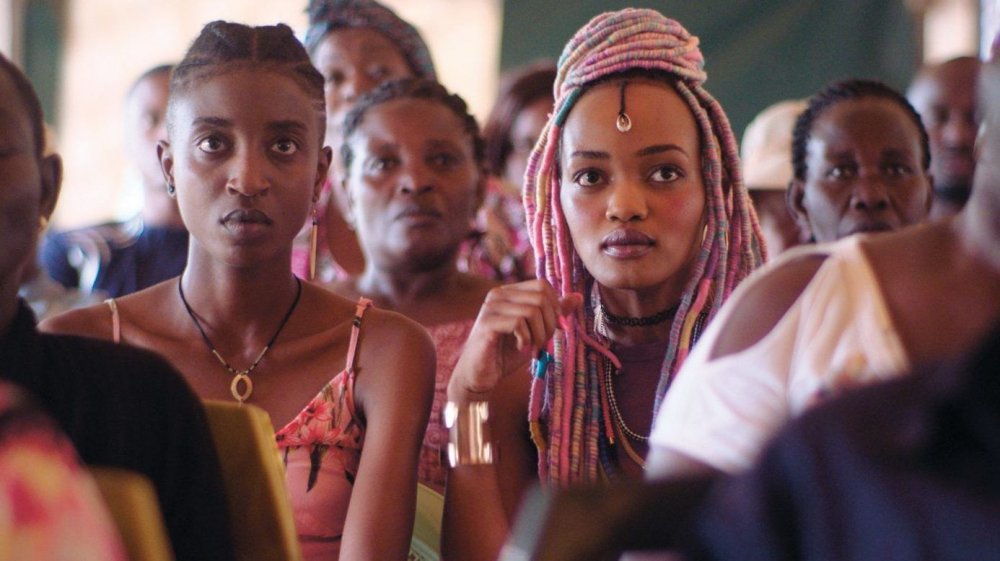 Rafiki, which initially was banned in Kenya but was the first Kenyan film to screen last year as a Cannes official selection in the festival's Un Certain Regard program, will screen today at 7 p.m. in the City Library auditorium, followed by a talkback organized by the Utah Pride Center and moderated by Paula Espinoza of the center's POC & Allies Group.
Before Stonewall, which premiered at Sundance in 1985 and won two Emmys in 1987, will screen May 28 at 7 p.m. at the same venue, also to be followed by a talkback organized by the Utah Pride Center.
Directed by Wanuri Kahiu, Rafiki's story is plainspoken: two young women, Kena (Samantha Mugatsia) and Ziki (Sheila Munyiva), fall in love and struggle with the social hypocrisy that abounds in various forms throughout the community. Also, the fathers of both young women are campaigning to be elected as local assemblymen.
Rafiki comes at a transformative moment in Kenyan society. On May 24, the country's highest courts will decide if same-sex relationships should be decriminalized. The public discourse in Kenya has evolved rapidly, especially since 2015 when the country's president Uhuru Kenyatta, in an awkward appearance with then-president Barack Obama, declared gay rights to be a "non-issue."
Kenya's highest court also lifted the ban on the film during the late summer last year so that it could be considered for an Academy Award nomination. In an NPR interview last month, Kahiu said, "Well, the fact that there is a case in court that is decriminalizing homosexuality means that the law for the first time has to recognize that LGBTQ+ people exist. They are mentioned and identified as Kenyans. That's a huge leap forward. There's many people who came out as a result of Rafiki. People came to watch the movie. They went home – came with their parents to watch the movie. And came out to their parents. That was huge."
Kahiu has an astute read on her country's sociopolitical climate in this latest narrative feature. Paced well, the film captures family, religious and political dynamics that parallel similar concerns in Utah so the film is worthwhile, particularly for teens and young adult audiences. In 2010, she made her feature film debut with the award-winning From A Whisper, based on the real events surrounding the 1998 twin bombings of the American embassies in Kenya and Tanzania. Pumzi, a science fiction short that premiered at Sundance in 2010, won best short film honors at Cannes that year.
Rafiki is inspired by Jambula Tree, a short story by Ugandan writer Monica Arac de Nyeko, who won the prestigious Caine Prize in 2007. The short story is about two young women who are best friends in school and the inevitable separation that occurs once adults discover their romantic relationship. The love expressed is natural, pure and innocent but it is the adults whose perceptions are blinded by stubborn, narrow beliefs that refuse to acknowledge such a decent, life-affirming possibility.
Meanwhile, Before Stonewall is a superb scholarly-like chronicle – the fascinating, absorbing, briskly-paced account of the 50 years leading up to 1969 when the Stonewall riots occurred. Released in the mid-1980s, this documentary — produced and directed by John Scagliotti, Greta Schiller, and Robert Rosenberg — situates the pioneering work of gay activists in its right historical place. This was notable given the film was released at the time when the AIDS epidemic had reached alarming proportions.
The film starts in the 1920s and ends some 80 minutes later with barely a handful of minutes about the Stonewall events. However, in between, it does a masterful summary of every major period — the Jazz Era when music and film emancipated individuals to embrace their genuine identities; World War II when discretion, tentativeness and isolation prevailed; the cultivation of the underground movement with the Mattachine Society and the Daughters of Bilitis; the fears and rebuke of McCarthyism; the rise of civil rights movements and the ascent of hippies and Flower Power.
The film is marvelously edited, incorporating film clips, archival news footage and direct interviews with the pillars and stalwarts that are now part of the permanent canon of LGBTQ history. Some of the most surprising images for a 21st century audience might be scenes from early demonstrations when the men and women dressed in conventional clothing (suits for men; dresses and stockings for women), believing that their appearance in this manner might be more impactful in winning over support.
Sometimes, it is easy to forget that there was a vibrant gay community life pre-Stonewall. This documentary vividly reminds audiences that seeds of liberation and social empowerment had been sewn many years before 1969 and hinted at a remarkable acceleration of acceptance and affirmation that has become the heart of the annual Pride celebrations.
For more information about the screenings, see the Utah Film Center web site. And, for information about 2019 Pride, visit the Utah Pride Center website.