In the second act of Sheila Cowley's Flying, Susan and Fisher are trying to cope with the act of forgetting from different perspectives. The townspeople, including her father, are oblivious to Susan's capabilities as a former military pilot in World War II as she struggles to keep her husband's airfield in business. Everyone is awaiting Bob's return, a war hero's legend already set in stone by a proud community. Meanwhile, Fisher, a gunner who served with Susan's husband and now works at the airfield, is exasperated by the attention from the townspeople eager to hear what it was like on the frontlines of combat. Trying to adjust to postwar life with an artificial leg and PTSD (post-traumatic stress disorder), Fisher eventually decides it is easier to make up stories for an audience than risk revealing the fresh scars of his wartime experience to strangers who are not prepared to understand the psychological effects of combat.
Actors Nicole Finney as Susan and Calbert Beck as Fisher bring out these dramatic tensions effectively in these scenes as part of the Utah premiere of Flying by Pygmalion Productions Theatre Company, which is directed by Teresa Sanderson.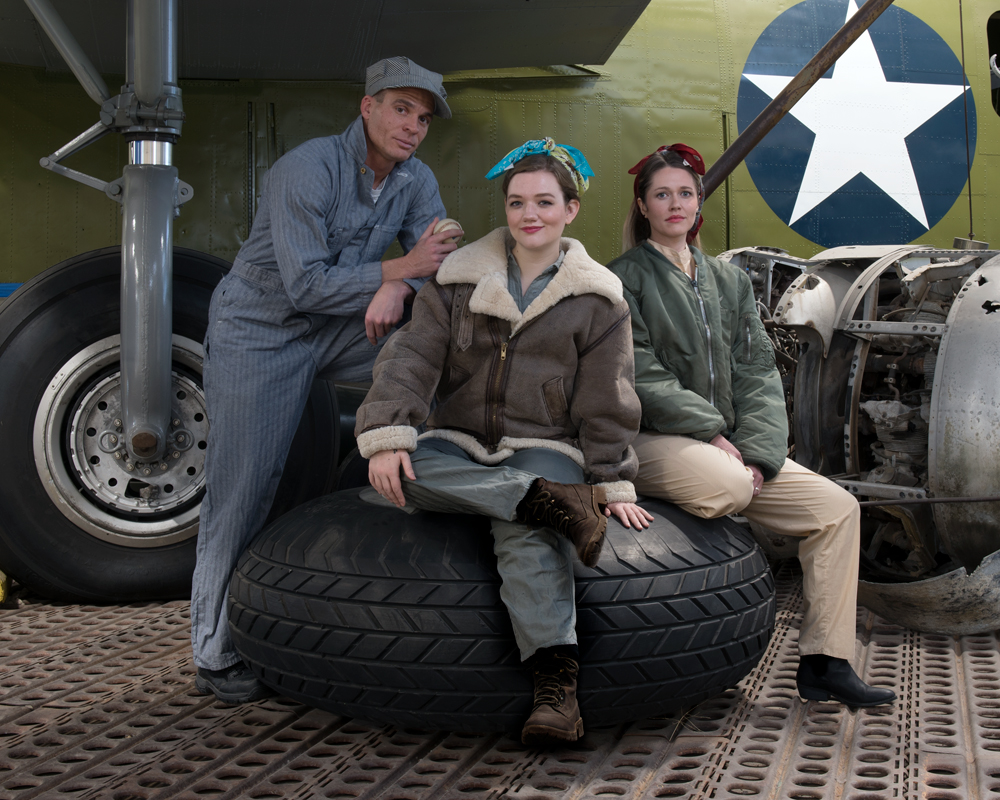 The tentative pacing of the first act evaporates in the second after intermission, as Finney and Back lead the cast through the play's strongest moments. Cowley's play rings with historical credibility, as it was developed from oral histories and memoirs of veterans who served in the short-lived Women Airforce Service Pilots (WASP) program between 1942 and 1944. The program was launched to deal with the shortage of pilots, as millions of men were called overseas to combat duties on both fronts in Europe and the Pacific region. As a 2010 NPR report indicated, the women in WASP "ferried new planes long distances from factories to military bases and departure points across the country. They tested newly overhauled planes. And they towed targets to give ground and air gunners training shooting — with live ammunition."
When the program ended, many women returned home without any public fanfare or formal military status, which finally was granted to WASP veterans in the 1970s. In 2010, President Obama conferred the Congressional Gold Medal on the WASP program.
Such was the case with Susan, who nevertheless prefers to remain in the shadows of her husband's combat accomplishments. The story opens after the war has ended but her husband is still in Europe on airlift missions. Her father (Andrew Maizner), a doctor, is bursting with pride as he helps orchestrates a hero's welcome for his son-in-law's return. Doc says Susan will not have to worry about the business when Bob returns. Yet, it is old-school chauvinism despite the father's good-natured intentions. Running her husband's business would be smoother if the townspeople realized that she is just as skilled as husband in the mechanical demands for keeping the airfield and planes in service. Susan also has hired two WASP colleagues: Lucy (Carlie Young), a young pilot from New Jersey who learned to fly before the war but who is uncertain about how to fulfill her career ambitions now that hostilities have ended, and Laura (Lori Rees), a woman whose nature presages the feminist movement leaders of the 1970s in personality and resolve.
When Fisher appears, he assumes that Bob already has returned. He tells Susan that Bob promised him a job at the airfield. Reluctantly, she hires him but soon realizes that his presence could help convince skeptical clients in the town that the business is in the hands of the 'right gender.' Later, Fisher realizes why Susan has delayed telling everyone the inevitable news about her husband. Time is running short: the airfield has had its utilities cut off for nonpayment and is on the verge of closing for good.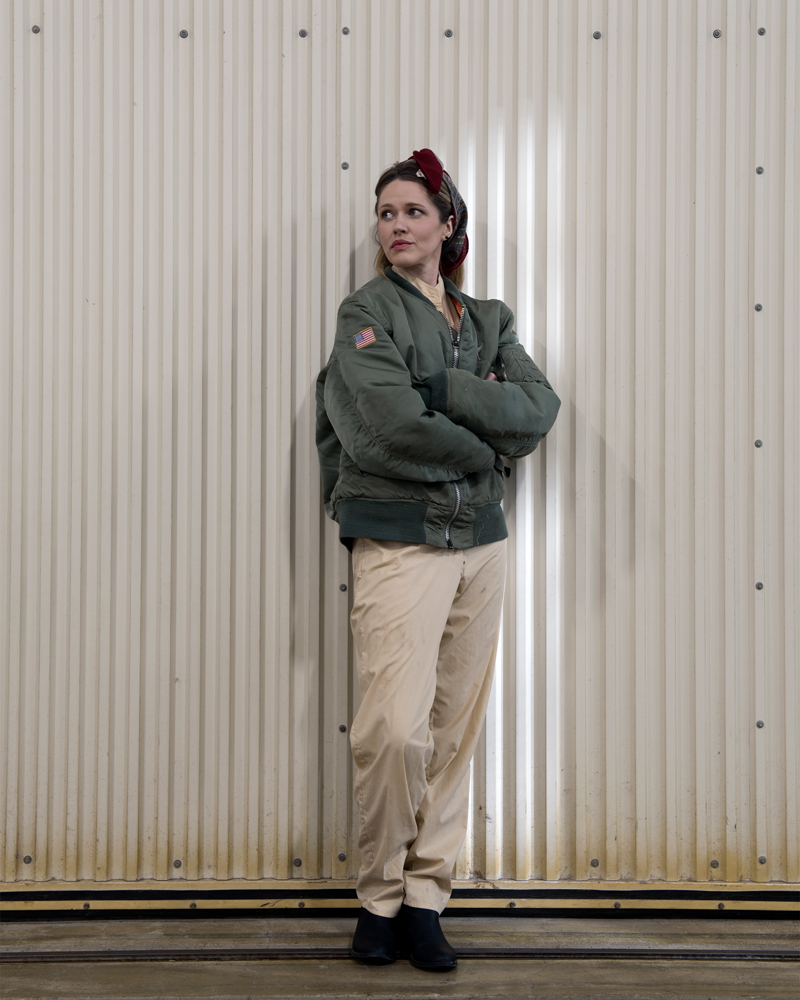 There is a good bit of foreshadowing in the first act that could be tightened with quicker pacing in the stage action. However, Cowley also builds a compelling multifaceted narrative that is an elucidating profile not only about how women such as Susan were quickly forgotten and struggled after the war but also how injured veterans such as Fisher were treated. Adjusting to postwar life was difficult for many soldiers who had witnessed the unprecedented scope of casualties at the combat front, especially when barely anyone comprehended the symptoms of PTSD. Meanwhile, people back home, such as Doc, read and heard details about the war through heavily sanitized and censored reports so it only seemed natural for them to urge their returning war heroes to share stories about the warfront. Many WWII veterans did not want to talk about their combat experiences, and the social climate of the time did not encourage people to talk openly about the psychological scars of warfare.
These dynamics come through in the play's second act, as Sanderson's direction suggests, and the actors collectively find their dramatic groove in their performances. Cowley's play contemporizes the stories of Susan and Fisher for a 21st century generation that has seen major warfare in Afghanistan, Iraq and Syria without a break for the last two decades. And, women even play a more visible role than they did in WWII.
Flying is an enthusiastically recommended production with elements that evoke the postwar 1940s period, including set design by Allen Smith, costumes by Andrea Davenport, hairstyles and makeup by Jessica Rubin, sound design by Mikal Troy Klee and lighting design by Rachael Harned.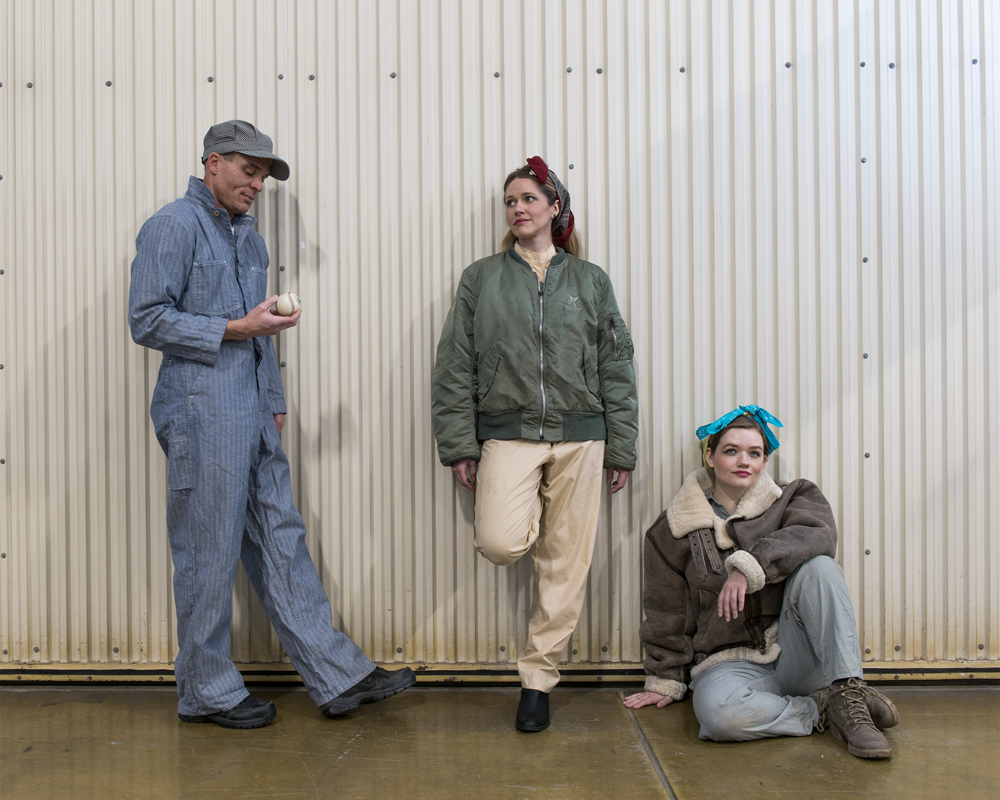 Flying was a finalist for the Marin Theatre Company's 2018 David Calicchio Emerging American Playwright Prize, a finalist for the Theatre Conspiracy New Play Contest 2018 and a finalist for the Florida Repertory Theatre, PlayLab Festival 2017.
Performances continue through Feb. 29 in the Black Box Theatre at the Rose Wagner Center for Performing Arts, with shows on Thursdays, Fridays and Saturdays at 7:30 p.m., Sunday at 2 p.m., and Saturday (Feb. 29) at 2 p.m.
For tickets and more information, see the Pygmalion Productions website.