As Lane Richins' good-hearted play Near Mint opens on the Pygmalion Theatre Company stage, the sunny mood signals that 'Cracker' Jack Patterson, retired pro baseball catcher, feels his life is pretty close to 'near mint' condition.
It is 1988 in California. With his best friend, Pepper Crawford, they host a popular AM radio show for baseball fans, who love the mix of news from pro and local Little League teams. Jack and Pepper run a baseball card shop and a stranger is particularly interested in Jack's most prized item — an autographed card signed by Sandy Koufax, from the night the great Dodgers pitcher threw a perfect game. Jack is about to have one more moment in the baseball spotlight. He will be honored as the only major leaguer to have been in every baseball stadium, either as a fan or as a player.
Pepper and Jack also coach rival Little League teams. Jack is proud of Sandra, 11, and the team is currently undefeated. Besides his fondness for chicken-fried steak, Jack also loves country music, as he sings the lyrics to Kenny Rogers' The Gambler and Dolly Parton's Jolene.
In subtle ways, a few clouds roll into the sunny landscape. They flesh out the dramatic heft, as Jack becomes aware that his life is about to be changed, by the friendships and relationships he has with the women who have helped keep the sunshine in his life.
Directed by Barb Gandy, Pygmalion's production (which continues through May 13) gives baseball its unsullied nostalgic shine, with a charming, witty, sensitive script matched very well by solid actor performances.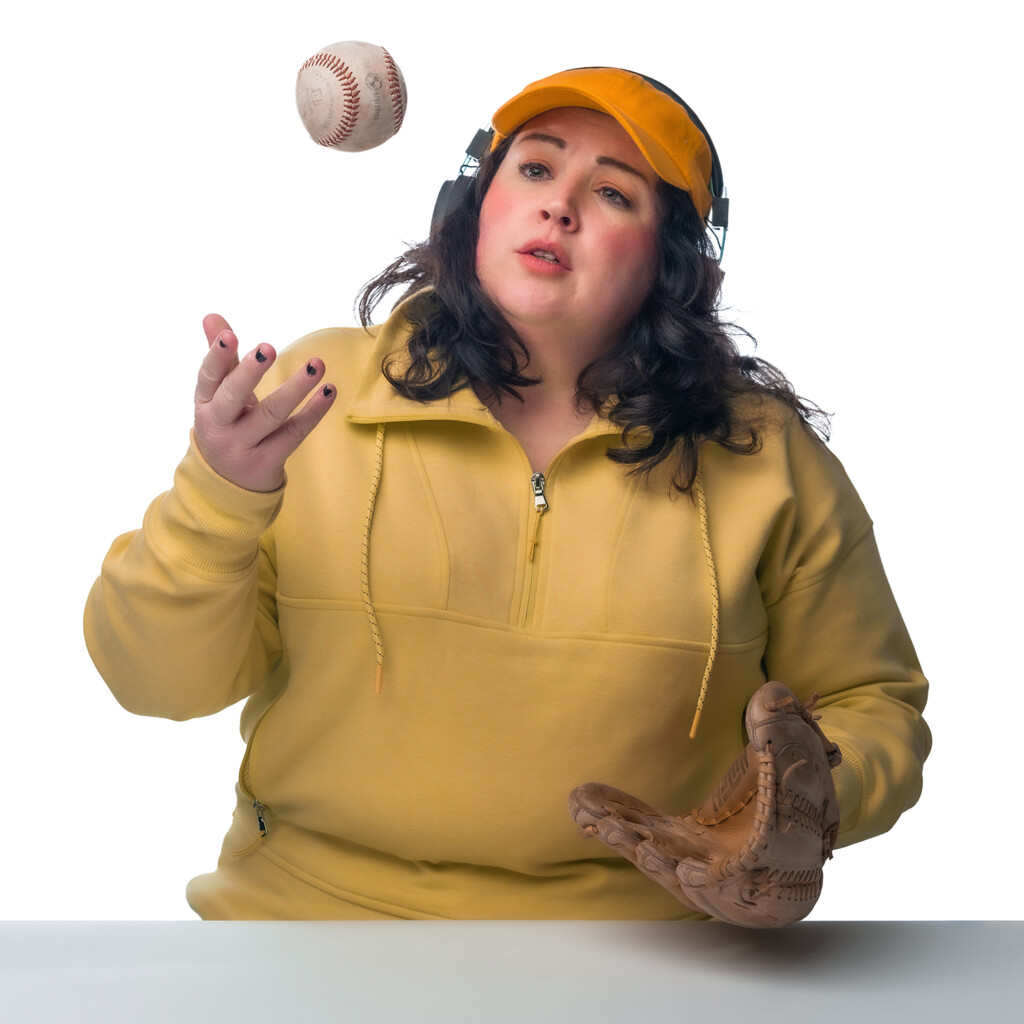 Calbert Beck pumps genuine enthusiasm into the role of Jack while adding the proper emotional contours to elucidate the underlying layers of his character. The chemistry is good with Natalie Keezer, who plays Pepper precisely with the empathy one desires in a best friend who has known Jack since their childhood days. Jack's pro career was mediocre at best — the only reason for this latest honor being that he was traded so frequently between teams. Yet, even as the immediate future seems bittersweet, he is sincerely happy that Pepper has been hired as a pro baseball scout in Visalia, California, which she will start once she returns from the Summer Olympics in Seoul, where she will help coach the U.S. baseball team.
Sasha Medura is delightful as Sandra, a talented Little Leaguer who adores Jack and believes he could become the ideal boyfriend for her widowed mother, Kristin, played with fine nuance by Ali Lente.

Daisy Blake steps into various characters with aplomb, most notably as a stranger who is relentless in trying to persuade Jack to sell his prized Koufax card and as Simon, a full-throated baseball geek who loves the Cracker Jack and Pepper radio show and is a regular customer in the card shop.
Baseball has always been at the center of Jack's life, even despite the disappointing outcome of his pro career. Reminiscing about how he started collecting cards when he was nine, he talked about his first momentous trade. "Traded with a kid down the street named Alejandro Flores," he remembers. "Ole' Al and I used to pick olives out of the neighbors' yards for dimes. I'll never forget him. He changed by life. I got Sandy [Koufax] for a Tom Brewer, a Jackie Jensen, and a Pete Daley. Al was a Red Sox fan." For those who know baseball, these lines pack the humor.
That historic night in the summer of 1965 when Koufax pitched the rare achievement of a perfect game frames Jack's lifelong connections to baseball. Not just a magical hero, Koufax embodies the muse and counsel for those crossroads moments in Jack's life. Tom Roche is splendid as Koufax, striking the right balance between Everyman and the aristocratic essence that goes along with being, frankly, the greatest pitcher in contemporary baseball history. Richins frames the character with solid credibility. Koufax, at 87, the quintessential elder statesman of the sport, has always worn his fame and celebrity status with admirable restraint.
Instinctively, Jack knows that his 'near mint' life, which always has centered on baseball, is changing. He knows that he only has a few precious moments left to find personal glory in his cherished sport. Even as he is self-effacing about the plaque he is set to receive for having been in every Major League Baseball stadium as a fan and player, he absorbs rightly the moment. In fact, he is especially excited about receiving a square chunk of turf from the San Diego Padres field.
Hoping to preserve his Little League team's winning streak, Jack is confident that Sandra can round the bases for a home run. However, on that final slide, Sandra is injured. Although Sandra proudly wears the marks of her game injury, Kristin is furious with Jack. He quickly realizes the gravity of his rash coaching decision and is desperate to make things right with Kristin. She is not prepared to make amends, as she worries how Jack's behavior resembles how her husband responded to challenging moments. The scene smoothly sets up the epiphany, which is handled with the appropriate touch of realism and grace.
Even for audience members who know little or nothing about baseball history, Near Mint is approachable, pleasant and buoyant. It's a wonderful treat to close what has been an excellent season for Pygmalion. For more information and tickets, see the Pygmalion Theatre Company website.