Going for a three-peat in Repertory Dance Theatre's Iron Choreographer competition, Nathan Shaw, a full-time dance teacher at Judge Memorial High School in Salt Lake City, follows a few simple rules. Lay off the abstract. Tap into the humor vault. Be courageous, knowing the weakest link could be the strongest.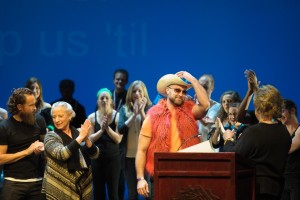 In last year's competition at RDT's signature fundraising event called Charette, Shaw leveraged rousing success from the secret artistic dance ingredient in creating a folk dance suitable for a bar mitzvah. "I took a non-dancer – an 'average Joe' in his 40s – and placed him front and center on stage," he says. "While other choreographers would have tried to hide him, I made sure he was moving all over the stage. And, the audience loved it."
Shaw and three other choreographers will compete this year in Charette, which will mark its tenth anniversary on Feb. 14 at 7:30 p.m. in the Rose Wagner Center for Performing Arts. Unlike other artistic choreographic competitions sponsored by dance companies elsewhere in the country, RDT's Charette encourages wit, humor and hilarity in a format that follows the rules of 'Iron Chef,' one of television's most venerable culinary competitions.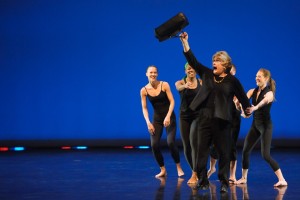 Four choreographers have an hour to create a new dance piece with "secret ingredients" of artistry and live music. The fundraising objective is handled in a novel way, as audience members select the winner with their wallets and purses by voting for their favorite choreographer with RDT "funny money" or "bidding paddles" during the live performances.
Likewise, Sister Dottie – the hugely popular persona of actor Charles Lynn Frost – has been tapped for the second consecutive year to translate Charette's potential for spontaneous comedy into an evening's guarantee of hilarious performances.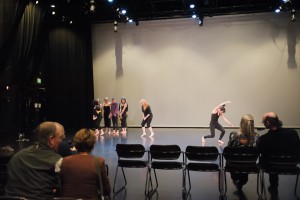 While RDT choreographers and dancers might set aside their more serious artistic sensibilities briefly for Charette, the event's consistent success in the last decade also has helped RDT nurture a viable platform of community engagement and support for modern dance's artistic impact and relevance. Next year, the company – the oldest of its kind in the country – will mark its 50th anniversary, having assembled one of the most extensively available repertoires of work by 20th and 21st century choreographers.
When RDT members conceived the concept for the company's biggest annula fundraiser, they had hoped to call the event 'Iron Chef for Dance,' but couldn't because of trademark and brand legal concerns. "We settled on Charette," Nick Cendese, one of the company's principals in developing the event, explains. "And, it follows the same amount of intense focus and effort which architectural students use to find a solution to an architectural problem. Here, we give a group of people the framework to solve a creative problem in a short amount of time." Incidentally, Cendese, who danced for the company for more than a decade and is now an artistic associate, will be one of the four choreographers competing this year.
Cendese says RDT organizers have learned over the years how to strip down the non-essentials and streamline the sorts of nitty-gritty details that audience members might find tedious. "It's become the people's favorite party for the right reasons and audience members enjoy the chance to see the creative process in its crazier, even wilder, moments."
The program formally begins at 7:30 when Sister Dottie introduces the choreographers, reviews the rules, announces the secret ingredients, live music options and the dancer assignments. There are a total of 28 dancers assigned including 7 from RDT and 17 performers from various dance groups and organizations in the Salt Lake City area. The final four performers represent a curveball secret ingredient in one of Charette's newest revisions. Each choreographer will be assigned an impromptu performer. Audience members bid in an online auction here to participate or, even better, as Cendese suggests, enter a bid to make a friend, partner, colleague or boss become the secret ingredient.
Once the introductory formalities are completed, then it's time to party, as Cendese explains. Audience members enjoy refreshments, purchase drinks at the bar and circulate among the studios in the Rose Wagner observing choreographers and dancers work out the 10-minute piece that will be presented later that evening. Audience members can begin exercising their ballot power by voting for their favorite choreographer during this hour with "RDT funny money," which is purchased in the half-hour before the program begins.
There is far too little time for choreographers to teach every step for a piece so Cendese says the best strategic artistic decisions lead to structured dance improvisation. "The most successful pieces are those that embrace the tongue-in-cheek mood of the event and that involve the dancers in creating the framework for the piece," he explains.
Audience members and performers return at 9 p.m. to the Jeanne Wagner Theatre in the center for the final hour-long performance. Audience members vote and hear feedback from Sister Dottie as well as celebrity judges Hope Woodside, news anchor for Fox 13 (KSTU-TV); Sim Gill, Salt Lake County district attorney, and an audience member who bid successfully for the spot.
Frost, whose Sister Dottie character has been a part of many prominent nonprofit endeavors, is thrilled to participate. "I truly love the close-knit, family feeling at RDT," he says, adding the event's spontaneous energy is like the classic "Lucy and Ethel. You never know what's going to happen."
For more information, tickets, and bids, see here.