Choreographer Francisco Gella sees the upcoming Regalia event to celebrate the Repertory Dance Theatre's 50th anniversary as the dance version of Project Runway, Chopped or Top Chef.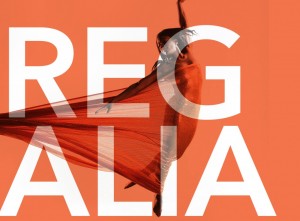 On Feb. 20, Gella and three other choreographers – Marina Harris, David Marchant, Andy Noble, all alumni of RDT – will have four hours to create their own short dance composition which will then be presented by RDT and other Salt Lake City area dancers at an 8 p.m. performance in the Jeanne Wagner Theatre of the Rose Wagner Performing Arts Center in downtown Salt Lake City. Audience members will "vote with their wallets" using paddles to select which of the four works will be commissioned for a full premiere in the next RDT season.
In the last ten years, RDT presented Charette as a major fundraising event, featuring an Iron Choreographer competition in which dance artists had one hour to create a new piece while audience members enjoyed light refreshments and observed the artistic process as they moved from one studio to another. Audience members bid on and voted for their favorite composition during a performance.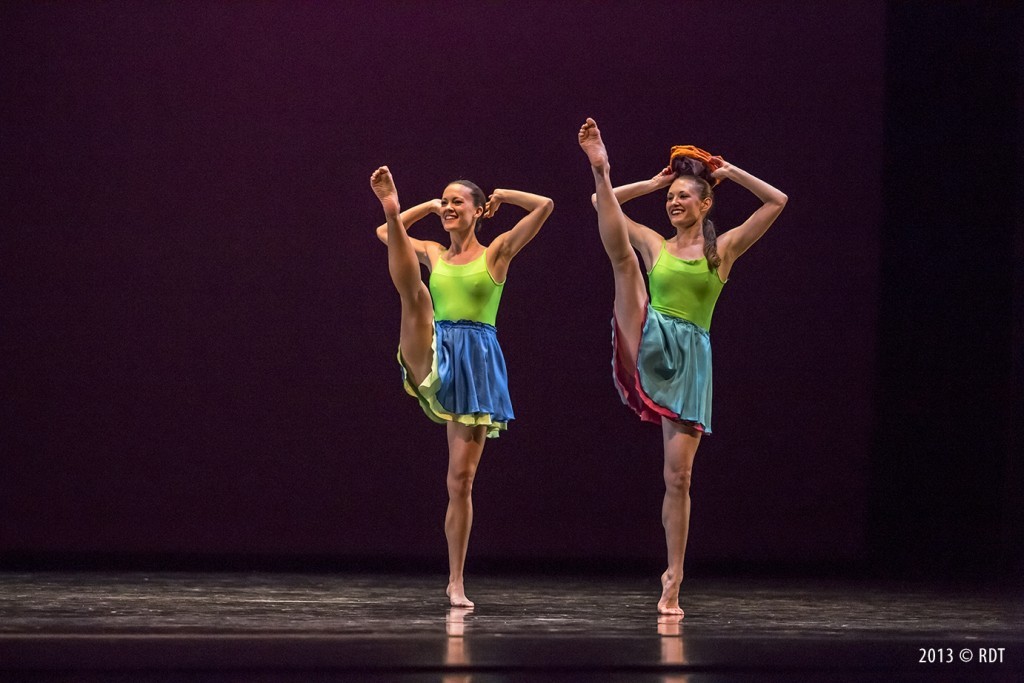 This year's milestone anniversary naturally calls for a full-fledged celebration, including a pre-performance gala cocktail hour and dinner where gala ticket holders can glimpse the choreographers and dancers at work. In addition, regular ticketholders will be able to join others for dessert and entertainment after the performance, featuring the Joe Muscolino Band.
Amidst the joy and fun of Regalia is the deep acknowledgment of RDT's formidable presence in the world of modern dance, which stretches far beyond Utah.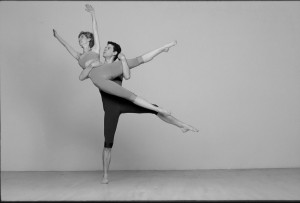 Each of the RDT alumni who are returning to the company stage for the event have staked out major territory in the field, serving as highly visible leaders in making dance an ever more accessible, diverse and relevant performing arts form. More significantly, each choreographer seems well suited to the intense whirl of creative activity that will lead to the creation of four dance premieres within the space of just four hours.
Viewers of ABC's American Crime anthology series, created by John Ridley who won an Academy Award for his screenplay adaptation for 12 Years A Slave, were treated to a four-minute original dance composition in a Feb. 3 episode, which was created by Noble, who lives in Houston where he and his wife, Dionne, run the NobleMotion Dance Company.
Noble, who danced for RDT from 1998 to 2004, choreographed a work with music created by composer Mark Isham that became a major element in the story line about a male-on-male rape incident. "It was very unusual to have a dance shown in its entirety in the middle of this drama," Noble says in an interview with The Utah Review.
For a behind-the-scenes look at the work involved in the episode, see this short clip with the Nobles and Ridley.
Noble initially thought the request for a dance composition which would be featured on television came from PBS, not ABC. "Ridley came to Houston to specifically check us out at our Storm Front show, the biggest in our company's history," he explains. "I have never really seen dance used like this on network TV before. Usually it is for entertainment or competition but John [Ridley] is taking risks."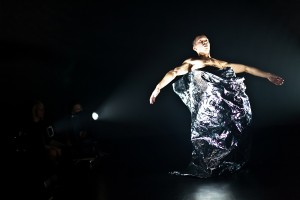 Working two weeks with Ridley, Noble says the American Crime experience proved to be a smashing success for him as well as the ten dancers, with nine of them from Texas. "The four-minute dance scene was done in a single shot. That's right, no edits," he says, adding the dance "was filmed using an NFL wire camera, so the audience gets in the middle of the action." The audience featured the series' actors in the front row along with hundreds of extras.
A dance faculty member currently at Sam Houston State University, Noble came to RDT, on the recommendation of one of his professors, Lynne Wimmer, who had danced and choreographed for RDT during the late 1960s and 1970s.
"I started very late and I had not taken a formal dance class until I was 19," says Noble, who originally had started out in hip-hop and breakdancing. "I was sweating bullets during the audition and Linda [Smith, co-founder and artistic director] was very intimidating."
Noble, whose family was active in creative pursuits especially as writers, is grateful that Linda took a chance on him. "There was so much work with so many different types of artists including many of the historically significant legends of dance," he recalls. "I adored it. It was pure joy."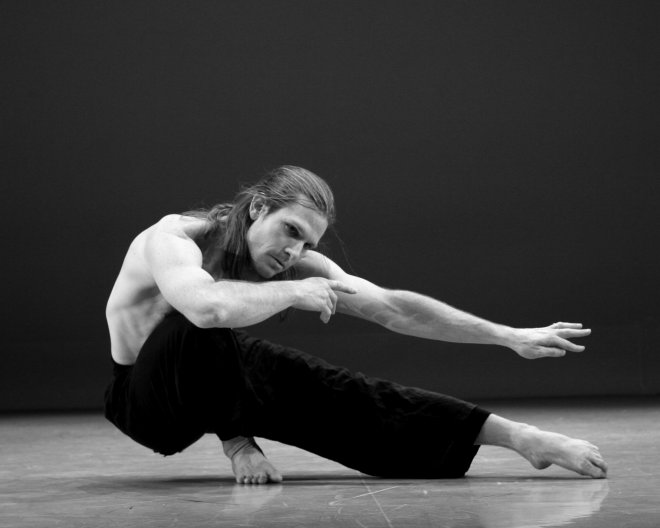 Marchant's career in dance has embraced many disciplines, including performing arts installations that celebrate somatic ecology and unique research about the therapeutic effects of improvisational dance for patients with Parkinson's Disease. A professor for more than 20 years at Washington University in St. Louis, Marchant and his wife, Holly, run ZO Motion Arts Company, which blends the elements of free dance with influences from meditation, spiritually-focused ritual practices, science and moving about in nature.
With razor-sharp intellectual curiosity, Marchant has expanded his own art work to go beyond the aesthetic conventions of classic modern dance. "It is being a creative inventor with a vivid imagination," Marchant explains. "I have tried powerless gliders, rock climbing and scuba diving. I have been a snowboarder and I have used the practice of Tai Chi to shape and sculpt the movement of climbing a tree."
Indeed, the art of tree climbing confers a deeper appreciation and awareness of environmentalism and the challenge of sustaining the elements of nature which we take casually for granted. Marchant's tree climbing dance, for example, is deliberative, kinetic, organic and meditative, where a canopy of trees lining a nature trail is as artistically valid and appropriate as a traditional theatrical stage.
"I love improvising because it conveys the effect of being immediately present whether the artist is on stage or climbing a tree," he adds. For his Regalia work, Marchant will be starting from a sound score he recorded of his own breathing and encouraging dancers to explore and experiment with the visceral impact of listening to the breathing sounds of people around them.
Marchant led a pioneering research study to measure the effects of a ten-day contact improvisation workshop with patients suffering a range of mild to moderate effects associated with Parkinson's Disease, the results of which were published in a peer-reviewed article in the Complementary Therapies in Medicine journal.
As Parkinson's Disease patients often have higher risks of falling, the use of contact improvisation helps them develop their capacities to adapt to any unexpected movements or loss of balance which ultimately helps them recover from falling and mitigate the impacts that occur when they fall.
Like Noble, Marchant had only started formal dance training in college. "I was a very young and green dancer," he says, when he arrived at RDT in 1989. "It was two solid days of auditions with Linda and others staring at me. She said, 'look, you're very inexperienced but we need men.' She took the first risk with me and I would not have this life without being at RDT. I am honored to come home and share what I have grown into." Marchant, incidentally, was in the company when RDT celebrated its 25th anniversary in 1991.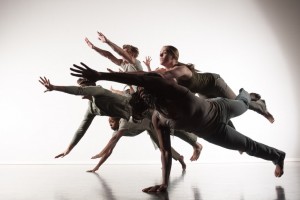 Harris, who lives and works today in Canada, has been associated with RDT longer than any of the other choreographers. "I believe it was in 1968, when I was a student, I did some sewing for the new and thrilling RDT," she explains in an email interview. "And then, I think, it was in 1974 that I moved back to Salt Lake and called up Kay Barrell, the lighting designer and colleague from the theater department in student days, to see if RDT needed a costume person."
Most of RDT's early choreographers – trying to be as budget conscious as possible – dressed their works with clothing from thrift stores around the area. "Shopping for theater work at thrift stores isn't my forte," she recalls. "And Arnie [Zane] perked up when he realized that he could probably get anything he wanted. That there was actually a costume budget. I'm pretty sure the costumes were all about ideas Arnie had been accumulating: a tutu over jodhpurs, a long skirt on a guy. It was fun coming up with the pieces of wardrobe and I was relieved of the responsibility of furthering a message."
From 1976 to 1996, Harris was RDT's costume designer but she also started doing choreography, incorporating initially her own experience as a ballet dancer. Harris adds that she had taken only one modern dance class in college but took an additional class when she started choreographing works for RDT.
Harris, who learned Spanish, Brazilian and Russian dance as a child, says that she loves any form of dance (she particularly admires Margot Fonteyn and George Balanchine) and she approaches her work as a "magpie" and "dilettante." She adds, "albeit a pretty disciplined dilettante, a dilettante in the sense of hard working nonspecialist."
Harris' recent work is with Company X Puppets, a puppet theater that also includes two other RDT alumni, Melinda and Ford Evans. Kip, Harris' husband, handles the photography, video editing and power tools.
Like Noble and Marchant, Gella did not take a formal dance class until his college years. And, as with fellow RDT alumni, his career as a dancer and choreographer is as busy and productive as any on the national scene.
Just last spring, Gella returned to present a new work at RDT's Reunion concert, the precursor to the company's golden anniversary season. A native of the Philippines who came to the U.S. at 11, he came to RDT in 1996. Among his most memorable and influential experiences was performing the 1998 full-length premiere of 'Chairs,' choreographed by Zvi Gotheiner, the founder of the Israeli Chamber Dance Company.
Gella, whose company is based in Los Angeles, is continuously in demand. This month alone, in addition to his RDT appearance, he is completing a 16-minute commission for student dancers at the prestigious Booker T. Washington High School for the Performing and Visual Arts High School in Dallas. As Gella explains, students have been accepted into top programs such as Juilliard and USC's Glorya Kaufman School of Dance.
"Three of my students are National Merit Scholar Finalists," he says. Gella's extensive resume includes listings as the founding director of the COLABO Youth Dance Collective and the ballet director for the nationally-acclaimed 24 Seven Dance convention, which is hosted at various times in 25 cities across the country.
He also will have a new commission presented in April at the Philadelphia Dance Company, where he moved to after completing his tenure at RDT. His credits as choreographer are lengthy. His work for South Bay Ballet entitled 'Configured Echoes' garnered a best choreography award at the National Regional Dance America Conference.
His 'Tango en Pointe' solo was performed for the Presidential Scholar's Gala held at the Kennedy Center. The RDT experience prepared him as well for his work as a teacher and mentor, as he has created several award-winning contemporary solos for Youth America Grand Prix competitors.
Gella is focused on diversity and accessibility in dance, a performing arts form that previously had been viewed stereotypically as an enigmatic, difficult-to-approach genre. Last month, he went to Costa Rica where he worked with 100 dancers from around the Central America region in his Ballet+ program, which is an accelerated training process to help young artists prepare for summer dance experiences, whether it is in competitions or ongoing studio practice. Ballet+ is offered twice a year with the second series of workshops in Miami.
This summer, Gella will come to Salt Lake City to set up the New Century Dance Project, an initiative similar in scope to Ballet+ that will include local artists as well as companies such as RDT.
Gella's experience with RDT still triggers sincere excitement 17 years after the fact, as he recalled in an interview last spring with The Utah Review. Gotheiner's Chairs was a full-length evening performance piece, running more than an hour, with two male dancers in a phenomenal display of stamina that starts with the simple premise of sitting in a chair.
"It was very controversial at the time because there was this small chair, very close boundaries, and two male dancers were in a duet atop this chair," he explained, adding that he still remembers watching audience members leave who were uncomfortable with the breach of intimate boundaries between two men.
Gella looks forward to the Regalia experience of creating a five-minute dance in just four hours, using an upbeat music score and a desire to draw upon various elements of modern, jazz and ballet dance movement vocabularies together. "I look it at structurally as focusing on a minute and a half of movement per hour," he explains. "I am approaching this as an experiment and to entice the audience to get them interested in what the company is about, especially as they can closely watch the process of creating the work."
For more information and tickets, see RDT's Regalia page.