Repertory Dance Theatre's (RDT) annual New Year's offering of Emerge, a selection of works choreographed and performed by the company's dance artists, is yet the strongest to date in its fifth edition. The most striking feature is the tight artistic chemistry the dancers share, regardless of the length of their tenure together as performers. If anything, the pandemic experience has deepened the creative bond the RDT artists share.
Filmed and edited by Fernando Lara, the 93-minute concert film is touching at numerous points — sometimes bittersweet, often poetic, even witty. In addition to the works created by RDT artists, local dance artist and choreographer Rebecca Aneloski presented the world premiere of Odes. She was the winner of a $2,500 prize and commission in the 2019 choreographic competition sponsored by the New Century Dance Project, which was held in Salt Lake City as a collaboration between RDT and Francisco Galla.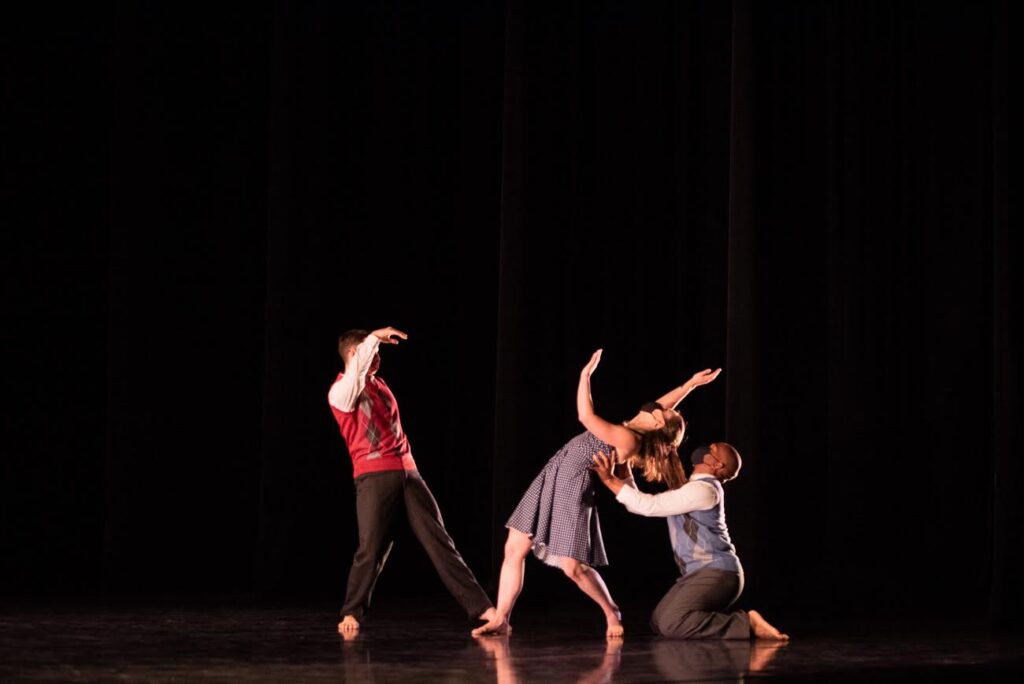 Odes, with an original score by locally based composer Michael Wall, evoked an ethereal sense of a complex counterpoint of emotions, featuring Trung 'Daniel' Do, Jonathan Kim and Ursula Perry. Aneloski was inspired by the song and Robert Burns poem Auld Lang Syne and Odes stands out as an apt way to welcome a new year that follows a turbulent, tragic and tendentious 2020.
Aneloski originally was slated to present her commission last spring but the premiere was postponed after the shutdown of all live performances. In addition to the three artists, former RDT member Tyler Orcutt (who is now pursuing his master's degree at Sam Houston State University and has joined the NobleMotion dance company) also was involved in the creative process. Aneloski reconfigured the solos and duets which bridge the imagery of remembering the past year, even with all of its troubles, to the promise of reliable, empathetic connections being sustained in the new year. Wall's score is magnificent, wrapping the familiar strains of the folk song in ambient layers of waves and clouds alternating between turbulence and calm. It ends with the stripped-down notes of the song on keyboard.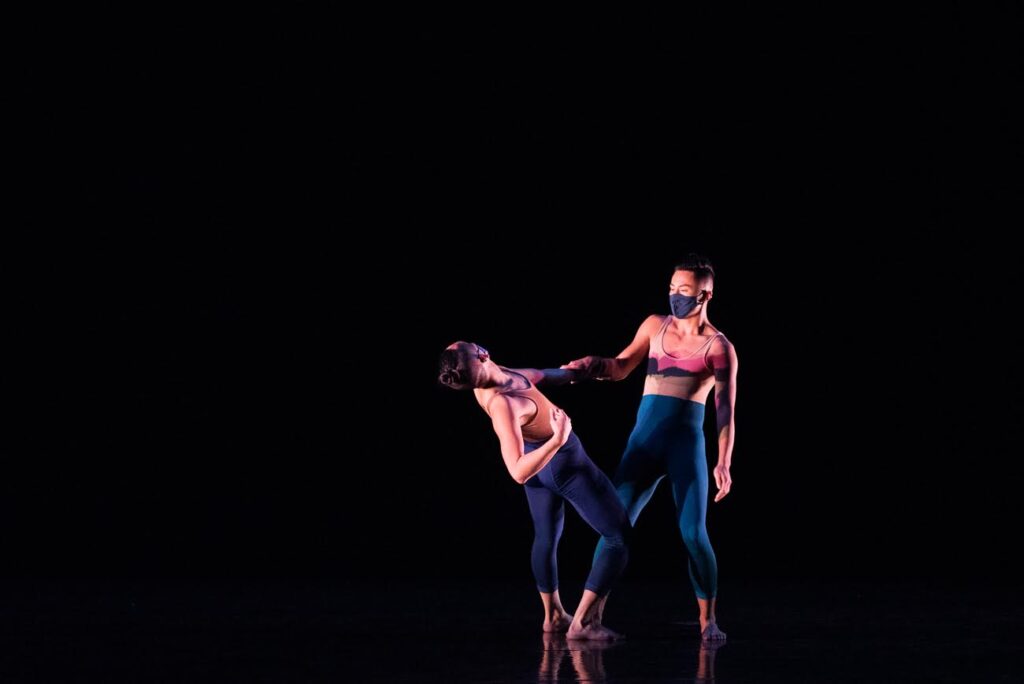 In One by One, choreographer Jaclyn Brown paid tribute to her seven fellow RDT artists (Kareem Lewis, Jon Kim, Trung "Daniel" Do, Ursula Perry, Elle Johansen, Lauren Curley, and Dan Higgins) with solos for each, accompanied by live music composed and performed by Nate Anderson. Brown, who is leaving this year after seven seasons with RDT to pursue her master of fine arts degree in dance at the University of Wisconsin at Milwaukee, created a wonderful set of character miniature pieces that bring out the unique artistic strengths of each colleague. Anderson's music matched each dance artist's personality in convincing form.
The only exclusively Emerge solo piece was Jon Kim's Dusk Fades, featuring guest artist Kerry McCrackin, and set to music featuring Julie Byrne, Hilary Hahn and Hauschka. McCrackin shined in this work, which initially builds to a restless, bristling pace in the realities of trying to wrap up everything for the day before the light fades completely into darkness. Pilar I.'s lighting design parallels the shift in movement character as McCrackin accepts the inevitability with calm that the day is done.
Given that RDT dancers have been working primarily in a bubble this season, for safety precautions, some works featured partnering, which was a welcome sight for this particular viewer and cathartic for the artists. Three works, in particular, amplified the theatrical elements that played to the movement strengths of the artists involved. Lauren Curley's Solace transmitted with conviction the natural synergy of Do and Kim, as the sections of the short work glided along so elegantly. The music included selections by Frédéric Chopin, Ólafur Arnalds and Alice Sara Ott.
In Knowhere, Dan Higgins set a duet featuring Lewis and Perry pitched against a solo performed by Johansson at the same time. With music by Nils Frahm and Fredrick Flack, Higgins demonstrated once again his strong skills for utilizing theatrical spatial positioning to open up the viewer's perception of interpreting and articulating the whole scene on their own terms.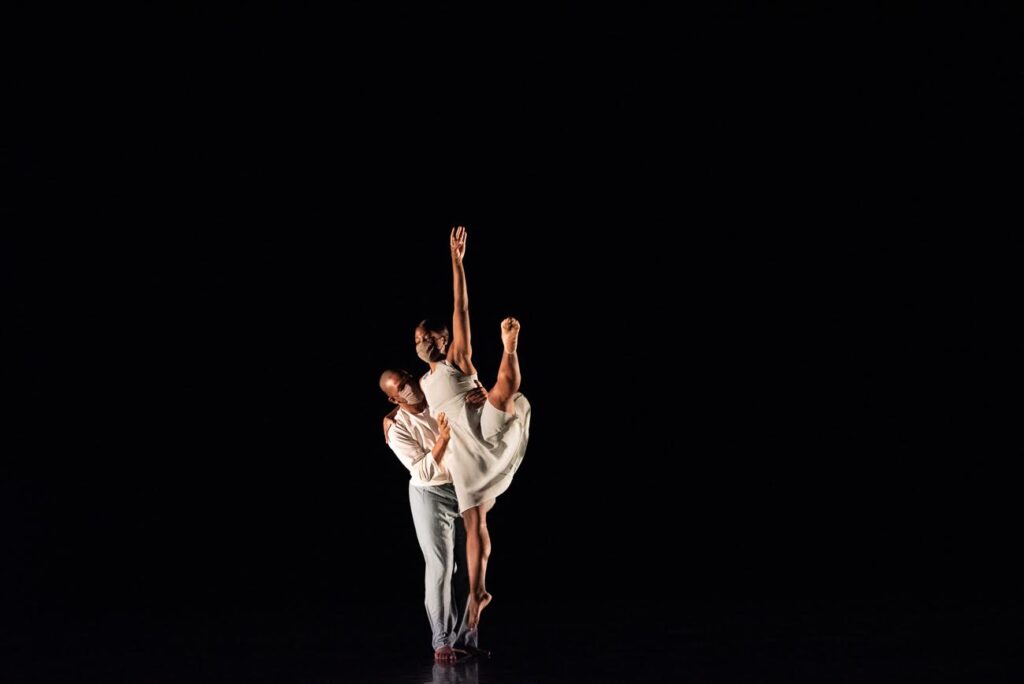 Do and co-choreographer Mar Undag crafted Space in Sonder, with spectacular results, a duet for Brown and Perry, an artistic gift expressing their gratitude for the experience of working with and observing both artists. For Brown and Perry, it was a perfect embodiment of genuine friendship forged incidentally by the common experience of being a part of RDT. However, it also was a celebration of artistic empowerment and solidarity where the RDT garden of artists is nurtured by mutual acceptance and affirmation. The music underscored the movement precisely, with selections from Slow Meadow and Antony and the Johnsons.
The closing work was Another Day in Quarantine, a witty delight, set by Nicholas Cendese, RDT's development director and artistic associate featuring Brown, Curley, Higgins, Johansson, Lewis and Megan O'Brien, RDT's education specialist. Set to songs by Doris Day, the four vignettes were set to daily quarantine diary entries: flirting with a handsome man on screen during a Zoom seminar, guests at a socially distanced barbeque, another lonely night with pillows instead of romance and the anxiety of going out in public during a pandemic. Cendese knows his Day catalogue very well. Each song was a perfect accompaniment to its corresponding vignette. A favorite was the closing selection, Ohio. Day, who was a Cincinnati native, is known for her cover of the song, written by Leonard Bernstein for the 1950s musical Wonderful Town, about a couple who rue their decision to leave Ohio for New York City.
Tickets for streaming the Emerge concert film are available at the RDT website.