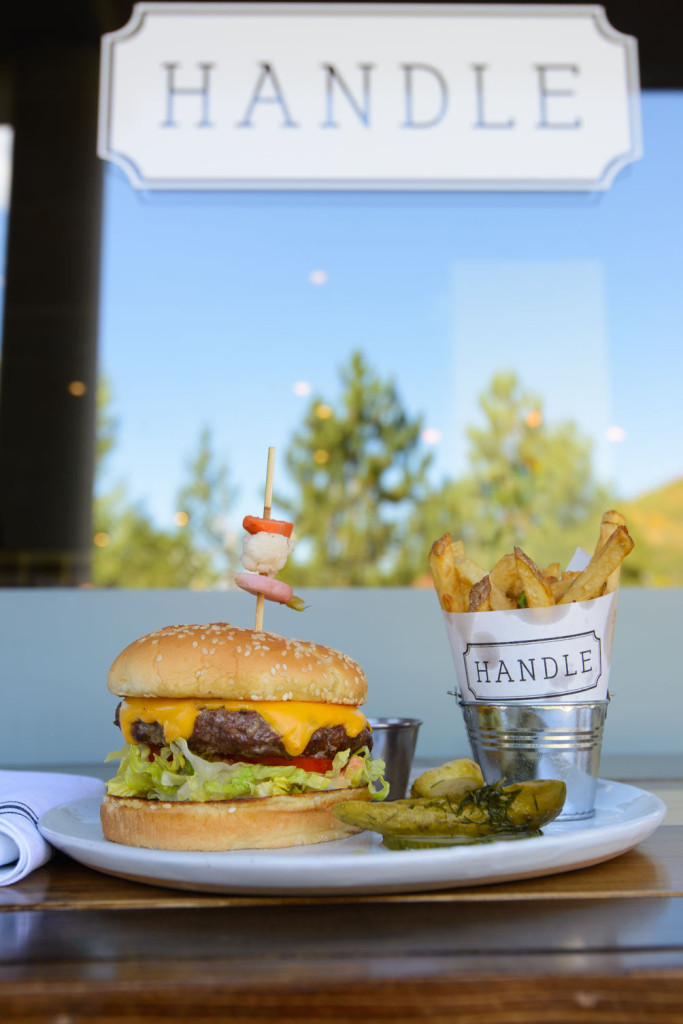 [Handle's House Burger with fries (salad also available). Photo by: Billy Yang]
Park City has never suffered from a lack of restaurants. But as it happens with many resort towns the world over, it always did suffer from a lack of good ones that didn't cost an arm and a leg for a hungry soul to enjoy a good meal.
You can't blame business owners for catering to the snow seekers and cinematic magic makers who flock annually to this incredible landscape. Some of the most sumptuous and awesome interiors can be found on Main Street not to mention booze selections that would make any wine snob squeal. But for a bona fide dining scene, there were only a handful of places where one could feasibly eat a few times a week during a visit or a quick evening getaway from Salt Lake City.
Lately, that's been changing. Latest (and best) case in point: Handle restaurant.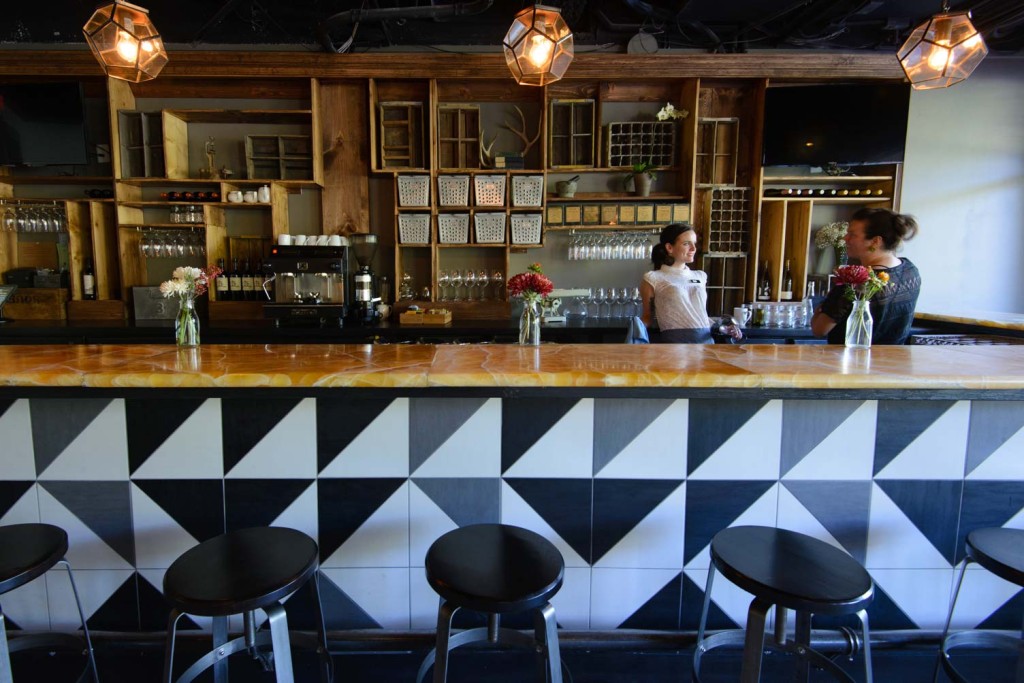 [One good looking bar. Photo by: Billy Yang]
Handle has been a long time coming, the project of chef/owner Briar Handly (if you've ever enjoyed a meal at Talisker on Main, he's the reason why) and his wife/business partner Melissa Gray (who has a formidable career in events and catering). What they've carved out of this pocket of Swede Alley – just off of Main Street – is precisely what Park City needs. Good, casual food and drink, refined enough to impress out-of-town friends but not so self-important that it demands the draining of the bank account.
Handly and Gray along with Megan Nash took over a space that many say was kinda doomed. Many restaurants have come and gone in the space. But none have really left a mark quite as unique as Handle.
Once structured by high booths and a dated color palette, Handle's bones are more fluid, remaining sleek with dark swatches and punctuated with bright tiles, patterns, edgy light fixtures, and the soft pop of color from botanical prints. The interior isn't flashy. But it's thoughtful. From floor to ceiling, the dining space and bar were labors of love for Handly and Gray along with a cadre of friends from their connections in the restaurant industry. Refreshingly, it's less Restoration Hardware catalog, more Dwell magazine – hand hewn and unique. It's a work in progress, just like the city's dining scene.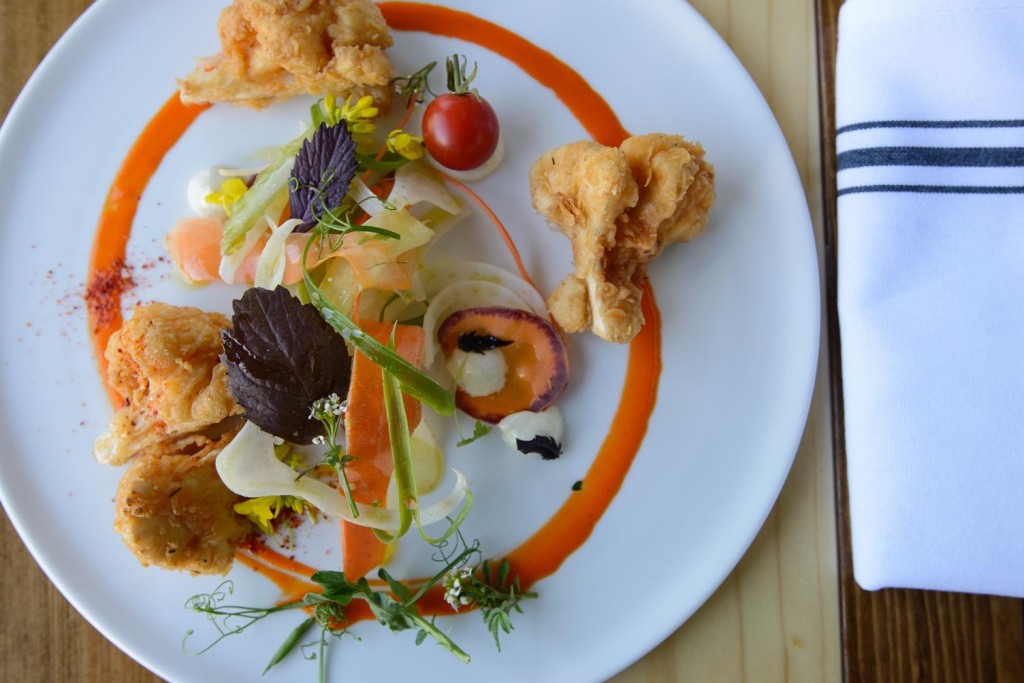 [Buffalo Cauliflower. Photo by: Billy Yang]
Some may find the rough spots obvious – there are no gilded verandas nor the scenery to suggest you are anywhere but where you are – which is at the base of Main Street eating damn good food.
And you come for the food anyway. It's hard to define what Handly has done with the menu. Burgers juicy and stacked high with good beef patties, cheese, and an eggy airy bun and fried chicken likewise get the ski bum and venture capitalist salivating.
While a plate of seasonal vegetables – choreographed so that all the textures, shapes, and colors dance on the white ceramic plate – appeal to those who dig such celebratory flourishes usually seen in the latest issues of glossy food magazines and restaurants like Napa's Meadowood where Handly staged.
The menu combines approachable flavors and items with palpable skill, providing an intellectual orgasm for the food nerds and lip smacking good flavor for the more down-to-earth. The Buffalo cauliflower swaps a Brassica for a chicken wing (ain't no thang), keeps the batter shatteringly crunchy and well seasoned, then pairs it with a house made ranch and hot sauces with tendrils of crisp sweet greens and herbs. You will want at least two orders of these.
[The open kitchen visible from the dining room. Photo by: Billy Yang]
The dish is a fine match for Handle's cocktails which are strong and satisfying, keeping drinkers safely away from the dangers of Cosmopolitans and Green Apple martinis. The bar space is perfect for a conversation with a friend or to keep it classy while watching Monday Night Football when the house burger is $10 and wine $5. A nice alternative to the line up of Main Street's rustic bars.
The menu is good for grazing or sharing whether it's from the "Hearty" section of the menu where you'll find the burger and fried chicken. Guaranteed, if there's one order of Caramel Pudding (topped with crunchy sweet Chex cereal) from the Sweets side, a fight will break out at the table for every spoonful of the rich not-too-sweet custard. Might as well order two or offer up your share of the piping hot and airy Beignets as détente.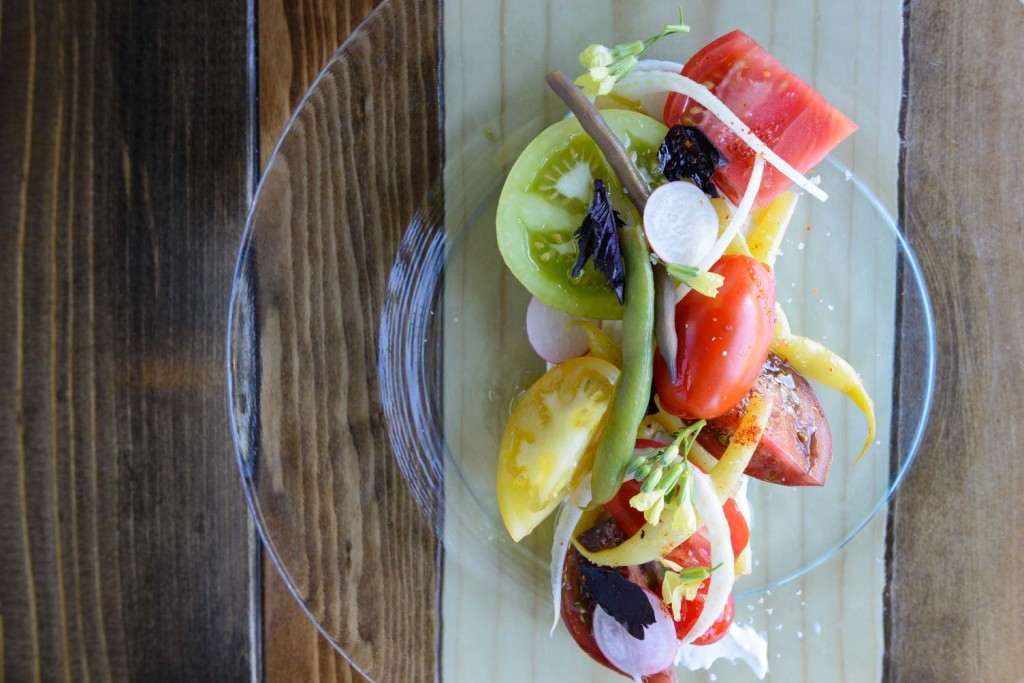 [A sexy tomato salad. Photo by: Billy Yang]
In small plates territory, you'll find seasonal salads where Handly shows off remarkable skill. Take kale, for instance. Handly manages to take kale salad and make it delicious to even a table full of kale skeptics – my eating buddies one night.
Much of the food is seasonal and local. Tomatoes from the Farmers' Market or Handly's and Gray's own garden. Peaches and raspberries from the edens of Northern Utah and Idaho. Red Bicycle Bread. Gold Creek and Rockhill Cheese. And cured meats from Creminelli and the new Beltex Meats on the charcuterie board.
"Local" and "seasonal" inspire their fair share of eye rolling. But at Handle, these aren't pretenses or concepts. For the people who work behind the line and front of the house, it's how they like to eat. And they happen to live in Park City and they happen to like it. (At print date, the restaurant planned on staying open during the sparse shoulder season, closing only around Thanksgiving.)
[Chef/owner Briar Handly. Photo by: Billy Yang]
Which is precisely why diners – locals and tourists – are quickly making Handle a regular in their Park City restaurant rotation. Handly said recently that he hasn't had this much fun in the kitchen in a long while. That's obvious the way he describes a dish when he helps a server deliver to a large table. And in a brunch menu which is Park City's best kept secret – but hopefully (I can't believe I'm saying this) not for long.
There are rough spots to be sure. Handle has been open since early August and it's still getting its legs. But in the highs and in the lows, what you get with Handle is more than just good affordable food. You get a genuine restaurant inspired by a place and the people in it.
Handle
136 Heber Avenue, Park City, 435.602.1155, www.handleparkcity.com