In the midst of an exceptional season for Salt Lake City's dance and ballet companies, this week's forthcoming 'Reunion' concert (April 23-25) by the Repertory Dance Theatre (RDT) will remind the community of why dance enjoys an amazingly diverse and nationally recognized presence in the Utah arts scene.
In 1966, the Alvin Ailey American Dance Theater in New York City was the only dance company in the United States that occasionally featured works by choreographers other than Ailey but those works also bore his distinctive artistic mark. A repertory dance theatre functioning as an "artistic democracy" in which works from the history of modern dance choreography would be performed periodically along with new works by various choreographers was "a revolutionary idea" at the time, Linda Smith, RDT's artistic director and co-founder, says.
Others had tried the repertory concept but they failed for various reasons. There was the lack of stable revenue or sound business management. The flourishing art of modern dance also brought forward a generation of innovative choreographers, many of whom desired to stay clear of works from previous chapters of modern dance's history, some dating to 1915 or even earlier.
In 1966, bypassing the nation's largest metropolitan venues for the performing arts, the Rockefeller Foundation contacted Smith, offering a grant to start a professional repertory dance company that would not be committed to a singular aesthetic vision of modern dance but which instead would function as a living, fully egalitarian archive of the whole choreographic output of this performing arts genre. There would be no leader for the eight original artists of RDT who would be the pioneers for articulating what a living repertoire of modern dance should constitute, as reflected in their performances which included tours in a program sponsored by the National Endowment for the Arts.
"It was radical when the Rockefeller Foundation selected Utah as the site to establish a professional dance company," Smith says. "We beat out every other city to become the nation's first modern dance repertory company, and, today, we are as much a revolutionary company as we were in 1966."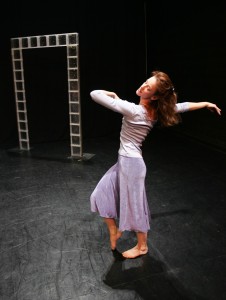 To close out its 49th season and to make the bridge to next season's 50th anniversary celebration, RDT's 'Reunion' concert is an artistic homecoming of sorts, featuring eight short dance compositions representing each decade of the company's existence. "We have had nearly 100 dancers come through the University of the RDT and we think the program offers a good broad sample of our history," Smith says.
Including two world premieres, all of the works are by RDT dancers and choreographers. Three performances of 'Reunion' will take place April 23, 24, and 25 at 7:30 p.m. in the Jeanne Wagner Theatre of the Rose Wagner Center for Performing Arts.
Calling the program selection a "full menu for a movement feast," Smith says it reflects RDT's mission that she says is still revolutionary. "There is no one single person's aesthetic which is dominating the show. Each piece is as different as the next," she adds. Some have a whimsical, even pop culture feel, while others hint at vaudeville or simple hi-jinks. Others highlight abstract movement in a way that resonates comfortably for audiences.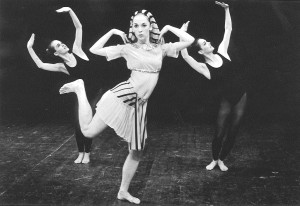 There are nostalgic personal tributes, one of which uses a familiar Schubert impromptu the choreographer remembers as a favorite piece of his grandmother that incorporates movement vocabulary from both modern dance and ballet.
Another is a tribute in dance metaphor – incorporating bold movements that convey both hesitation and confidence – honoring a choreographer's late mother and the intellectually challenging, yet emotionally rewarding relationship they enjoyed. There's pop music, a Good Housekeeping exercise recording from the 1970s when dance aerobics were introduced, classical music ranging from Bach to the late 20th century, and even Georgian folk songs.
Representing the 1990s in 'Reunion' is Francisco Gella, whose outstanding career as a dancer and choreographer has traversed the fields of modern dance and ballet in many of the nation's best known performing arts settings. A winner of many awards for his choreography, Gella's interpretation of one of Schubert's eight Impromptu pieces is a world premiere piece for two dancers.
The piece is inspired by the memories Gella, who was born in the Philippines and came to the United States at the age of 11, carries of his grandmother who considered the Schubert work one of her favorites. The work incorporates ballet and modern dance elements. "There really is no story and I want audience members to feel it with whatever emotional or visceral response they have," Gella explains. "It's simply a beautiful memory and a way to bring back that childlike wonder we have when we're young."
Gella came to RDT in 1996, his professional experience after earning his bachelor's degree in dance from the University of Washington in Seattle. "It was the most amazing experience and Linda [Smith] truly believed in me," says Gella, the founding director of the COLABO Youth Dance Collective and the ballet director for the nationally-acclaimed 24 Seven Dance. "There is no question it prepared me for the rest of my career."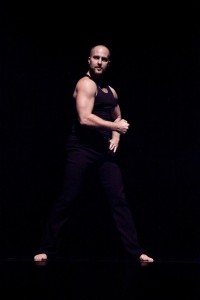 Gella, who still has ties to Utah with dance workshops and artist residencies, says he will always be grateful for the roles Smith entrusted him to perform. These included works by internationally known choreographers who are essential to the dance archive RDT has created, including Bill Evans, David Parsons, Lynne Wimmer, Elizabeth Waters and others.
He considers his most memorable RDT performance to be the 1998 full-length premiere of 'Chairs,' choreographed by Zvi Gotheiner, the founder of the Israeli Chamber Dance Company who has created new works for RDT since 1993, including 'Bricks' which helped the company mark its 40th anniversary season in 2006. Indeed, 'Chairs' electrified the community both among dance artists and audience members, and every performance sold out the house in the Rose Wagner Center for Performing Arts.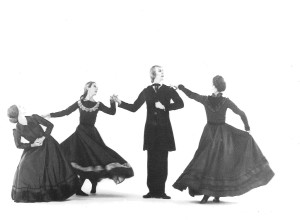 Recently in an interview with The Utah Review, Gella still speaks with sincere excitement about the experience from 17 years before that he says truly captured the whole fascinating artistry of dance. 'Chairs' was a full-length evening performance piece, running more than an hour, with two male dancers in a phenomenal display of stamina that starts with the simple premise of sitting in a chair. "It was very controversial at the time because there was this small chair, very close boundaries, and two male dancers were in a duet atop this chair," he recalls, adding that he still remembers watching audience members leave who were uncomfortable with the breach of intimate boundaries between two men.
Shortly after that landmark performance, Gella moved to Philadelphia Dance Company and performed with the Chamber Dance Company, Seattle Opera. California Ballet and Ballet Pacifica. His credits as choreographer are lengthy. His work for South Bay Ballet entitled 'Configured Echoes' garnered a best choreography award at the National Regional Dance America Conference. His 'Tango en Pointe' solo was performed for the Presidential Scholar's Gala held at the Kennedy Center. The RDT experience prepared him as well for his work as a teacher and mentor, as he has created several award-winning contemporary solos for Youth America Grand Prix competitors.
Many of RDT's nearly 100 alumni dancers came to the company on as many different paths. One was Angie Banchero-Kelleher, who did two stints as a dancer with the company, first from 1985 to 1992, and then again from 1998-2007. Now associate professor of modern dance at Utah Valley University, Banchero-Kelleher will see her 2014 work 'Material Tokens of the Freedom of Thought' presented as the closing work on the 'Reunion' concert.
An emotional, profoundly philosophical piece, 'Material Tokens' is a personal tribute to her mother who died more than three years ago. "The work came very quickly to me because there really wasn't a convenient trope on hand to describe adequately the complicated, challenging relationship my sisters and I had with our mother," she explains. "But it wasn't difficult in a negative way. It was fun. You had to be on your game if you had an opinion about a topic. You couldn't just blather about something. You had to know your facts because our parents would always challenge us."
The piece is accompanied by the music of Wojciech Kilar, a 20th and 21st century Polish composer honored for many film music scores but also wrote many other classical works that are not as well known. Banchero-Kelleher says the title comes from the description René Magritte gave to his paintings such as the 1935 work 'The Human Condition.'
"I thought it perfectly encapsulated some of the ideas I was negotiating in the choreography," she explains, adding, as indicated in the program notes for the upcoming concert, "the cognitive dissonance that arose as I created a narrative that reflected our deep love for each other did not match the actual day-to-day turbulence that was also a reality. This piece is a material token of the process of negotiating that divide."
For the two dancers, Banchero-Kelleher has choreographed physical challenges that suggest the emotional tensions and struggles of complex relationships. In her instructions to the dancers, she tells them, "It's okay to struggle. If one has to jump in order to catch the other, and if it doesn't scare you, then it's not right."
For Banchero-Kelleher, who had given up a dance scholarship at the University of Utah to major in history and then return to dance through RDT workshops, RDT proved to be her crucible. "I grew up with the RDT and I learned at the foot of the master," she recalls.
Unlike Gella, much of Banchero-Kelleher's earliest RDT experiences were in the old army barracks at the University of Utah campus where scores of students, including many who were not necessarily destined to be professional dancers, paid to take six-week summer workshops in the art. Although RDT received some modest in-kind support from the university and many of its dancers were trained in the school's dance department, the company operated independently, just as the Rockefeller Foundation had intended nearly two decades before at RDT's founding. By the time Banchero-Kelleher had finished her first stint with the company, the barracks had been demolished and RDT moved into temporary headquarters in downtown Salt Lake City. In 1997, just right before she began her second stint with the company, RDT had a new home in the Rose Wagner Center for the Performing Arts.
However, for Banchero-Kelleher, the clearest and most important memories are of the works and their choreographers. "RDT was and is populated by the giants of the field," she says. The repertory archive had grown from the early works of choreographers such as José Limón, Anna Sokolow and Donald McKayle and those of independent artists – the bread-and-butter of RDT's unique 'artistic democracy' – including John Butler, Geoffrey Holder and Glen Tetley. Banchero-Kelleher remembers clearly works such as Laura Dean's 'Sky Light' and the early masters including Merce Cunningham and Doris Humphrey.
The immersion guided Banchero-Kelleher's craftsman-like approach to choreography. "Looking at a Doris Humphrey piece, I figured out how that piece worked. And, I got great advice from people like Lynne Wimmer [choreographer and RDT dancer from 1968-1977]. I learned to ask questions that a dancer normally would not be asking but it helped me realize how important it is for dancers to like the work they are performing."
Not including intermission, the 'Reunion' concert runs under 75 minutes, with works lasting between six and 13 minutes. Other works include the opening piece, an RDT classic, 'For Betty,' a work choreographed for a 1970 premiere by Bill Evans, who danced with RDT from 1967 to 1974. Accompanied by music by Vivaldi, the work of abstract movement heavily influenced by geometric shapes and form is a tribute to Hayes, who taught for more than 48 years and was chair of the University of Utah's dance program.
Wimmer's 2008 work, 'Styrofoam Olympics,' featuring the great Glenn Gould recording of Bach's Goldberg Variations transcribed for piano, is a classic theme and variations composition inspired by an exercise those recovering from knee injuries would be asked by their physical therapists to perform. The exercise required the patient to stand on one leg and pick up a set of Styrofoam cups.
Representing the 1970s are two pieces from RDT's co-founders. Smith, who has a flair for straightforward humor, offers her own 'Snack Pack,' a dance commentary on the introduction of dance aerobics into group exercise which became popular during that decade. Smith incorporate a large soft sculpture in the style of contemporary pop artists such as Claes Oldenburg. Kay Clark, who was with RDT from its inception to 1983, is represented by 'Odd Couple,' a 1977 work featuring folk songs from the old Soviet Union republic state of Georgia. The piece fuses two inspirational sources: experiences Clark had during a performing tour of the Soviet Union and the work of photographer Diane Arbus which featured New York City images.
In addition to Gella's world premiere, Nathan Shaw, who danced with RDT from 2006-2012, will have a new work titled 'Whistle Stop,' a sure-to-be audience pleaser with popular music. Shaw, the reigning winner of RDT's annual Iron Choreographer competition, is a full-time dance teacher at Judge Memorial High School in Salt Lake City.
Another work is 'Alone,' a 2006 work by Brent Schneider, who danced with the company from 1989 to 1994. The work, featuring music by Górecki, is scored for a solo dancer who then is accompanied by four other artists.
For more information on tickets, see here.
RDT Dance presents REUNION from RDT on Vimeo.