The eyes stream data to the brain through something like two million fiber bundles of nerves. Consider the exponential aspects of perception when you multiply this kind of density by the fact that not only does the brain do this all the time, but the millions of bits of information streaming through your mind at any moment have to be coordinated and like the slightest rerouting is like the hearse and omnibus of [a] Méliès film accident, any shift in the traffic of information can create not only new thoughts, but new ways of thinking.– By Paul D. Miller a.k.a. DJ Spooky that Subliminal Kid
In simplest terms, a parallax shift references the apparent motion of an object when it is seen from different perspectives. David Gunkel writes, in Of Remixology: Ethics and Aesthetics after Remix (The MIT Press, 2015), that the mashup, an inherently classical example of parallax in how juxtaposed elements foster new creative expression, can engender insights that "shatter and undermine" our conventional, strongly held perceptions and assumptions. When positioned as a critical endeavor, Gunkel explains, the mashup succeeds in choosing wisely and strategically positioning the source materials involved.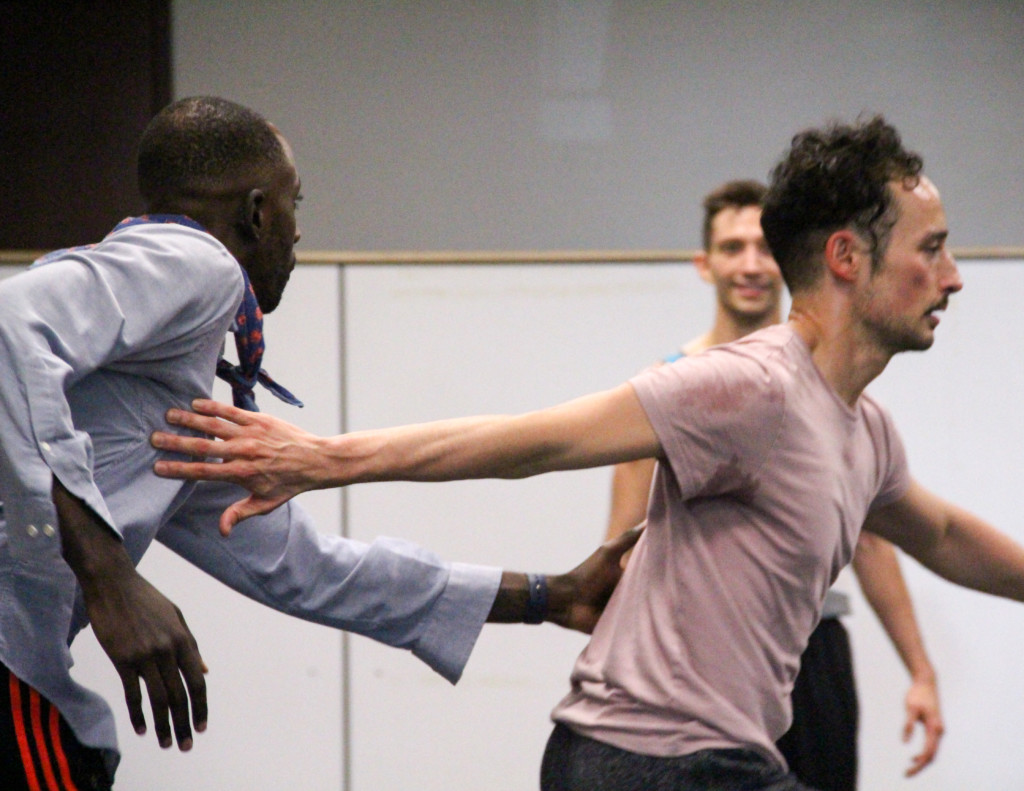 For the opening concert of its 54th season, the Ririe-Woodbury Dance Company's take on Parallax invites audiences, new and old, to see different styles, production values and movement vocabularies of contemporary dance not as incompatible perspectives but as a unifying form of performing arts where the experience collectively always can be exhilarating, startling, compelling, enlightening and even persuasive.
Performances will take place in the Jeanne Wagner Theatre of the Rose Wagner Center for Performing Arts on Sept. 28, 29 and 30 at 7:30 p.m.
Two world premieres – one a physically vigorous piece of ritualistic animalism and pulsating rhythms on the impulses of pop culture and celebrity and the other a suite of eight theatrical dances about immigration and finding place in a strange community – will follow the Salt Lake City premiere of an intensely emotional chamber piece set for three dancers.
Raja Feather Kelly, an award-winning choreographer from Brooklyn, New York, received a choreography fellowship from the Princess Grace Foundation-USA this year to create Pantheon, a new work inspired as a follow-up to Igor Stravinsky's The Rite of Spring ballet (1913), which was choreographed by Vaslav Nijinsky. Kelly is motivated by the classic ballet's thematic ideals of ritual and sacrifice, as he contemplates contemporary pop culture and what, if any, good virtue can be gleaned from the sacrifices many seem eager to make in achieving celebrity status, even if it's a fleeting moment in social media or reality show.
Kelly mentions that just a single day separates the time of his birth from the death of Andy Warhol (who died at the age of 58 in 1987). But, this bit of trivia is far more significant, considering how the young choreographer's work has developed. While Warhol obviously has influenced the underpinnings of Kelly's choreography, it also reminds that just as John Cage's philosophy about music, sound, place and environment has girded the making of new music in the 21st century, Warhol's contributions in the visual arts have directed pop culture's evolution and the ideal that fleeting, instantaneous celebrity is within the reach of anyone's hands, deliberate or accidental.
"In college, I became obsessed with Warhol," Kelly says in an interview with The Utah Review. "I watch a lot of TV, movies, and social media and I constantly study it and dissect it," he explains, adding "that these experiences shape my blueprints and devices for choreography." During a rehearsal for Pantheon, he talked briefly to the dancers about enjoying ritualistic movement. He imagined a MTV show about rituals with reality actors participating in confessionals. One mentions how "awesome" rituals are and another complains that rituals are boring and "so overdone" – spot on in tone in what most MTV reality shows reveal.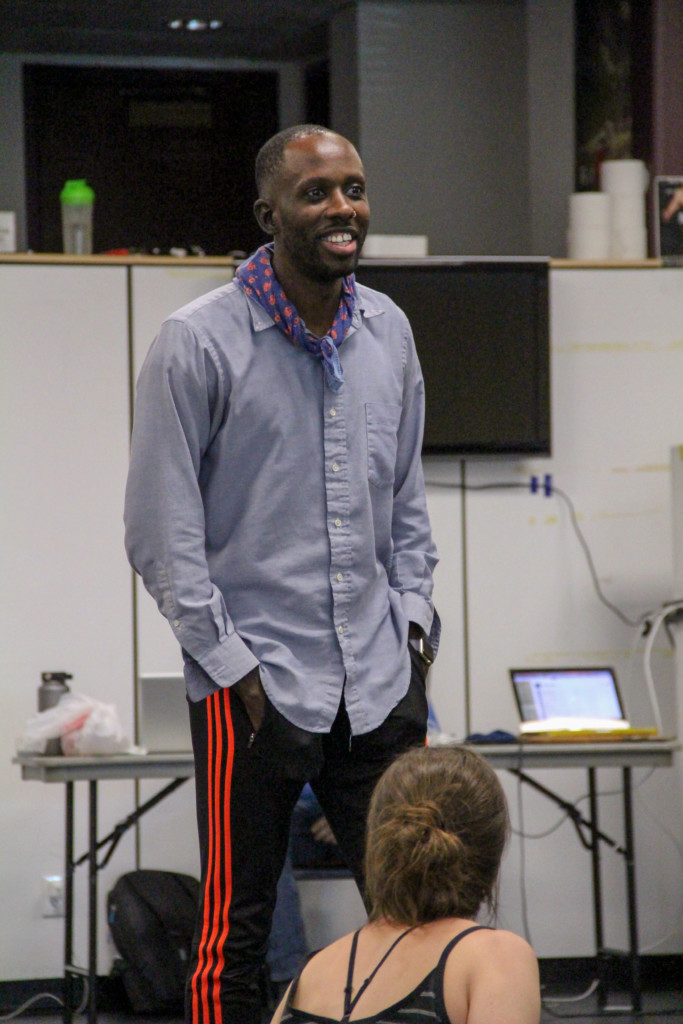 Kelly's work garners a lot of attention, a growing number of commissions and solid praise from critics. Kelly is known for meticulous research which makes the work stand out in how it expands upon the Warholian impact on the pop culture dynamics of today. As he explains in his artistic statement at his website, "We bend, but don't break, the specific formal rules of each genre we appropriate. We thus deconstruct each genre from within the genre's own internal rules and contradictions." His 2015 work Color Me Warhol imagines what Warhol's film of the A Chorus Line musical would have looked like, as the choreographer draws on the artist's diaries and various media sources to create the work, which was performed by Kelly's company, the feather theory (TF3T).
Joshua Barone of The New York Times, wrote, "Take a moment to wrap your head around this Russian doll of a concept: a famous Broadway musical, within a hypothetical film adaptation of it, within a show about imagining the movie that could have been." Kelly's dance theater meditation on Warhol includes an actual audition onstage, along with numerous pop culture references, as Barone noted, "The Hunger Games, Lana Del Rey, Kanye West, Miley Cyrus (expect twerking), Daft Punk and RuPaul's Drag Race."
Raja Feather Kelly – Pantheon from Ririe-Woodbury Dance Company on Vimeo.
Earlier this year, Kelly presented Another Fucking Warhol Production or Who's Afraid of Andy Warhol?, which was produced courtesy of a Solange MacArthur Award for New Choreography he received last year. Here, Kelly imagined the docufiction piece from unrecorded footage from a 2015 Saturday Night Live episode along with music by Kanye West.
In a rehearsal for Pantheon, it is evident how Kelly expands upon fundamental elements that put The Rite of Spring in the permanent canon of music and ballet. In Kelly's work, the music by Sam Crawford, still taking shape at the time of rehearsal, draws upon the unique syncopated patterns of rhythm that dominate the original, so effectively that they mask subtly the sharp dissonance of the chords.
The new work also is a grueling workout as evidenced in the speed of movement: one Ririe-Woodbury dancer recorded seven miles on her Fitbit during a rehearsal. And, like Stravinsky, Kelly aims for a dance work that shows even when the world is encumbered by intense pain, it can become exhilarating and amidst the presumed ugliness a much more liberated, likable world is possible.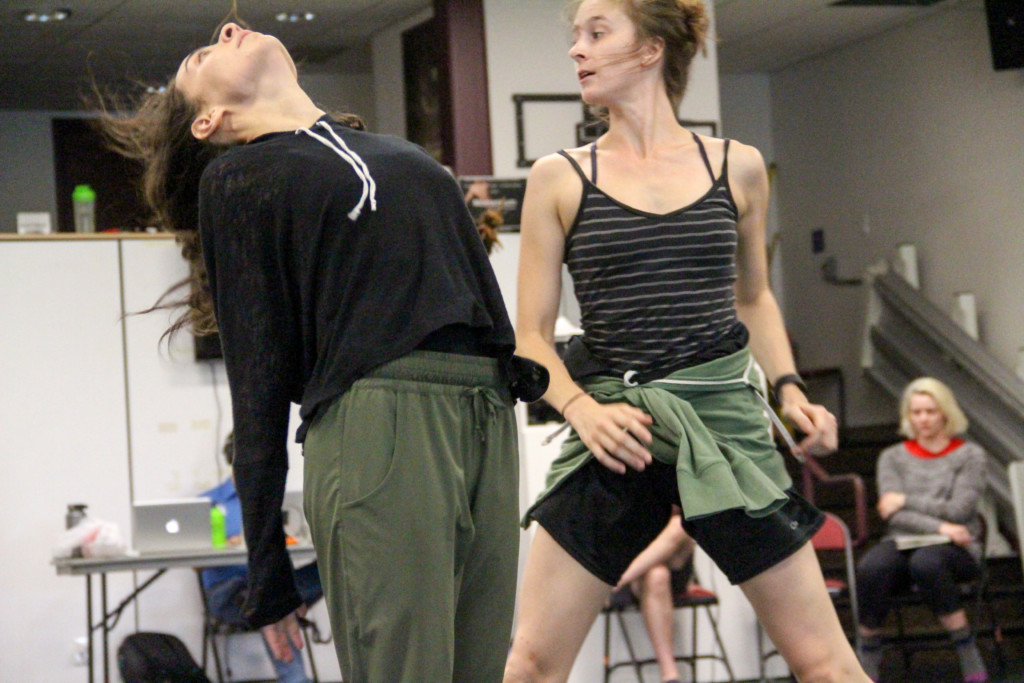 There also are some pop cultural sensibilities in the second world premiere, Exilic Dances by Daniel Charon, Ririe-Woodbury's artistic director. "It's a work about family and community, and embracing and welcoming a stranger," he says. "It's like musical theater: Fiddler on The Roof meets Chicago meets South Park." The animated South Park series on the Comedy Central cable network, in particular, has effectively broken through persistent taboos about what could be shown on screen regarding prominent Jewish characters, traditions and accents, often achieving the effect with original and appealing songs inflect with Judaic influences. Charon's newest work reinforces that welcoming embrace of Jewish culture while expanding the theme to contemplate what it can mean to be assimilated respectfully into a larger, diverse community.
Klezmer music will accompany the dance, yet another signifier about how immigrant idioms naturally belong in a community's culture. The Jewish klezmorim from Eastern Europe was expanded in the U.S., as immigrants enriched their repertoire with American vaudeville, Broadway show tunes, jazz music and Yiddish theater. Many of today's klezmer musicians have learned to play the style from recordings made before World War II, which made permanent the legacy of Jewish klezmorim players who brought their music from Eastern and Central Europe to the U.S. during the great immigration wave in the late 19th and early 20th centuries. Exilic Dances is destined to promulgate the legacy a bit further.
Kate Weare's Unstruck, a 2015 work which will receive its Utah premiere, is an intimate chamber piece that evokes subtle eroticism through dance's capacities for resonance and timbre in body movements. Curtis MacDonald, a Canadian saxophonist and composer, adds music that emphasizes how dancers use their physiological intuition to connect with their senses. The spaces in the work are drawn inward, as the three dancers move and prance almost cat-like and continuously touch and partner with each other. "It is a jewel of dance – intense, gorgeous and vital," Charon explains.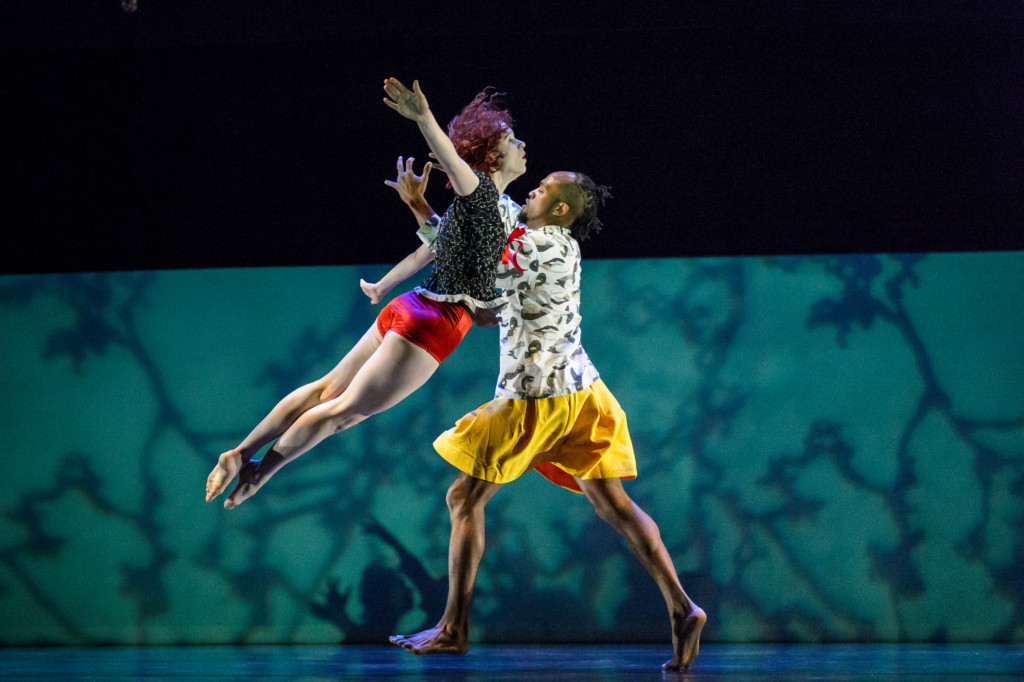 This season includes the new Moving Parts Family Matinee Series, in which the company will present shorter concerts on Saturday afternoons, lasting no more than an hour and that will be open to family members of all ages. For Parallax, Charon says the company will presents excerpts from all three works in a performance Saturday, Sept. 30, at 1 p.m.
"It's a great opportunity for newcomers to dance so they can dabble their feet in the water," Charon says. "Families can bring their babies and kids." He adds that instead of presenting works aimed at child audiences the company wants to showcase the actual mature works of the evening programs but in excerpts that also would be suitable for family members of all ages.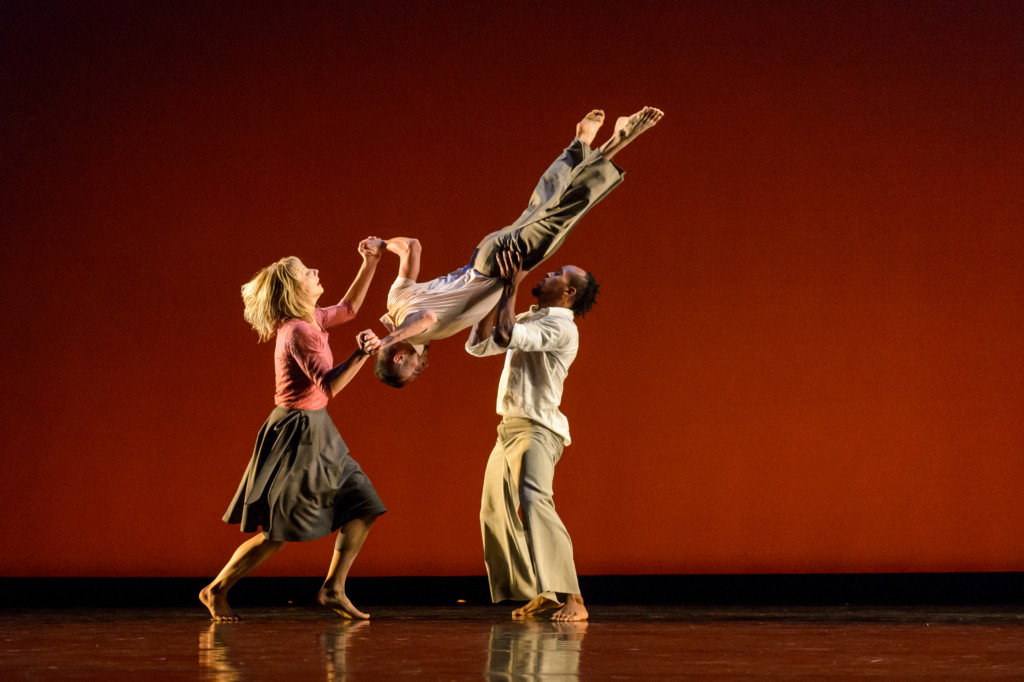 The company also conducted a survey of parents about the family series and asked what would be the best time of day to present a performance. As opposed to the usual 2 p.m. weekend matinee time for most performing arts groups, parents indicated that a 1 p.m. starting time was their preference.
Ticket prices for the new family series also have been made affordable, less than one-third of the regular evening performance cost. Individual tickets for the family matinee are just $10 and a package of five can be purchased for $45. Ririe-Woodbury also offers a season pass for the Moving Parts Family Series season pass, which includes three performances. The season pass price is $22.50 per person, representing a 25 percent discount for the series.