Joining what has been an outstanding start for several independent and local theatrical companies this season, the Salt Lake Acting Company has scored magnificently with Sarah Shippobotham's solo show Can I Say Yes to That Dress?, directed by Jamie Rocha Allan.
Channeling herself through the character she has written as Sîan Jones, Shippobotham presents a master class of the one-actor show genre, with rhythms and a structure that lift the words from her script up to a compelling, memorable corpus on stage.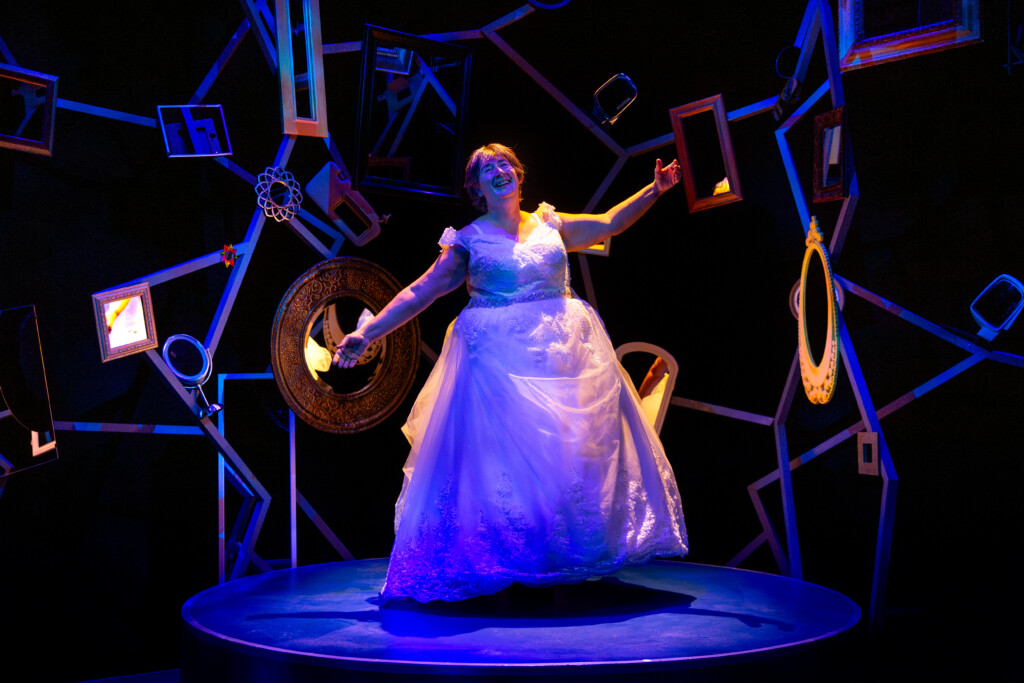 And, the audience revels in the self-effacing humor Shippobotham delivers while also picking up on the provocatively substantial signals she telegraphs throughout her 80-minute monologue. As mentioned in The Utah Review preview, Shippobotham brings to bear a good amount of social behaviors, many of which often are taken for granted in our culture, which likely are the most significant ones for uncovering just how much we understand the current culture. So, discussions about subjects such as body hair and the 'socially appropriate' need to remove it can be important enough to clarify their underlying meanings and the value of tolerance, confidence, affirmation and acceptance.
Unconditionally, Shippobotham has consistently been among the most accomplished performing artists on the Utah theatrical scene. Everything in Can I Say Yes to That Dress? is delivered effortlessly with cohesion and cogency. She emerges on the stage set, which represents a fitting room for a bridal dress shop, while twirling about in a classic white wedding gown. She looks resplendently elegant at initial glance and then one notices the chunky hiking boots she is wearing. There are many little bits of evidence of her experience with clown classes that are finely woven into the textual fabric, without mussing up the smart-as-a-whip rhythmic pace of this production.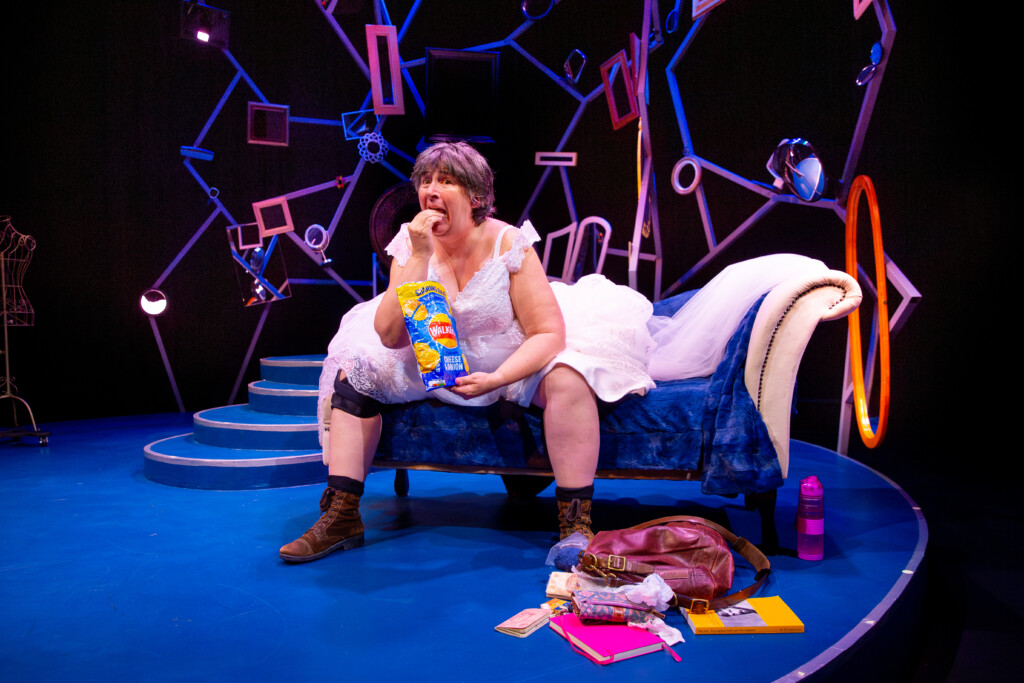 It is the perfect icebreaker, as Shippobotham commands the tasks of stripping away the layers in making a candid and convincing case for the peroration that crowns the piece in a heartening epiphany that sounds right in every possible interpretation.
Shippobotham guides the audience with commendable lucidity. She explains why she has never fit into the conventional frames expected of women in contemporary society and ponders that while she enjoys the company of her fiancé she wonders if the risks of going ahead with marriage are worth sacrificing the opportunity to live fully in a world she believes is possible.
Shippobotham's syntax and diction in a script that was cured through better than a decade in her life are polished but never stilted, particularly in the moments when she digs deep into areas that many of us might dare never to speak of publicly, for fear of unmasking our inner vulnerabilities or even offending some. She has invited us to a conversation where one never will feel that she has shared too much information. Sîan is not ashamed of her generous appetite for food and drink, which she describes vividly in mouth-watering admiration. Sîan adores the fact that her fiancé shares a love for Shakespeare. Sîan also demonstrates her virtuosic command of swear words — specifically the greatest utility player of them all: fuck. Her British heritage and roots serve the theatrical composition well, by accenting the marvelous textures in the script that are as gorgeous as the wedding gown she wears throughout nearly the show's entirety.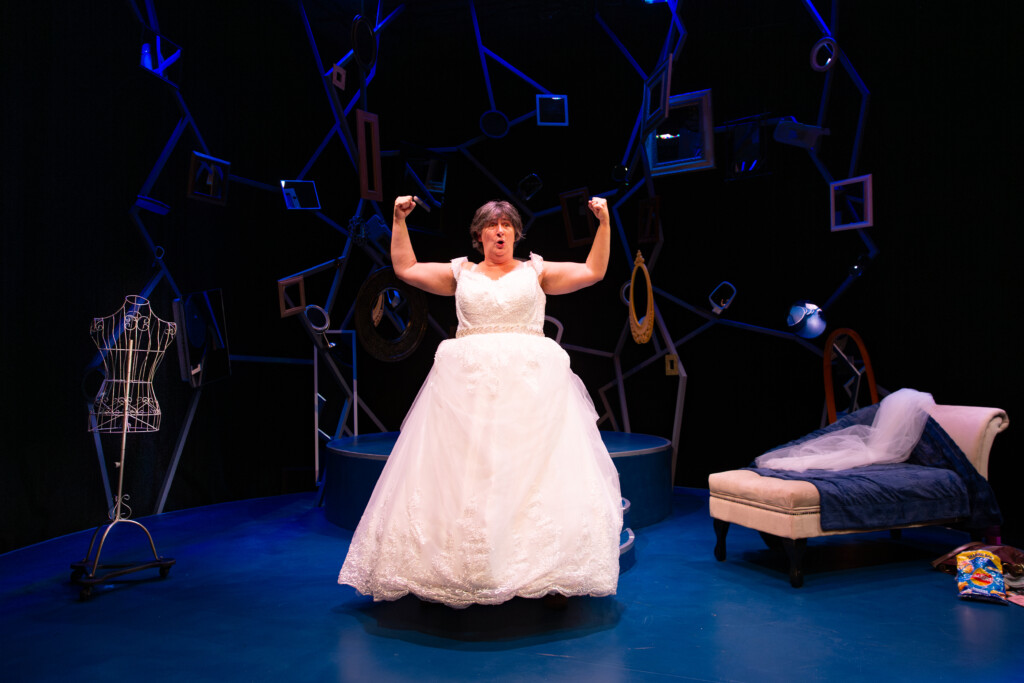 But, Sîan also would rather not have to obsess over the propriety of her appearance, especially if that means not having to worry about removing facial or body hair when she has spent the night with her fiancé. Sîan also would like that in her relationship, there is no reason why a middle-aged woman has to be seen mainly as a matronly substitute by a man. She desires that she could enjoy being appreciated as a sex toy but that she also wants a relationship where she can always feel safe and protected. Humans need not ever tire of spice in their lives. Can I Say Yes to That Dress? is enlightenment and personal liberation par excellence, generous in its respect and love for the stage as a platform where one can inhabit their space as they have always imagined possible.
Performances will continue through Oct. 29, on Tuesdays through Saturdays at 7:30 p.m. and Sundays at 1 p.m. and 6 p.m. For tickets and more information, see the SLAC website.