Never underestimate the discriminating influence of the young reader and children's audiences in the performing arts. Few markets in the literary publishing industry are as competitive as children's books. The most successful stories may start with a fantastical, even wacky, premise but they also give a magical resonance to a common childhood experience. They are lean and tightly written with the stories beginning in media res, so that the central concept is evident immediately from their start.
The wildly popular Pete the Cat book series by Kimberley and James Dean is a model for success in a literary genre market that often is more volatile than others. There are now more than 60 books in a series that started a dozen years ago as a self-published entry that gained attention on YouTube and eventually was picked up by HarperCollins and landed on The New York Times bestselling list for picture books. One of the highlights in the burgeoning cottage industry surrounding Pete the Cat was an off-Broadway stage musical, developed by TheatreWorksUSA, with music by Will Aronson and book/lyrics by Sarah Hammond.
The Salt Lake Acting Company (SLAC) is giving the musical version of Pete the Cat a worthy Utah premiere in a superb production that pops with a vibrant children's book feel and rollicking animated performances by its cast. Penelope Caywood's direction achieves all of the right notes in SLAC's 11th annual children's production.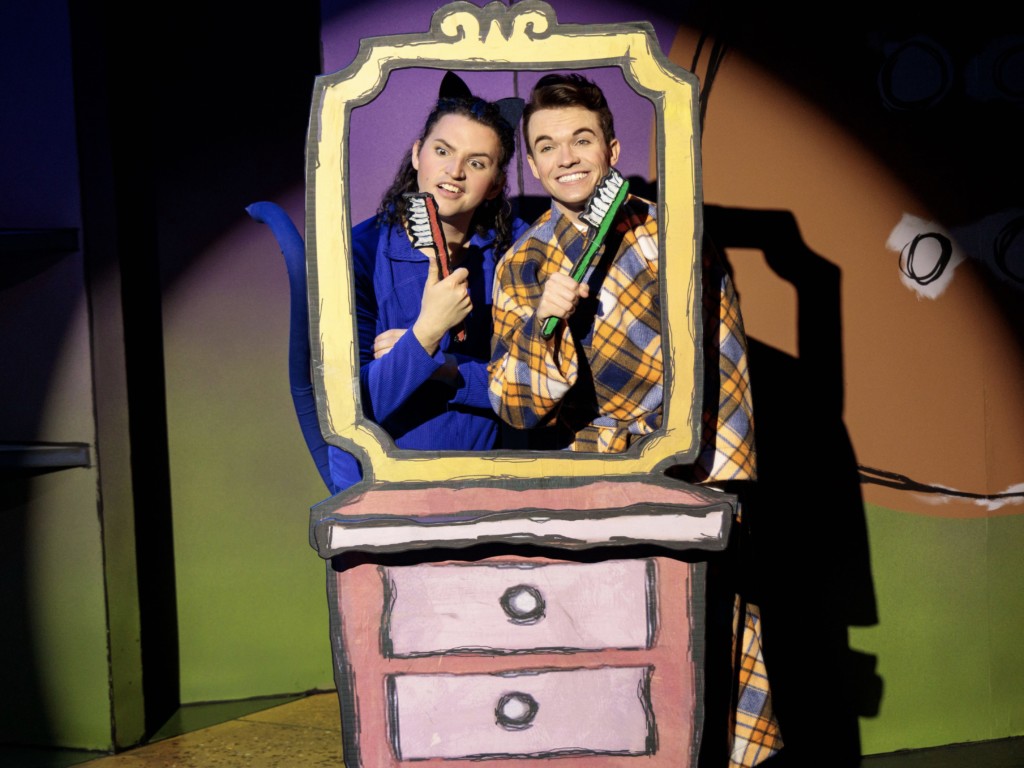 All of the necessary story elements are quickly established. Pete the Cat (truly a tour de force performance by Jacob Weitlauf) is the lead guitarist of a rock band preparing for a gig in Paris but is nabbed by an animal control officer for being too noisy. Pete's punishment is to become a house cat for one week in the Biddle family home, so he can be properly domesticated. The family mostly welcomes him, especially Olive (with Cameron Aragon exuding credible playfulness), who loves the new house guest despite her allergy. However, Jimmy (rendered in an exceptionally well-crafted persona by Joseph Paul Branca) worries about his strict regimen being upended by Pete. Jimmy is fastidious to a fault, an unwavering adherent to the importance of rules, whether in his bedroom or at school, where he is in the second grade. He draws a blank during an art test, and in his desperation, he copies the work of a fellow student. His teacher fails him but gives him an opportunity to make good on the assignment and Pete comes to his rescue.
The takeaways for children are clear and important. Rules are good but they also must be balanced, as Pete and Jimmy discover. While rules are good, we also should learn to trust our instincts, especially when we want to express ourselves creatively and capture what we think is the most authentic and beautiful to us. A bonus lesson is the importance of being open-minded, especially when we try to navigate rules that try to box us in simple categories even as we strive to be independent and authentic. For instance, Olive is so enamored of Pete that she gives him a ballet tutu, which he proudly puts on and thanks his young admirer.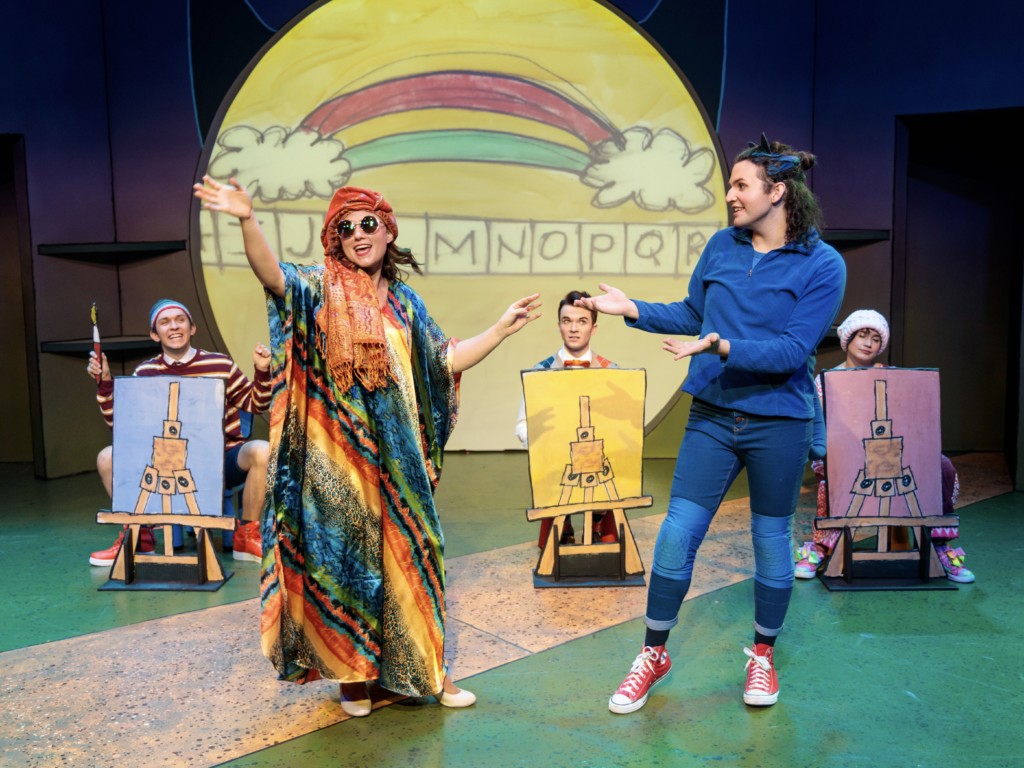 The entire plot unfolds and is settled within 45 minutes and not one moment lags in this crisp, bright production. Weitlauf's charm and singing chops are matched by their movements emulating a playful, confident, free-spirited cat. Likewise, Branca impresses with his vocal skills, displaying great breath and phrasing control. The remainder of the cast rises to the markers established by Weitlauf and Branca. Three actors assume multiple roles: Aragon as Olive, the Cat Catcher and Eloise, the flamboyant teacher; Shelby Andersen as Mom, Mrs. Creech and band member Grumpy Toad, and Trayven Call as Dad, Gus and Barnaby. Caywood also shows her adept versatile hand in musical and choreographic direction.
The set ingeniously replicates the appealing look of the original literary properties, augmented by a creative team with an excellent reputation in the Utah performing arts scene, including Gage Williams (scenic design), Dennis Hassan (costume design), Justin Ivie (props design) and Jesse Portillo (lighting design). Jennie Sant is stage manager and Nicholas Maughn served as rehearsal pianist.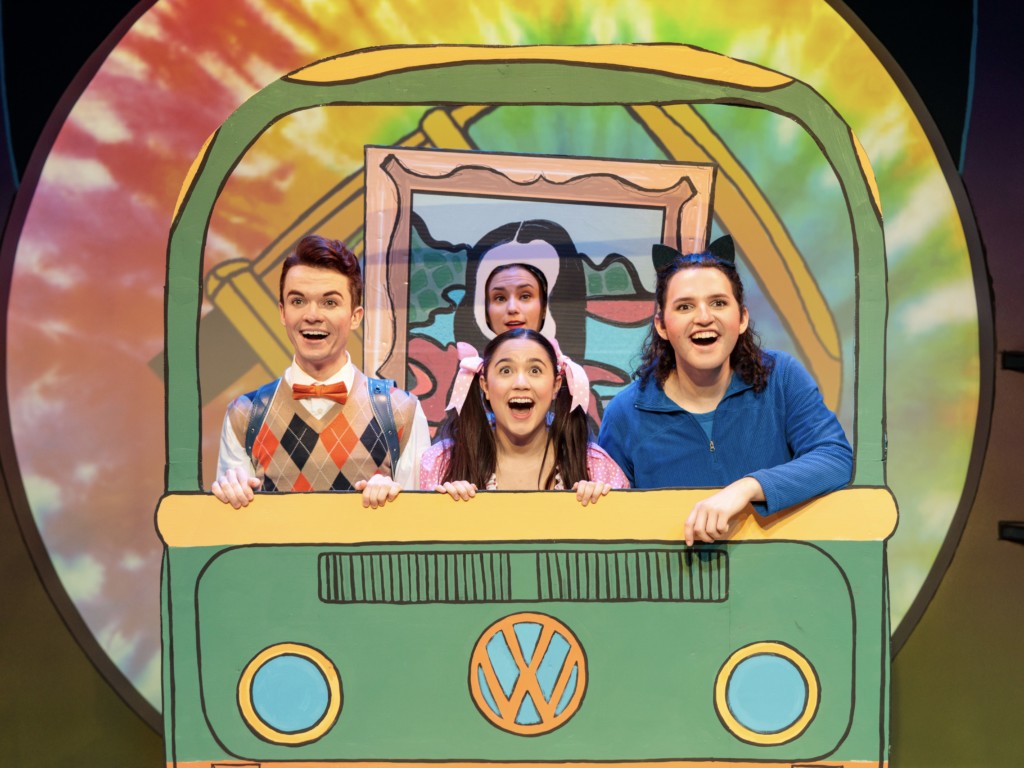 One must suspend certain realities for a children's theater show. Among the favorites: For the VW bus, the VW stands for "Very Wonderful," a vehicle that performs a role similar to the trolley in Mister Rogers' Neighborhood. The bus also sets up an song for audiences to do the VW Bus motions.
The show is just as entertaining for parents and adults as it is for children in the 3-8 age group. The comedic timing is spot on and the collective quality of the performances is as solid as in any other first-rate theatrical production.
The run continues in SLAC's Upstairs Theatre at 168 West 500 North through Dec. 30, with performances on Saturdays and Sundays at noon and 3 p.m. and additional shows on Dec 20 at 7 p.m.; Dec. 21 at 5 p.m., and Dec. 23, 26 and 27 at noon and 3 p.m.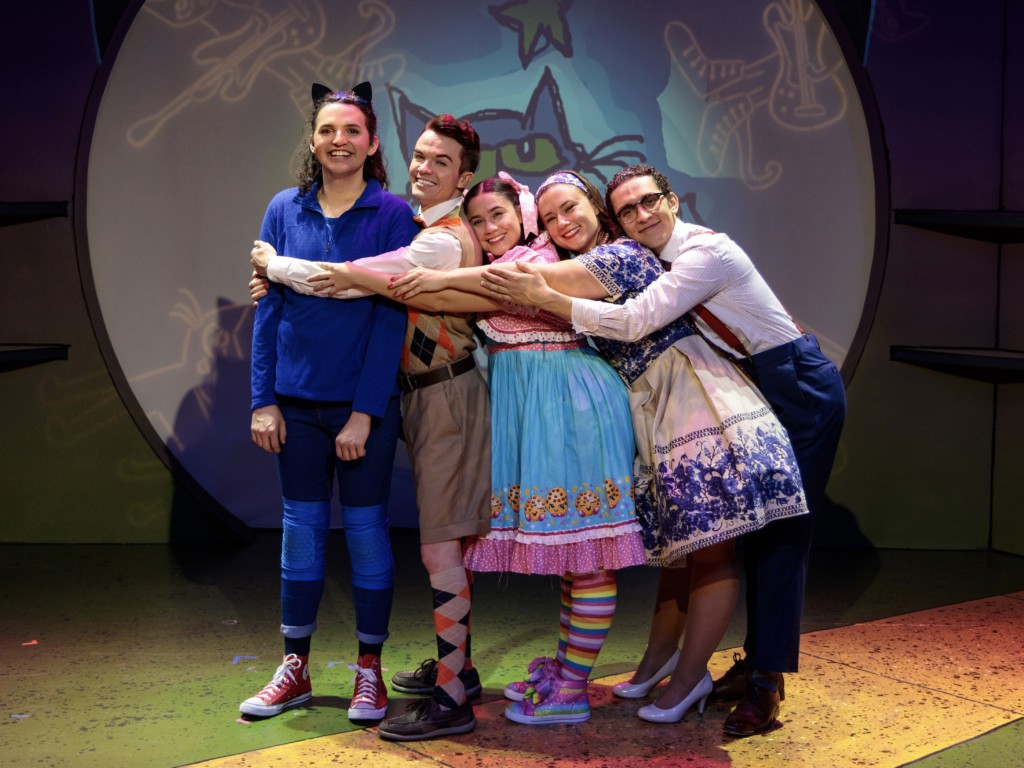 SLAC also has been offering performances for area students in Title I schools, ranging from kindergarten through second grade. SLAC also has set up a donation station to benefit students at Washington Elementary School, located across the street from the company's location. Donations also are being accepted for Salt Lake County Animal Services, including cash and canned cat food.
For more information about the show, tickets and community donations, see the SLAC website.