One of the many joys in Kingdom of Heaven, Plan-B Theatre's first take on an original musical, is the set of songs that lift Jenifer Nii's already substantive story about a dutiful, faithful Mormon housewife who comes to terms with a newly emerged part of her identity as a drag king performer.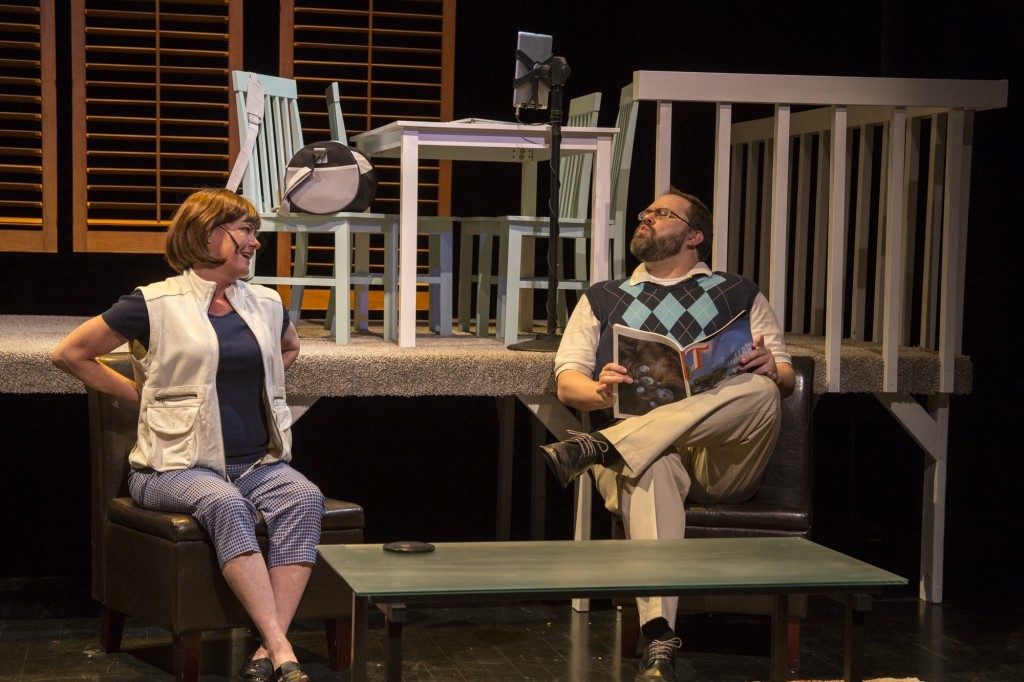 The songs are smartly executed with live remixing, courtesy of the 21st century technology laptop instrumental studio brought directly into the Studio Theatre of the Rose Wagner Center for Performing Arts. Nii collaborated with musical director Dave Evanoff on lyrics, which Evanoff, in turned, scored them with the acutely relevant 1980s pop music sensibilities that found their way in classic stories where the characters on the edge of major transformations in their lives must also find ways of living with the consequences. Every song is original, as Evanoff weaves through a palette that suggests, at various times, fragments and melodic moods from some of MTV's earliest generation of female stars including Annie Lennox and Pat Benatar, soundtracks of iconic 80s films such as St. Elmo's Fire, Andrew Lloyd Webber musicals, synth pop and even a tinge of Giorgio Moroder.
Directed by Jerry Rapier, the outstanding three-person cast (Jeanette Puhich as Mary Jane; David Hanson as her husband, Joe, and Susanna Florence as Brenda, their friend) capture in song the longing, melancholy, innocent joys of love and resilience that comprise the lyrics that are integrated so well in the spoken dialogue.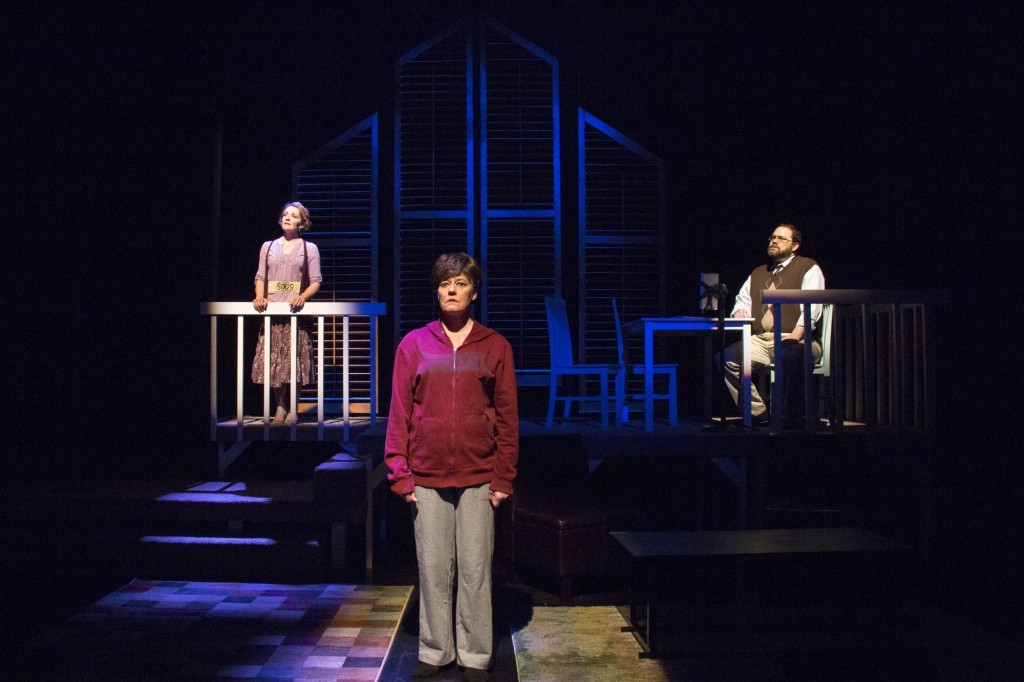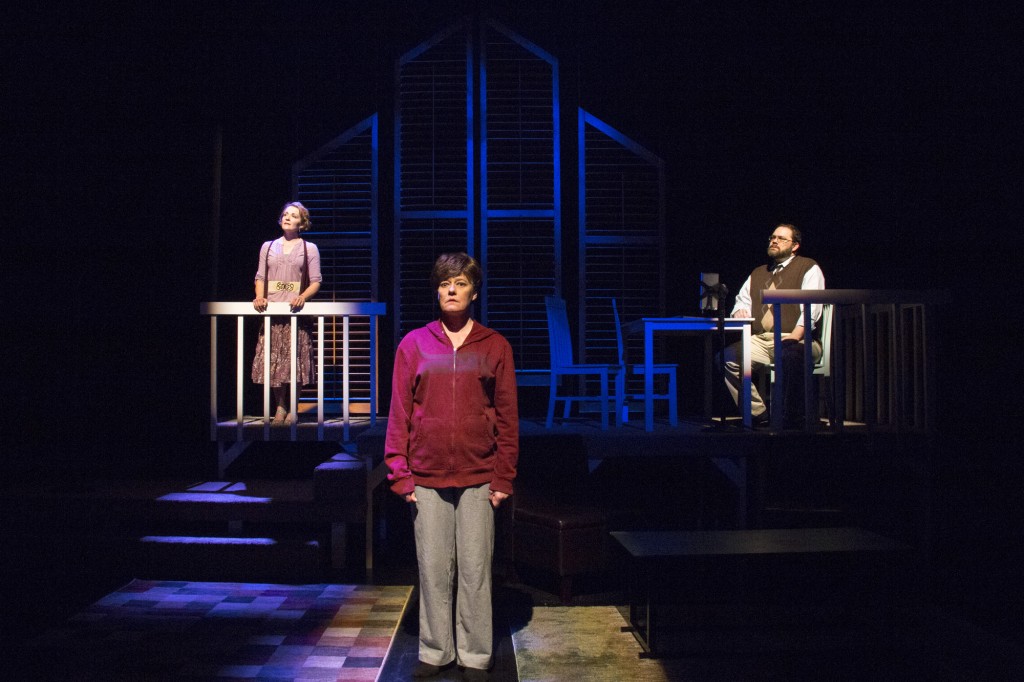 One of the strongest performances comes in the simple, moving Prayer song, which all three actors sing in ensemble. In a show of consistently memorable moments, the bridge – " The promise of heaven/The purpose of life/To strive for perfection before you" – sets up the pivotal emotional epiphany for all three actors. It is a sincere moment of testimony and faith found surprisingly enough not in the vast conference center where 20,000-plus recently convened for the spring conference of The Church of Jesus Christ of Latter-day Saints but in the intimate Studio Theatre quarters on a simple set effectively representing a suburban Utah home interior.
Nii's story quickly establishes the contours of Mary Jane's midlife crisis are not couched in boredom but a spiritually-rooted urge to liberate herself from the pretense of a comfort and happiness that is truly imperfect. Still trying to remain faithful to the properly conventional Mormon household appearance, the 40-something MJ (her nickname) says near the beginning of the play, "People at church are bound by a spirit of compassionate long-suffering forgiveness. It's part of the gig to persevere and cheerfully endure."
Communicating via iPad with Liz, a sister from the ward with a colorful past, MJ wonders if she is up to a new gig – as a singer in a drag king show. Liz tells her, "These are my friends. If I didn't think you'd knock their socks off, I would've said 'tough tuchas, your bimbo opener flaked.' But I think you'd do great, maybe have a little fun. Make a buck or two."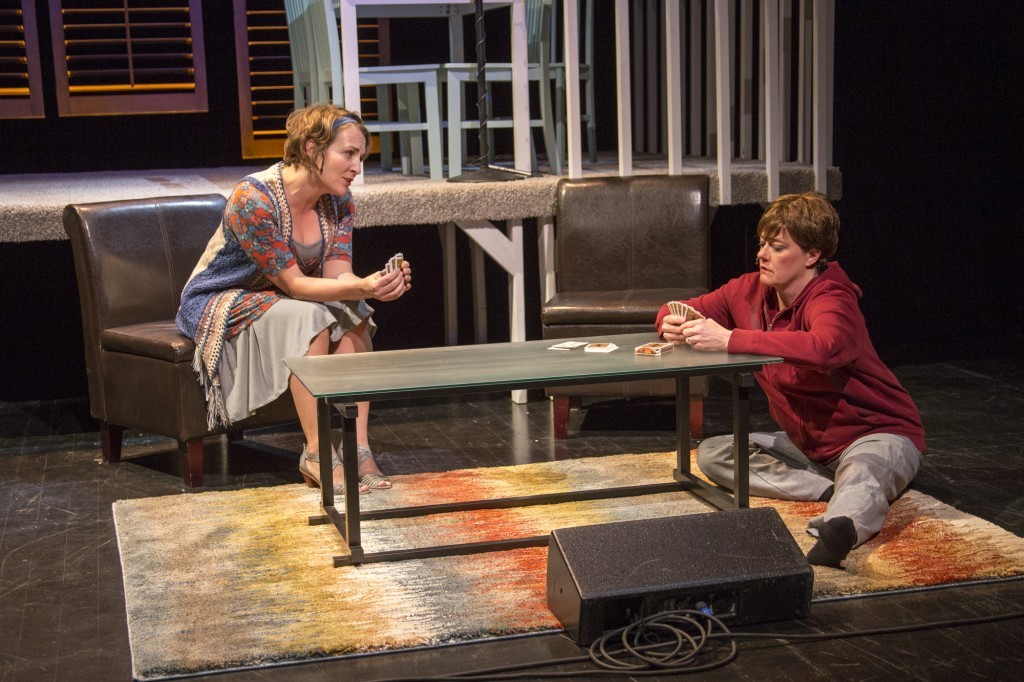 In the musical's first song Kingdom of Heaven, really an internal monologue for MJ that she sings as she gives her testimony in an LDS ward chapel meeting, the closing lyrics marvelously foreshadow the conflict and tension:
It's right now, it's here, today
No time to think twice –
Or roll the dice
So close to the kingdom of heaven on earth….
The Lord's kingdom of heaven on earth.

She closes her testimony: "That's all. I say these strange things in the name of Jesus Christ, amen."
On its exterior, MJ's life might seem enviable to many. Material needs for the family and three children are more than comfortably accounted for, thanks to Joe, her husband, who is hitting a career peak in medical device sales. Joe is a decent man who loves his life but there also are enough inklings to suggest he also sees MJ as a trophy wife to be exhibited to work colleagues and fellow ward members. He is well intentioned in duty to family and his faith, which foreshadows his difficulties in trying to comprehend much less empathize with MJ's identity crisis.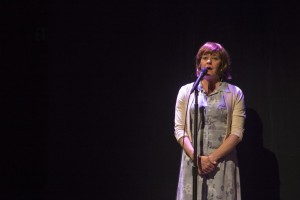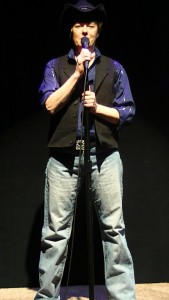 Early in the play, MJ and Joe seem to have a much more stable marriage than their mutual friend Brenda, whose relationship with her husband is headed to an inevitable divorce. MJ and Joe are supportive of Brenda, and, in fact, Joe is relieved to hear that Brenda is done with her husband.
Nii sprinkles just enough bits of Mormon social culture and the curious taboos to make the story line credible without making it overly critical or contrived. Brenda and MJ talk about R-rated film and song lyrics along with their admiration for Eminem and rap – "that there's a darn fine song." The kids are straight A students and Eagle Scouts. There is Brenda's raspberry rhubarb jam and the necessity of food storage for the 'Second Coming.' There are references to Costco, the ubiquitous LDS family's regular consumer pilgrimage. And, of course, there is the cultural shattering element of pants for women. These mentions are just sufficiently placed to not confuse or lose the non-Mormon member of the audience.
However, the collaborative genius of Nii and Evanoff pops up regularly in the thoroughly enjoyable but also story-significant lyrics of the songs. There are clever signs throughout which indicate where tension is building. In My Friend The Rock Star, Brenda and MJ sing in unison, "We're pleasant and proper and overachieving/but that's getting harder and harder to do/When deep down inside us we're secretly grieving/the star in me and you/Let's make our dreams come true/The star inside of you/Show them what we can do."
In I Love You The Way You Are, a duet for Joe and MJ, MJ says, "You could sport more hair," and Joe says, "And you could trim down there!" MJ replies "Oh really? You're really gonna go there?/Because I could say a little something about a little something," to which Joe responds, "Do you really think I have no clue? Who really cares no one but you?"
In Maybe, MJ opens with "This isn't right, what am I doing?/What am I thinking? Am I losing it all?"
The most rewarding aspect of Kingdom of Heaven is how it all works so smoothly – a testament to expert storytelling in the most compact form (a running time of less than 75 minutes) that does not shortchange the contours and complexities of the characters, a collection of songs that add the right bit of charm, and a musical score in the 21st setting that substitutes more than nicely the conventional use of acoustic instruments.
Puhich gives unquestionably one of the best performances this season on the Plan-B stage, no small task given the outstanding standards set throughout this 25th anniversary. Hanson and Florence complete the cast with the right chemistry, as actors and as singers. Rapier's direction, as always, is astonishingly on mark. And, Evanoff's musical gifts make it the perfect sign-off to a stellar season. It has the right bit of whimsy, right down to the use of Siri's voice at the beginning, reminding audiences to follow the usual courtesies and customs of the theater.
Five performances remain, and only a handful of tickets remain: Thursday, Friday and Saturday at 8 p.m., Saturday at 4 p.m., and Sunday at 2 p.m.
For more information, see here.