Perhaps the most consequential development in Salt Lake City's outstanding modern dance scene is the uninhibited freedom of choreographers and dance artists to create movement with a potent story-telling connection. Movement languages provide multiple canvases for dancers finding their voice precisely in the way a poet, author, playwright or philosopher would approach. Add music to the mix along with a palette of options such as simple props, spoken text, video imagery and costuming, the movement shapes and directs a story that invites and encourages generous, free interpretations by the audience.
In his third evening-length dance theater composition since 2016, Dan Higgins, a dance artist with the Repertory Dance Theatre (RDT) since 2014, will present Speak, featuring eight colleagues from the local dance community, that explores the possibilities of confronting and overcoming tensions and difficulties of communication to find a path that ultimately leads to tranquility, confidence and compassion. Two performances (Dec 12 and Dec. 13, 7:30 p.m.) will be presented as part of RDT's Link Series in the Black Box Theatre of the Rose Wagner Center for the Performing Arts.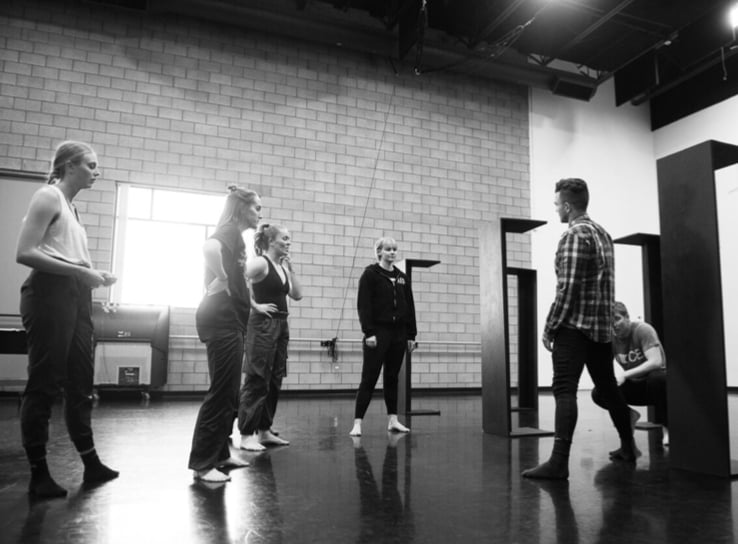 Starting last summer, Higgins (to read more about the choreographer, see The Utah Review feature here) began working with the dancers on the work, which runs a little more than a hour and features music by Michael Wall, a local musician and composer who runs soundFORMovement.com; Henrik Schwarz, a German DJ known for his crossover work in deep house and classical; Joep Beving, Dutch pianist and composer, and Luke Howard, Australian pianist and composer. The dancers include Micah Burkhardt (who has worked with Higgins on previous projects); RDT colleagues Jaclyn Brown and Jon Kim; local dance artists Bailey Sill, Mar Undag, Morgan Phillips, Brendan Rupp and Emma Hansen.
As he did in preparing his last evening-length work, In. Memory. Of., which premiered in 2018, also as part of the RDT Link Series, Higgins has opened a few rehearsals to the public, which give individuals a rare opportunity to see how the process of setting a new dance composition unfolds.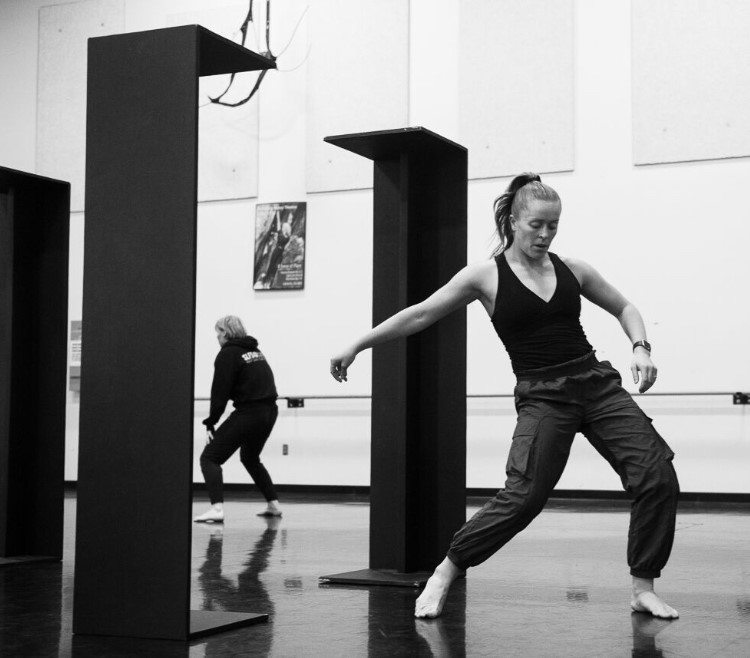 As Higgins explains, "I've always been fascinated by signs and modes of communication and their effect and impact. It can be like a droplet of water that begins to ripple and then expand from a fragile beginning." He approached the work with a couple of questions that are anchored and interpreted in the movement that not only he but also the eight dancers have been involved in creating: "What is the mode of communication that we choose to communicate something in a specific way? What stimulates or causes us to yell and not keep it bottled up?" Higgins says the work seesaws from loud sections to substantial sections of quiet and somber tones. There are many textures of emotional tones being developed, as evidenced in observing open rehearsals.
For In. Memory. Of., a work inspired by the impact of psychological trauma his late father suffered as a result of his service during the Vietnam War, the signature props were a scarf along with a table and chair.
A half-dozen benches serve as props for Speak. "I wanted to do something different but still keep int simple but versatile enough to use it for expressive depth," Higgins explains. He initially thought about rehearsal cubes that are used as stand-in props to help block or act out a theatrical scene or something similar to the dense Styrofoam components used in Ann Carlson's Elizabeth, The Dance composition performed earlier this fall by the Ririe-Woodbury Dance Company. "RDT had a prop bench and decided I could use six as a continuously movable set," he adds. As observed in rehearsals, the benches comprise a perfect environmental abstract design that serves the visual and theatrical elements driving the work." They become the dancers' playgrounds in some moments: they recline on them, hide behind them, roll underneath them and leap over them. The dancers flip them over occasionally, the loud thud enhancing the soundscape textures of the work. Meanwhile, the dancers also must contend with complicated counts and rhythms in their walking and movement patterns, while synchronizing them with the direction of their head turns.
Preparing for the work has engendered significant time commitments, especially as the dancers either have numerous professional or academic responsibilities. In fact, the dancers' comments about their experience in the creative process for Speak emphasize the meta nature of the work being developed. Sill says, "it's been a perfect opportunity. I didn't know what to expect but it's been great getting to know each other." Phillips, who worked with Higgins before (most recently in a performance of the short work MASC), says "she was interested in seeing the process for a longer work. Dan gives us some freedom to work these things out." During a rehearsal in November, she and Kim worked on movement at one end of the studio – with Phillips taking notes as they solved the problem for a particular section of the work – while Burkhardt and Sill were working out the partnering movement at the opposite end of the studio.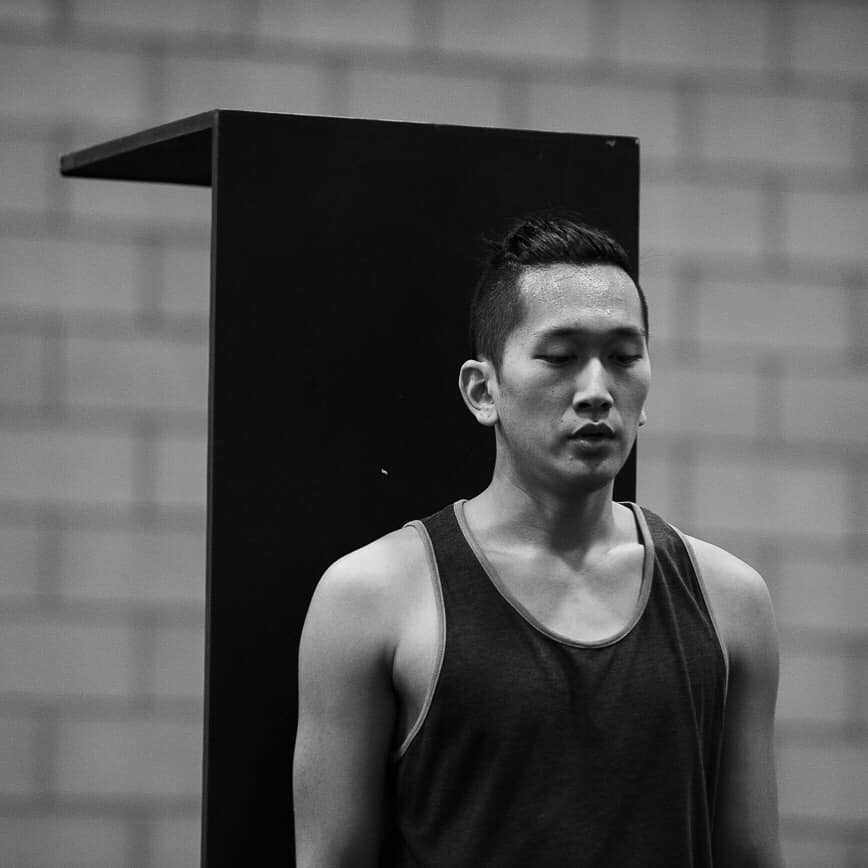 Kim says, "I became friends with Dan during my first year with RDT and there has been a lot on my plate but this experience has really kept me on my toes." Eye contact helps set up the unifying thread throughout the work, especially as the dancers transition from points early on where they "get lost" among the benches and try to figure out how to surmount complicated barriers and then later into sections that evoke a discovery of empathetic communication. At one point, dancers
Burkhardt says returning to work with Higgins was the easiest decision. "I'm here 100 percent for the process," he explains, adding that the emotional energy is freer and the physicality more demanding and complex than in the choreographer's previous works.
Tickets for the performances are available at the RDT Link Series web page.