PLAN-B THEATRE FREE ELEMENTARY SCHOOL TOUR (FEST): FLORA MEETS A BEE
The sense of feeling borrowed can become alienation. In Morag Shepherd's Flora Meets A Bee, the latest play in Plan-B Theatre's successful Free Elementary School Tour (FEST) program, Flora, 8, is committed to making her new friendship stick.
In one scene, Flora recalls seeing something shiny in a puddle and pulling out a gold piece. She says, "And then, I put my hand back in, and guess what?" The Bee says nothing. Flora says she pulled two more pieces of gold and then when she put her hand in the puddle for the fourth time, there was no more gold. Flora says, "No. I only found three bits, but I learned something important: de vez en cuando algo puede pasar (anything can happen once). A kid and a bee can be the best of friends." She tells the Bee that her eyes are full of snapdragons, adding, "Las flores parecen una boca cuando una abeja aterriza en los petalos. (Snapdragons look like a mouth when a bee lands on the lip of its flower.) The Bee is surprised that Flora knows this.
Flora tells the Bee that "Mi madre told me that you can find comfort and love in the eyes of a flower. They're full of love. And bees. Maybe she was sending me a clue?" The Bee says, "I think you're a magic Flora."
In this short play (just 25 minutes), the actors portraying Flora (Ariana Broumas Farber) and the Bee (Brenda Hattingh) are reassuring in bringing forward the gentle, warm, astute realism of Shepherd's writing, perfectly pitched for the target K-3 audiences. The fantasy and imagination are framed intelligently and the young students, many of whom likely will see a live professionally produced piece of theater for the first time, get a bonus science lesson about the importance of bees in nature. And, it's the first bilingual production of the FEST series.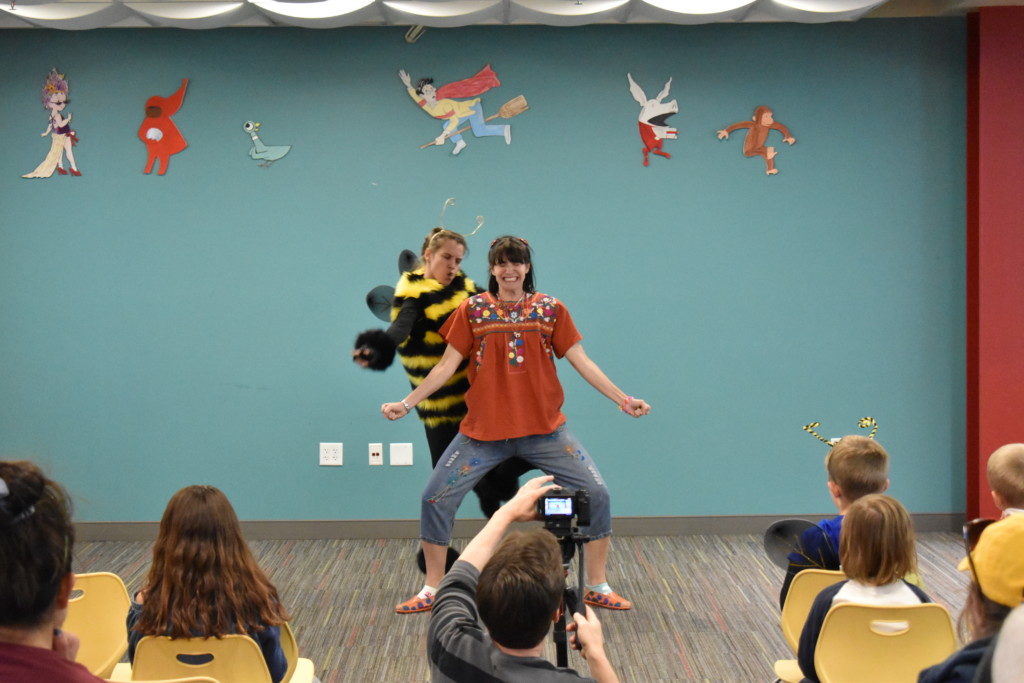 The young adult actors are convincing in their portrayal. Farber is charming even when she is so anxious to please her new friend. As mentioned previously in The Utah Review, Flora, a Latina child, has been in three foster homes since the age of five. Her mother had to return to Mexico and while the circumstances are not specified or elaborated upon, one can presume that Flora is like many other youngsters in families who are immigrants and risk being separated. Flora likes to borrow things, a not uncommon thing for many children. Farber also conveys a positive resilient attitude, as The Bee helps Flora adapt to new realities and new communities.
Sporting a bright bee costume, Hattingh also conveys the multiple dimensions of her character. Bees are busy and they get a little gruff if they are interrupted. Hattingh gradually warms to Flora's effervescence while offering the wisdom that one would expect from a sincere friend.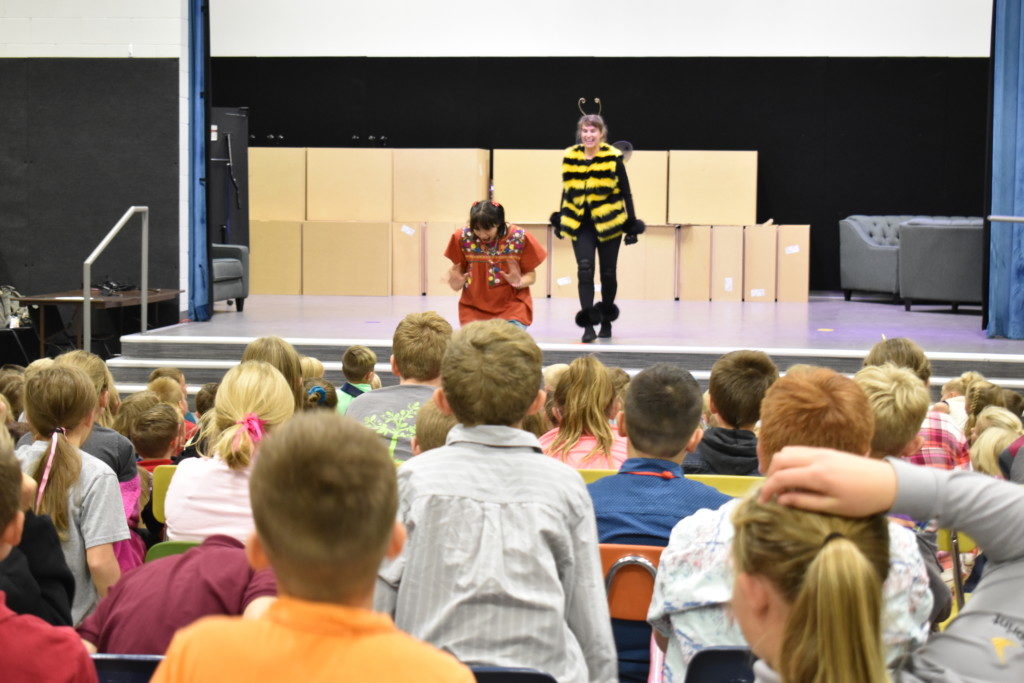 Compact and substantial, Flora Meets a Bee also is the springboard for talkback and additional lessons in the classroom, as suggested in the accompanying study guide produced for teachers and students. The play will be presented at schools in Utah through the remainder of the 2019-2020 academic year. Given the prospects of many performances at scores of schools over the next seven months, Plan-B will rotate casts for the play. For example, a free, public performance on Nov. 2 at 3 p.m. at the Chapman branch of the Salt Lake City Public Library will feature Darby Mest as Bee and Isabella Reeder as Flora.
For more information, see Plan-B's FEST page on its website.
MUNDI PROJECT: CLASSICAL MUSIC + TECH + ART = A 3D PRINTED 6-STRING VIOLIN EXPERIENCE
It was no small feat for the Mundi Project to organize a fascinating artistic residency as a compelling example of the STEAM integration of music, technology and art, complete with a performance featuring a 3-D printed six-string violin.
Sean Riley, a violinist who has cultivated an international portfolio as a performer, educator and arts entrepreneur, collaborated with Daniel Goodwin, engineer, and Rebecca Milton, sculptor, at The University of Texas at Austin campus to create a six-string electric violin on a 3-D printer. The impetus was the opportunity to perform a movement from a work scored for a six-string electric violin by composer John Adams — The Dharma at Big Sur, composed in 2003 for the opening of Disney Hall in Los Angeles.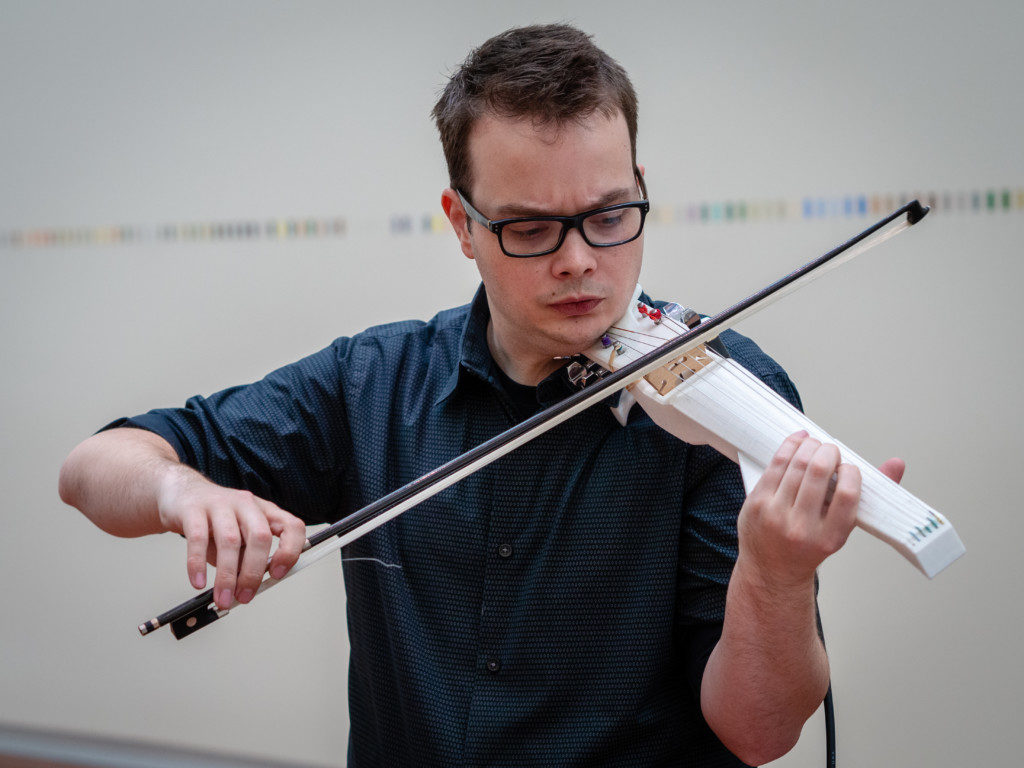 Riley performed an excerpt from the Adams composition at a concert in the Utah Museum of Fine Arts' G. W. Anderson Family Great Hall, a venue that supported the acoustic possibilities of an unusual instrument that was made at The Foundry, a makerspace located in UT-Austin's Fine Arts Library.
The sound is ethereal and its ambient qualities were robust. Good performance-quality electric violins can run between $2,000 and $3,300. The one Riley demonstrated was produced at a fraction of the cost. The two additional strings on this instrument, essential for playing the Adams piece, include a low F and low C. A pickup placed on the instrument bridge amplifies the string resonances. Pretty impressive, given that unlike Riley's cherished traditional violin – a 240-year-old instrument made in Italy – the 3-D printed version does not require the usual hollow body design.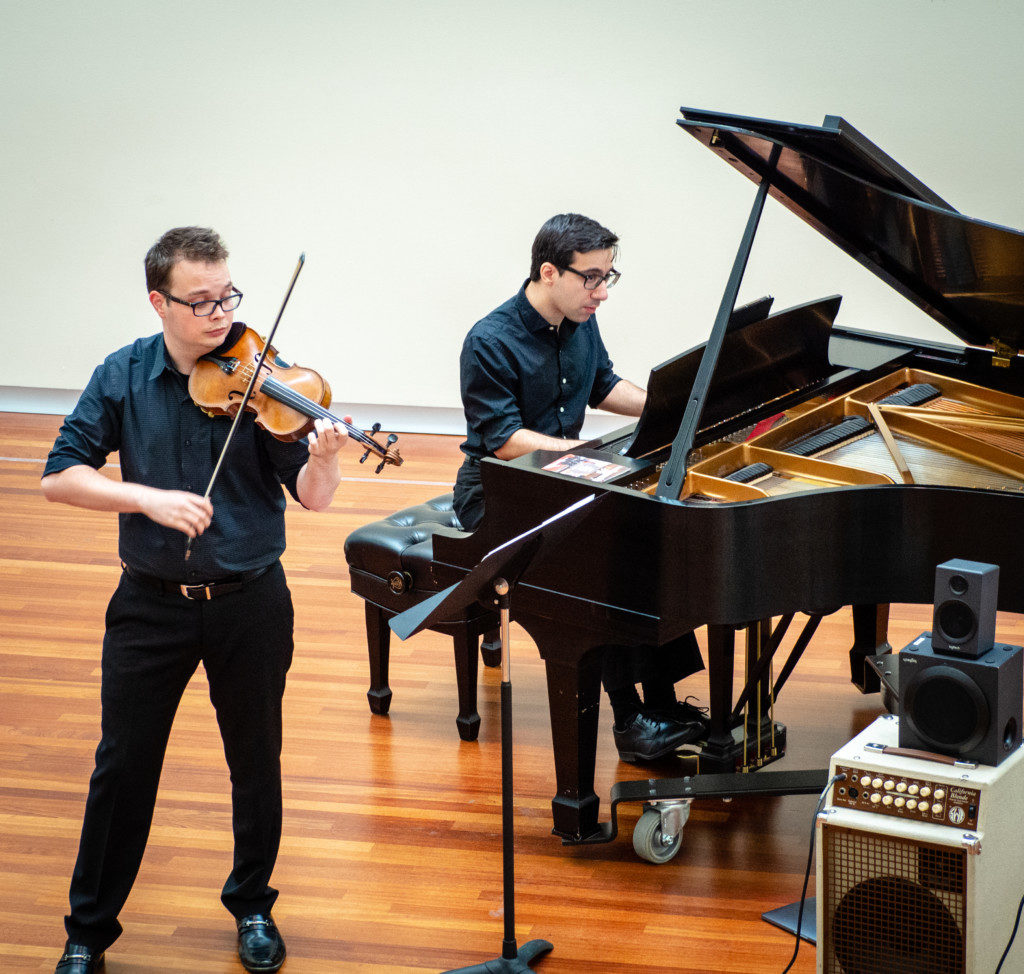 The concert, which included the phenomenal accompaniment of pianist Farshad Zadeh, featured lots of gutsy and earthy music, with Riley alternating between both instruments. On his traditional instrument, Riley's sumptuous sound came through on selections from Béla Bartók and Nikolai Medtner. Zadeh also showed his virtuosic chops with Liszt's Au bord d'une source. Riley, a Juilliard School graduate who is working on his doctorate at UT-Austin, also featured solid works by young composers. They included Gone to Texas (2018) by James Tabata and a solo concerto for six-string violin by Akshaya Tucker, which received its first public performance at the venue. It is not easy, even for accomplished soloists, to switch frequently between two instruments that encompass such different and difficult demands but Riley dispatched himself very well in the challenge.
Riley also led a workshop at the Bountiful Davis Arts Center and a master class for students in The University of Utah School of Music's preparatory division for young violinists and pianists.
Riley's residency was sponsored by WESTAF, Utah Division of Arts and Museums OnStage in Utah; Utah Museum of Fine Arts; Bountiful Davis Arts Center and Snow Country Limousine
The Mundi Project's programming has expanded in significant ways. It presents one major out-of-state guest artist each year and several local musicians/educators throughout the year. Another is the intergenerational music program with the Neighborhood House, bringing together preschool children and senior citizens for singing and writing songs, as led by Mindy Dillard. Other Mundi activities include Harmony Hub and the Piano Bank donation program.
For more information on its programs, see the Mundi Project website.