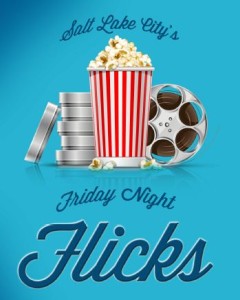 Summer Movie Series
What's better than a night at the movies? What about a night at the movies that's free, held outside on a lovely summer evening and maybe even comes with free popcorn? Yep, that's better. Now that spring showers are behind us, and its all clear blue skies — a variety of venues in Utah are offering up free open-air movies. Here are some of the best:
What: Friday Night Flicks
When: Friday nights, June 6 – July 25
Where: A different SLC park each week
Why: Family-friendly movies for seven straight Fridays starting in June. Movies shown on a large inflatable screen and popcorn is free while it lasts. Bring your blankets and chairs and enjoy a neighborhood party under the stars. On-site community booths too.
What: Movies Under The Stars
Where: State Capitol
When: July 18 – August 29
Why: Local bands kick off these Friday night events at 7:30 p.m. and movies begin at dusk. Dog friendly and in 2013 drew over 1000 attendees to one single night's showing alone.
What: Monday Night Movies
Where: Gallivan Center
When: Monday nights, July 7 – July 28
Why: Classic movies including Dr. Strangelove, Annie Hall, Ferris Bueller's Day Off and Groundhog Day.
What: 2014 Sundance Institute Summer Series
Where: Red Butte Garden Amphitheatre
When: July 8 – August 27
Why: Outdoor community screenings in the Red Butte Garden Amphitheatre. Bring a blanket and a picnic and watch unforgettable independent films under the stars. Movies begin at sundown.
What: Snowbird Family Flicks
Where: Plaza Deck, Snowbird Center
When: Friday nights, June 6 – August 15
Why: Enjoy free, family-friendly movies outside on the Plaza Deck every Friday night. Movies start at dusk. On movie nights, the Birdfeeder and Forklift Patio will be open from dusk to when the movie ends — approximately 7:30 to 11 p.m. — serving burgers and brats fresh from the grill, nachos, pretzels and popcorn.
What: Pioneer Park Picture Show
Where: Pioneer Park
When: Fridays in August
Why: Each Friday a new film will be shown free of charge on a large inflatable screen. Movies start around 9 p.m., but come early and enjoy the park and surrounding restaurants. Come even earlier in the evening and you can checkout all the new amenities at Pioneer Park since it's recent "facelift", including the new walking trail, off-leash dog area, updated bocce ball court and more.
What: Mill Creek Venture Out
Where: Various locations in Millcreek
When: June 13 – August 29
Why: Events include live music, outdoor activities, great food, cooking and gardening classes, arts and crafts, and a mini-market. There are activities for the entire family and admission is free. Each week is at a new venue in Millcreek. Bring your blankets, pillows and low-back chairs and enjoy some summer fun.
What: Summer Movies at Draper Amphitheater
Where: Draper Amphitheater
When: June 20 – August 15
Why: Movies shown on the amphitheater's huge 32-foot wide screen. Seating on terraced grass but blankets, lawn chairs and snacks welcome. Concessions available on site.
What: Riverton Movies in the Park
Where: Various Riverton locations
When: June 20 – September 19
Why: Bring your blankets and enjoy a summer evening with family and friends.
What: South Jordan Summer Movies
Where: Various locations
When: June 6 – August 22