Utahns will recognize a good sampling of their state's unparalleled scenery in two films – both containing unconventional elements to represent their respective genres — that premiered during this year's Sundance Film Festival.
Hereditary, directed and written by Ari Aster, an unusual horror film that has attracted much attention in Sundance's Midnight program slate, and Damsel, a slapstick Western directed and written by David and Nathan Zellner, also were beneficiaries of the Utah Film Commission's incentives program for filmmakers, as noted in an earlier article in The Utah Review.
With exception of a few scenes shot along the Oregon coast, most of the 32-day filming schedule for Damsel was accomplished in Summit and Wasatch counties, which included a crew of more than two dozen and nearly 70 extras along with a cast that included Robert Pattinson, Mia Wasikowska and Robert Forster. Scenes for Hereditary included locations in Salt Lake City and Park City as well as a masterful soundstage constructed in Park City Film Studios that recreated every bit of interior space of the family's home. Hereditary's production brought more than $3.1 million in economic spending to Utah.
Both films are reviewed below:
HEREDITARY
Aster's feature-length debut as a director (presented by A24Films in conjunction with PalmStar Media and Windy Hill Pictures) makes for a curious horror film that rivals the Inception franchise, as a comparative example. Hereditary seems to be two films merged in surprising ways. There are identifiable elements reminding viewers of Robert Redford's Academy-Award winning director's debut film Ordinary People (1980) and Ang Lee's 1997 adaptation of The Ice Storm novel by Rick Moody. And, they serve to prepare the narrative turn in the second half to a dark supernatural mysticism that culminates in a shocking climax.
The story opens with the death notice of Ellen Leigh, the mother of Annie Graham (Toni Collette), who is an artist specializing in miniature-sized dollhouses and dioramas that are striking in their realism. The grandmother's death and funeral do not seem to trigger a flood of grief. The evening after the funeral, everyone seems to go about their routines. Steve (Gabriel Byrne), the husband, is a psychotherapist. Peter (Alex Wolff), the eldest child, is casual, motivated more by sharing quality marijuana and attending parties at his friends' upscale suburban homes. The youngest child, Charlie (Milly Shapiro), is a darker personality. An inward child, she sketches frequently and displays a particularly morbid curiosity. The overall family description in Aster's film resembles the rich suburban family that faced a growing sense of doom over the Thanksgiving holidays in The Ice Storm.
It is evident in the exposition that the family members are as cryptic as their recently deceased relative. There are various feelings of alienation among every family member. Annie's relationship with her late mother, as suggested by her plainspoken eulogy at the funeral, was complicated and filled with psychological drama, illness, and various disorders. Annie tries to get some solace from a bereavement group (something she doesn't even mention to her husband), where she meets Joanie (played by Ann Dowd who also appears in another Sundance film this year as the terminally ill mother in Christina Choe's Nancy). Joanie's character in the narrative grows throughout the film, especially when she persuades Annie to experiment with paranormal activities, including a séance.
And, when the narrative segues from the psychological traumas to a sudden tragic event and then finally into full-blown supernatural horror, one can conceive how Aster works from the originating point of the classic emotionally brutal family dramas mentioned above. In Ordinary People, for example, the mother's persistent detachment made viewers believe that she was a monster who cannot succumb to collapsing emotionally over the immeasurable grief of losing the son she called her favorite. When the father accused her of only seeing any circumstance in terms of how it affected her, the mother replied in a blistering tone, "Neither can you! Neither does anybody else! Only, maybe I'm more honest about it."
In Hereditary, this becomes the opening salvo as all sense of sanity and stability deteriorate at an accelerating pace. It would be injudicious to say anything more about the narrative turns and climaxes, given the film's potential thrill factor.
The cast rises to every dramatic shift in compelling performances. It is worth noting the youngest actors — Wolff and Shapiro – for commanding some of the film's most riveting scenes.
One of the film's most appealing visual elements are the miniatures and dioramas that become part of Annie's work. Steve Newburn, a visual effects specialist from Toronto, not only did special effects makeup and the prosthetic figures from the film, but also designed the miniatures corresponding to every intricate detail of their life-size replicas seen throughout the film. The miniatures capture the rooms and corridors with precision, along with the household items, rugs, and wallpapers and coverings.
Aster worked with Grace Yun, production designer, to realize the soundstage set that matched the large home's interior appearance and construction in the classic Craftsman style.
The film is a certified pleaser for horror audiences who look for the chance to respond with screams of fear and delights of horror.
The remaining screening for Hereditary will be:
Saturday, Jan. 27, noon — Redstone Cinema 7, Park City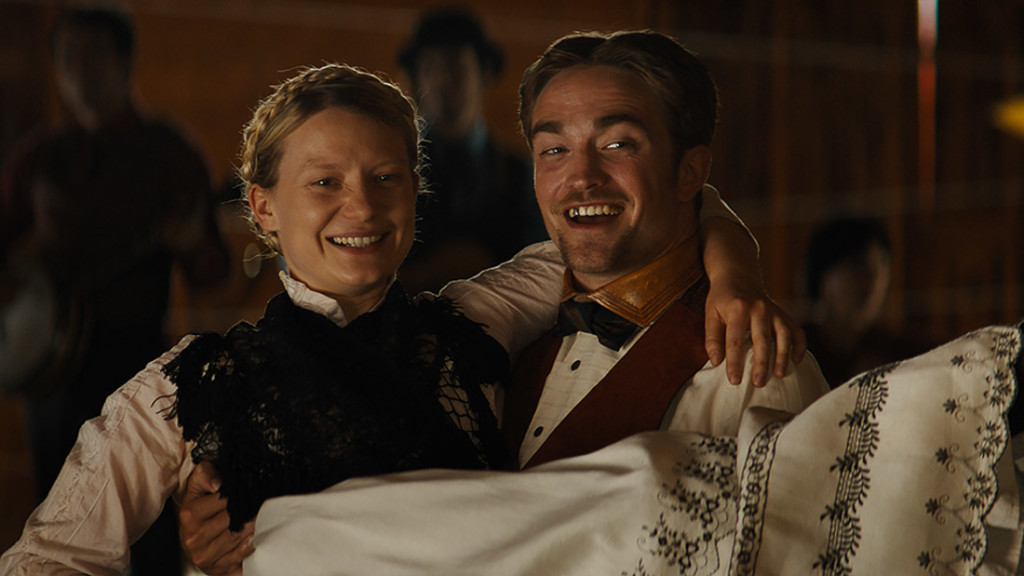 DAMSEL
The Zellner Brothers make their fourth appearance at Sundance in the last 10 years with a most unconventional Western that fits in well with the emerging canon of creative, cinematic, literary and other visual works of art which inverts the glorifying mythology of Manifest Destiny and romanticized stereotypes of the Old West.
The wry humor is in force from the opening scene when Parson Henry, a man from Baltimore (played by co-director and co-screenwriter David Zellner) chats with a preacher (Robert Forster) while waiting for the stagecoach at a stop in a desolate spot. The old preacher has given up and he is ready to surrender his soul and body to the desolation. His final words to Parson Henry: "Things are going to be shitty in new and interesting ways."
Later, the next major character enters the story: Samuel Alabaster (Robert Pattinson), the ultimate antithesis to the popularized image of the Old West gunslinger. In fact, Alabaster admits he's a better lover than a gunslinger, as he enlists Parson Henry to help him locate Penelope (Mia Wasikowska) the woman of his affections. The young man tells Parson Henry that Anton Cornell has kidnapped his beloved and they may encounter Anton's brother, Rufus, an illiterate, buckskin-wearing boor (played by Nathan Cornell).
Alabaster is a dandy of a man. His hair never seems out of place and he is impeccably dressed. He admits to having a "pussy stomach," when he sips carefully from a shot of whisky after being told there is no Pilsner at the saloon. For the right hilarious effect, the Zellners offer up plenty of words and phrases that disrupt the period's tone which seem more suited to a hipster enclave in Salt Lake City today than it did in the Old West.
He plans to give Penelope a ring and a miniature horse named Butterscotch. As Alabaster and Parson Henry embark on their trek, the story gets zanier in every scene, frequently showcasing the Wasatch Range in its best face.
Alabaster certainly is no Teddy Roosevelt, who went to the Badlands as a young man to work as a rancher, fortify his body's physical stamina and steel himself emotionally after his wife and mother died within one day of each other. Roosevelt went after the thieves who stole his riverboat and he decked a man in a bar for insulting him because he wore spectacles. Alabaster doesn't convey the roughrider image, for sure.
Likewise, Penepole is no damsel in distress. Contrary to needing anyone's help, Penelope wields shotguns, pistols and explosives with cool skills and speed. It is a marvelous inversion of the traditional ego-stroking myth of the masculine writers who tried to sanctify the machismo of those who went West in search of Manifest Destiny.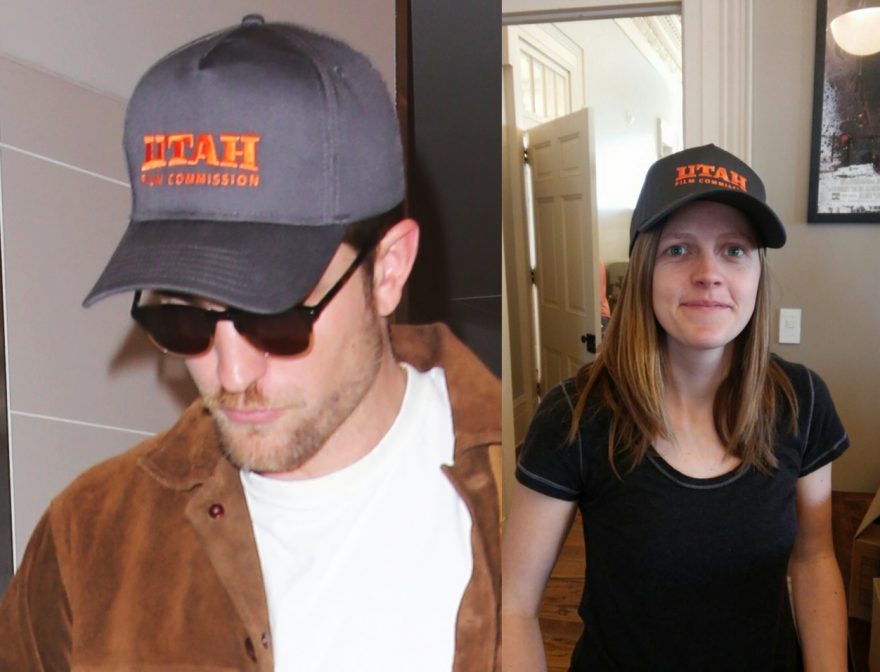 Every major male character suffers some form of character emasculation in the film with the exception of one — the Native American character played by Joseph Billingiere, who pulls off some of the film's best comedic lines with elegance and dignity. Some people may be longing for masculine-drenched myth but Damsel hilariously spikes the cult of domesticity.
Although the film sags in pacing between some of the best slapstick bits, it is generously enjoyable. The actors clearly show they are enjoying themselves. This is the second film in which Pattinson and Wasikowska worked together (Maps to the Stars in 2014). An interesting bit of trivia is the actors originally were slated to appear in a 2016 western titled Brimstone but both dropped out of the project.
The film (Strophic Productions Limited) also features music by The Octopus Project from Austin, Texas. The score underscores the new West feel of the film's narrative ideally, combining digital and analog sounds and textures. Damsel will receive its international premiere outside of the U.S. next month at the Berlin International Film Festival.
Remaining screenings for Damsel are as follows:
Saturday, Jan. 27, 9:30 p.m. — The Ray, Park City
Sunday, Jan. 28, 12:30 p.m. – Rose Wagner Center for Performing Arts, Salt Lake City
For more information on Sundance schedules and tickets, see here.