In Of Fathers and Sons, director Talal Derki picks up where he ended Return to Homs, the 2014 winner of the World Cinema Grand Jury Prize for Documentary at the Sundance Film Festival. Derki, who was born in Damascus but now lives in Berlin, offered a small yet still visible glimmer of hope in the stories he told of Basit Sarout and other young Syrian men he encountered in Homs.
The 2018 Sundance Film Festival premiere of Derki's latest documentary occurs seven years after he had begun filming in his native Syria for his first film. Of Fathers and Sons exemplifies the worst fears of how hopeful Arab Spring protesters in the early years of this decade have evolved, bypassing the sincerest democratic wishes of revolutionaries and becoming jihadist rebels who see the project of a radical caliphate in the strictest and most uncompromising terms possible. No one sees an end to the Syrian civil war.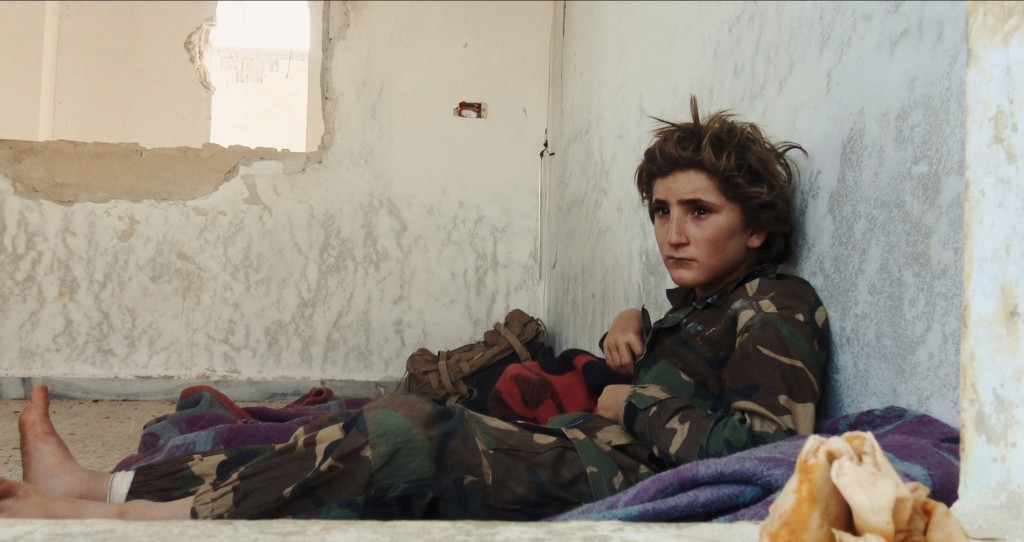 The film is a Basis Berlin Filmproduktion, in co-production With Ventana Film Cinema Group Production and Südwestrundfunk Rundfunk Berlin-Brandenburg. Also, it is produced in association with ARTE and Impact Partners. Geralyn Dreyfous, co-founder of the Utah Film Center and co-founder of Impact Partners, is one of the executive producers. The project also received previously the Sundance Institute Documentary Film Program Open Borders Fellowship Award.
As Derki explains in an interview with The Utah Review before a recent screening in Park City, "I had to go back and pick up from the last scenes of Return to Homs to understand why and how people who once shouted for democracy and freedom now had become so committed to the idea of living in a world of Islamic radicalism." Over two and one-half years, he gained the trust of Abu Osama, a man in his forties who was one of the strongest loyalists in the al-Nusra movement, which generally has functioned as an Al-Qaeda affiliate in Syria. Among his children are two sons, Osama and Ayman, 13 and 12, respectively.
Derki was convincing to both the father and his associates, despite the fact he is a nonbeliever. "I made sure my reactions were as similar to theirs so I could learn much more about jihadist Islam," he adds. Thus, the film contains many moments of the utmost candor in a close view that hits the viewer with an accumulating impact of emotion. Only incidentally do we hear Derki's voice along with a few brief transitional bits of narration.
Derki sensitively ensures the amount of sociopolitical context or need to explain what is at force in the Syrian civil war does not overwhelm the profound observations of the human emotional impact, especially as seen through the eyes of the two sons and their friends. The father is a parent who loves and protects his children. But he also never is more than one step from potentially fatal mistakes in the work he does, which includes building car bombs and dismantling landmines. The scenes in the film associated with these activities bring a flood of tense moments for viewers.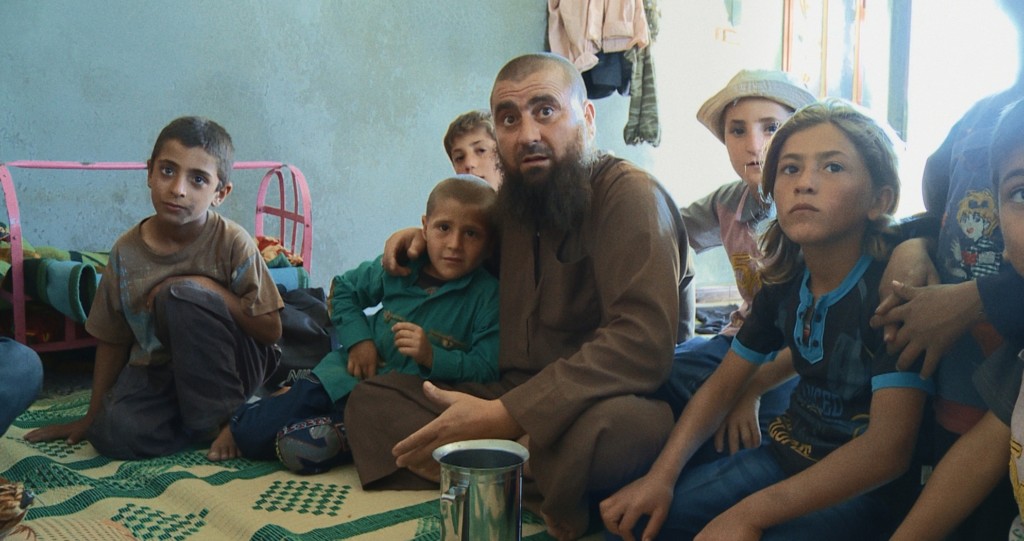 Abu Osama advocates for Jihadi Salafism, which is more extreme than the mandated form of Islamic government that many traditional Salafis believe is the rightful destiny. The father believes the only way to achieve the goal is through war — endless war.
There is unconditional enmity in the father's views. Every other Muslim ruler, including the Syrian president Bashar Assad, is an infidel and therefore anyone who serves these Muslim rulers also is an infidel. As one scene demonstrates with an emotional moment that is one of the most unforgettable in the film, Abu Osama and his associates have no mercy for anyone who would think or act otherwise. They are the apostatized enemy.
And, as Abu Osama believes the war will be prolonged indefinitely, it is his rightful duty as the father to prepare his sons for the battle, who have no say in their chosen future. They go to a training camp where Osama begins to display his skills as a militant fighter. Meanwhile, Ayman would rather focus on his education. He enjoys schools, does well in his lessons and tends to his younger sisters. "I believe that Ayman, if given the chance, would want to be an artist or teacher," Derki says, adding that he could see what a sensitive young man he was becoming. Unfortunately, even as the family contends with the devastation that has become routine in the civil war, the fathers see no other proper path for their sons then to become prepared for the battles to bring about the caliphate they believe Muhammad had promised.
Does Derki see a similar glint of hope at the end in Of Fathers and Sons, as he did in Return to Homs? The film lays the unfiltered evidence that has occurred because of lost and ignored opportunities that diplomats around the world could have implemented when it was possible to render impotent the Jihadist magnetic sources, which had begun infiltrating Syria when Derki made his earlier film. The solutions certainly have not arisen in military options.
But, Derki believes that educational programs sponsored through the United Nations, NGOs, and other organizations that are sensitive to not characterizing gullible, passionate boys as criminals could be helpful, especially in taming and mitigating the fiery resolve of the Jihadi movements from spreading to the next generations. And, the political tone of the debate in the U.S. and other western countries has done nothing to demystify the roots and causes of this tragedy, especially when so few people care to make important distinctions among the groups that have been fighting each other for at least the last seven years. The film brings a desperately needed humanistic context to the dialogue.
Derki, who has worked as a war photographer and cameraman for CNN and Reuters, is planning to switch gears for his next project, focusing on a fictional narrative.
Remaining screenings for Of Fathers and Sons follow:
Wednesday, Jan. 24, 8:30 a.m. — Prospector Square Theatre, Park City
Friday, Jan. 26, 10 p.m. — Redstone Cinema 2, Park City
Saturday, Jan. 27, 11:45 a.m. — Egyptian Theatre, Park City
For more information on Sundance programs and tickets, see here.