Two feature-length animation films – both stunning in their visualizations of classic stories and thematic interpretation – and a documentary about the trials and successes of competing in an international science fair comprise this year's Kids section of the Sundance Film Festival.
The 2018 edition of the Kids program is a five-year milestone for its collaborators — the Utah Film Center and Sundance Institute. The impetus for the program arose from the center's success with its Tumbleweeds Film Festival for Children and Youth, which will have its seventh annual edition March 2-4. Tumbleweeds is the only Intermountain West film festival dedicated exclusively to kids.
The films for Sundance Kids, which also include the Canadian/Croatia animated short Hedgehog's Home, were curated by Patrick Hubley, artistic director for the Utah Film Center. They represent options of outstanding quality in independent films for children and their families that contrast with typical commercial film fare. Hubley worked with Trevor Groth, director of programming for the Sundance Film Festival.
Hubley says the selections underscore the value of treating kids as serious film consumers with stories that would match the intellectual social and emotional thematic impacts found in any other Sundance program. "We're thrilled at the impact we've made in recognizing younger audiences about making alternatives available in quality kids films and how this program helps everyone think about the future of cinema," he adds.
Furthermore, the Sundance Kids and Tumbleweeds programs signal how well Utah has positioned itself to cultivate film appreciation and cinematic literacy in a lifelong spectrum. It has become an important path for upcoming generations to become involved in the many youth media options that are available in Utah.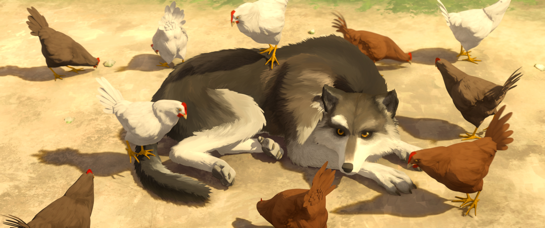 WHITE FANG
In White Fang, a production of SuperProd and Bidibul which premiered today at the festival, the animation is rendered in a non-CGI style that echoes the naturalistic painting elements of many artists who captured the expansion of the U.S. West in the middle and late 1800s. Directed by Alexandre Espigares, who won an Academy Award in 2014 as co-director for the animated short Mr. Hublot, the film is based on Jack London's White Fang, the 1906 novel that originally was serialized in a magazine. Espigares worked with a screenwriting team (Dominique Monfrery, Phillippe Lioret and Serge Frydman) to keep the integrity of London's original work while streamlining some characters and condensing narrative action.
As Espigares explains in an interview with The Utah Review, "animation is really only a technique" to tell a compelling story. He adds that White Fang often serves as a coming-of-age story but he also wanted to capture the themes of perseverance in challenging conditions, the recognition of the relationships in nature shared by humans and animals and the importance of seeing through stereotypes and misperceptions. While White Fang is a widely known story in the curriculum of American literature and its story is familiar generally to children and their parents, Espigares says the film offers a new way to appreciate London's writing and his prescient themes that emerge through the rich, first-hand details he absorbed in his own Yukon adventures. Thus, the adaptation suggests more the likely ways in which we remember reading the book.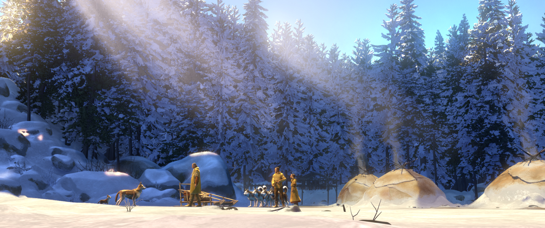 Naturally, the film lends itself to animation, especially as the focus is not on dialogue but on the narrative action of the story. Even as White Fang and his mother form the center of the story, Espigares wanted to ensure the human characters in the story have little dialogue so consequently the need for narration is eliminated and the story is shown predominantly through the eyes and vantages of White Fang and the other canines.
Instead of CGI and special effects, the production team used techniques of motion capture and digital painting, as inspired by artworks created during the period in which London experienced the surroundings noted in White Fang and his other novels at the time. Artists who worked in the Naturalist style so predominant in the late 19th century, for example, traveled to sites in many areas that were still being explored and gathered tremendous amounts of visual data including preliminary sketches before returning to their studios to capture the landscapes on canvas.
Likewise, Espigares focused on having both animal and human characters in the animation move as naturally and smooth as possible, by focusing on the angular motions. For the purposes of motion capture, human characters wore costumes similar to the clothing shown in their animated counterparts and rehearsed the scenes. The most significant challenges in motion capture occurred when a dog was brought on set to capture how humans would react and respond in their movements.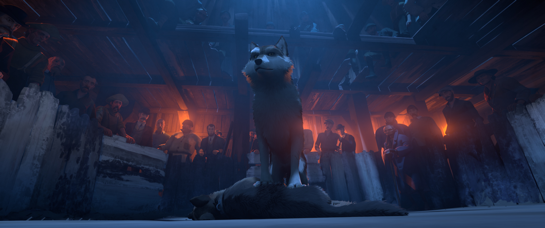 The film's elements stand out in all aspects. The cast includes Paul Giamatti, Rashida Jones, Eddie Spears and Nick Offerman. Music was composed by Bruno Coulais with the original song performed by Bonnie Prince Billy and the soundtrack recorded by the Luxembourg Symphony Orchestra.
Screening with White Fang is the animated short Hedgehog's Home, directed and written by Eva Cvijanović.
Additional screenings for White Fang are as follows:
Tuesday, Jan. 23, 12:30 p.m. — Holiday Village Cinema, Park City (press and industry)
Saturday, Jan. 27, 3:30 p.m. — Redstone Cinema 1, Park City
LU OVER THE WALL (Yoake Tsugeru Lu no Uta)
An award-winning master of Japanese anime, Masaaki Yuasa, a native of Fukuoka, Japan, is director of Lu Over The Wall, a brilliantly visualized story that has its roots in the classic mermaid legend but now becomes a wisely anchored music-filled tale about a teenage boy who befriends a mermaid named Lu. The boy realizes that the adults in his home fishing village have mistaken his new friend's song as an omen for disaster and he now must bravely stand up for what is right and true.
Yuasa's latest film was one of three of his projects that were recently acquired by GKids, a major producer and distributor of animation for adult and family audiences. Lu Over The Wall will be released in the original Japanese version along with an English dubbed version as part of the deal for North American rights. Yuasa and producer Eunyoung Choi formed Science Saru, their production studio in Japan, four years ago.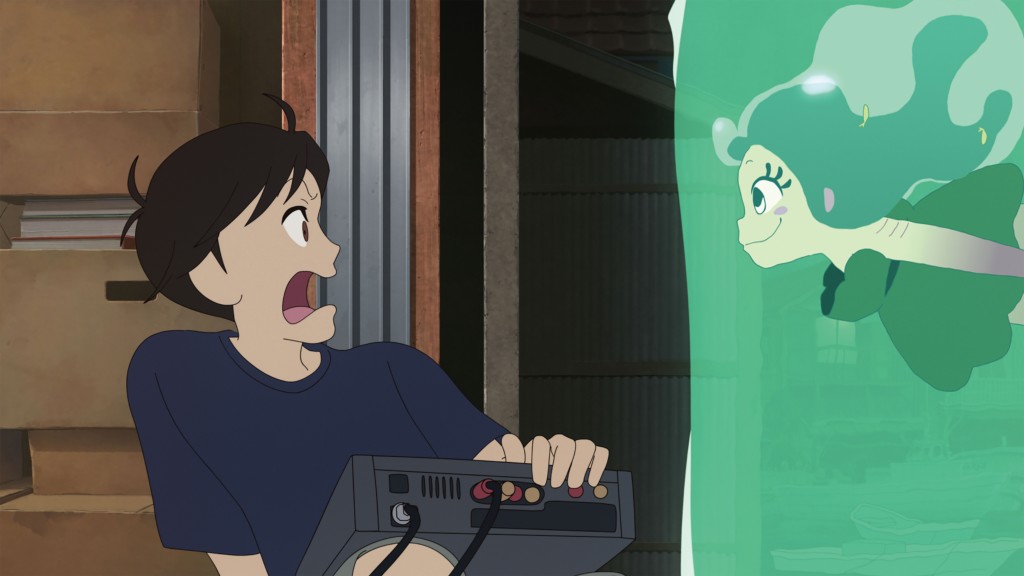 In an interview with The Utah Review, translated from Japanese by one of Yuasa's entourage members, Yuasa says his characteristic vivid approach comes from numerous influences, including Frederick Bean Tex Avery, one of the best known American animation artists who created many of the most famous cartoon characters for Warner Bros. and MGM Studios. Thus, Yuasa's characters completely avoid the commercially produced sentimental nature aspects and pop on the screen with continuous action and portray identifiable human traits and attitudes such as wry irony and sarcasm.
Yuasa is known for stretching the boundaries of conventions in his genre, both in story and technique. While many other animators often flock first to Toon Boom and TVPaint for their creative platforms, Yuasa has enjoyed leveraging what Adobe Flash can achieve in handling the creative demands of telling the story in as rich textures, as possible. Thus, where such elements as slow-paced movements and turns or large-scale zooms are difficult to render in hand-drawn animation, Yuasa and his producer Choi have mastered the existing elements in Flash with visually dynamic, finished clarity.
Similarly, Yuasa focuses on clarity in character narrative treatment. The boy (Kai) in Lu Over The Wall is believable and realistic as a teenager who begins to understand that he can stand up for his conscience and asks incisive questions about why do adults think they have the right answers all of the time. "We wanted to show that sometime people don't really say anything honestly even when they know in their mind it's the right thing to express," Yuasa explains.
His parents are divorced so he already knows the challenges of being lonely and disappointed and he tries to find emotional solace in writing songs that he shares with others online. Similarly, the mermaid is not portrayed as necessarily cute or cuddly, as Yuasa focuses on Lu listening to the boy's stories with the compassion and seriousness that teenagers treasure in their companions. Lu's love for music translates to a cheerful spirit full of dance that she shares with the boy. Meanwhile, the townspeople seem perpetually angry because they fear music and dance. The film already has taken the grand prize at the Annecy International Animation Festival.
One additional screening of Lu Over The Wall remains:
Saturday. Jan. 27, 1 p.m. — Redstone 2, Park City
SCIENCE FAIR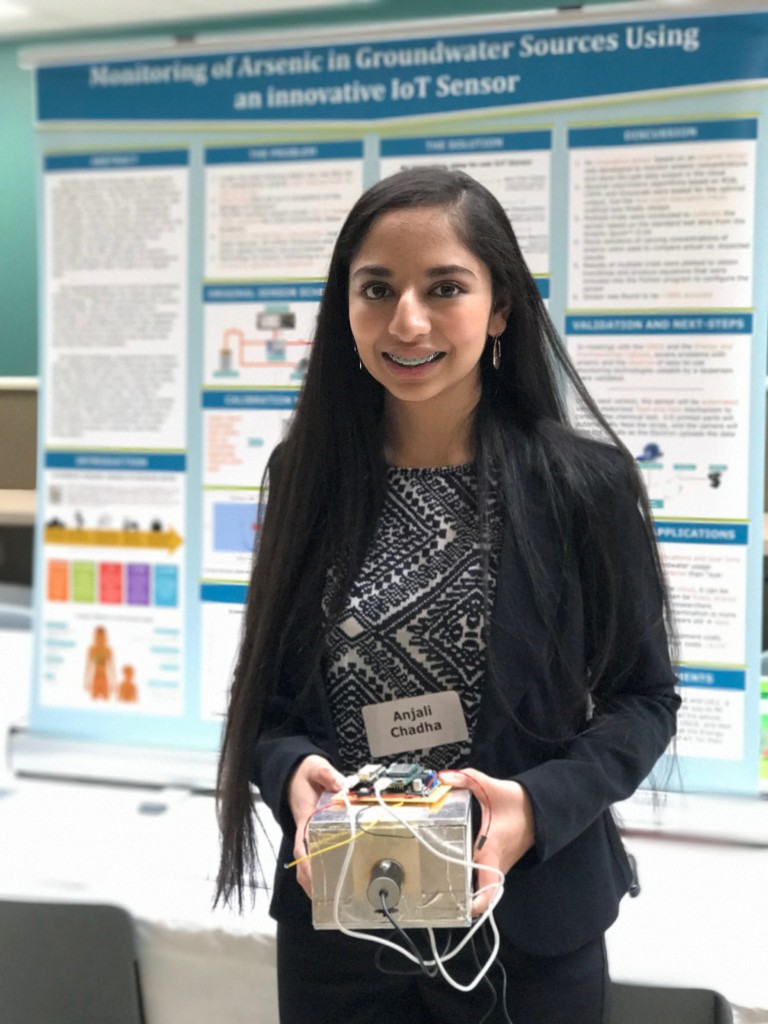 Looking for a break from the rigors and tensions of investigative journalism, Cristina Costantini and Darren Foster (production company: Muck Media) thought it would be a pleasant change of pace to make a documentary about students competing in an international science fair. They were inspired by the 2002 documentary Spellbound, which followed eight students who qualified to participate in the 1999 Scripps National Spelling Bee.
"The experience of science fairs was always dear to me," Costantini says in an interview with The Utah Review. A Yale University graduate, she finished fourth in her category as a freshman when she participated in the international science fair. 'It was a lifeboat for me and I thought doing a film would help show the love I have for this little world."
Meanwhile, Foster says he did not have the same level of experience as Costantini did in making it out of the local level of science fair competition. He says his science fair project was much simpler, in proving Venus flytraps (Dionaea muscipula) like hamburgers.
"I was blown away by the top level of science and engineering knowledge," he adds, as they followed the students who competed in the International Science and Engineering Fair (ISEF), which brought more than 1,700 students from more than 75 countries to Phoenix.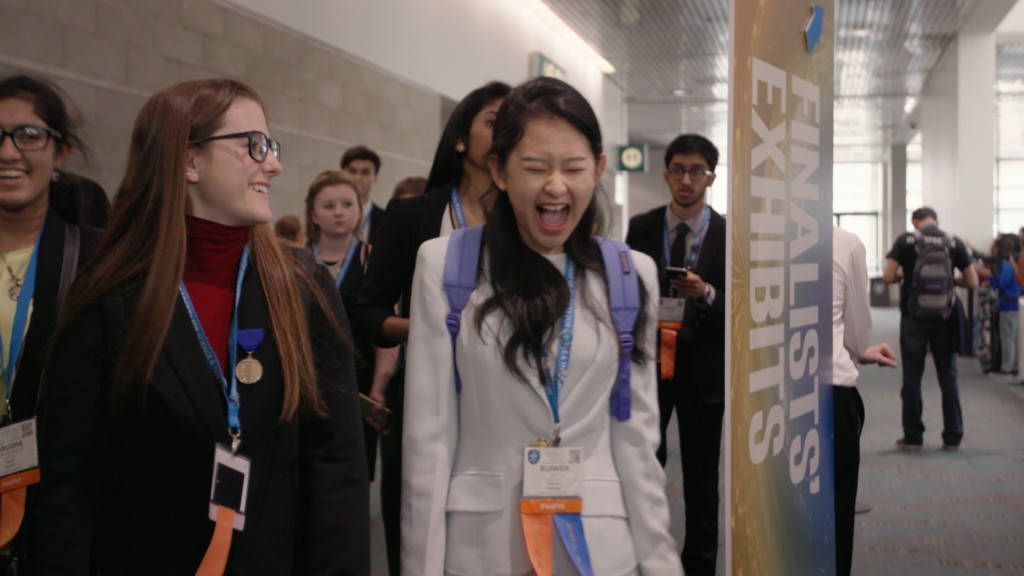 But, both found their break from the difficult, complex challenges of hard-hitting journalism not as easy as they initially believed. "We really underestimated the energy level needed to track the stories and the intensive efforts and emotions the students experienced," Foster explains."
The documentary focuses on nine students, each with remarkable and unique stories that go deeper than their fascinating engagements with the subjects of their science fair projects. At a South Dakota high school, a Muslim girl forges a surprising bond with her teacher, the head football coach who realizes that he does not fully comprehend the level of science she is undertaking but takes his role as mentor as seriously as he would in motivating his team players to excel.
Two students from Brazil put forth their best efforts, believing the science fair is one of their most likely paths to gain the education they'll need to break away from poverty. Another subplot focuses on a Long Island school where a teacher is shepherding a team of talented students who are immigrants and building a model competitive program that would make great coaches, even "Vince Lombardi proud," Foster adds.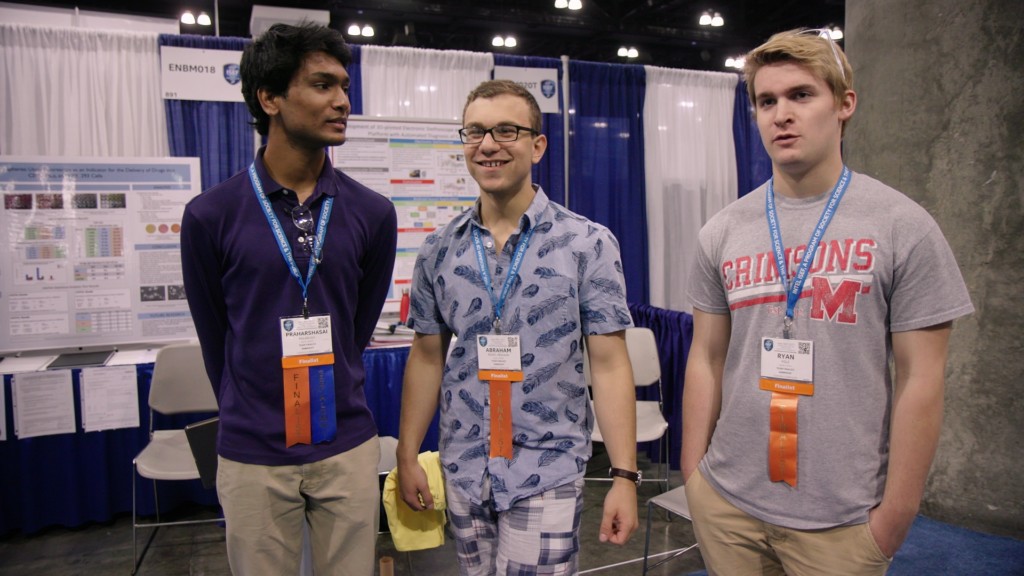 Science Fair is a well-timed and well-placed documentary as schools, communities and large research associations and organizations for science education continue to improve their efforts of making science and technology more accessible and more appealing to a diverse generation of students.
To have the film premiere at Sundance is a satisfying bonus. "These students are being celebrated like rock stars," Costantini says.
Additional screenings for Science Fair are as follows:
Tuesday, Jan. 23, 8:30 a.m. — Prospector, Park City (ticketed); Holiday Cinema, 3 p.m., Park City (press and industry)
Wednesday, Jan. 24, noon — Redstone, Park City (student screening)
Thursday, Jan. 25, 11:30 a.m. — Redstone, Park City (student screening)
Saturday, Jan. 27, 12:30 p.m. — Redstone 1, Park City