The Witch Hunters is a debut project in many ways. For Serbian director Rasko Miljkovic, it is his first feature-length narrative film and his first appearance at a U.S. film festival happens to be at Sundance 2019, as part of the festival's Kids slate. It is a feature-length debut project for many other principal figures, including screenwriters Marko Manojlovic and Milos Kreckovic. And, it is, most significantly, the debut performance for its two lead actors: Mihajlo Milavic and Silma Mahmuti.
But, what an exhilarating debut for everyone, as The Witch Hunters enchants the audience with an intelligent, imaginative story appropriately described not as a children's movie but as a film about children, as screenwriter Manojlovic described yesterday in the talkback following the screening at the Salt Lake City Public Library's Theatre.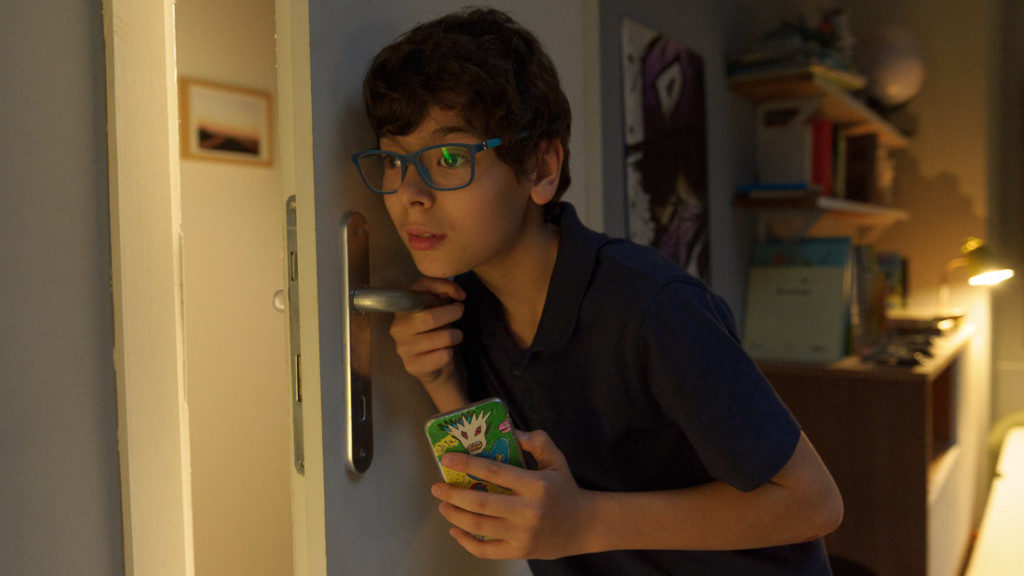 The story revolves around Jovan, a 10-year-old boy with partial cerebral palsy, and Milica, a gutsy girl who is the new student in Jovan's school. Milica's parents are on the verge of a divorce and she is convinced that her prospective stepmother is a witch who has cast a spell on her father. As Jovan and Milica develop a bond of friendship, they become witch hunters, hoping that by making her disappear the spell that has been cast on her father will be broken.
Jovan is an introvert for understandable reasons. He is bullied constantly. He cannot participate in outdoor activities during recess. He has not been all that enthusiastic about going to his physical therapy exercises. His bedroom is more than a sanctuary. He has built a model city named after his superhero alter-ego Shade. In his dreams, Shade is invincible in a body unaffected by his condition. The boy even has a costume for his superhero.
When Milica arrives for the first time at Jovan's school, he is unhappy that the teacher has assigned her to be his desk partner. He makes his dissatisfaction clear by drawing a line to divide the desk in half. Meanwhile, Milica is taunted by her new classmates and she gets revenge by dumping a pail of water on the bullies from a classroom window. Jovan does not implicate her when pressed on the matter and this opens up the path to their friendship and adventure.
Both young actors show natural chemistry, a point that needs additional backgrounding. As Miljkovic explains in an interview with The Utah Review, he had cast an exhaustive net to find the right child for the role, which was developed from a 20-page children's book titled O Dugmetu I Sreći (About Dugme and Happiness) by Jasminka Petrović.
The casting process's objectives changed ultimately for the best result. Initially, Miljkovic anticipated finding an actor who would be able to interpret how a child with partial cerebral palsy moves but he was eventually persuaded to cast Jovan with an actor who actually has the condition. "I felt that it was a good idea because he could then prove and dismantle the social stigma and the feelings of inferiority that typically go with a disability," he says. "We went to every single school in Serbia and we did find very good candidates." Eventually, the field was narrowed to 30.
When he met the young Milavic, he was intrigued by the boy's demeanor, believing that it suited how Jovan should be presented. However, the boy was nonchalant about the introduction because Miljkovic advised the boy's father not to say anything to him about the prospects for a possible role in his film because he didn't want to risk disappointing the child in case the opportunity did not materialize. The boy had no prior experience or training as an actor. The next time, though, the boy, now aware that he was being considered for the part, turned on the charm at full volume, as Miljkovic recalls.
The ironical postscript is that the young Milavic, who had been bullied at school just as his character has experienced, is now championed by his schoolmates because of the film's enthusiastic response. With screenings presented at schools across Serbia, Miljkovic says supplemental materials have been created for teachers and students to talk about bullying as well as themes of acceptance and respect for all children.
As for casting Milica's role, Miljkovic and his colleagues contended with some 600 girls between the ages of 10 and 12 who were vying for the part. What clinched the decision for the young Mahmuti was that when both young actors were asked to pose together for a picture, they put their arms around each other. Mahmuti had only completed three months of acting classes at the time she was cast as Milica.
The actors turn their characters and lines into the heartfelt magic that definitely makes this film worthy of time and appreciation for audiences of all ages. As Hubley has explained previously in The Utah Review about his philosophy for choosing films not only for the Sundance Kids program but also the forthcoming eighth Tumbleweeds Film Festival for Children and Youth (March 1-3), he does not go for a particular theme in curating the films other than an appreciation for stories that treat their young audiences as curious, intelligent, insightful viewers. The films selected for this year's Sundance Kids slate (including Abe which will be featured this week in The Utah Review) guide programmers to throw the window open to look for common or universal characters, events and situations in films from around the world.
As Jovan's friendship warms with Milica, he begins to take more interest and invest more energy in his therapeutic exercises. At one point, during a setback that had followed sessions of encouraging progress, he seems defeated, telling his mother he wished he had a body that wasn't broken. Milica's toughened veneer hides the emotional pain she feels, as her parents have separated and as she believes that her father would not have done such a thing, if he had not been bewitched or possessed. Jovan and Milica let their imaginations roam only as children of their age typically do. They interpret yoga, kombucha and Chinese herbal medicines as the quarry of Svetlana (the father's new girlfriend) who has cast spells to destroy the relationship between Milica's father and Tanja, her mother.
On a broader scale, The Witch Hunters film signals to the international filmmaking community the artistic potential in rejuvenating Serbia's film culture, even as its commercial prospects still need time to incubate and thrive. In the days of former Yugoslavia, there was a thriving film industry. Now as younger generations come of age in the aftermath of ethnic conflicts and civil war that had paralyzed the region's newly independent states, cinematic projects are gaining traction. Serbian audiences have patronized the commercial blockbusters featuring superheroes that have been the staple of American fantasy and adventure franchises for decades. But, filmmakers such as Miljkovic have successfully pitched projects with a home-grown story of young individuals as capable, creative and adventurous individuals, with whom Serbians and international audiences can identify. During the interview, Miljkovic mentions how last year's Sundance premiere of Won't You Be My Neighbor?, the documentary about the life of children's television pioneer Fred Rogers, has reinforced this ideology and his creative resolve. The critical acclaim and favorable response to The Witch Hunters has encouraged the Serbian state's film industry to pursue and support other productions about children. The film took the Young People's Jury Award at last year's Kids program in the Toronto International Film Festival.
The remaining screenings at Sundance for The Witch Hunters will be Friday, Feb. 1, at 5:30 p.m. in Park City's Prospector Square Theatre and Saturday, Feb. 2, at 3:30 p.m. in Park City's Redstone Cinema.