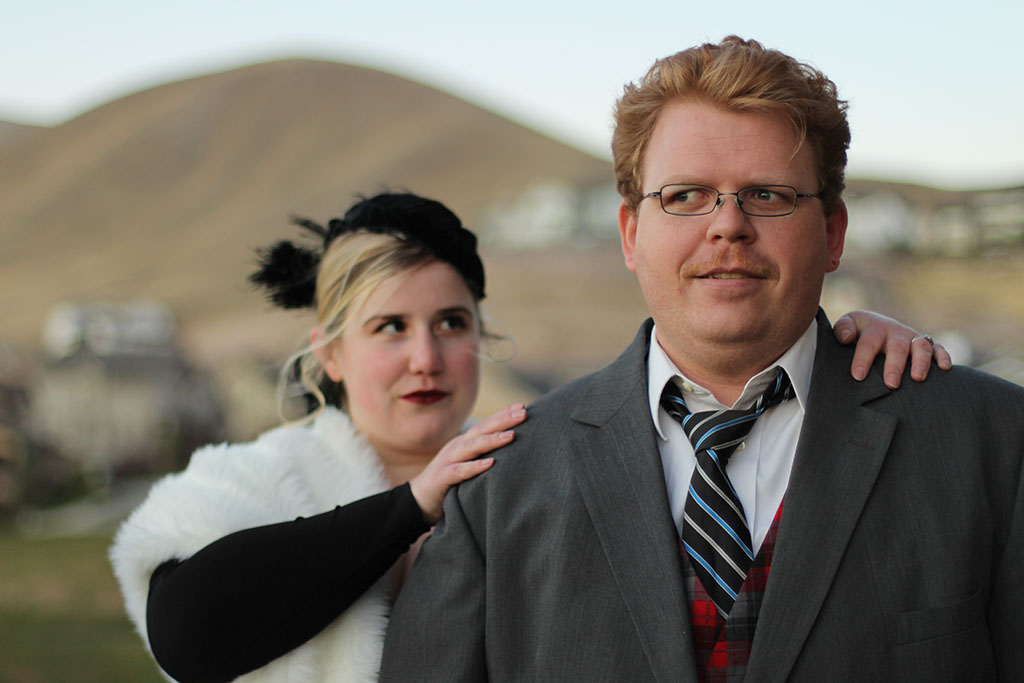 The 39 Steps
West Side Theatre Company, currently in its second successful season, will present the hit Broadway comedy "The 39 Steps" this fall in four performances. The versatile, rotating cast members will play multiple roles in four unique cast lists. Tickets are now on sale at www.westsidetheatreco.org.
"Why should people come see this particular production of 'The 39 Steps'? We have an incredibly talented cast and crew," said director Jess Wallace Nielsen. "Not only are they hilarious, but each performer took on the challenge of learning multiple parts. So each performance will feature a completely different cast from the night before. Everyone brings a unique spin to the 100+ characters depicted in this fantastical farce. You'll have to see it multiple times to not miss out on all the fun!"
The performances will be Friday, Nov. 2, Saturday, Nov. 3 and Monday, Nov. 5 at 7:30 p.m., with an additional Saturday matinee at 2:30 pm. They will take place at Garden Near the Green, located at the intersection between Cedar Fort Road (UT-73) and Ranches Parkway (just 15 minutes from the I-15 American Fork Main St. exit, and only a few minutes from the Crossroads in Saratoga Springs). Tickets are available online or at the door for $12 ($10 for seniors 55 and up, students, and children 12 and under).
Mix a Hitchcock masterpiece with a juicy spy novel, add a dash of Monty Python, and you have "The 39 Steps" – a fast-paced whodunit for anyone who loves the magic of theatre! A man with a boring life meets a woman who says she's a spy. When she is murdered, he finds himself the target of a nationwide manhunt. This two-time Tony® Award-winning treat is packed with nonstop laughs and over 150 zany characters (played by a cast of four) in a riotous blend of virtuoso performances and wildly inventive stagecraft.
West Side Theatre Company has received rave reviews from audience members. Following is a sampling of their comments:
"So great! I would come again. Really, really great talent out here! Thanks for putting the production on!"…"It was entertaining, emotional, and wonderful!"…"Best $10 I have spent in a long time. Such talent. I loved it."…"What powerful voices!"…"It was fantastic! We didn't realize there was so much musical talent out here. Looking forward to future productions!"…"Great choices. Loved the character development. After seeing this I'm even more eager to work with West Side Theatre Company."
West Side Theatre Company (www.westsidetheatreco.org) has recently been formed to bring more theatre to the west side of Utah Lake, including Eagle Mountain and Saratoga Springs. The mission of West Side Theatre Company is to expand minds and foster culture through diversity; cultivate creativity, innovation and mastery of the performing arts through artistry; and create a high quality, affordable theatrical experience that inspires, uplifts and effects change in the community. West Side Theatre Company has been registered as a non-profit organization in the state of Utah.
6th Annual SLC Tap Dance Festival
Tap artist and director of SLC Tap Debby Robertson will produce her sixth annual tap dance-intensive workshop, Salt City Tap Fest, in Salt Lake City on October 24–28. Robertson has taught tap for over 30 years, receiving feature coverage from ABC 4's Good4Utah, FOX 13's The Place, The Salt Lake Tribune and SLUG Magazine. Salt Lake City Weekly named Robertson "Utah's Best Tap Ambassador" for her tap festivals, praising her for "bringing the raucous joyfulness of tap to everyone" and calling one of her routines "pure style — perfectly demonstrating amazing foot skill, balance and percussive grace."
Following Robertson's previous five Tap Fest workshops, dedicated dancers, teachers and students have expressed huge appreciation for the exposure to other artists and master teachers, leaving these workshops brimming with creative energy and improved tap skills. SLC Tap continues to stimulate the art of tap in Utah by promoting new ideas and encouraging the next generation of tap artists.
Highlighting the week's events will be Salt City Taps (7:30 p.m., Sat., Oct. 27), a live performance from visiting master tap artists. This dexterous, intimate performance will be the first-ever tap concert at Salt Lake City's Robertson Studio—what experts would call a tap "dream floor." Another centerpiece of the five-day festival will be a screening of Great Feats of Feet (7:30 p.m., Fri., Oct. 26), the award-winning documentary about legendary vaudevillians Honi Coles and the Copasetics. Both the live performance and the film promise to entertain, educate and advance understanding of the past, present and future of tap.
On hand and in person will be two grand masters of the art of tap: Brenda Bufalino and Dorothy Wasserman. Both of these talented artists have spent a lifetime in tap and have many stories and skills to share with present-day students.
Salt City Tap Fest will offer 10 classes for dancers of various skill levels over the five-day period. Included is a free showcase performance of local tap groups, the film screening, and the concluding performance of Classical Tap Sunday (3 p.m., Sun., Oct. 28), a unique class for Intermediate–Advanced dancers taught by Dorothy Wasserman and accompanied by Bach's "Brandenburg Concerto".
Come join the excitement at the 2018 Salt City Tap Fest!
Single classes are $32 each and discount packages for multiple classes are available. Because space is limited, pre-registration is mandatory.
Register for Salt City Tap Fest HERE. Salt City Tap Fest is produced by Debby Robertson with support from Sugar Space Foundation and Salt Lake County ZAP.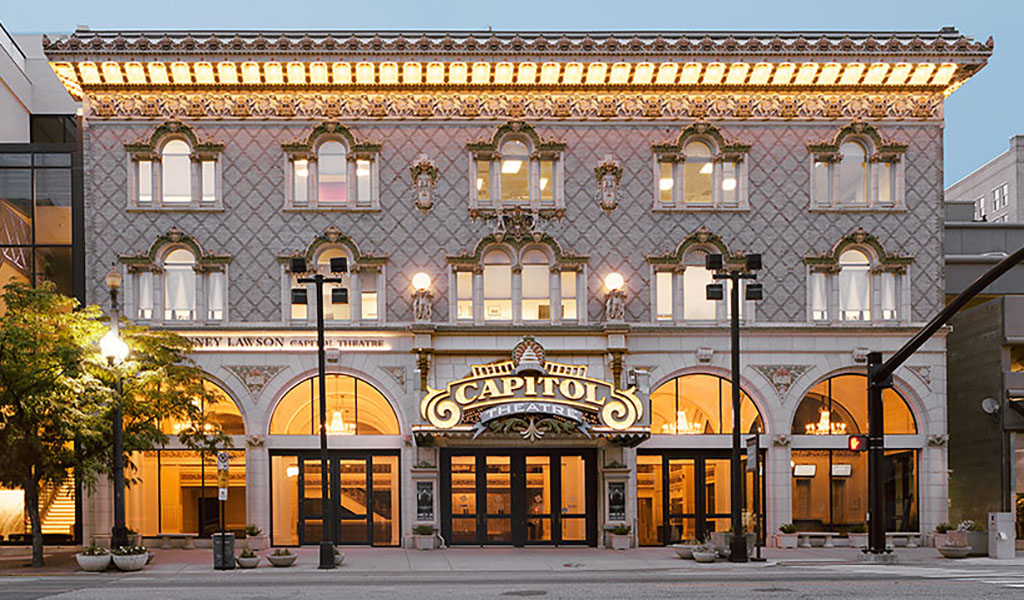 Capitol Theatre "Take Your Seat In History" Campaign
The Capitol Theatre is the grand dame of Utah entertainment venues and holds a special place in the hearts of theater-lovers state wide. Generations of memories live in the Theatre and many more are waiting to be made.
On Monday, October 15, Ballet West, Utah Opera, and the Salt Lake County Center for the Arts launch the joint Take Your Seat in History campaign. This campaign allows patrons to name a Capitol Theatre seat for a ten-year period and support the programming in the venue.
Patrons are encouraged to "find their seat" (for as little as $100, all tax deductible) at artsaltlake.org. Seat sales begin on Monday, October 15 at 10 a.m., and will be sold by ArtTix.
"The Capitol Theatre is a treasure for Salt Lake City residents," said Ballet West Executive Director Michael Scolamiero. "Our patrons have a deep connection to this theater where ballet, opera, and art thrive. I know they will be excited to have their names, or the names of their families, engraved in a place where they have laughed, felt inspired, and made lasting memories."
"We are pleased to join forces to work collaboratively on the Take Your Seat campaign with our partners Ballet West and the Center for the Arts," said Paul Meecham, President and CEO of Utah Symphony | Utah Opera. "This is an innovative way for our audiences to personalize a little piece of the Capitol Theatre and support and preserve the artistic legacy we all strive to create and nurture."
All contributions will be split evenly between Ballet West, Utah Opera, and the Center for the Arts, which will use their portion of funds raised to establish the Capitol Theatre Innovation Development Fund.
"The Innovation Development Fund will support eligible arts organizations create and perform new works at the Capitol Theatre," said Sarah Pearce, the Center for the Arts Director. "Our goal with this new program is to provide spaces and services to help build on the artistic legacy of this beloved Theatre."
The Capitol Theatre is owned and operated by the Salt Lake County Center for the Arts and Ballet West and Utah Opera are long-time Residents at the venue. ArtTix is the official ticketing agency for the Theatre. In spring 2019, the Capitol Theatre will undergo a major six-month renovation, including a seating reconfiguration on the Orchestra Level to include new ADA seats and a new center cross-aisle.