There is a lovely Eighties vibe in PYGmalion Productions' season opener of Tigers Be Still, a 2010 play by Kim Rosenstock. Each of the four characters struggles to cope with depression brought on by significant events or circumstances. And, in this pleasing production, a Utah premiere directed by Elizabeth Golden, the comedic touches bring out quite effectively the familiar sounding predicaments of the characters and the peculiar logic that underscores the script's dialogue.
The provenance for this play's creation does echo more than incidentally in Rosenstock's life experiences. Like Sherry, the enthusiastic art therapist who finally has landed her first professional teaching gig, Rosenstock had her own difficulties in launching her career. She had applied to numerous master of fine arts programs but had been rejected, based on a submission of a play she had written during her undergraduate days. But, in a week she produced the first draft of what would become Tigers Be Still and submitted it to Yale, where she was admitted to graduate school.
Since its premiere eight years ago at the Roundabout Theatre Company in New York City, Rosenstock has enjoyed a good deal of success. In addition to writing for television series such as New Girl, she has created a new workplace comedy, Girls Code, which has been greenlighted for a pilot that includes Paul Feig, the creator of Freaks and Geeks and the director of the 2016 remake of Ghostbusters. She also is writing the book for a new stage-musical adaptation of Working Girl, the hit 1988 screen comedy that starred Melanie Griffith and was directed by Mike Nichols.
The background explains why Tigers Be Still is an effective pop culture theatrical contemplation, an element that Golden plays up smartly in the new production. For example, Grace, Sherry's sister, is paralyzed emotionally by a bad breakup with her boyfriend – a role played with the right tones by Liz Whittaker. Grace drinks all day, apparently even when she appears to be curled up with a whiskey bottle and nodding off on the couch, the front-and-center prop of the set designed by Thomas George. Her only consolation comes in watching Top Gun, the 1986 film starring Tom Cruise and directed by Tony Scott, or in singing The Rose, the song written by Amanda McBroom and made famous by Bette Midler. In some scenes, we hear snippets of standouts from the Eighties: Danger Zone and Take My Breath Away, the Giorgio Moroder songs featured in Top Gun.
Meanwhile, Sherry is the play's antiheroine character played with perfect earnestness by Kaitlin Lemon. Indeed, Lemon and Whittaker provide some of the most satisfying counterpoint as sisters in the story. Sherry likely is a familiar character to people in their mid-twenties who are experiencing their own life crises about moving straight into the hellish realities of adulthood. But, Sherry also is determined that she can fix any situation – whether it involves Grace's emotional paralysis; Joseph (played solidly by Lane Richins), the principal who has his own emotional challenges but cannot separate himself from his rifle; his son, Zack (played charmingly by Jordan Briggs), who is riddled with guilt after his mother's death, and Wanda, her mother, an offstage character who nevertheless looms over every scene in the story.
Of particular note is how the actors portraying Sherry and Grace, respectively, convey an important underlying element in the story. At one point, Grace surely must have been the sister who had a tidy life with potential for marriage and lifetime happiness. Sherry probably dreaded the fear of rejection after college, wondering if she could ever find the job for which she was trained to do. Now, they've switched their roles. But, Rosenstock clearly has put the emphasis on Sherry, rejuvenated and revitalized. As indicated earlier, it is the provenance of this play that makes the dialogue feel credible and the actors' instincts take up the challenge effectively.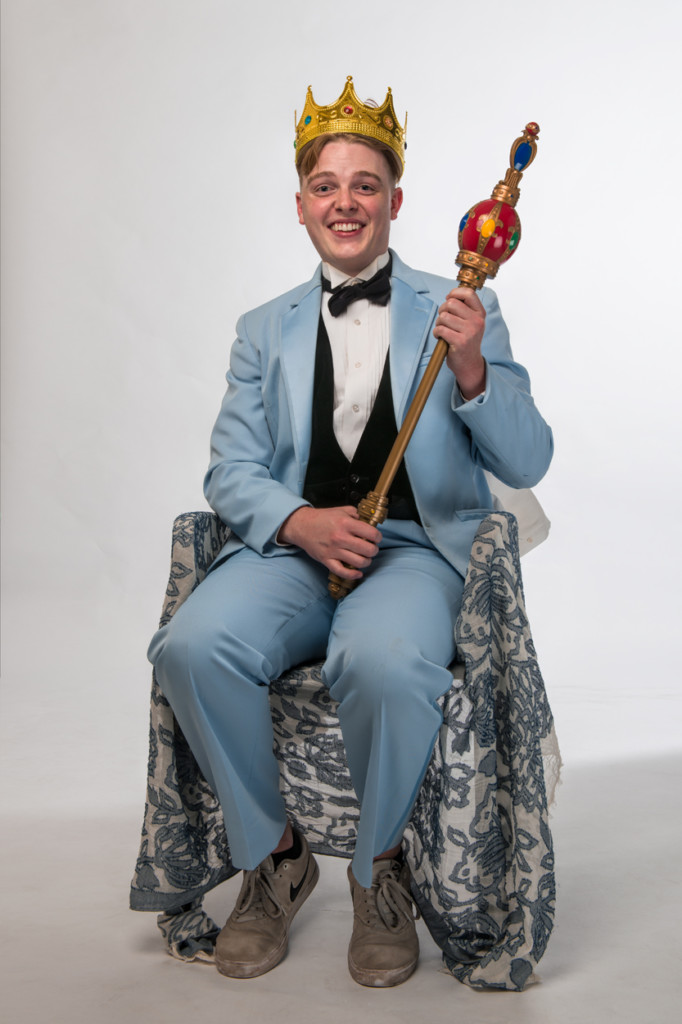 And, the production's elements amplify the comedic dimensions of the dark circumstances each character encounters sensibly without feeling gratuitous. At the beginning of the play, the centerpiece couch is covered with trash and by the end it's remarkably neat, even if some stuff had been stuffed in the cushion. It's an ordinary, even drab living room but the material comforts of liquor bottles, ice cream and movies and songs from the 1980s liven up the comedic potential. The cliché of popsicle art is used with good results, including Zack's ridiculously rudimentary basketball hoop. In one scene, Sherry is set to talk about her absent father but nothing is said while she stares off into the audience. In another Briggs and Lemon recreate the high school sweetheart days of Joseph and Wanda, playing it marvelously in a stilted manner.
Four performances remain: Thursday through Saturday, Nov. 1-3, at 7:30 p.m. and Saturday, Nov. 3, at 2 p.m. in the Black Box Theatre of the Rose Wagner Center for Performing Arts.
PYGmalion's season continues in 2019 with two plays by Utah playwrights: Wait! by Julie Jensen (Feb. 22-March 9) and Sweetheart Come (May 3-May 29), by Melissa Leilani Larson in a world premiere production.
For more information, see the company's website.