Three recent virtual events emphasize just how well three Salt Lake City performing arts institutions continue to sustain their creativity and visibility.
PLAN-B THEATRE: P.G. ANON
Plan-B Theatre always is a master of minimalism so its instrinic strengths are making an audio-only season to celebrate its 30th anniversary possible. The premiere of P.G. Anon, written by Julie Jensen and directed by Cheryl Ann Cluff, came off with wonderful results in a polished production.
Jensen's play, which was intended to be a live theatrical performance but then was tailored to meet the demands of an audio production as pandemic restrictions continued, calls for seven actors — which is typically larger than the cast for the company's world premiere productions. Furthermore, Plan-B adhered to the strictest of social distancing guidelines. Rehearsals were conducted with everyone staying at home and vocal performance tracks were captured on Tascam lav mic recorders, which made it possible for the actors' homes to have decent recording studios. Working with Cluff, sound engineer David Evanoff synced and finalized the master file at Counterpoint Studios.
As The Utah Review noted in its preview last month, Jensen's play presents three stories of women in different circumstances and in different times dealing with common and familiar fears, furies and frustrations of unplanned pregnancy. Jensen leaves each story open ended but there is no doubt that each story, acted and presented in a rhythm unique to the character's circumstances and time in which the narrative occurs, nevertheless is connected to each other thematically.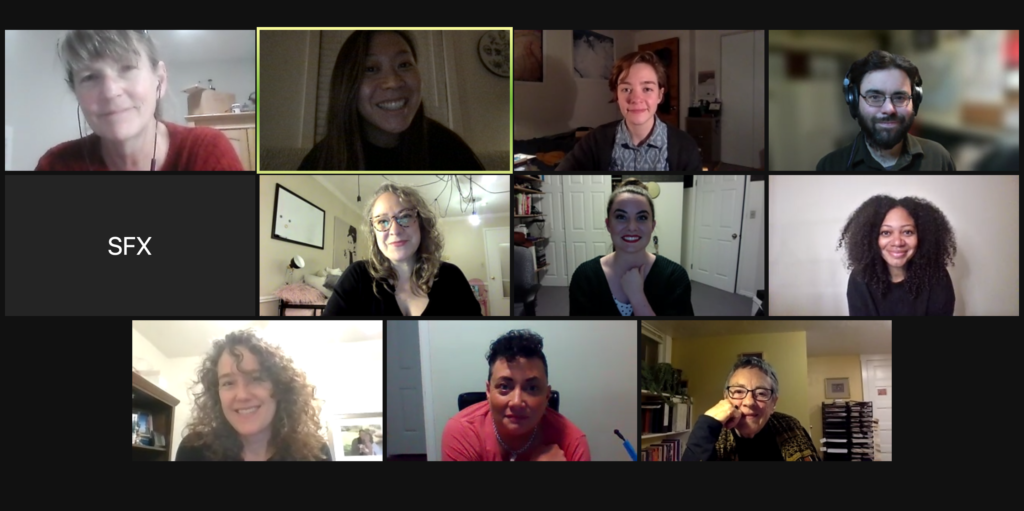 The production delivers fully on this promise. In the first act, April Fossen once again steps into a character with rock-solid conviction. At 46, Pauline immediately brings to mind a set of circumstances familiar to many Mormon women. Hoping that with her youngest son finally in school, Pauline, who is well educated (with three degrees), dreams about getting a job where she could even be content to work in a cubicle. However, she is pregnant once again, an unplanned prospect she dreads, considering she already has a "litter of kids," or "a choir of children." Listeners learn that she already has "failed" with one child and her youngest, most rambunctious son is testing her patience and that of his kindergarten teacher. Early in the first act, Pauline says, " It costs 260 thousand dollars to raise one child to the age of 18. We should all write that on our hands. You too, dear Lord, write that on your hand. Your multiply and subdue idea was wrong. Two hundred sixty thousand dollars to raise one child. We don't have 260 cents."
Pauline is exhausted and exasperated even as she perseveres through her matriarchal duties. The fantasy surrounding the miracle of childbirth gives way to many complicated realities, which are articulated perfectly by the "chorus" ensemble that appears in each story. This may have been the trickiest element to get right in an audio-only production but the ensemble (Latoya Cameron, Lily Hye Soo Dixon, Tamara Howell and Tracie Merrill) sets the relevant rhythm in each of the play's three stories.
Each act of the play sets up a question that ultimately demands the listener to consider what they might do if they were in the character's place. Jensen's plays always lead to clarifying perspectives not just for the moment highlighted in the scene but more importantly for the longer term. Pauline's story, for example, is anchored in 2016, as listeners hear news reports about Donald Trump's inexcusably lewd, sexist remarks about women. The zeitgeist of the moment underscores the larger sociocultural and sociopolitical realms many women such as Pauline must navigate, wondering continuously if they are respected enough and allowed to decide for themselves what they believe is best for themselves without sacrificing the genuine heart and soul of their own identities.
In the second act, Emilie Starr follows through with her own convincing portrait of the streetwise Tiffany, who adores children but also is tempted by the flashier, edgier, material elements of a life of high-risk adventure involving drugs, alcohol and sex. Meanwhile, Tammy Knox seems more attuned to realities than her friend. Tiffany sees her latest pregnancy as a chance for vindication. Her children are being raised in foster homes. Tammy reminds her that drinking vodka aggravates risks for fetal alcohol syndrome.
The story is set in 1998, as then-President Clinton was about to be impeached for sexual relations with former White House intern Monica Lewinsky. The young women talk about being angry with Linda Tripp who "snitched" on the president's actions. Meanwhile, Tiffany has glamorized perceptions about Las Vegas. Tiffany says, "I thought it was all, like, marble and gold," to which Tammy responds, "…Covering up a lot of full ashtrays." In her sharpest moment of clarity, Tiffany adds, "That's like our house. Looks great on the outside. But, like, the basement's full of sewer water."
The reverse chronology hits its penultimate moment in the final act with the story of Sheila, a soccer athlete about to turn 15, who is desperate to try anything to trigger her period, even as she fears that she is pregnant. Sheila's story takes place in 1991, during Anita Hill's testimony in the Senate Judiciary Committee hearings about being sexually harassed while working for Clarence Thomas, who had just been nominated to the U.S. Supreme Court.
Sydney Shoell does a fine job at capturing the extraordinarily complex counterpoint of a smart teen who is trying to resolve the situation and the fears it has generated while confiding in her 10-year-old sister (BItz). Here the ensemble presents an otherworldly jump rope chant that augments the fear Sheila is trying to overcome. What's more is the chant chronicles the zeitgeist of the moments in Washington, when a chamber full of older men are unswayed by Hill's testimony. The third act punches hard: Sheila tells her sister that life is full of "scary patches," adding, "That's the nature of life, Bitz. To be scared." Shy of 15, Sheila already is aware of the vulnerabilities and how they affect not just her but others like Pauline and Tiffany.
The production will be available Feb. 25 to 11:59 p.m. on March 7. It also is presented with the support of the Planned Parenthood Association of Utah, Stewart Family Foundation and The Blocks SLC. The play was commissioned and developed through the Rivendell Theatre Ensemble in Chicago.
Plan-B's season is available as a subscription series ($57) for the three world premieres, all audio productions. Each of the plays will be available for streaming as a podcast on the Plan-B website as well as on its free app. Listeners will be able to access the productions within specified run dates. Tickets for individual productions also will be available on a pay-what-you-can basis: As a guide, the regular ticket price would be $22 and there are no additional fees. Plan-B will send donation letters to individuals who pay an amount larger than $22 per ticket. For more information, see the Plan-B website.
RIRIE-WOODBURY DANCE COMPANY: HOME RUN
The pandemic has given many dance institutions the opportunity to explore and expand upon its relationship with film, which started historically by archiving performances. While creating dance specifically for the screen already had been gaining traction long before the pandemic hit, many choreographers also have become interested in finding a third way — a hybrid approach that strives to replicate as best as possible the kinetic effects and impact of a live stage performance of dance.
Ririe-Woodbury Dance Company's latest concert Home Run delivers on its title promise eminently in an hour-long film that comprises six pieces presented as if they would be part of a documentary film festival program. The film, which requires tickets for streaming, is available through March 11.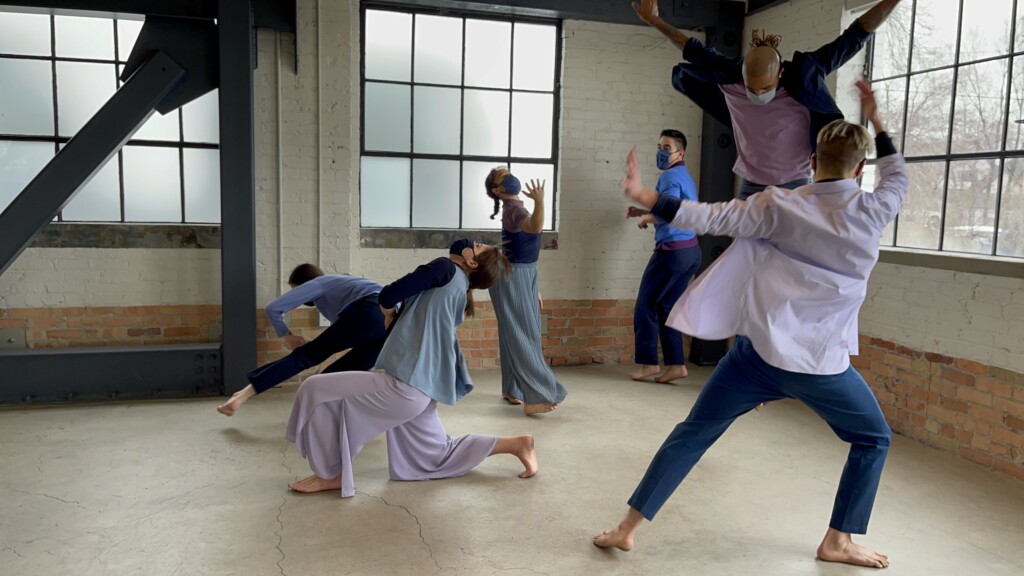 Five of the works are world premieres, including several filmed by Wonderstone Films. Daniel Charon, the company's artistic director, was inspired in part by the energy of absorbing the "cold open" sequences, for which the popular West Wing television series was known, in setting his new work. Winter's Light is utterly delightful— a veritable showcase of the movement excellence that one links directly to Ririe-Woodbury's core of six dance artists. There is a natural cohesion that leaps off the screen. Charon filmed, edited and scored the music entirely for the piece, which was performed in The Monarch complex space in Ogden, Utah. This piece is worthy to be submitted to any shorts program for a documentary film festival.
Another was Molly Heller's Full View, which brought five members of her Heartland Collective to the stage with the six Ririe-Woodbury artists. The work responds to this unprecedented time as a series of character studies occurring in an all-green set with props opening upward to a cloud hovering above. The atmospherics for the piece are nailed through the score composed by Michael Wall and Nick Foster, well-known local musicians who also are part of the Salt Lake Electric Ensemble, a group with which Ririe-Woodbury has collaborated previously.
Three pairs of Ririe-Woodbury dance artists also set works. Throughout the film, segments featured the paint grid installation piece of Woes by Megan McCarthy and Dominica Greene, which enhanced the festival program aspect of the Home Run experience. Don't Chew With Your Mouth Open by Nicholas Jurica and Corinne Lohner, who are clad in white underwear, would be perfect for the Utah Arts Festival's Fear No Film program or for video art documentary slots at festivals for short films. The piece resonates for anyone who might have decided how much propriety to ditch while being isolated at home during a pandemic shutdown. The coherent ensemble dynamics of a veteran and relative newcomer to the Ririe-Woodbury company come through exquisitely in And Again by Bashaun Williams and Fausto Rivera, with music by Wall.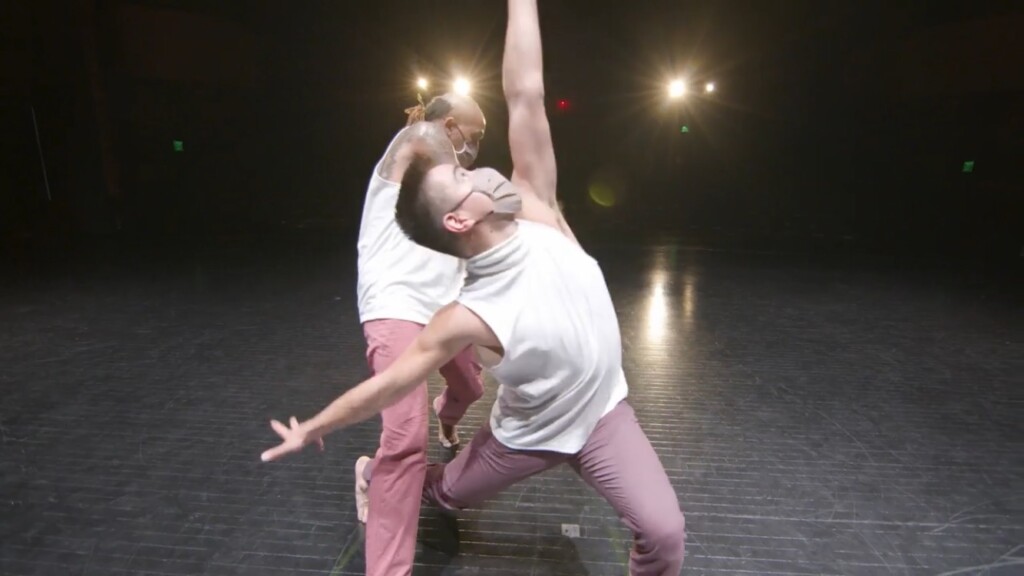 Home Run also featured an excerpt from Wash, a 1970 film, produced by Stanley and Judith Hallet​ and directed by Joan Woodbury, cofounder of the company. Gritty, amorphous and psychedelic, the film is an excellent reminder that what might seem like a caprice or novelty in one era has become widely accepted decades later as a valuable precursor to creative approaches, applications and media with fresh contemporary relevance.
Ririe-Woodbury also will stream live its annual benefit party on March 11 at 6 p.m. Details are available at the company's website.
The concert film is funded in part by the CARES Act and the Utah State Legislature through Utah Arts & Museums. This show is sponsored by Nancy and Richard Potashner.
For tickets and more information, see the Ririe-Woodbury Dance Company website.
REPERTORY DANCE THEATRE: REGALIA
The virtual setup for Repertory Dance Theatre's Regalia worked smoothly. The company's largest annual fundraiser also encompasses a competition for four choreographers to create and set a work for teams of seven dancers within four hours. Audience members then vote for one of the four pieces and the choreographer with the most votes wins the commission prize to set a new work for the company during its 56th season, which will begin this fall.
The biggest change from previous Regalias was that all of the work was set via Zoom connecting the choreographers to the dancers who performed the final work on stage at the Rose Wagner Center for Performing Arts. The filmed pieces were available last week and the event concluded with a live streamed hourlong event on Feb. 27.
Kaley Pruitt's Seeing Wider Still received the most votes and was declared the winner. Featuring music by Todd Reynolds, Kid Beyond and Boards of Canada, Pruitt's work had the aesthetic sensibilities of a Bang on A Can performance, the popular multidisciplinary music organization in New York City, and it was easy to envision its infectious appeal with audiences.
As Pruitt mentioned in an earlier interview with The Utah Review, she came to the process with 12 movement phrases as a starting toolbox. To use her time as efficiently as possible during the virtual rehearsal, she would work with three dancers at a time live on camera while the other dancers worked on the footage from the phrases she sent them and then switched out the groups as needed.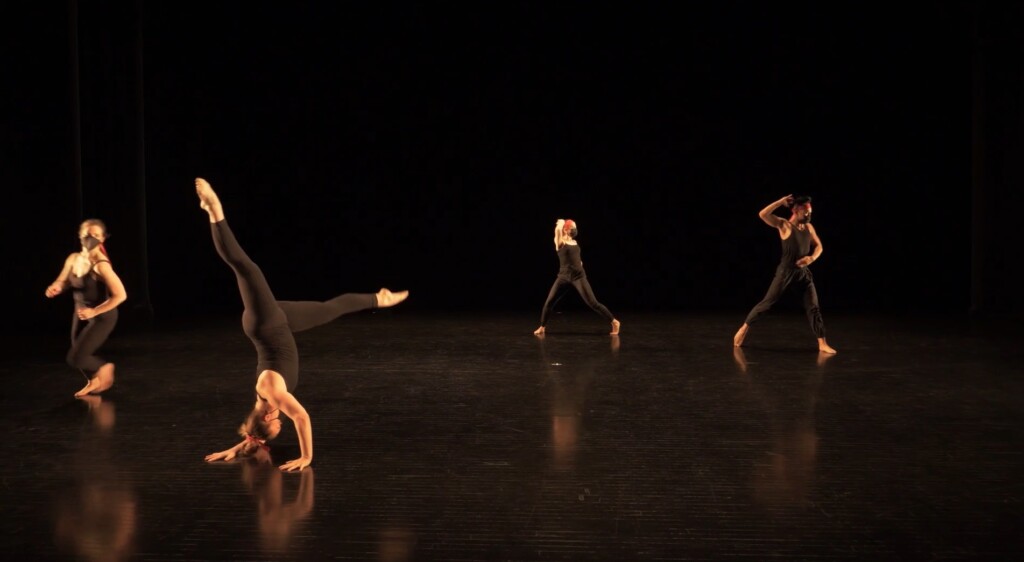 Knowing that audience members would be watching the videos on screens of all different sizes, she focused on what the piece would look like for someone watching it, for example, on their mobile phone. Thus, Pruitt's work incorporates full-bodied, high-energy, traveling movement with a good amount of athletic momentum. Thus, the work is not a dance film per se — in which the camera would capture the dance artist in close range — as much as it is a virtual solution to replicate the traditional Regalia experience for both the dancers and the audience. The final result achieved all of these objectives.
With her company Kaley Pruitt Dance which was established a decade ago in New York City, Pruitt has presented work across the U.S., ranging from comedic dance theatrical works to site-specific compositions and abstract concert pieces.
Other works included Two Cities, Seven PM, April Thirteenth 2020 by Anne Marie Robson Smock with her own music and text taken from Charles Dickens' A Tale of Two Cities and read by Wylie Thomas, along with Sanvean by Lisa Gerrard. With music by local composer Michael Wall, Ruby Cabbell set 6 Ft. Apart and Lauren Simpson set Sundial.