EDITOR'S NOTE: Part II of The Utah Review's feature package on Torrey House Press' 10th anniversary offers a roundup of reviews about THP's recent releases in 2019 and 2020. For Part I, see the centerpiece article.
As Torrey House Press (THP) begins its second decade, the press continues to ramp up its pace for new releases. A recent spate of releases in nonfiction, fiction, essays and poetry underscore the breadth and depth of fresh perspectives THP has sought in curating its catalog. The Utah Review presents 10 titles in this review roundup, along with a brief summary noting four other recent releases. Check the THP website for more information about the books along with ordering information. These titles also are available at or can be ordered at numerous independent booksellers across the country. E-book versions also are available.
The campaign for the Bears Ears National Monument has been extraordinary for numerous reasons. Among the most important is that it represented a coalition of five tribal governments – Navajo, Hopi, Ute Indian Tribe, Ute Mountain Ute, and Zuni – who have been centrally involved. However, few know a sufficient summary, at best, of Bears Ears history to articulate the penultimate reasons for its preservation in a way that is authoritative, conclusive and incontrovertible.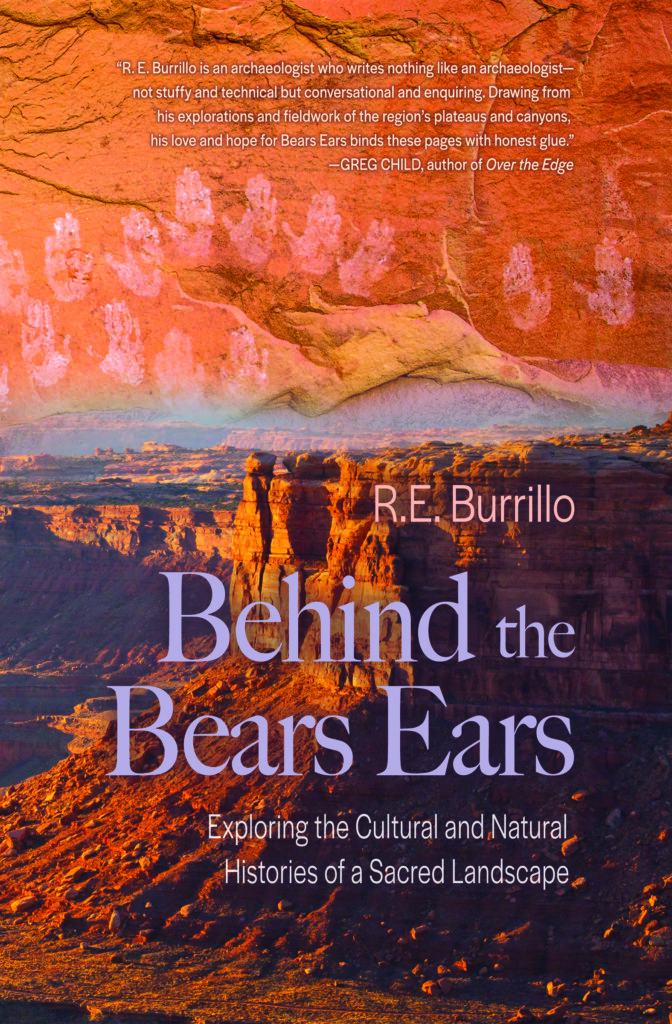 In Behind The Bears Ears: Exploring the Cultural and Natural Histories of a Sacred Landscape, R. E. Burrillo makes a commanding debut in a consistently fascinating distillation of the unrivaled mosaic nature of the land's history. And, like other THP nonfiction writers, Burrillo weaves humanizing dimensions — his struggle with Lyme Disease and a personality that echoes with the adventurist Edward Abbey and humorist P. J. O'Rourke — into a serious work of intellectual history.
On one level, Burrillo sketches out a path for reconsidering the historiographical approaches in chronicling the history of Bears Ears and the implications for archaeological methods and public scholarship. In acknowledging the dilemmas of achieving accuracy in describing "non-Western cultures, beliefs, and histories described almost entirely in Western terms," Burrillo hopes for a "foundation … on which a multiplicity of perspectives might be built, as opposed to a concrete and dogmatic edifice to be venerated on its own." His book is an effective prologue, amply setting the research stakes for this far-reaching cultural and intellectual project. As he explains, "scientific archaeologists and traditionalist Native Americans haven't had what you'd call a comfortable relationship," and while things are improving, there is still plenty of room to improve on the qualities of "respectful dialogue, collaboration as equals, and acknowledgment that traditional cultural knowledge is just as important as scientific data in puzzling out the human past." Indeed, Burrillo's suggestions make the compelling case in dealing with the problems of looting archaeological sites from criminal, moral and ethical vantages. He summarizes it elegantly: "The point is that some objects have meaning and importance that are firmly anchored in familial or cultural milieus, and therefore shouldn't be bartered at the same swap meet as everything else. Discerning the sacred from the mundane isn't easily quantifiable, which is why reciprocal dialogue between the Indigenous and archaeological communities is of paramount importance for studying the material-historic record of North America."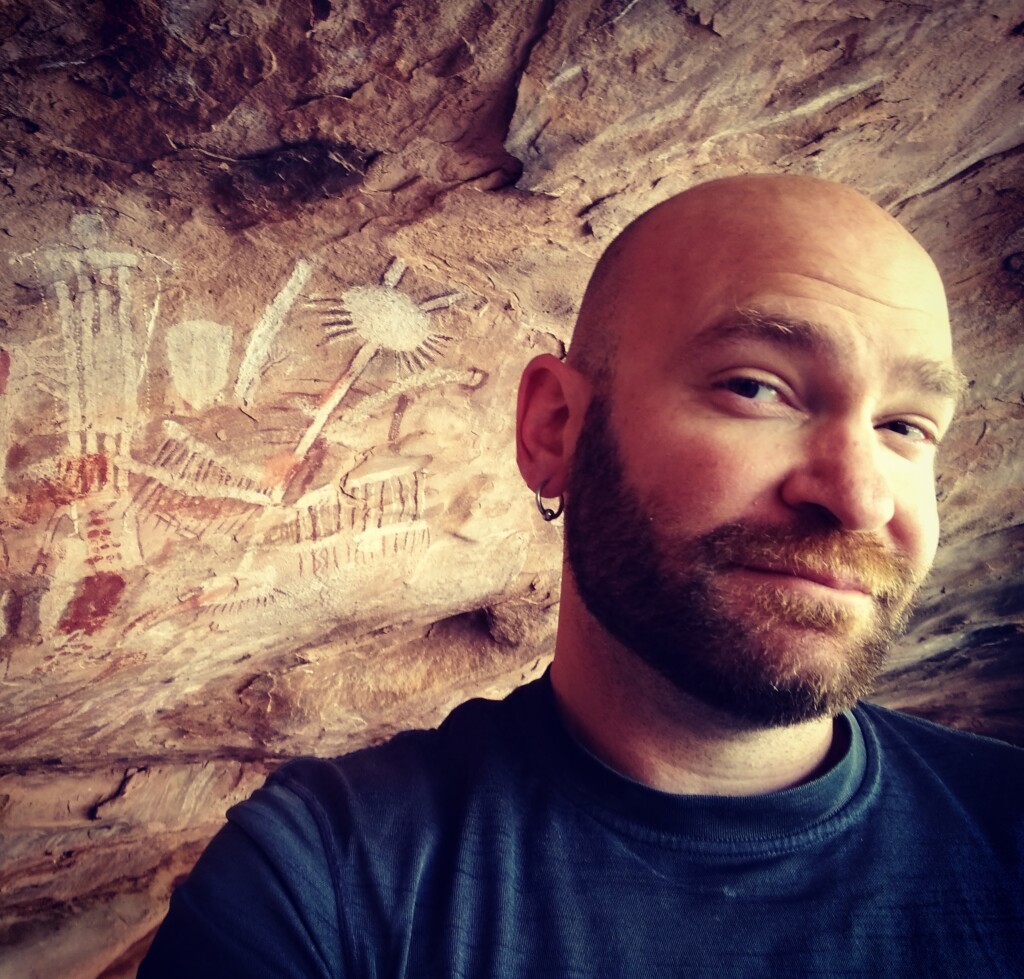 Moving beyond these concerns, readers will be riveted by the historical tour, which highlights just how inadequate the Western conceptual frames have been in explaining what occurred in a land area that enthralls its visitors and supporters with its complex of enigmas and mysteries. Regarding the sociocultural phenomenon that animated Chaco civilization's prestige, presence and owner, beginning around 850 A.D., he explores the possibilities of Chaco as "a maize-based food bank," a "gigantic granary complex" or "redistribution center," for the lack of more sufficiently explanatory descriptors. Burrillo tantalizes his readers with many gems: "Bears Ears wasn't just the backwoods of Mesa Verde. It was also, for a relatively short time, the backwoods of Chaco. The might and majesty that was the Chaco social system emerged out of the aggregating of various peoples from all across the region, after all, bringing their beliefs and traditions with them. Those traditions, styles, and ideas moved fluidly throughout the Intermountain West—and seemingly beyond—during the hey-day of Chaco's social system."
There are references to a megadrought during the middle 1200s when the area was "effectively empty." Summarizing the outcome, Burrillo writes, "Chaco's downfall (the entire Pueblo world) would have been like a mountain falling into the area—-not just a single splash but a series of reverberating sociocultural tsunamis."
What is most fascinating in Burrillo's book is how the reader is invited to revamp entirely their perceptions about the land on which they live. Bears Ears constitutes a supreme point of convergence for, as he explains, "at least three nomadic peoples—Ute, Paiute and Diné —sometime between 1300 and 1600." And, at least 25 to 30 Indigenous nations claim ancestral connections to the Bears Ears area. As the prospects grow for restoring the original designations of the Bears Ears National Monument in the forthcoming new presidential administration, Burrillo's book makes for exceptionally timely reading for those who advocate for and will work to ensure that, this time, the designation is permanent.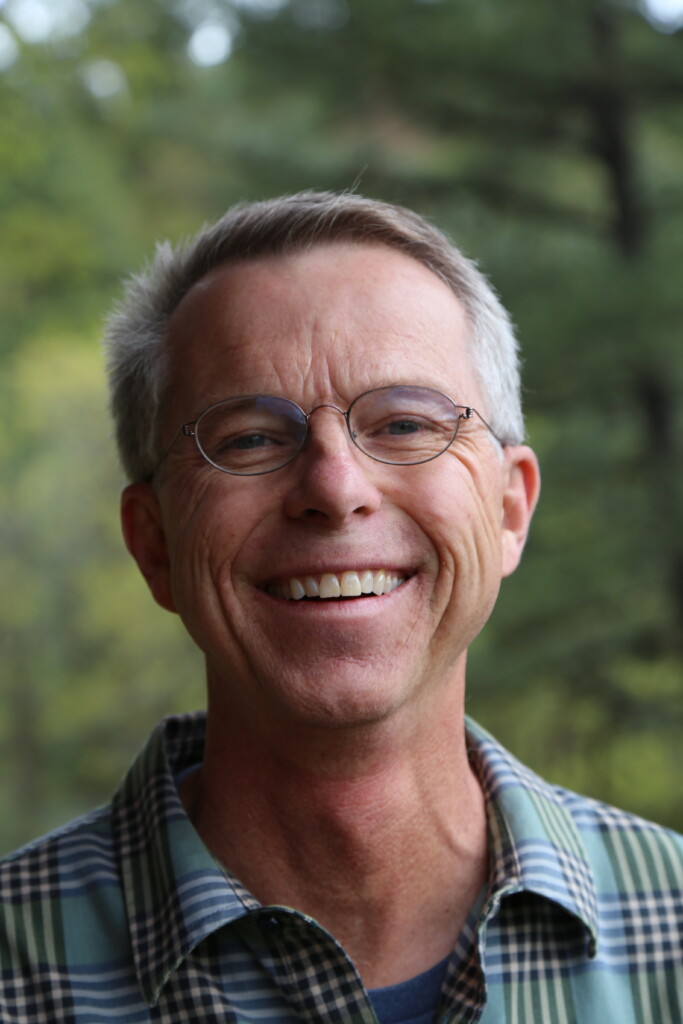 Scott Graham's National Park Mystery Series has been a solid fiction winner for THP and the latest story (the sixth in the series) surely will delight — Mesa Verde Victim, set near Durango, Colorado and Gunnel Canyon on the far western edge of Mesa Verde National Park. Readers who have been following the series will appreciate the continuity of characters from earlier stories, including Chuck Bender, archaeologist; Janelle Ortega, Chuck's wife who is a paramedic, and her daughters, Carmelita and Rosie.
Two murders occur in this latest story, with the first occurring in the family's backyard and the victim being Barney Keller, a local archaeologist. As previously mentioned, Graham consults Native Americans to ensure the details are credible and accurate. Furthermore, he incorporates them as good background without interrupting the narrative flow of the plot lines. Thus, this latest novel in the series makes for a suitable fiction companion to the themes and concerns Burrillo has raised in his Bears Ears book.
The story in Mesa Verde Victim revolves around several relevant points, most notably, the looting of archaeological sites. When Chuck talks to Carmelita about why the issue matters, he tells her, "Social consciousness, I guess you could say. On account of how we've learned to be more respectful of indigenous people in general and Ancestral Puebloans in particular." Amplifying a point Burrillo raises in his book, Graham gives his main protagonist the opportunity to explain why the reference of Anasazis is incorrect. "To the Navajo people, Anasazi means 'ancient enemy.' But Navajos see the Ancestral Puebloans as their ancestors, not their enemies," Chuck explains. "Plenty of Native Americans don't like the term 'Ancestral Puebloans' either, though, because puebloan is a Spanish word, and Spaniards showed up here in the Southwest and ruled Native Americans by force five hundred years ago."
For lovers of mysteries, Graham does justice to the genre, thanks to his due diligence in research and getting even minor details just right. It also is an entertaining read; a satisfying page-turner that will not be easy to set aside.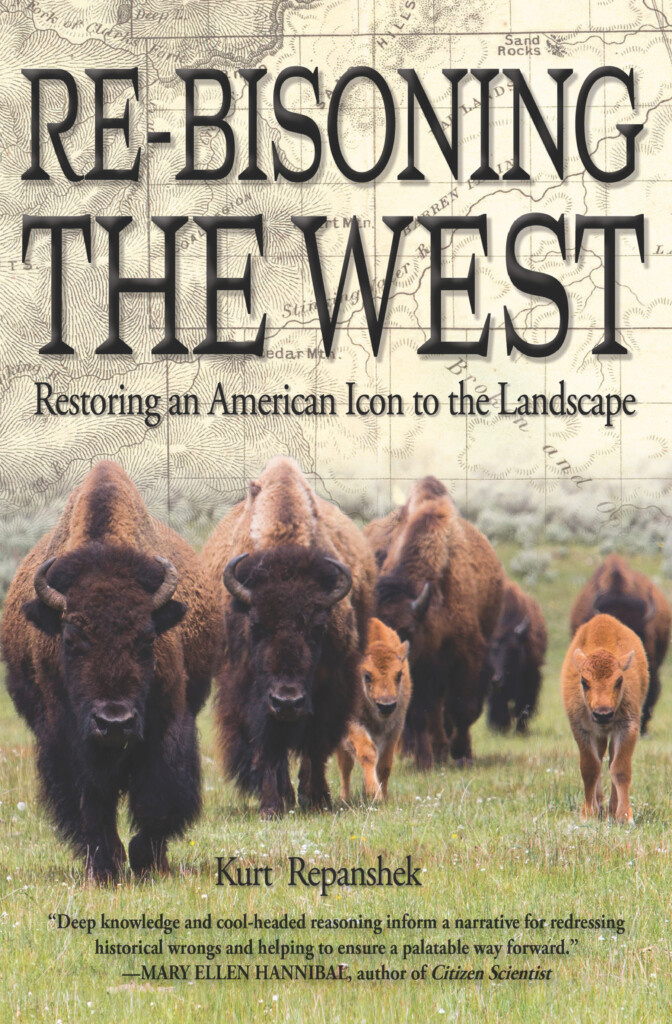 On both sides of the genre aisle — fiction and nonfiction — THP authors excel at incorporating the historical perspective to magnify just how enduring the concerns we often identify as urgent contemporary problems are and have long existed. To wit: Re-Bisoning The West: Restoring an American Icon to the Landscape by Kurt Repanshek. Early on, Repanshek dispenses the history of the iconic significance of bison, which was designated as the national mammal of the U.S. in 2016. Previously, the bison's image appeared on the back of the Indian Head nickel which was minted for a quarter of a century until 1938. It became a symbol of the U.S. Interior Department in 1917 and became part of the National Park Service arrowhead emblem in 1952. More broadly, he addresses the timeless majesty of bison, which was captured as early in the Altamira, Spain cave wall drawings: "If the image alone didn't reflect enough respect for the animals, it was further enhanced and given lifelike qualities by the artist's use of rippling rock wall contours to add heft, some muscular definition, to the paintings." He makes a damn good PR case for bison as ecological engineers who are more effective in using and conserving natural resources, especially grass and water. Historically, Repanshek adds, bison have provided the quintessential cupboard for the development of human civilization.
Once he has dispensed with the icebreaker trivia, Repanshek skillfully sets up the challenge of dealing with specific questions that drive the narrative through the remainder of the work. One deals with Montana's opposition to Yellowstone bison and the impacts such a decision would have on efforts to expand bison herds. Another deals with fortifying the critical catalyzing role Native Americans will play in building herds.
Repanshek's spirited writing finely focuses the eye on just how controversial, complicated and contentious the efforts have been to reclaim a species that once was given up for extinction. He quotes Robert Utley, chief historian of the NPS, who called the loss of bison "a cultural catastrophe."
Repanshek captures the confounding dynamics memorably, noting that "sometimes there is a will, but not a way to success. Sometimes the way that seems obvious is blocked." And, with politics thrown into the mix, clarity is smeared by arrogance and ignorance. The solutions are promising, especially for how the proof of concept has been achieved. For example, the Fort Peck reservation, the ninth largest in the U.S. and located in northeastern Montana representing the Assiniboine and Sioux peoples, is ready as an "incubator of sorts for bison." The protocol for ensuring the health and safety of Yellowstone bison from brucellosis, a highly contagious disease, has worked, Repanshek notes, because the animals have been successfully quarantined first for a period of five years and then held for another year to ensure that the animal does not display latent signs of the disease.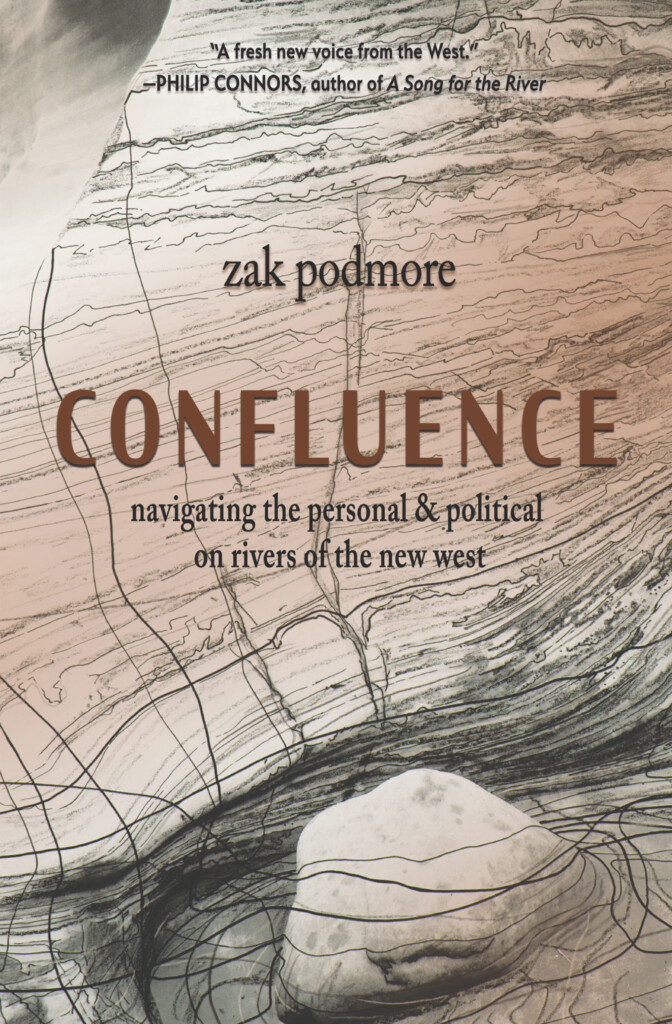 However, Repanshek does not mince words in criticizing Montana officials, who side with the position of ranchers believing that bison are the animals responsible for spreading disease to elk. He calls their position "illogical, even blockheaded." Citing peer-reviewed research published by the National Academy of Sciences concluding that elk, not bison, are primarily the problematic sources of contagion, he argues vigorously on behalf of the efforts, echoing the work of scientists who believe the Yellowstone bison are the most ecologically viable. He explains, "Yellowstone's bison are widely regarded as the only herd in the country that has descended directly from animals that occupied this landscape from time immemorial. Their genetic 'knowledge' is rich and robust with wildness and instinctual behavior. As with their ancestors, these bison confront natural selection on.a daily basis, whether the challenges come from predators, the weather or breeding competition."
The building of bison herds is yet another example of how scientists and Native Americans are closing the gap and finding a new spirit of consensus and support, a point prominent in the Bears Ears research, as Burrillo has noted. Quoting Jason Baldes in Wyoming, who has been working with the Eastern Shoshone and Northern Arapaho peoples to place bison on the Wind River Indian Reservation, Repanshek effectively draws the existential connection between cultural appreciation and conscientious economic development. He shares Baldes' words: "Of course, economic development is a huge issue and tribes need access to capital, but for me, we have the opportunity to treat buffalo as wildlife with the greatest respect potentially available of any reservation. The cultural benefit for having buffalo and having access to them for sustenance, that's more important than the monetary gains of marketing the meat." It is precisely why books like these matter, as they contribute a fully formed 360-degree analysis of the pertinent dimensions of a problem that often has been treated in the press as a localized or peculiar debate without bothering to plumb the layers of its profound significance, especially when it directly affects the voices which historically had been disempowered and disenfranchised from the policy table.
Zak Podmore, a Bluff, Utah native who is a film producer and a Report for America fellow at The Salt Lake Tribune, always invigorates his reporting on conservation issues and Utah politics with a passion that comes through with a firm, exhaustive grasp on facts, research, details and incisive interviews. In his book-length debut, Confluence: Navigating the Personal and Political on Rivers of the New West,
Podmore's intrinsic professional strengths translate beautifully to this introspective journey that strikes an exquisite, subtle balance between empirical realities and vigorous philosophical questioning. The impetus for Podmore's journey is emotional and profound, starting after the death of his mother — a river recreation enthusiast — who succumbed to cancer.
The journalist's natural capacity for irony shines consistently throughout Podmore's text for the epiphanies that are revealed. Regarding the Morelos Dam in 2014, near the U.S.-Mexico international border, he recalls how water was released for two months without a break:
Wasted. In the West, water is money. And the thirsty Mexican sand was sucking up money like executive bonuses at a failing bank. Each drop of water that sank into the sand, ran out of a child's hair, or fed a seedling cottonwood would never irrigate a cash crop or turn a water meter. And—who could say?—some might even be lost to the sea, Talk about diabolical.
The impact of human presence on the Colorado River was immense, a topic that is explored extensively in Confluence. Referring to a span of less than a century, Podmore notes that one-tenth of the original wetlands remain and most of that is marshland formed accidentally at La Ciénega de Santa Clara, beginning in the 1970s. Mexican farmers had complained that the water being carried across the border was too salty for agricultural uses so the U.S. government started building a canal in southern Arizona to transport it 60 miles across the area that once was the delta. The canal, however, was never finished and ended in the heart of the desert. As Podmore summarizes, "Water spilled out onto the flats, far from any town and within in a couple of decades 40,000 acres of wetlands had reappeared. The accidental marsh now supports 280 species of birds, and every winter 300,000 migratory birds flock to Ciénega."
Podmore's philosophical inquiries are elemental to his river trips. As he traverses the lower Colorado River, he talks about Georges Bataille's 1949 economics book The Accursed Share, Volume I and the implications of profit objectives in postindustrial capitalism. Podmore ponders Bataille's thinking that we "can either be stewards of waste—that is, we can find less volatile ways to burn off surplus wealth that can't be made productive— or we can be its victims." Linking to the earlier discussions in his text, Podmore adds that we have "almost forgotten how to waste. There are exceptions, however, such as taking 105,000 acre-feet of perfectly good water and letting it drain into the desert." As Podmore ponders Bataille, moving from the examples of building Tibetan monasteries to the human sacrifice rituals that the Aztec carried out, he concludes that "the goal of ancient rituals was not primarily to please the gods in hope of some future return, [as] Bataille claims, but to be present among the gods at the moment of ceremonial waste." Confluence succeeds, especially for how Podmore encourages readers to evaluate and revise the rhetoric and vocabulary we use to contemplate and contextualize our policy approaches in water usage and conservation.
An excellent companion to Podmore's Confluence, The Oasis this Time: Living and Dying with Water in the West by Rebecca Lawton, comprises 15 essays representing North American landscapes that are arid but, nevertheless, where water always is the underlying place in the narrative of the place. A fluvial geologist and former river guide, Lawton matches Podmore for elegance in synthesis of place and ideas. In The Sentinel, she captures the irony of a "screaming, wild, rain-fed flood" in the desert "that upends elder palms and carries off seedlings, prying loose their shallow roots." She weaves through images of precariousness and vulnerability with the thematic heft of the intended metaphors. "The mud floods leave silty scars on remaining trees, dozens of feet above ground," she writes. "Look up in a palm canyon and you're bound to see high-water marks far overhead. Death by water in the desert: one of nature's greatest ironies."
Likewise, her essay titles are as wry and dry in humor and relevance, such as Send in The Clowns, referring to river trips in the Grand Canyon. She explains "river canyons… are places of secrets, too; hidden green grottoes never dreamed of by the sun-dazed visitor who spends the obligatory ten minutes at the South Rim … and unexpected friendships, cemented by the cooperation to get down 224 miles of world-class wild river."
Among the most consequential essays is Inappropriation, extracting yet another dimension in a broader theme about the challenges of authenticity in Western storytelling and the necessity of extending the historical lens to as far back as possible. It is a testament to the ignorance of evident inadequacies, especially if one fails to acknowledge that "a language had preceded theirs which incorporated water. Its vocabulary survived in durable material that outlasted even the bones of their authors." In concluding the essay, she writes, "As for appropriation, it'd best called inappropriation, or the flagrant assertion of self over land, water and cultural identity. It matters when we do it to the people. It matters when we do it to the water. No being should have to fight for sovereignty[.] … Same goes for the very streams flowing from the mountains of his homeland." Lawton's articulation resonates beautifully with the historiographical challenges her peer authors have raised in their respective THP published books. Lawton amplifies the risk of what might be lost in the storytelling if one ignores the dangers of subjugation and the dismissive attitude toward Indigenous wisdom.
The distinct voice of a young climate activist who also is a third-generation Utahn who learned to ski at the base of the Wasatch Mountains and whose grandfather played a major role in developing the state's ski tourism industry makes Shaped by Snow: Defending the Future of Winter a read as fresh and bracing as the first winter trip on the slopes. Making her debut as an author, Ayja Bounous ably adapts a formula that has succeeded in the nonfiction offerings of her veteran literary peers. She speaks eloquently about the dilemma she confronts early on in the book. "My relationship to snow is an unsolved problem. Climate change is threatening snow in the American West, causing moisture to fall as rain," Bounous writes. "When I ski, I participate in an industry reliant upon fossil fuels for operations and transportation. When I travel too the mountains, ride chairlifts, or spend time in resort buildings, I release carbon emissions into the atmosphere, contributing to climate change." She acknowledges the tell-tale signs of a changing climate within the context of an industry she knows well. Resorts open later in the season because early snowfalls are insufficient or nonexistent. They shutter earlier every year while finding new ways to draw users during the warm seasons by building up lines and mountain bike trails or hosting summer food and music festivals. Meanwhile, mountain goats must ascend progressively to higher elevations every year in foraging for food.
Readers also are introduced to her family's legacy in building Utah's winter tourism scene. Her late grandfather Junior Bounous helped develop Snowbird and Powder Paradise is named in his honor. The younger Bounous writes lovingly about the special meaning of the natural beauty in that specific spot. "One of my grandpa's favorite trails in the world starts at the top of Hidden Peak and descends into Powder Paradise," she writes. "He's summited peaks and backpacked through deserts, but this beautiful yet simple gathering of copper and green, accessed only during the summer through the gates of paintbrush and lupine, holds his heart within its moon-shaped curves. I couldn't tell you why exactly, that's between him and the mountain."
Bounous also finds the winter recreation analogy of Thomas Paine's casual thinker or advocate— the colder version, so to speak, of the "summer soldier and sunshine patriot." She worries the most about "climate neutralists" — "those who believe in climate change if you ask them, but who are neutral when it comes to changing political policy and taking action against oil companies—[and whom] seem to forget that climate change exists during heavy winters." Depending on how good or bad the snow is from one winter to another, Bounous notices a change in the volume and nature of climate change conversations. The challenge, she adds, is finding the way to keep those discussions going all of the time before it is too late.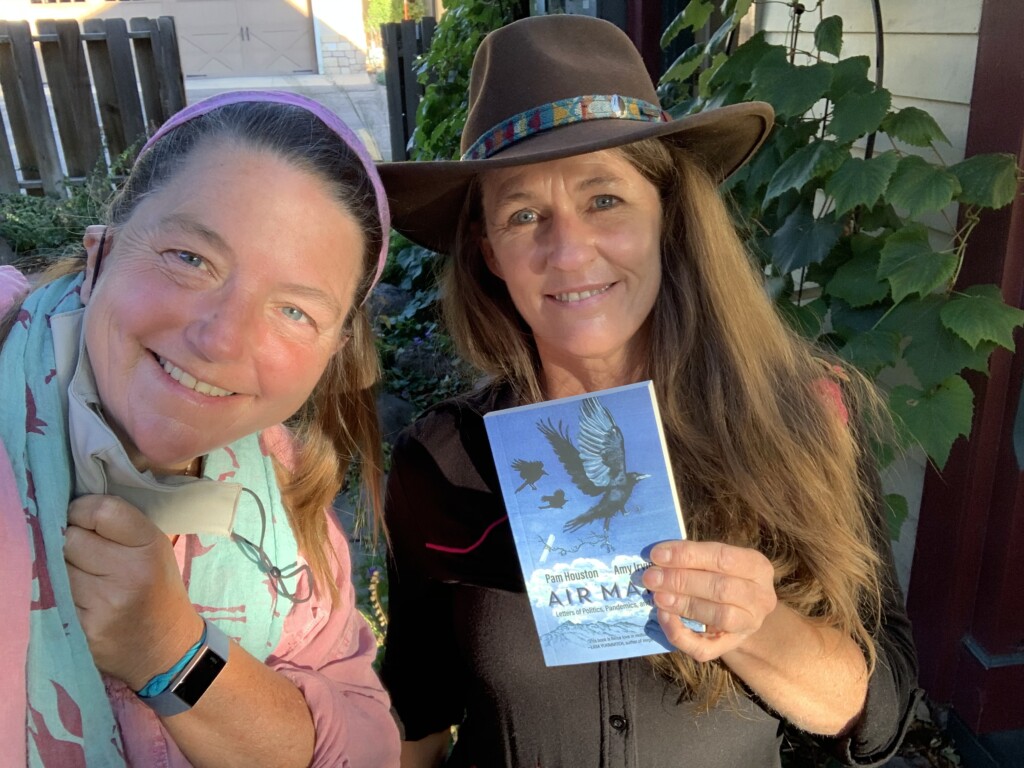 When Orion magazine asked Amy Irvine (Desert Cabal: A New Season in the Wilderness) about which writer she would like to correspond with as part of its online pandemic column series Together, Apart: Letters from Isolation, she mentioned Pam Houston (Deep Creek: Finding Hope in the High Country), who had contacted her through a Facebook post. Although they had yet to meet each other for the first time in person, they started writing letters to each other, beginning in late March. In October, their correspondence was compiled and published as a small book Air Mail: Letters of Politics, Pandemics and Place.
It's a sharp read with a natural literary chemistry. Irvine has described it as a "pre-election, epistolary polemic." About the COVID-19 pandemic, Houston writes, "I can't help but wonder what reevaluation of our priorities might come out of it… Will we remember that we are actually nature, and neither its master, nor the beneficiary of its charms?" The exchanges are elucidating and the writers pick up the cues, as if they had known each other for a long time. They ask each other the questions that many of us have posed in some variant throughout 2020. Irvine asks Houston, "I'm also curious to hear you say more about 'being' vs. 'doing.' That seems like a major reset for America. How do you think we might manage this shift?" Meanwhile, Houston asks Irvine about the changes she sees in her students relating to the natural world and about the extent of influence a teacher and mentor might have. Irvine mentions how she assigned Houston's book to her nonfiction writing students—"women who have never stepped foot into a wilderness area and likely never will. It's such a big-hearted story, and it prompted these students to scan the perimeter of their lives, to examine how they were shaped by place."
Houston tells Irvine how challenging it is to write anything at the moment that is not related to the pandemic. Houston is working on a collection of short stories with the main character being a retired clinical psychologist [Maggie] who has worked in maximum security prisons and is now mentoring young professionals to do similar work. Houston adds, "Maggie has exactly the right attitude for a good COVID story,"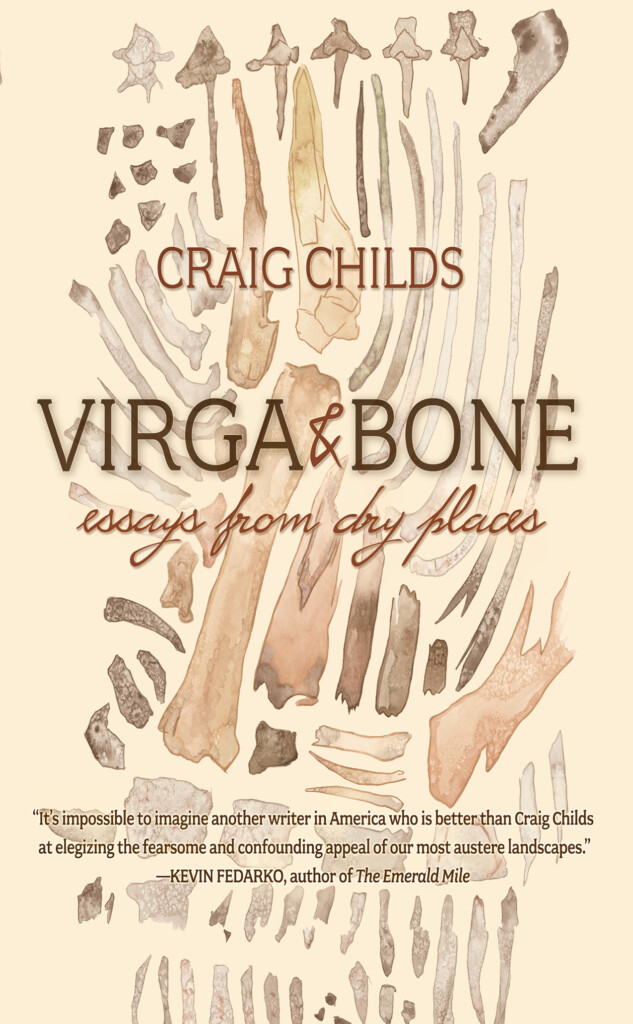 Indeed, like so many Americans this year, they were as worried about the elections and the inevitable outcomes— topics that draw some of the sharpest polemics in the book. But, as writers, they also were eminently self aware of themselves and the potential impact (or lack) of their words and the letters featured in Air Mail. Irvine writes that if reading these letters at some future point, "I would be intensely aware that we are two healthy white women in respectful, loving relationships who have the enormous privilege of doing meaningful work from home, with plenty of food socked away and some of the most beautiful and accessible wild lands all around." She adds, "Like you, I worry that our voices are the last voices to be heard right now. But that's not quite right, is it? Our stories still matter. Who knows which stories will change the world?" It is this sentiment that makes Air Mail a perfectly timed book with all of the good questions included to read and discuss with others.
The language in Craig Childs' Virga and Bone: Essays from Dry Places is sumptuous and vivid in every instance. This is a small book par excellence as Childs' writes with enviable concision and richness of depth in these miniature essays about Monument Valley, Sherlock, Mexican dunes and the Sonoran and Mojave deserts, to name some of the locations. As he mentions early in the book, "If you're going to be in the desert, I recommend encountering it in all of its forms. Rain, rock, dry, sand, canyon, mesa, beach."
Childs' literary rhythms are phenomenal. Standing outside a biosphere reserve in a northern Mexican desert, he notices a sign: NO MOLESTAR LA FAUNA. "The phrase rolls off the tongue. Don't molest the animals. Don't pick up desert turtles or pet rattlesnakes. The flora, while we're at it, needs no manhandling or groping, no more stately dead ironwoods stripped for campfires," he writes. "We could save a planet obeying signs like these."
In a plane above Arizona's Tucson Mountains where he spots a sheet of virga in the distance, he contemplates the Navajo word for water (tó, which is pronounced twuh), noting "the word shortened at the end, the sound of a drop of water landing. Virga is a Navajo koan, the sound of one drop not landing, waterless for those down below." Childs adds, "My word for water sounds like want, sounds like desire, which might not be so different from the Navajo. Can we fly through? I asked. The pilot looked over at the sheen of drizzle, a single curtain. He judged distances and potential turbulence in air that had been stable since we left the trading post half an hour earlier. He said we should find out and tipped the plane, her wings shading us from the sun as we arced toward this floating steamship and its diaphanous trailer."
The essays pop abundantly with gems. The Panamist Dunes are egg whites whipped up into peaks of Panamist Valley, a pearl seated in a thuggish pendant." In Death Valley, he marvels at the dominance of salt, where "precipitation goes under when it lands, as if stepping on a trap door, falling into a transient water table that floats beneath the surface within a nearly solid matrix of salt. That's the top of basin-floor hydrology."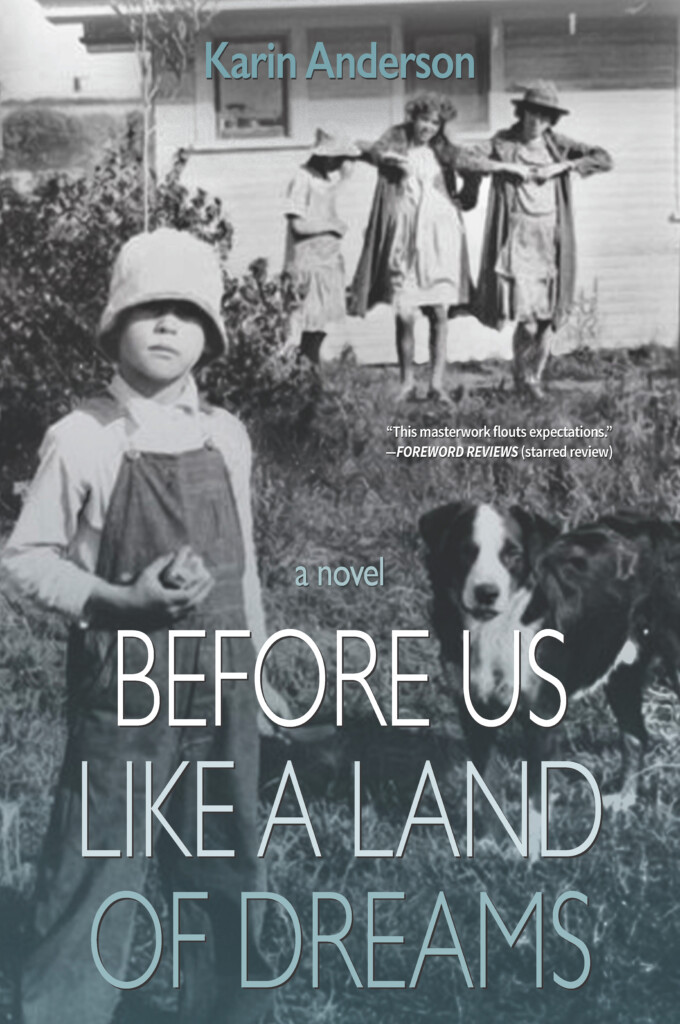 But like his peer THP authors, Childs also contemplates the larger themes that animate and drive the epiphanies of stirring new voices in the American West. In the brilliant Exposure essay, set in the Black Rock Desert, readers encounter Burning Man references and the natural resonance of Burrillo's exploration of the Bears Ears history and Lawton's oasis contemplation on "inappropriation." Childs writes about himself feeling like an illegal alien, "walking over histories as if the earth were the only history; an error of arrogance and blindness I didn't know I had. Manifest Destiny had thinned until I could see through it, a genocidal publicity stunt, a slogan handed out on fliers to ensure enthusiastic followers." Childs' language exudes genuine humility without a hint of hubris or awkwardness: "The language I speak is the most recent to be heard around here, arrived at the eleventh hour from an island in a faraway sea, and I'd been speaking it thinking myself a prince, an explorer. Now I was exploring the trenches of a canyon looking for the way out." This small book is a superb offering in this format and genre.
Longtime listeners to KUER-FM, the Salt Lake City NPR affiliate, will remember Ellen Meloy who would write essays that were read on the station's Friday Edition show in the 1990s, a program hosted by Doug Fabrizio. Meloy died in 2004 but her essays have been transcribed from cassette recordings for Seasons: Desert Sketches by Ellen Meloy. In Utah where civility is advocated primarily to avoid offending the ruling plurality, reading Meloy's essays is the ideal tonic to set aside frustrations and rise above groupthink mentality or timidity about speaking one's own mind. Author Annie Proulx pens the foreword, starting with the correct assessment of how timely and timeless Meloy's essays are. Proulx offers up an example from 24 years ago just after the presidential elections that saw Bill Clinton win a second term: "Ellen Meloy was utterly sick of election jabber, of the inescapable faces on television and the incessant brainless repetitive rhetoric. 'What,' she says, 'has become of the honorable and decent public servant? You won't find one in either political party, so kill your television.'"
Meloy covered a broad range of topics from guns to the demonizing of wolves and to lawns (which she cites as an "endless cycle of doomed ecology") and the peculiarities of living in rural Utah. In Bluff, her essay about guns, she describes herself as a "token, squishy white doughball of liberalism who still believed that if you hated government, maybe you should do something really radical to change things, like vote." In the essay titled I Stapled My Hair to the Roof, she ponders the "dangerous amnesia" of demonizing animals such as wolves and bears while humans anoint themselves as gods, forgetting that they are mammals. "The man on the news implied that wolves have no place among us if they gross us out by jumping on Bambi and eating him without cooking him first. This is hubris. This is silly. This is very bad biology," Meloy explains. "Face it and be awed by the true wild. The wolf on your nature poster is a killer, a predator of supremes skill and endurance. The human in your mirror is an animal. Both revelations should humble and ennoble us."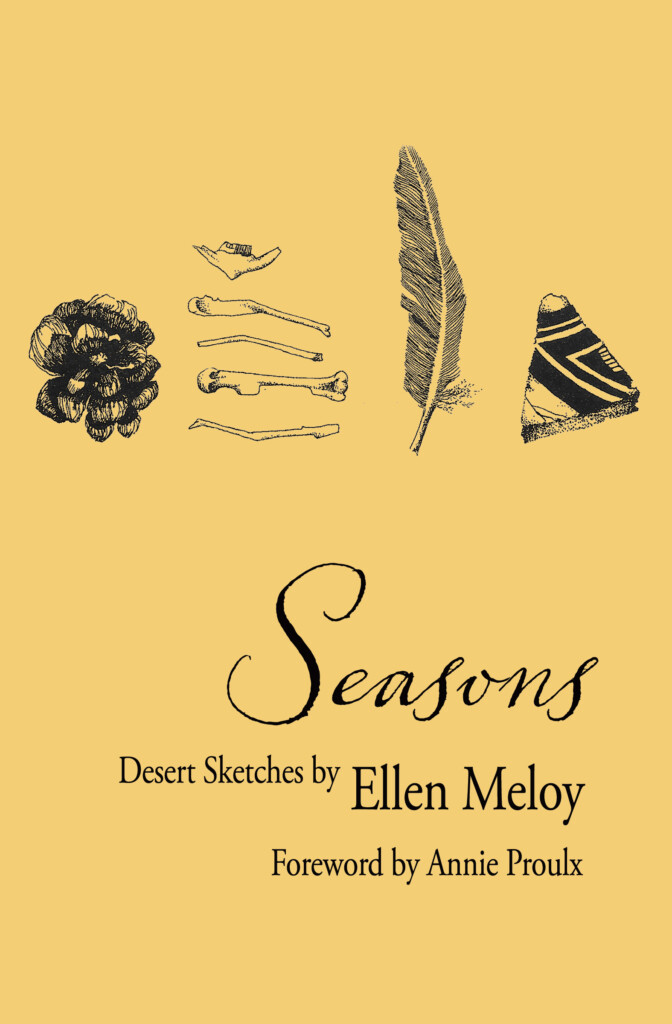 The Peculiar Home essay might be the best evergreen statement about living in Utah, especially in its more rural and remote areas. "Life unfolds in a landscape so beautiful it makes me ache," she writes. "I surrender to a nature more feral than civilized and don't care I'm this way, because everyone else here is eccentric too and wouldn't give a hoot if you wore your pajamas to the post office. My peculiar home within greater peculiar Utah is not typical, but it's allowed—and that gives life here so much meaning." After reading her essay, one wonders what she would have written about Utah and national events in the last decade.
Recently, THP has added branches in its catalog that represent paths one might not have expected before from a publisher that focuses so heavily on the environment and the matters of public and sacred lands. Stories about identity formation, memories and their impact upon the efforts to make sense of one's place in the Intermountain West, in both a contemporary and historical sense, have been moving to the front edge of the stage. And, in Utah, where the enterprise of tracing one's ancestry and genealogy overlaps cultural, social and economic objectives, the realization that one's family tree would contain enough surprising discoveries so as to reorient one's worldview is not accepted easily or automatically.
Before Us Like a Land of Dreams by Karin Anderson is a unique amalgam of fiction, where the threads of Mormonism, Shoshone identity, British settlers, and multiracial origins compel a deep reconsideration of what we think we know about out roots and our history. There are multiplexes of voices in the book, intersecting and overlapping but always leading to an immersive point of convergence.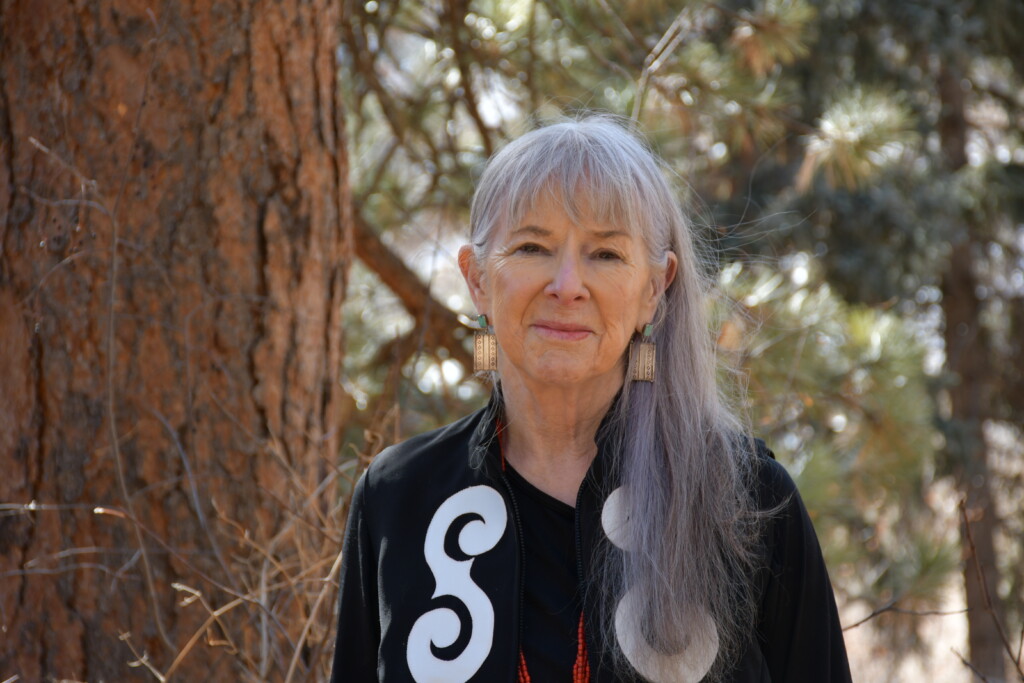 This is not a book to be read quickly, by any means, because the reader must periodically stop to absorb the connections that only now emerge from their long period of hiding and suppression to rightly unsettle our conventional perspective. Anderson periodically marks the arcs with helpful passages, as voiced by the characters. One starts, "Yet it was appropriate for first graders in Perry, Utah, a Mormon town so devoid of ethnic variations in the 1960s that I had to look up, in my fifties, which Native American tribe had coexisted with my Scandinavian ancestors in that vicinity only a century before." In Utah and Idaho, even Arizona and Wyoming, one often will grow up hearing the story of the Mormon movement coming to the West that it becomes so automatic, one character recalls, "but I was never told this story of the Navajo removal—not in school, not in church, not by one single kid who came up to love among us. It's not my story, but then again it is." How do we live with and accept our genealogy? As one character says, "We have to take the people we love as they say they are, or the world explodes into sparks and we burn out alone." Indeed, the ideal metaphor of the Intermountain West history as a mosaic becomes more convincing when fiction and nonfiction parallel so elegantly in expressing these memories and sentiments.
Other recent releases, which have not been reviewed in this roundup, include Linda Hogan's A History of Kindness, a collection of poems by the Pulitzer Prize nominated Chickasaw writer, celebrating both earthly and cosmic wonders; Accidentals, a novel by Susan M. Gaines, set in part in Uruguay amid a debate over environmental preservation for a new species of birds and the various motivations and aspirations of family members; and Monarchs of the Northeast Kingdom, a novel by Chera Hammons, set in Vermont about a woman who learns and takes over her husband's custom saddle-making business after he disappears in the nearby woods. Among the newest nonfiction releases is Betsy Gaines Quammen's American Zion: Cliven Bundy, God and Public Lands in the West, which deals with the question of how religious zealotry has fomented an ongoing status of lawlessness in the West regarding public lands and the American wilderness.