One of the most popular stops since the Utah Museum of Fine Arts reopened last year after its comprehensive renovation is Great Salt Lake and Vicinity, an installation artwork by Spencer Finch featuring more than 1,100 Pantone color swatches in the museum's G. W. Anderson Family Great Hall. The work constitutes a richly detailed field observational guide, created as Finch spent several days circumnavigating the Great Salt Lake. Finch selected Pantone swatches that corresponded precisely to the meticulous scientific-like observations he made of the colors during his trip. He also labeled in pencil each swatch with the originating source of color, which included trees, lake algae blooms, native birds of prey and other elements he observed as he circled the Great Salt Lake.
Finch, who is based in Brooklyn, New York, will talk about the work in a free presentation March 30 at 7 p.m. in the UMFA's Katherine W. and Ezekiel R. Dumke Jr. Auditorium. Guests are encouraged to arrive an hour before to view the installation and refreshments will be served.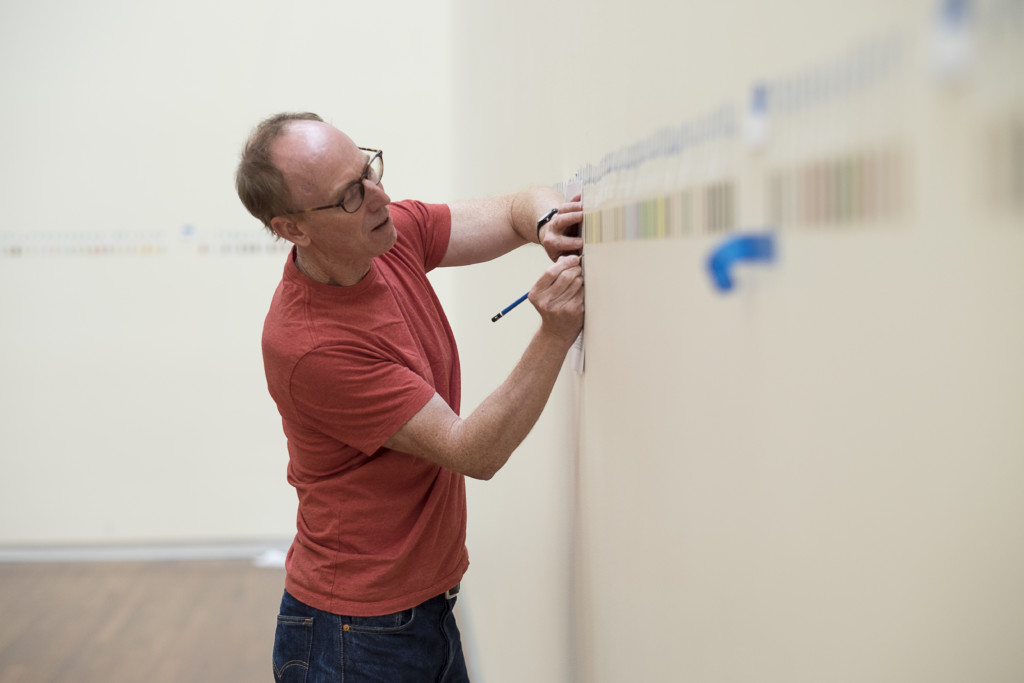 He has created other large installation works emphasizing color. For example, for a 2014 work commissioned for the 9/11 Memorial Museum in New York, he attached 2,983 shades of blue to a massive concrete wall to commemorate each victim of the 9/11 attacks and to signify the brilliant clear sky the artist recalled seeing on that fateful day. The title is Trying to Remember the Color of the Sky on that September Morning.
Finch previously created another large installation work based on Utah, Sunset in My Motel Room, Monument Valley, January 26, 2007, 5:36–6:06 p.m. For that installation, he clipped a vast number of still images from The Searchers, the 1956 film set during the Texas-Indian Wars which was directed by John Ford and starred John Wayne, Natalie Wood and Jeffrey Hunter. The film was shot in Monument Valley, historically a destination for production crews of many famous films. He organized the stills by measuring the color and intensity of light in each one and then matched it to the same light characteristics of the sunset he witnessed in Utah on the date as specified in the installation's title. The work ultimately became a grid of nine TV screens which loop the stills every half hour to show how the day's last light steadily fades to twilight and darkness.
Finch graciously agreed to answer some questions from The Utah Review by email. His responses are included below: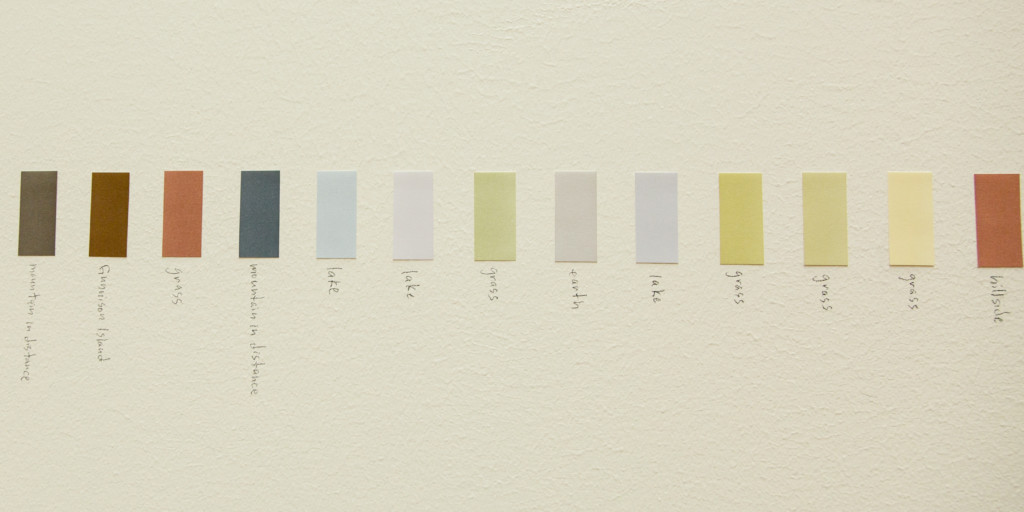 TUR: I have visited the installation numerous times at the museum and during a recent visit to Antelope Island near the Great Salt Lake with an artist, I was struck by how focused I was on the depth and variety of colors and hues in so many sightings on a gorgeous late-winter day. I mentioned to the artist who I accompanied (as part of research for an article) how your installation really helps to open up perspective of seeing a place that is a familiar destination for many. It really brought home the ideals of memory and meditation that gird this incredible installation. There is this elegant balance of science and art, as well as a deep respect for environmental and natural integrity of this Place. The next questions will ask some of your own thoughts about how your own engagement throughout this creative process shaped and directed this installation.
SF: Thanks, that's is a fantastic response!
TUR: For example, what surprised you the most as you studied, traveled and recorded your observations in the Great Salt Lake area?
SF: I think I was the most surprised by huge varieties of colors of the lake. The range is really incredible. There's the whole northern section of the lake that is red or pink!
TUR: In terms of selecting Pantone samples, which observations proved the easiest or most instinctive in matching color samples? And, which proved the most challenging?
SF: Things that are moving fast like birds are very hard. Blue and greens are easier for me than reds and oranges, I'm not sure why that is. And grays can be surprisingly difficult.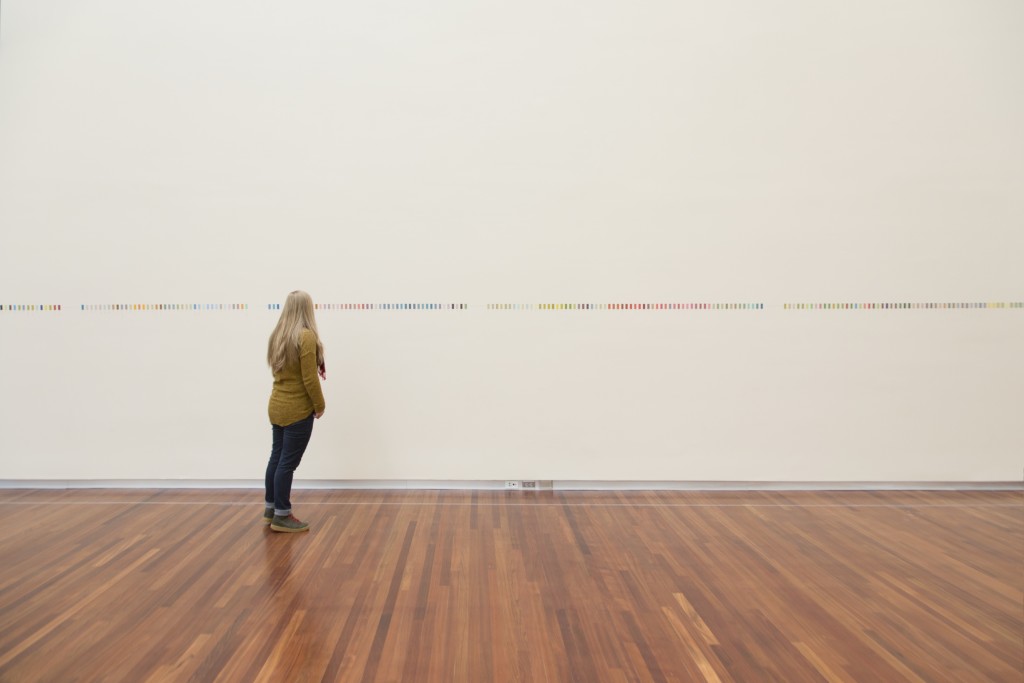 TUR: This commission reinforced a larger goal of the museum's impressive renovation that focused particularly on how visitors and the public at large engage and connect with art. How quickly did the concept come together for this specific installation, given the unique space of the museum's Great Hall?
SF: Well, that space is so enormous that I realized pretty fast that I needed to do something very very large or something very tiny, so I chose the second! It does I think fill the space, but in an unexpected way. I was very anxious about how it would turn out.
TUR: How have your ideals about light, color, shadows, etc. evolved as you have created these large-scale installation works? Are there scientific aspects of nature to which you have become more acutely attuned?
SF: I feel like I do not have a naturally great sense of color, but I have spent so much time over the last 20 years looking closely at color and light I feel I have gotten better at seeing subtle differences and that has informed my work like this. I think it is really more subjective than objective, although I try to be objective within my own subjectivity!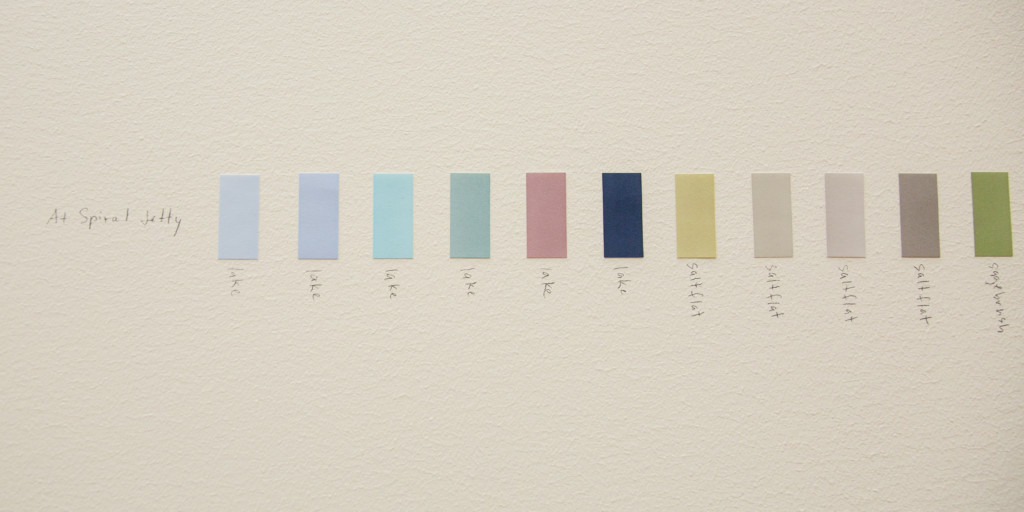 TUR: There now have been two Utah installation projects you've completed. Are there other natural or iconic monuments or areas in Utah or the Intermountain West region that have attracted your interest?
SF: I really love the American West. It's such and incredible landscape and the colors and light are amazing. It's of course spectacular in a way that the East is not. And, it also has a rich history which makes it all more interesting.
TUR: What are your current works in progress?
SF: Just recently, there was the opening of The Garden in the Brain,a permanent project at the Brown University School of Engineering in Providence, Rhode Island and Moon Dust (Apollo 17) at the Baltimore Museum of Art. I have a solo show opening next week in San Francisco at the Berggruen Gallery and in April, I will be traveling to Denmark for a new installation at Aalborg University. In June, I am participating in a group show Experience Traps at the Middelheim Museum in Antwerp, and in September, I will be in another group show at the Centre Pompidou Metz in France with a piece titled Light in An Empty Room (Studio at Night). Later this fall, I will be doing an installation at the Fundacio Mies van der Rohe in Barcelona and, in December, Crossrail for the Paddington Station opening in London. In addition to the installation at the UMFA, I also have ongoing work Cosmic Latte at the MASS MoCA in North Adams, Massachusetts. Lost Man Creek. made possible by the Public Art Fund in Brooklyn, closed earlier this month.