This year's Utah Arts Festival brings to the various stages a spectrum of musicians, many of whom are new to the event, and who do not identify necessarily with just one genre or style.
THURSDAY, JUNE 20
Jail City Rockers, Amphitheater Stage, 8:15 p.m.
From Ogden, Jail City Rockers are four members crafting their own Ska/Punk style, blending inspirations from the decades spanning the 1950s to the 1980s and covering everything from classic rock to R&B and to punk, hardcore Oi! And ska. The band comprises Andrew Bonilla (vocals and lead guitar), K. C. Avenue (rhythm guitar), Francisco Herrero (bass) and Gabriel Bonilla (drums). The band members answered collectively a few questions from The Utah Review. As to their formative musical experience: "Each one of us are self taught. We all have similar learning experiences of staying in our room for years just learning to play songs that we love. In being self taught it has also helped us to expand on our own individual style, while learning the instrument. We think not being classically taught has opened our creativity and style to where there are no rules or limits." As to their style, they say, simply, "'Something Old In a Brand New Way' explains us pretty well."
In terms of their creative process: "Gabriel [Bonilla] is the main writer/ arranger of the music and he feels the most essential part of writing a song is being able to connect with at least one person in the audience. He knows there are a lot of like minded people out there and he hopes that his songs can bring them together. Gabriel feels another essential part is making the songs interesting enough to hold the band members attention."
Traveler, Festival Stage, 8:30 p.m.
Hybrid music definitely is an overarching theme representing many of this year's festival performers. For example, Traveler's leader and composer, Scott Jeffers incorporates his Lebanese heritage and American upbringing to create a hybrid of his ancestral musical roots with Western rock. Their catalog represents Gypsy, Middle Eastern, Celtic, Greek and Turkish musical heritages, as performed on traditional ethnic instruments with the backing sound of a veritable rock band. Traveler is a festival headliner at many events in the U.S. as well as Canada and Turkey.
The Slackers, Amphitheater Stage, 9:45 p.m.
A band with a portfolio covering nearly three decades, the band's fundamental roots are in ska but its distinction comes in a rock sound of a Jamaican style. The band has grown tremendously from its humble roots on Manhattan's lower east side. Their catalogue includes numerous studio albums: Better Late Than Never, Red Light, The Question, Wasted Days, Slackers & Friends, Close My Eyes, Slackers in Dub, Peculiar, Boss Harmony Sessions, Self Medication, Lost and Found, The Great Rocksteady Swindle, and The Slackers [self-titled, 2016]. The Slackers also have released three live performance albums, several EPs and miscellaneous singles and compilation tracks. Their international tour schedule comprises more than 100 shows annually.
FRIDAY, JUNE 21
Many of the performers celebrate the festival's theme for the day: Women Who Rock!, which have been highlighted in a June 14 feature at The Utah Review.
The Steel Woods, Festival Stage, 9:45 p.m.
In an interview with The Utah Review, Jason 'Rowdy' Cope, lead guitarist and founder of The Steel Woods, says the best description about the band's multifaceted music is, "We're basically a classic rock band that isn't old enough to be a classic rock band." Typically, many people attach the label of Southern rock to this band. In the press kit for its latest album release Old News, the description is complex: "Part Lynyrd Skynyrd and Allman Brothers, dual-guitar Southern blues-rock with elements of R&B, country, bluegrass, gospel, blues, folk and metal. A pre-Rocklahoma press release said The Steel Woods plays a "genre-defying blend of outlaw country and Southern-infused rock."
Cope says the lyrical foundation for many of the band's songs start from entries in a personal journal, while the sonic roots rely on each musician's characteristic musical strengths. Thus, various songs can be inspired by art and literature including classic poetry (To wit: Rock The Says My Name and Anna Lee). The band recorded its latest album at Echo Mountain Studios, which once was a church, in Asheville, North Carolina. "We really felt the vibe," Cope says about the spacious acoustics.The album also includes a tribute in epilogue songs honoring Tom Petty, Merle Haggard, Gregg Allman and Wayne Mills — muses and mentors for an ever-curious band.
SATURDAY, JUNE 22
Saturday at the festival also celebrates the members and contributions of the Intermountain Acoustic Music Association. A popular feature is the 2019 Susanne Millsaps Performing Singer-Songwriter Showcase (noon, Big Mouth Stage), as six songwriters, who have been previous finalists in the IAMA-sponsored competition and have gone on to cement their own musical careers, will perform in the round. They include J.T. Draper, Kristin Erickson, Jen Hajj, Marv Hamilton, David Lane and Bill McGinnis.
Robyn Cage, Garden Stage, 6:15 p.m.
From Park City, Utah, Cage, in an interview with The Utah Review, says she originally set out to be an actor but then made the surprising turn to music. Today? "I wear so many hats and I am the CEO of my own business," she explains, whether she's writing songs, keeping fans updated with a newsletter, sharing content on social media, or strategizing for her next creative project. Her schedule has been packed with appearances across the country, the debut album Born in The Desert won numerous awards and Slow The Devil won Best Indie album of the Year by Scorpius Magazine.
Cage says the creative and business dimensions mutually feed each other, reinforcing many positive benefits. Some of the best progress for new song materials comes in sabbaticals at a fellow musician's apartments. She also is obsessed with all types of podcasts, which she uses to broaden her worldview and which leads to generating new material for songs. This is especially useful when she's traveling on the road for hours at a time. Her intellectual curiosities traverse many planes.
In a blog entry earlier this year, she talked about a clinical psychologist in his eighties who had recovered from surgery to remove a brain tumor and who asked Cage for vocal lessons. The man [Arthur] also had survived a bout with throat cancer. Cage explains that he went on to write songs, " two of which I sing on — Be The Truth and Alternate Universe, beautifully produced by my friend and producer Caleb Loveless." Her latest project in the works is a concept album akin to a rock opera in the vein of Pink Floyd's The Wall — which would be a significant departure from her previous work.
MiNX, Park Stage, 7:45 p.m.
Ischa Bee and Raffi Shahinian have become among the most interesting mainstays of the Salt Lake City music scene. Comfortable in electronic or acoustic settings, MiNX draws from an eclectic palette of musical influences including Norah Jones, David Bowie, Eurythmics, Sia, Nile Rodgers/Chic, Pharrell Williams and Prince. Just prior to the festival, MiNX is performing live in SB Dance's latest production Sleeping Beauty. And, as customary, Stephen Brown manages collage and pastiche in his unique dance theater productions wonderfully, drawing on music ranging from the Baroque Era to Sinatra. For the duo, learning new songs for the SB Dance production is a "fun challenge," as Raffi explains. "We're kids of the 1970's so we've had to learn songs from the Twenties, Thirties and Forties as well as French songs and Sinatra." Indeed, their occasionally campy, almost vaudevillian style, is perfect for SB Dance's production aesthetics.
The cosmopolitan tone comes easy to both of them. Raffi has an Armenian background ("a little Arabic" and "a little Turkish" in language fluency), and Ischa speaks German fluently, as she comes from a military family who lived abroad. Over the years, the duo has perfected its hodgepodge of upbeat pop vibes. Their shows, always accompanied by costumes and stage props to accentuate the musical vibe, are customized to the setting and occasion. For a Christmas party, they went with sparkly costumes and achieved a holiday vibe with an acoustic lounge-like sound. Their recent performance at Utah Pride called appropriately for over-the-top, colorful costumes with an upbeat musical flavor. However, MiNX also offers spot-on contrasts, such as elements that paid tribute to the victims of the Orlando Pulse club shootings two years ago in a Pride celebration.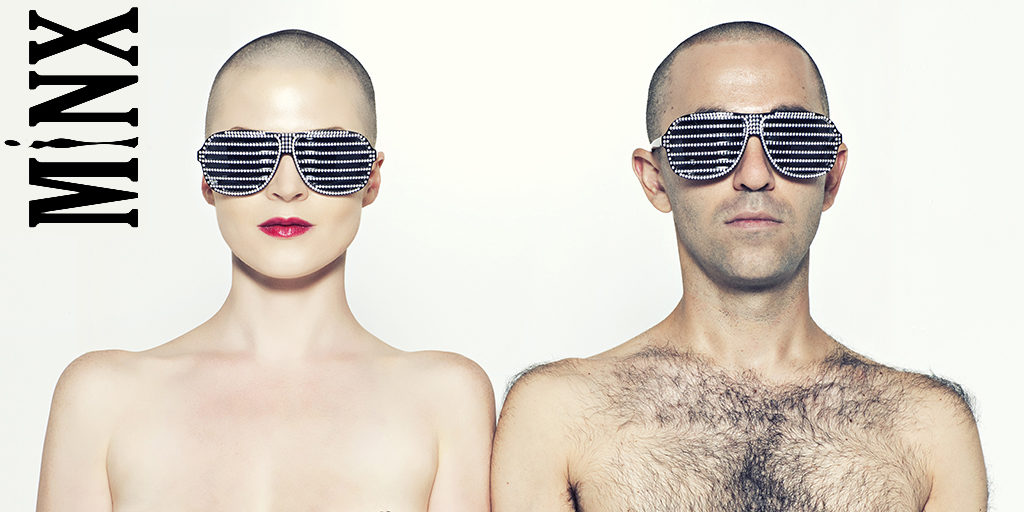 Their long-term collaboration makes the creative synergy of writing new music seem effortless. As for their upcoming festival appearance, Ischa says "to expect kooky, fun, weird and artsy."
Head for The Hills, Amphitheater Stage, 8 p.m.
Marking its 15th year, the band recently released Say Your Mind, its latest EP that speaks to contemporary concerns and issues, including the #MeToo movement, political tensions, the persistence of social inequality and life experiences including fatherhood and coming of age. Fundamentally, a bluegrass band, Head for The Hills taps into jazz, indie rock, hip-hop, soul and world music. Their numerous festival appearances include notables Telluride Bluegrass Festival, High Sierra Music Festival, South by Southwest, FloydFest, RockyGrass, DelFest, Summer Camp Music Festival, Blue Ox Music Festival, Northwest String Summit, Strawberry Music Festival, Bristol Rhythm and Roots, Chicago Bluegrass & Blues Festival, Folk Alliance and Grandoozy and many more. The band has been featured on NPR Ideastream and eTown, and was awarded Best Bluegrass in Colorado four times via Denver's Westword Magazine.
Christine Lavin, 8 p.m., Festival Stage
Lavin's performance will cap her appearance at the festival that includes leading sessions of IAMA's song writing academy, which takes place June 21-22 at the City Library. Her latest album — her 24th — will be released in September, which will include the 'best of" songs from her extensive, storied catalog as well as new material. Lavin answered several questions in an email interview with The Utah Review. As for advice to budding songwriters, she says, "Songwriting is a craft. Rhyming words like "time" and "mind" is lazy songwriting. With a website like rhymezone.com there's no excuse for lazy, half-rhymes (also called "assonant" rhymes). Don't think of it as me telling you this — this is advice from the songwriter who wrote Moon River [Johnny Mercer] gave to the songwriter who wrote, It Was A Very Good Year [Ervin Drake]. Those are songs you will know your whole life, and your children will know them, too (maybe they don't yet, but when they get older they'll 'get' what they are about."
About her own creative evolution:
"I thought about that for a long time — and I thought, what would happen if you were sitting next to your soulmate and didn't know it, because it was the Quiet Car and you didn't dare speak up and get shushed by all those meanies? I actually wrote it first as a story that I submitted to The New Yorker — it was a texted story back and forth. They rejected it, but were kind in their rejection, saying it wasn't for them, but encouraged me to keep working on it. Years passed, and then a cabaret singer named Renee Katz asked me to write a song for her, and The Quiet Car idea popped up again, and I ran with it, this time as a song instead of a written fictional piece. It will be on my next album, coming out in the Fall — due to the politics of the song, there's a chance that by the fall the political situation will be changed, and the song might be passé. That's the danger of writing topical, political songs. But it's also an example of something being rejected, but not taking the rejection personally, and continuing to work on it."
On the timeliness and timelessness of a song:
"Marilyn Maye says, 'YOU are not the star of the show, the AUDIENCE is the star of the show. THAT's who you are doing this for — it's never about you, it's about how these songs move the audience.' Marilyn also says NEVER EVER EVER close your eyes while singing, like you are entranced by the sound of your own voice — closing your eyes cuts all communication with the audience. She also says NEVER sing to the pianist — he didn't pay to get in. He's being paid to be your support — sing to the people who came to see you. She says that singing to the pianist makes you look insecure. It might be the furthest emotion from your mind, but if that's what it looks like, grasp that. She knows all.
"Don't think of any of this advice coming from me, a folksinger from NYC. Think of this as advice coming from the singer who will forever hold the record for the number of appearances on The Tonight Show with Johnny Carson. She's the gold standard. Whenever she's on the bill at a big concert with other singers, I hope they know they are not going to be remembered that night the way she will be, no matter how famous they already might be. She's THAT good, and she loves to share what she knows with every singer she crosses paths with."
On selecting songs for a performance:
"It's important to always have a set list, a plan. If you go onstage with no plan, you can veer off into weird directions, doing songs in the same key back to back, or — as Van Ronk liked to call them — unconsciously doing three 'wrist-slitters in a row followed by three flag-wavers,' which is just not good programming. In the heat of the moment you can get carried away. So always have a plan. HOWEVER, know that if your plan isn't working, you can change it mid-course (if you are a solo — a bit more difficult if it's a band). And the best thing you can do is tape your performance and force yourself to watch it or listen to it later. You make the biggest strides analyzing past performances, as painful as that can sometimes be."
Tinsley Ellis, 9:45 p.m., Festival Stage
As virtually any Baby Boomer knew, the 'British' invasion of The Beatles in a 1964 appearance on the Ed Sullivan television show was a transformative moment for many. Ellis, who was seven at the time, says in an interview with The Utah Review, it definitely was his. He absorbed it all and moved quickly from the likes of The Animals and The Rolling Stones to the style of Chicago and Memphis Blues and to the guitar artistry of Jimi Hendrix, Jeff Beck and Eric Clapton. Of England and its embrace of the music, Ellis says, "they got it early," about resurrecting the early blues that many Americans had nearly forgotten.
Ellis has carved out a long, distinguished career, not just in albums released through Alligator Records but in countless performances every year. His latest release Winning Hand debuted at the top of the Billboard's blues chart. Ellis is the merited idol of guitar enthusiasts, not just in technique but also playing on vintage instruments in mint condition from the 1950s and 1960s, including Fender, Gibson and Les Paul brands. The album includes a cover tribute to a musician and song that has been core to Ellis' own musical inspirations — Leon Russell's Dixie Lullaby, which was recorded and released in 1970. Ellis also recalls clearly Russell's performance at The Concert for Bangladesh, organized by George Harrison.
Ellis, who has no intention of slowing down in his touring, looks forward to being on stage again at the festival. He considers it a homecoming, recalling a long ago appearance at the former Dead Goat Saloon and more recurring and familiar venues including The State Room. Fans should take note of Get It!, an all-instrumental album, that has been released on vinyl.
Hot Buttered Rum, Amphitheater Stage, 9:45 p.m.
This popular west coast string band's sixth album release Lonesome Panoramic from 2018 covers the gamut of tone and tempi with classic technique; bouncy rhythms and swing; intimate emotion and virtuosic flair. Erik Yates,who plays five-string banjo along with resonator and acoustic guitars and shares vocals and songwriting duties with Nat Keefe, talked about the band's development with The Utah Review. The band's name came from a "beverage of the evening" for a party, Yates explains, adding that it was the first time they had made the drink. Hot buttered rum is a drink that doesn't necessarily go down easily the first time but Yates says they have perfected it over the years.
The band's string musicianship is rock solid, amplified by outstanding instrumental technique and great vocals. Even though Yates and Keefe handle the songwriting duties, the band relies on creative democracy to select which songs will make it onto their albums. The latest album featured various musicians, including Zach Gill, Dan "Lebo" Lebowitz, The Coffis Brothers and Rainbow Girls. As to the creative hat tip to the late Tom Petty, which is featured on the album, Yates, says "Petty was more than a musical influence. He remains a positive influence in our lives as musicians and songwriters. We always think about his influence."
SUNDAY, JUNE 23
Big Blue Ox, Amphitheater Stage, 8:15 p.m.
With supremely skilled musicians from The University of Utah who founded the band 10 years ago, Big Blue Ox maximizes the energy of funk. The band's core members include George Simon, Mason Peterson and Wachira Waigwa-Stone. After a short hiatus, the band came back in 2015 with an expanded lineup, including a three-part horn section, analog synthesizers, and world percussion.
MarchFourth, Amphitheater Stage, 9:45 p.m.
Perhaps the most apt way to close the festival on a rousing note, MarchFourth fuses funk, rock and jazz into the musical cherry to top the cake. Just one indication: Fifteen MarchFourth musicians traveled from Portland, Oregon to New Orleans to record their fourth studio album, Magic Number, self-released three years ago. With producer Ben Ellman (Galactic) and engineer/producer Mikael "Count" Eldridge (DJ Shadow, Tycho, Trombone Shorty) at the helm, the album is full of the captivating grooves and brassy swagger one would expect from MarchFourth, plus a healthy dose of New Orleans magic, with guest appearances by Trombone Shorty, Stanton Moore (drums) and Matt Perrine (sousaphone). The album was fan-funded through Kickstarter.
Changing Lanes Band, Festival Stage, 9:45 p.m.
A quintessential party band, Changing Lanes Entertainment Group has performed in many events including Utah as well as Florida, California, Arizona, Minnesota, Oklahoma, North Carolina, Ohio, Pennsylvania, Nevada, Louisiana, Texas, Mississippi, Wyoming, Idaho, Colorado, Kansas, Massachusetts and Georgia, along with Cancun, Bahamas, Virgin Islands, Toronto, Dominican Republic, Cabo San Lucas and Puerto Rico, to name a few.
For more information about all events, see the Utah Arts Festival website. Ticket information can be found here.