Dance is the empress jewel in the crown of Utah's performing arts history. Accordingly, dance is represented in numerous ways at this year's Utah Arts Festival. There are two world premiere dance commissions by Ballet West artists Katlyn Addison and Joshua Whitehead being performed by the RUUDDANCES company (June 21, 5:45 p.m., Festival Stage) and highlighted in The Utah Review feature about festival commissions. In addition, there are five performances scheduled by some of Utah's most influential, historic and dynamic institutions: Repertory Dance Theatre, Ririe-Woodbury Dance Company, Children's Dance Theatre of The University of Utah Tanner Dance, Samba Fogo and 1520 Arts (formerly known as The B-Boy Federation).
These performances are previewed below:
Samba Fogo (June 20, 10 p.m., Festival Stage)
If it is an odd-numbered year, it is assured that Samba Fogo will take the stage at the Utah Arts Festival. This year's performance comes after the group's largest show of the year packed the house at the Jeanne Wagner Theatre in the Rose Wagner Center for Performing Arts.
This year's show was Fogo Vivo – Living Flame, featuring more than 40 talented musicians, dancers, drummers, singers, and fire spinners. Samba Fogo's shows in recent years have drawn more heavily on Brazilian mythology, as indicated in the mix of traditional and contemporary dance forms from Brazil as well as Cuba and Africa. The drum line continues to grow, drawing enthusiasts from the community and bringing in master instructors. The group's show this year, for example, featured Jorge Alabe from Rio De Janeiro, who is considered the father of Samba and Brazilian percussion in many areas. Likewise, live music has been integral to the group's shows, including vocalists Solange Gomes and George Edgar Brown. This year's concert also featured horn players and a string quintet.
Lorin Hansen, a performer and leader of Samba Fogo, says the extensive music and dance panoply of their shows is possible because of many years of research and practice. "We've always wanted to do it right and we have blessed by having many great teachers," she explained in an earlier interview with The Utah Review. "It is important that we keep this culture and its tradition alive and vibrant. These religious practices are stigmatized – even demonized – in certain areas of the country."
Children's Dance Theatre (June 22, 5:15 p.m., Festival Stage)
This year, the Children's Dance Theatre of The University of Utah's Tanner Dance, one of the area's longest running dance institutions, marked its 70th anniversary with what it has become essential in its cultural brand: a show, impressive in numbers of performers, fresh adaptations of classic stories with choreography and original music that delight festival audiences.
The group restaged a show from 1986, The Dancing Man, an eloquent story accounting for the lifetime of a man through dance, as adapted from a 1975 children's book of the same title by Ruth Bornstein. As an orphan, Joseph receives a pair of silver shoes and he learns to dance. His life thrives on dance and as he approaches the end of his life, he passes the shoes on to another orphan boy.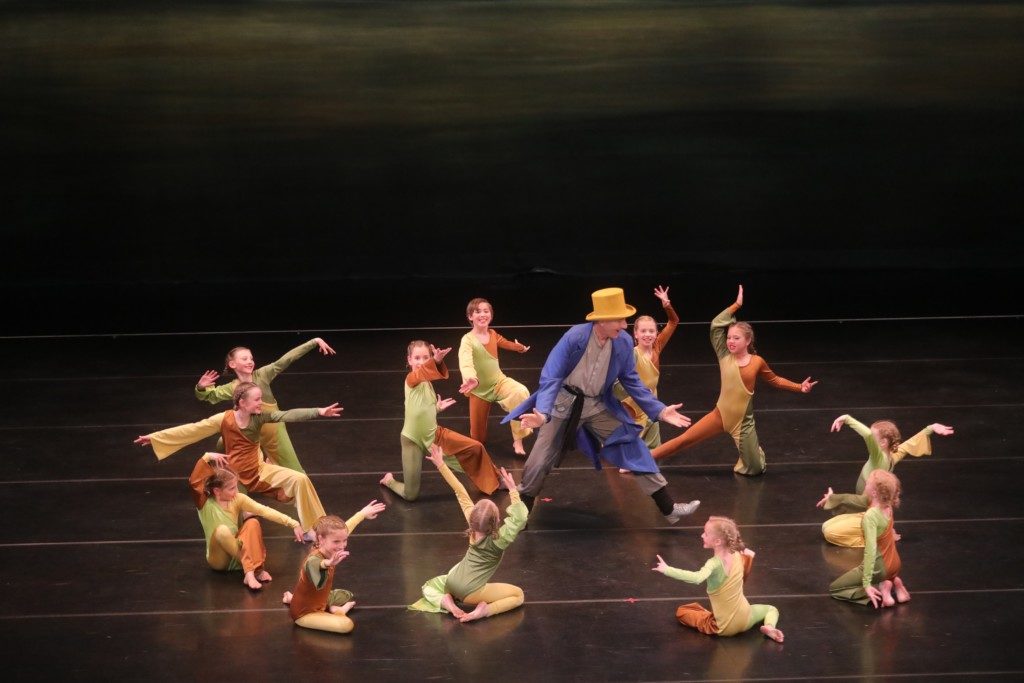 The latest version of the show was updated with new choreography and additional music by Tristan Moore, CDT's resident composer.
The work was presented for the first time in performances last March at the Janet Quinney Lawson Capitol Theatre. The show also will be presented in the fall at Weber State University. The group's performances are supported by an appropriation from the Utah State Legislature through the Utah State Office of Education's Professional Outreach Program to Schools and are free to schools.
Ririe-Woodbury Dance Company (June 22, 6:30 p.m., Festival Stage)
Following its cultural ambassador tour in Mongolia and South Korea in 2018, the Ririe-Woodbury Dance Company embarked on a memorable and phenomenal 55th season.
Five works from the repertoire featured in recent seasons will be performed, with something for every audience member, regardless of age. Also notable is that the festival performance will be the first for the company's newest dance artists: Nicholas Jurica and Dominica Greene.
The program includes Strict Love, a 1994 work created by Doug Varone. As mentioned in reviews of the company's past season, one of the most appealing aspects of this generously pleasing work is how the dancers respond and react to the songs, which are being played as they would have been from a 1970 syndicated radio show introducing the top hits of the time.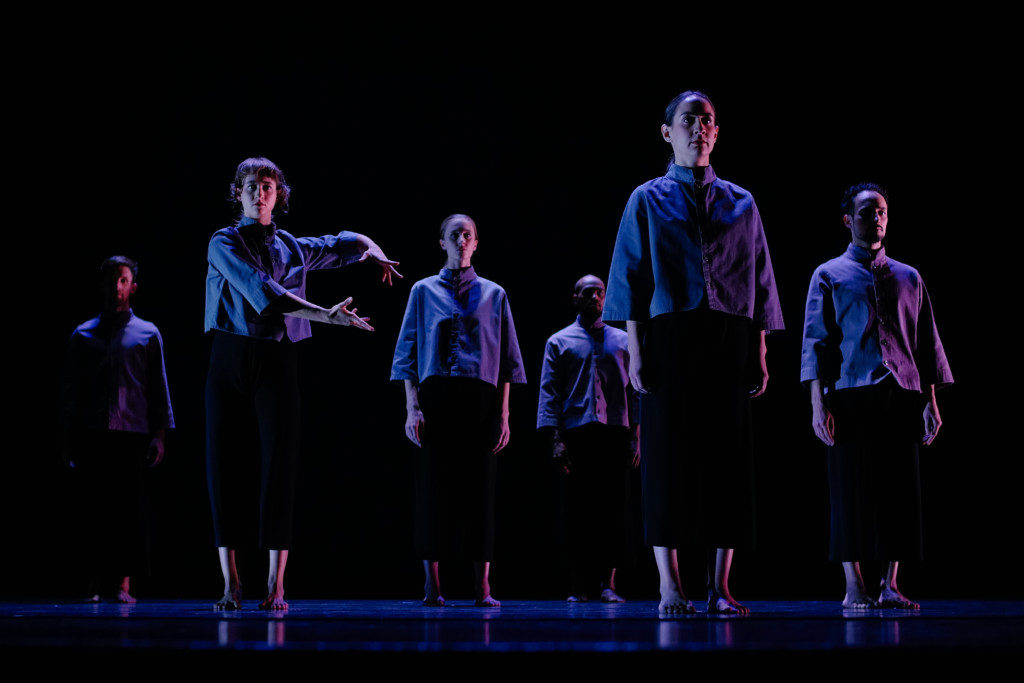 Unstruck by Kate Weare is a deeply sensuous meditation on human connection and trust. An intimate chamber dance piece, the trio of dancers create a mesmerizing image, as their bodies intersect and carve against each other within spaces that narrow and expand continuously.
A sure appeal especially for kids will be excerpts from Live Creature and Ethereal Things by Daniel Charon, the company's artistic director, in collaboration with Alexandra Harbold and Robert Scott Smith, a premiere from last winter. In the hands of the collaborators for this work, the stories of the Red Fred Project were transformed into a vibrant, colorful, innocent, joyful, poignant and glistening landscape. For the project's young authors and their curator Dallas Graham, the live creature and ethereal things concert was like an animated film made full in flesh and character.
Another world premiere last season was Departure – A Last Song, Perhaps a Final Dance Before a Rest by Stephen Koester. The work was a valedictory by Koester, retired this year after two decades as professor and chair of The University of Utah's School of Dance. Accessible in its metaphorical imagery, the work cogently summarizes the challenges and eventual blossoming of a dance artist who becomes comfortable and more confident with what his body is able to accomplish along with collaborating with peers in the dance community.
Repertory Dance Theatre (June 23, 5:15 p.m.)
Repertory Dance Theatre's 53rd season celebrated the theme of Manifest Diversity by incorporating works from its historic repertoire with several world premiere commissions, some of which will be featured on the company's festival program. Many of the descriptions come from reviews that appeared this year in The Utah Review.
The program includes the commission from the choreographer who won the company's 2018 Regalia competition. Bryn Cohn set I Give Myself to deepen the audience's observation of the emotional connections and personality traits among the eight RDT dancers. Cohn's work was inspired in part by the series of photographs that also became graphite and charcoal drawings for the artist Robert Longo, captured famously in Men in Cities. Thus, some of the choreography emulates the gestures and movements shown in Longo's work – the sensations of flailing, collapsing and free falling as well as jerky, agitated movements. She sculpts an ensemble that abandons any restrictions in closeness, as they mutually discover a common freedom in movement and interaction. Appropriately, much of the music had a spot-on ironic punk element, thanks to three compositions by Michael Hall, a Salt Lake City DJ, a member of the Salt Lake Electric Ensemble and music producer with the website soundFORMovement.com.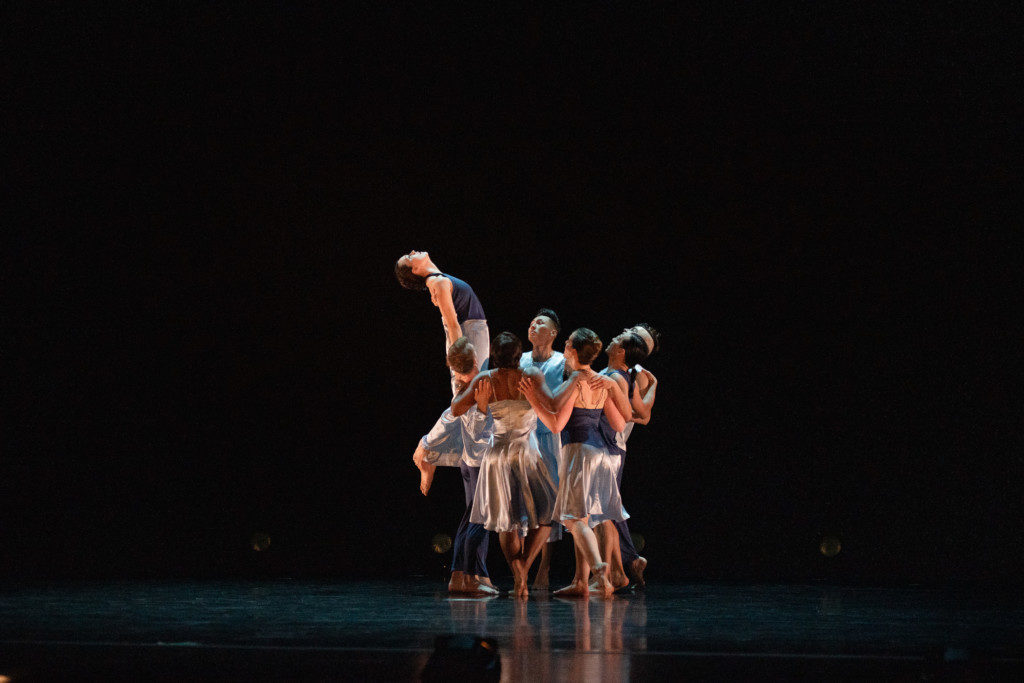 RDT also will perform an excerpt from a 1980 work that it recently performed: Energizer by Molissa Fenley with music by Mark Freedman. Think of Energizer like a souped-up aerobic class with an ever-evolving sense of playful choreography.
Another world premiere from this past season was Her Joy by Tiffany Rea-Fisher, which premiered last October. Celebrating the company's female dancers, Rea-Fisher's work articulates so beautifully is how the dancers freely embrace an exuberant, rigorous, adept sense of physical movement in the supreme glories of the women's minds and bodies that went into creating and performing Her Joy.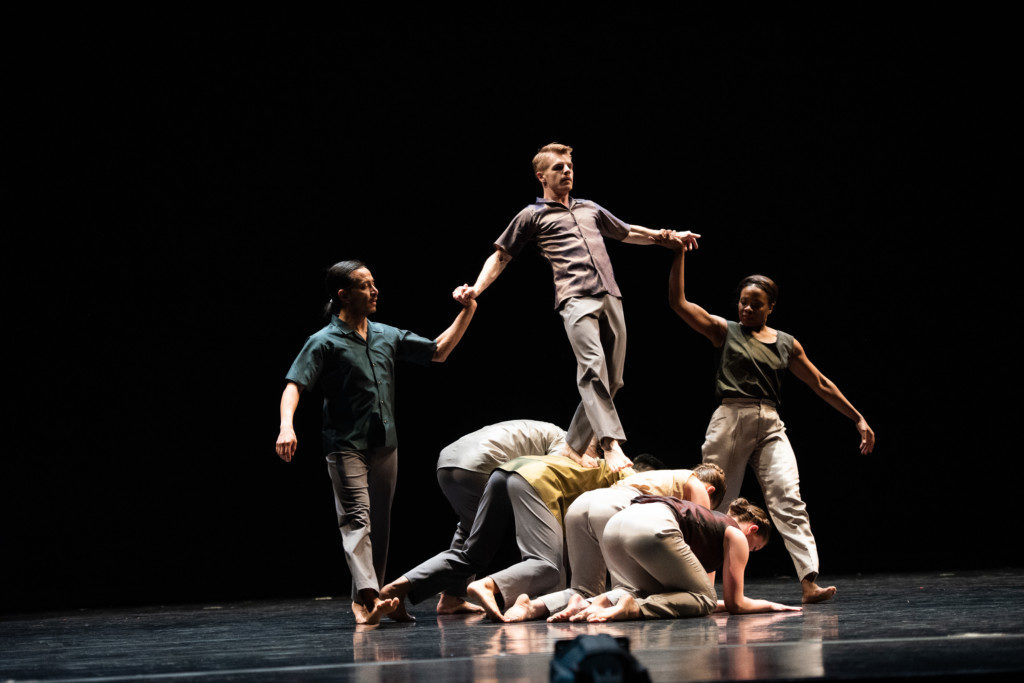 The program closes with a work that premiered in April: Event by Bebe Miller. She creates a gratifying choreographic narrative with text by Ain Gordon, as narrated by Miller, and a fantastically diverse sound and musical score by Michael Vargas. Event subtly strips away the performative dimensions of the dancers' personalities to reveal traits that glimpse how dancers interact with each other; not just as peers on stage but as ordinary human beings.
1520 Arts (June 20, 6-7 p.m.; June 21, 6-7:30 p.m.; June 22, 6-8:30 p.m.; June 23, 6-9:30 p.m. The Round)
Making its ninth consecutive appearance as an anchor at The Round Stage, 1520 Arts' activities this year reflect a broader emphasis as captured in the organization's new name. Formerly known as The B-Boy Federation, 1520 Arts takes its name from the acknowledged birthplace of hip-hop: 1520 Sedgwick Avenue in the Morris Heights neighborhood of the Bronx. Joshua Perkins, chief executive and director, explains the strategic value of the name change as ensuring that new generations of performers will remember the central core of hip-hop's cultural influence in dance, music and the visual arts. "We want to give the kids a more complete experience," he says, adding the community should open up to other cultures including lowrider and skateboard, which also have incorporated hip-hop influences.
While the festival performances highlight music and dance, 1520 Arts has expanded its programming with workshops, art shows, performances at high-profile events including Salt Lake Comic-Con and classes as well as after-school programs that have served South Salt Lake and numerous outlets. It has collaborated with many organizations, including the branches of the Salt Lake City Public Library System and its Hip Hop Education and Resource Center has become a mainstay in curating developments in hip hop culture for access to all local groups in the community. Most importantly, it has empowered young people to use the organization's activity as motivation for their education and for their personal development.
This year's performing schedule starts out with two 30-minute workshops for youth (June 20, 6-7 p.m.). It's a 101-style introduction to hip-hop's origins, its dance languages and its various movement vocabularies idioms. Youth will learn Breakin' and New Jack Swing. Perkins says the first night is a good orientation for audiences to see what the rest of the weekend's battles in dance and cyphers will be. Friday (June 21) opens again with a Youth Breakin' Workshop at 6 p.m., followed by a youth invitational battle, beginning at 6:30 p.m, featuring DJ Chu (Chu Chandara Chuon).
Men and women will compete in the Adult Breakin Invitational on June 22 (6-7 p.m.), followed by a Cypher, featuring DJ TenChu. The art of cypher emphasizes the objective of community equality in hip-hop, as echoed in the origins of the word, which came from the Arabic term of sifr that represents zero. Cyphers always have been integral to hip-hop culture and where its earliest performers gathered to share creative ideas and challenge them accordingly. Cyphers are entertaining and intense but they also serve the critical function of unity that respects and protects a diverse community. They augment the good-natured senses of the dance battles.
The festival's closing day always is a rousing finish for 1520 Arts performers and audiences. The Adult Open Styles Invitation (6-8 p.m.) is followed by an open cypher (8-9:30 p.m.), featuring DJ SkratchMo (Gabriel Ghent).
Perkins says the group will present its They Reminisce show for the fifth year, scheduled for Aug. 30-31 at the Rose Wagner Center for Performing Arts, which celebrates bringing all segments of the hip-hop culture together.
For more information about all events, see the Utah Arts Festival website. Ticket information can be found here.