This year's Festival Stage and The Round programming at the Utah Arts Festival, as customary, includes some of Utah's most influential dance institutions. In addition to the dance commissions being presented by artÉmotion (see accompanying feature at The Utah Review) in collaboration with Ballet West (Aug. 27, 4:45 p.m.), there are five performances by Repertory Dance Theatre, Ririe-Woodbury Dance Company, Children's Dance Theatre of The University of Utah Tanner Dance, Percussive Footwork Ensemble and 1520 Arts.
Repertory Dance Theatre (Aug. 29, 2:30 p.m.)
The Repertory Dance Theatre has appeared at every Utah Arts Festival with the exception of one when the company was on tour in Europe. "We're delighted every year to be a part of it," Linda C. Smith, co-founder and executive director, says. "Late August is a different experience for sure to perform at the festival. We always think about the weather. I still remember when we performed in the first festival and how we burned our feet on the open stage."
Smith says the RDT dance artists will perform a program that is intended to be reassuring, grateful that many have survived a long, difficult period and that there is reason to be optimistic. RDT had just held Regalia in 2020, its largest annual fundraiser and choreographer's competition with the prize being a commission to stage a world premiere work, before the lockdown erased the performing arts calendar. Its 55th season, which RDT promoted as its emerald anniversary celebration, was entirely online in concerts, that included a season opener with its sister resident company at the Rose Wagner Center for the Performing Arts.
Some of that work will be presented live for the first time at the festival. One premiere was Remote by Marina Harris, featuring short solos for each of the eight RDT artists that were matched with music by composer Scott Killian. Harris worked via Zoom conferences with the dancers. "It was an odd experience," she said earlier in an interview with The Utah Review, such as when the internet connection stream periodically buffered and froze images of dancers seemingly suspended in air or the screen went blank when a solo was being performed. A viewer could see each solo as how characters in an interactive video game might introduce themselves as they demonstrate their 'signature' movements. There are some basic threads linking one dancer to another, with some repeated movement phrase. Smith says that Remote was one of the "breakthrough moments they had last year in realizing that technology could be our friend in dance."
For the festival appearance, the dancers also will present excerpts from Jose Limón's Mazurkas. Created in 1958, the suite is the choreographer's interpretation of Chopin's mazurkas from a century before. Chopin's music embodied the Polish national spirit and one could see Limón's intent to remind artists and audiences that even as Poland was an Iron Curtain satellite state of the Soviet Union, the pride, elegance, vivacity, dignity, valor and lyricism of the music and the dance form of the mazurka will never vanish.
RDT also will give an early glimpse of Hallelujah Junction, a world premiere as part of this November's concert, which is being set upon the company by choreographer Ihsan Rustem. A London native, Rustem lives and works in Zurich but also is currently resident choreographer for the NW Dance Project in Portland, Oregon.
RDT's festival appearance also will introduce the company's newest member, Lyndsey Faber. In addition, it will be Kareem Lewis' first appearance at the festival. Lewis joined the company last year.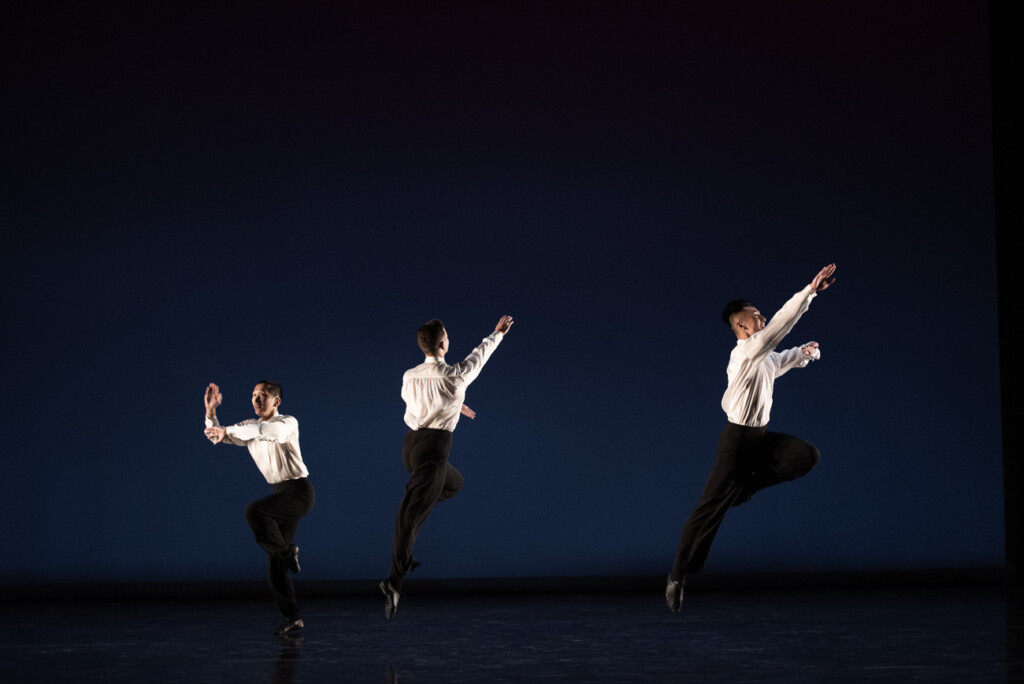 RDT's 56th season includes a return to live performances, with North Star, the first concert (Sept. 30 – Oct. 2) featuring three works by choreographer Lar Lubovitch, who has set dance for Broadway, film and ice skating as well as internationally renowned dance companies. Compass (Nov. 18-20) will include a Martha Graham composition, Bebe Miller's Event, which was premiered in 2019 as a commissioned work and the world premiere of Rustem's Hallelujah Junction. Emerge, the annual showcase of short works created by RDT dance artists, will take place Jan. 7-8, 2022, followed by the annual Regalia and choreographer's competition on March 5. The season will close with Six Songs from Ellis (April 21-23), an original work based on oral histories from immigrants who entered the U.S. through Ellis Island. For more information, see the RDT website.
Ririe-Woodbury Dance Company (Aug. 29, 3:45 p.m.)
Entering its 58th season with a return to live performances, the Ririe-Woodbury Dance Company, like RDT, its resident sister at the Rose Wagner, presented its previous season entirely online. While the company has been accustomed to performing at the festival's usual time in late June, Daniel Charon, artistic director, says this year's festival appearance occurs with the company more into its current season than what typically might be present so it "is a fun opportunity to highlight our fall show and other previews of the season."
Notable is that five of the six dancers will be making their first appearance ever at the festival: Peter Farrow, Corinne Lohner, Fausto Rivera, Alexander Pham and Miche' Smith. "Indeed, audiences will see the company's new look," Charon adds. "And it is a profound moment for us to be able to dance together again. Everyone is vaccinated, and we can rehearse without masks and explore partnering in new ways. Being together again has proven to be a very meaningful experience."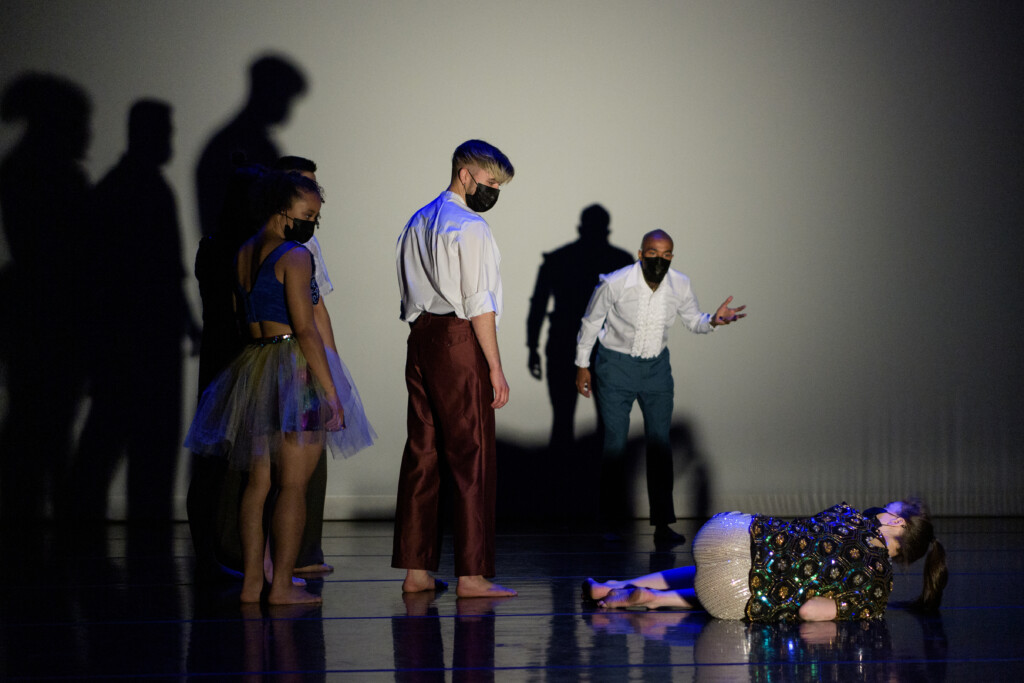 The company will perform an excerpt Share that from I can see myself, a work bristling with madcap energy by Andrea Miller with music by the Israeli band Balkan Beat Box. The work was performed in last season's final streaming on-demand concert as a company premiere, which was a restaged version of Miller's 2010 original. As The Utah Review noted at the time, it is a rollicking, witty, tantalizing dance composition to look back at the past year's struggles and to see encouragement ahead, with deserved satisfaction for managing through the challenges of the last year and a half.
The company also will perform an excerpt from In the Moment Somehow Secluded by Yin Yue with music by Rutger Zuydervelt, a work that originally was slated to be performed in spring of 2020 but then was delayed until the final online concert of last season. The work evokes a cinematic painting. Yin, who directs YY Dance Company, developed the FoCo technique that comprises the expression of five elements (root, wood, water, metal and fire) and three stages (pulse, drop and flow). Indeed, this dazzling work epitomizes this technique, especially as one observes both dancers' posture and positioning throughout the work.
Festival audiences will see previews of new works set for the coming season. The first is On Being, set by Charon with music by Eydís Evensen. The work, which will premiere in Total Ellipse (Sept. 16-18), a concert at the Rose Wagner, is a meditation – which Charon says is an "elegy for our time" – on the 2016 mass shooting at the Pulse gay bar in Orlando. The second is Two Hearted by Keerati Jinakunwiphat with music by Bryndon Cook. Jinakunwiphat's work will premiere at the same concert. Cited in Dance Magazine's 2021 25 to Watch, she studied with Doug Varone, a choreographer whose work has been widely featured at Ririe-Woodbury. Also, Raja Feather Kelly's Pantheon, which premiered in 2017, will return to the stage at the same concert.
Festival audiences also will see a bonus with the world premiere of Charon's A Good Day To Be We, featuring ever-so-appropriate music by the Blue Man Group.
Other concerts for the 58th season include Fill in The Blank (Jan. 27-29) at the Regent Street Black Box Theatre with works by Stefanie Batten Bland and Andrea Miller. The spring concert (April 28-30), Lo and Behold, will feature works by Charon, Yin Yue and others, at the Mid-Valley Performing Arts Center. For more information about the company's upcoming season, see the Ririe-Woodbury website.
1520 Arts (Aug. 29, 7 p.m., The Round)
Despite having a more limited presence this year, 1520 Arts, nevertheless, will dominate The Round stage on the festival's final evening with a 3×3 open style dance battle featuring eight teams where everyone is randomly assigned. "It will be fun to see who gets paired with whom," says Joshua Perkins, director and chief executive of the organization. "While this year's battle features the more experienced adults we're giving tickets to as many kids as possible who have been enjoying the hip house classes and resources at the center."
DJs Skratchmoe and LampShady will be on the turntables and Perkins says there will be some open cypher demonstrations and spontaneous performances, as 1520 Arts closes out The Round. The art of cypher emphasizes the objective of community equality in hip hop, as echoed in the origins of the word, which came from the Arabic term of sifr that represents zero. Cyphers are entertaining and intense but they also serve the critical function of unity that respects and protects a diverse community. They complement the good-natured senses of the dance battles.
"The Arts Festival is not a high-pressure competition but is instead a way to introduce the community to our scene," Perkins says, adding that "it has a nice, chill vibe." This is the 10th consecutive festival at which 1520 Arts has appeared.
The group also will have its annual concert They Reminisce at the Rose Wagner on Sept. 24-25, about a month later than normal but closer to one of the organization's busiest times of the years. The show's broad concept is about linking the generations of hip hop culture together. This year's show focuses on a crew of young dancers as they try to find their best voice within hip hop while exploring 46 years of history, fashion and music. As Perkins describes it: "Do they have what it takes to take their dancing to the next level and discover the connection they've been missing?" This year's show incorporates the roots of classic funk from the 1970s through hip hop's development in the 1990s, emphasizing the dance foundations of breaking, popping and locking as the funk style initially led to hip hop. Perkins says this is an opportunity to introduce more live, interactive music into the performance.
For more information about 1520 Arts, see the link to the They Reminisce show.
Children's Dance Theatre (Aug. 28, 3 p.m., Festival Stage)
Normally the Children's Dance Theatre program in The University of Utah's Tanner Dance School has had up to 280 young performers on stage for the festival performance but this year director MaryAnn Lee, citing prudence in social distancing, has decided to present several dances featuring just 10 performers for reach.
Now, in its eighth decade, the program is well known for its adaptations of classic stories with choreography and original music. This year, performers will present five dances from Invention, a story about Emma who has invented a watch with time travel capabilities. She goes back in time and visits some of her invention heroes, including Leonardo da Vinci, Marie Curie, Thomas Edison and Alexander Graham Bell. But, her voyage is not all good fortune as she discovers that some inventions have disappeared and she investigates what went wrong in the past. As usual, the music comes from Tristan Moore, CDT's resident composer.
There also will be a dance set by Joseph "Jo" Blake, who is on the Weber State University faculty and had danced 10 years with the Ririe-Woodbury Dance Company, on CDT's teen artists. The work is inspired in part by the choreographic aesthetics of Alwin Nikolais, one of the 20th century's most forward-looking choreographers whose work is a well-known staple at Ririe-Woodbury.
The group performs at the Janet Quinney Lawson Capitol Theatre in downtown Salt Lake City. Its performances are supported by an appropriation from the Utah State Legislature through the Utah State Office of Education's Professional Outreach Program and are free to schools.
Percussive Footwork Ensemble (Aug. 28, 2:15 p.m., The Round)
New to the Utah Arts Festival, the Percussive Footwork Ensemble is essentially the tap dance version of 1520 Arts. The group, based in Sandy, offers technique classes to all ages and at all levels of skills, as well as organize concerts.