This year's film slate for the Utah Film Center's 17th annual Damn These Heels Queer Film Festival captures the most diverse spectrum of queer voice presented in the festival's history. Among them are the documentary Making Sweet Tea, directed by John L. Jackson, Jr. and Nora Gross, and the Australian narrative feature Unsound, directed by Ian Watson.
And, for an indulgent, wild change of pace, there is Thirst, the wicked splatter comedy from Iceland about a female drug user and a 1,000-year-old gay vampire, directed by Gaukur Úlfarsson and Steinþór Hróar Steinþórsson. The films are available for virtual streaming for passholders and individual ticket buyers through July 19.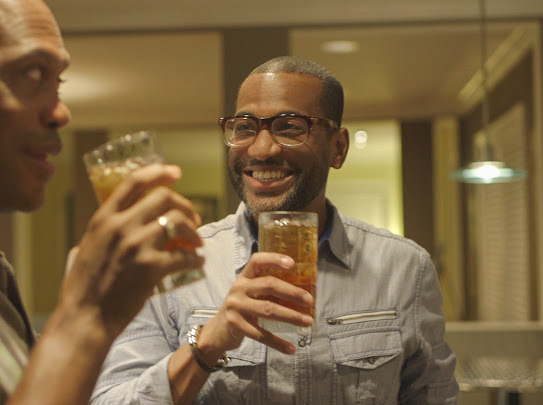 Making Sweet Tea
Tea in all of its vernacular and cultural glories is served up generously in queer Southern hospitality in Making Sweet Tea, a documentary highlighting researcher, playwright and performer E. Patrick Johnson as he revisits the six Black gay men from which he gathered oral histories for his 2008 book Sweet Tea: Black Gay Men of the South—An Oral History. Directed by John L. Jackson, Jr., and Nora Gross, the film's emotional intensity is couched in an effective understated tone, which draws the viewer into a personal setting without worrying about intruding upon the close friendship dynamics.
The word "tea" plays a lot of significance on various levels in this film. Southerners embrace sweet tea, as Allison Glock marvelously summarized in a 2008 article, as the "house wine of the South," and "culture in a glass." An even more significant connotation of tea comes from Black drag culture. An excellent example is found in the wonderful 1994 book Midnight in the Garden of Good and Evil, by John Berendt, when he interviews The Lady Chablis, a performer from Georgia, about avoiding men whom she suspects could erupt in violence during sex or a relationship. The word tea is compacted into the simple capitalized T – or, as she explains, "Yeah, my T. My thing, my business, what's goin' on in my life." More simply, tea is truth, or, more relevantly, the gossip that references another's truth that is hidden or suppressed for various reasons.
The film echoes all of those meanings, as exemplified in Johnson's work and the men who share their lives with him as part of his research. The interviews in the film also emphasize just how much has changed since Johnson first interviewed the men, nearly a decade before marriage equality was determined as a constitutionally protected right and a few years before Don't Ask Don't Tell was no longer necessary and before Barack Obama was elected as president.
But, as the men point out, homophobia and discriminating targeting Black queer people remain in place in many areas. Yet, they stay in the South because of their strong family and community ties, even as they have found their own balance in spiritual and sexual identities. Making Sweet Tea is a testimony of resilience which also reiterates the essential value of recognizing and learning a history that was turbulent and uncertain. In the midst of a pandemic, the film is as refreshing as a glass of perfectly steeped Southern sweet tea.
Unsound
An Australian film, Unsound, directed by Ian Watson and written by Ally Burnham, is a romantic drama that packs a hefty dose of tension in a storyline that explores levels of several themes. Noah (Reece Noi) returns to Australia to sort out his next moves in his musical career. He abruptly has left a tour with Moniqua, a well-known pop star, but Noah feels her music is stale and he is trapped in a creative rut. Finn is in the midst of his transition to a man and runs a center for the deaf community and acts as DJ for some evening dances. Finn, who communicates through Auslan (Australia's sign language) plays the music at very high decibel levels, so that dancers can feel the deep bass vibrations. However, neighbors regularly call the police with noise complaints and the center could be shuttered.
Finn, played credibly by the female actor Yiana Pandelis, has just been cleared for hormone treatment. He still wears his hair, in memory of his late mother. Finn's father, who can hear, is very supportive of his deaf son. When Noah and Finn meet and begin to develop a relationship, the father worries that Finn might be rushing things given that he is now entering the most important phase of his transitioning.
What makes this queer character study absorbing to follow are the communication challenges. At first, Finn texts on a digital device and he can discern Noah's spoken words. Noah also begins to learn Auslan. A recurring joke is Noah's attempt to sign "I love you," but the sign he makes represents the word "cunt."
However, the gaps in communicating fluently between each other also cause minor and major consequences. At times frustrated, Noah makes insensitive remarks about deafness. Finn also lashes out against Noah, who jeopardizes on delivering a promise to bring new songs and Moniqua to the center. He is prone to flaking out and seems insecure if, indeed, he can find success as a talent guitarist and songwriter. Finn also lashes out against his father, who worries that the center will go under because of financial problems.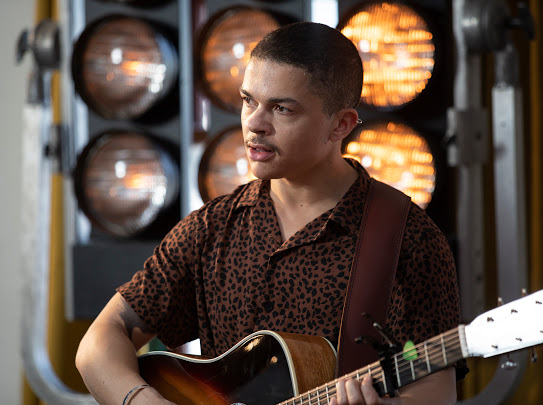 However, Noah also can be sensitive at the right time. In one beach scene, Noah strips down and jumps in the water and tries to encourage Finn to join him. Finn is self-conscious about his body so Noah returns to dress and then jumps back in the water. Finn joins him, happy that he did not even have to explain to Noah why he hesitated. Unsound is an enlightening, entertaining film about some of the overlooked intersecting points in queer communities. And, its bittersweet end is handled just as sensitively.
Viewers for Unsound also will see a locally made short film, Patient Communicator, about the diverse makeup of the deaf communicator told through the story of a young man.
Thirst
What would a queer film festival be without one, two or more guilty pleasures? Enter Thirst, a film from Iceland and directed by Gaukur Úlfarsson and Steinþór Hróar Steinþórsson. Don't look for nuances in this splatter comedy, in which the production crew reportedly used more than 200 liters of fake blood to tell the story of a 1,000-year-old gay vampire. A drug-addicted woman befriends the vampire, who brings her brother back to life as a zombie. Incidentally, the woman is accused of killing her brother.
In general, the Icelandic film culture is spectacular and intense. Three years ago, Damn These Heels presented Heartstone, a 2016 film directed by Guðmundur Arnar Guðmundsson. A spectacular coming-of-age story, that film's mise-en-scene was the stunning isolated landscape of an Icelandic remote fishing village which amplifies the dramatic tension of a young man discovering his sexual identity and how that transforms the relationships with his peers.
Thirst, on the other hand, is not built for sensitive, deep criticism. Here, the filmmakers seem bent on trying to make the over-the-top cult film representing Iceland. The best parts are the fantastic soundtrack clips featuring heavy metal, techno and industrial music.
Just embrace the weirdness and enjoy the ride, with a vampire who finishes off fellatio by emasculating his victims. There are almost as many prosthetic penises as there are liters of fake blood. And, the phallic vibe is carried to the hilt, complete with a hot dog vendor. It's the most hilarious horror film to hit the screen in recent memory.
The directors did an evil head fake, as the first quarter of the film suggests that this could be an intriguing variant from the cliché genre of vampire tales. After that, it is a cavalcade of bad acting and generally deft horror effects that carries the remainder of the film. At times, it seems the directors deliberately picked the worst of multiple takes in editing. Watch for the detective, in particular: his performance stands out in this regard.
Indeed, Thirst might be the best guilty pleasure to enjoy during these pandemic times. Order it up, invite friends, make drinks and snacks and enjoy the well-deserved laughs this Icelandic horror cult treat promises.