Several months before The Brink, Alison Klayman's documentary about Steve Bannon, the former Breitbart News chair who served briefly as President Trump's chief White House strategist, premiered at this year's Sundance Film Festival, Errol Morris' American Dharma was seen for the first time at the 2018 Venice Film Festival.
Some dismayed critics were flabbergasted that filmmakers, especially one of Morris' distinction, would give Bannon, a dangerous proponent of the worst imaginable form of scorched earth politics, yet another highly visible platform. In an interview earlier this year with Vox.com's Alissa Wilkinson, Morris mentions this, "We want it to go away. We want it to be deplatformed. We'd like to stick our head in a hole in the ground and pretend it's not going on. So people say, 'Errol is too easy on Bannon, Errol gives Bannon a pass.' My favorite was when someone called it a bromance: 'Errol is having a bromance with Steven K. Bannon.'
If one is looking for quick, easy cathartic schadenfreude in expecting a dramatic takedown of Bannon in Morris' film, it will not happen. However, Morris' interrogation of Bannon, the heart of his malignant persona revealed through his commentary on classic Hollywood films that he considers his strategic touchstones, accomplishes much more than many critics cared to consider. Morris does not mince his words. As he explains to Wilkinson in the Vox interview, "It is 'fuck you' politics. Hey, you out there, go fuck yourself. It's destructive, and it is about burning the whole goddamn place down. It has an apocalyptic edge to it." There are no gray area nuances to consider here. Morris tacitly frames the challenge: If American voters are serious about rescuing their democratic institutions from being destroyed, they will act accordingly in 2020.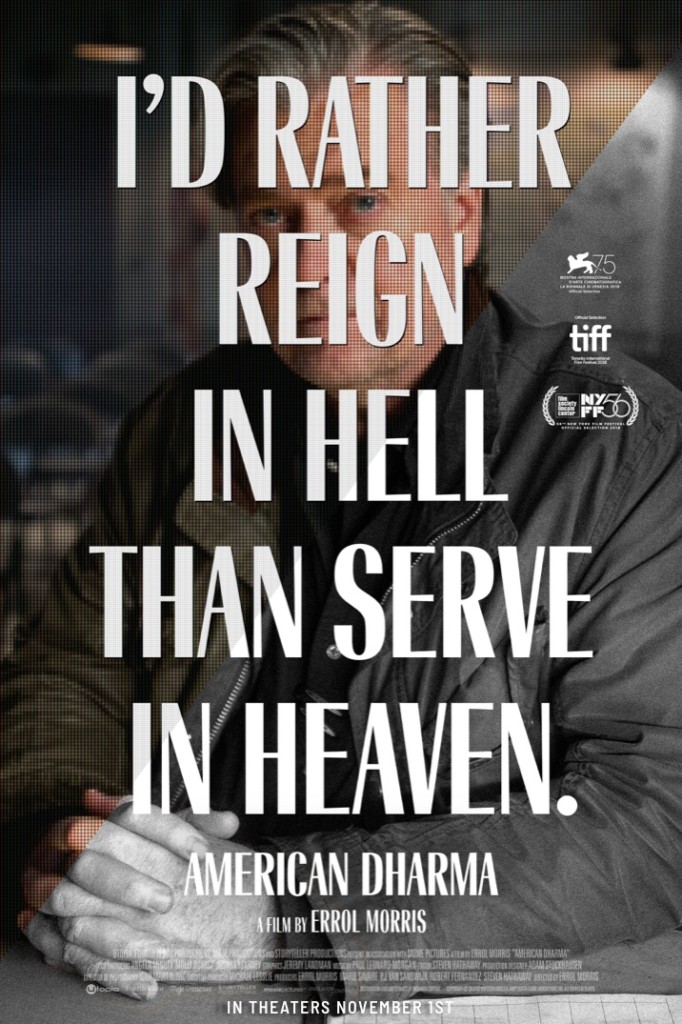 The documentary will be screened in a free, public program Dec. 11 at 7 p.m. by the Utah Film Center at the Rose Wagner Center for Performing Arts. As part of its ongoing Through the Lens series, the presentation will include a talkback after the screening, hosted by Doug Fabrizio, host of KUER-FM's RadioWest program.
One of the most notorious media figures on the American political scene, Bannon, who left the White House just days after the Charlottesville 'Unite the Right' rally in the summer of 2017, remains as visible as ever. As the impeachment probe gathered its momentum in the U.S. House of Representatives, he launched a podcast The War Room: Impeachment. Few doubt his hand has not been used to orchestrate and coordinate an avalanche of fake news reports, including Islamophobic posts, particularly targeting two prominent Muslim members of the U.S. Congress – Ilhan Omar and Rashida Tlaib.
Morris' films are as masterful in cinematic technique as they are in content. The most absorbing parts of the film occur as Bannon comments on scenes from films he considers the inspiring core of his politics: Twelve O'Clock High (1949), featuring Gregory Peck as a severe brigadier general brought on to oversee the aerial bombing campaigns against the Nazis; The Bridge on The River Kwai (1957), featuring Alec Guinness, who won an Academy Award for his portrayal of the stiff upper-lipped British colonel, The Searchers (1956), the John Ford film starring John Wayne, the epitome of the foursquare actor in American westerns, and The Chimes at Midnight (1965), directed by Orson Welles who also plays the Shakespearean character Falstaff and in the story it is Prince Hal (who becomes Henry V) who must choose his loyalty between his father King Henry IV and Falstaff.
Bannon's curious and problematic interpretations of these cinematic narratives reveal much about himself and the nature of the politics that has defined the Trump presidency. They reinforce some of his most unforgettable utterances, such as "I'd rather reign in hell than serve in heaven." He describes himself as a rationalist with his emotions under complete control but when Morris turns it back on him with the more specific label of "apocalyptic rationalist," Bannon is caught off guard. Some of the most fascinating moments occur when the viewer observes Bannon's reactions as he watches the clips from these films he cherishes.
His narcissism is as dysfunctional as the president he served. At times, Bannon's beaming face appears most sinister, especially when he recalls the efforts he claims rejuvenated Trump's faltering presidential campaign. Perhaps, the White House could not accommodate two gigantic egos of the most disturbing proportions. In October, as Morris' film gained traction on the screening circuit and was set for wider distribution in the fall, the President tweeted: "This Thanksgiving give thanks that your president (me!) is such a big WINNER. Not a loser like Sloppy Steve Bannon. AMERICAN DHARMA the documentary about him by #NEVERTRUMPER Errol Morris is STILL IN THEATERS and continues to add cities even though no one I know would be caught DEAD watching it. #MakeTurkeyGreatAgain"
Perhaps the most elucidating connection in comprehending what these two men represent remains in their misguided take, respectively, on two major cinematic characters: Falstaff for Bannon and Charles Foster Kane (Citizen Kane) for Trump, a point that Morris himself has raised on his Twitter account. Bannon sees Falstaff's rejection by the new king not as tragic but as a moment of joy acknowledging that his work in preparing the prince for his throne is done. Welles, who often said The Chimes at Midnight was his favorite film, explained that the film was about betrayal in friendships.
In 2002, Morris produced a short film for the Academy Awards presentation and it included a clip about Trump proclaiming his love for Citizen Kane and its main character.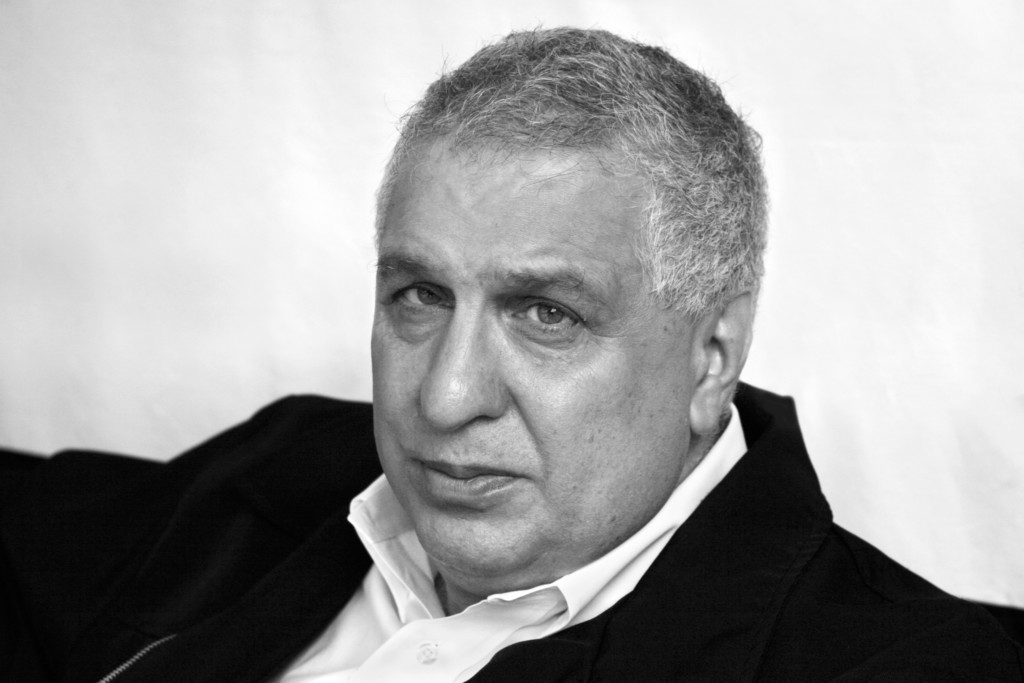 Anthony Audi, a researcher for the New York Public Library, wrote in a 2016 post for the online Literary Hub publication about why Trump's analysis of the film should frighten voters:
Because while Trump seems to think that Citizen Kane is about a great man who happened to fail—whose romantic relationships were less than ideal and whose political career never panned out—he overlooks that it is also, and more importantly, a condemnation of Kane's character. He somehow misses the central narrative about a modern Faust—a man who, in pursuit of money, fame, and power, ends up losing his soul.
As Morris explains in a recent tweet, "Trump's comments about Kane are not unlike Bannon's comments about Falstaff in American Dharma. For Trump, Kane is not flawed. It's the people – particularly the women – around him."
For more information about this screening and other presentations, see the Utah Film Center website.